IPL Preview – Part 2
Ganeshbabu Venkat |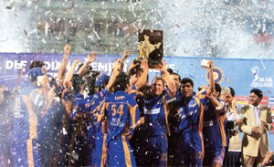 Continuing our two part preview of the teams and how they are expected to fare, Part two features Mumbai Indians, Kolkata Knight riders, the winners of the inaugural edition Rajasthan royals and Kings XI Punjab.
Mumbai Indians
Despite being the most expensive team of the league and owning quite a few big names in world cricket Mumbai Indians failed to even make the semi-finals in the past two editions. In 2008 it was an abysmal start and a limp end that laid them low and in 2009 they started off brilliantly before the wheels came off toward the fag-end when they lost four of their last five games and exited the tournament rather unceremoniously. They would be hoping not to repeat their mistakes from the previous years that is to lose games in a heap towards the business end of the tournament.
In Tendulkar and Jayasuriya, they have two of the most experienced campaigners in international cricket and we can expect them to give a blazing start every time they open the batting. With Tendulkar at his very best batting form in ODI's, he would like to prove that he is good enough in T20's as well.The purchase of the big fish Kieron Pollard of the West Indies, who exhibited great power hitting and temperament during the champions league and the presence of the effervescent Dwayne Bravo should be a massive lift for the Mumbai Indians. Both of them showed how valuable they can be in the shortest form of the game, with their flamboyant batting, accurate bowling and their breath taking fielding during the Champions league for Trinidad and Tobago. J.P Duminy who started off so well in Australia would want to get back to some form after his recent horror run.A couple of ICL returnees are the ones to watch out for as well A.Rayadu and R.Satish, who were both very successful for the now defunct ICL.
Mumbai's bowling mirrors the Indian and SriLankan attacks combined together with India's bowling spearhead Zaheer Khan leading the attack and adding further strength to their bowling will be the Indian offie "Turbanator" Harbhajan Singh and the Sri Lankan fast bowlers Lasith Malinga and Dilhara Fernando. With Robin Singh leading the new coaching set-up with the succesful and experienced Paras Mhambrey as his deputy to assist the bowlers their attack looks capable of dominating the opposition consistently. With such a strong batting line-up and a strong bowling attack, It would be a huge surprise if they do not reach the semi-finals. Anything less than a semi-final spot for Mumbai would be a huge disappointment for the team and their fans alike.
Players to Watch: Sachin Tendulkar, Kieron Pollard, Dwayne Bravo and Sanath Jayasuriya
Kolkata Knight Riders
With two of the most destructive players T20 has ever seen in Chris Gayle and Brendon McCullum, It was indeed a shock that Kolkata could only muster a handful on wins in the two editions put together.In 2008 they opened with an explosive display of power-hitting by the New Zealand wicket-keeper Brendon Mccullum against the Royal challengers and did little of note after that and finished their campaign in a whimper only winning six out of fourteen games.In 2009 it was even worse with only three wins from fourteen games.
With their eccentric coach John Buchanan being ousted and Dav Whatmore taking over the coaching role alongside India's most successful captain Saurav Ganguly there is some renewed optimism that Kolkata would be able to bury the ghosts of the past and move forward this year. With Chris Gayle declaring his availability for the entire season, he should form a blistering opening partnership with McCullum.With such a destructive opening pair and a captain who knows a thing or two about winning matches they could be a force to reckon with this year.
Gayle and McCullum are the only players to have hit a century in an international T20 game. If those two innings are any indication the Indian spectators could be in for a royal entertainment from Kolkata's openers.However apart from the openers their batting looks real thin and their fragile middle order is hugely dependent on the shoulders of Saurav Ganguly, Australian discard Brad Hodge and young Indian batsman Cheteshwar Pujara. Pujara is highly rated by the critics ever since he scored three triple hundreds in domestic cricket and this will be a great opportunity for him to show case his phenomenal talent in the big stage. Srilankan Angelo Matthews was a useful contributor for Sri Lanka this past year and with his international career taking off during 2009, Kolkata will look to him to provide solidity to the late middle order with some lusty hitting.
Owais Shah of England is their new signing this year and one wonders if he will get a game. With the Pakistani players de-barred from participating they will miss Umar Gul and Mohammed Asif and they will be counting on Ajantha Mendis of Sri Lanka to deliver the goods. Mendis has baffled quite a few world-class batsmen with his mystery spinners and of late he has been decoded by most if not all, it will be an interesting battle to see how he responds when teams face Kolkata. Murali Karthik and Ishant Sharma are retained in their line up and with the purchase of Shane Bond, Who is expected to thrill the audiences worldwide their bowling ammunition looks really strong. If Kolkata play to their strength and don't press the self-destruct button they could be worthy of a semi-final spot.
Players to watch: Chris Gayle, Brendon McCullum, Shane Bond and Cheteshwar Pujara
Rajasthan Royals
In 2008, the Royals proved that IPL cricket was not all about star value and big names. Under the smart leadership of Shane Warne, the least expensive franchise in the league was also the convincing champions. In 2009, they could not repeat their magic and did not even make it to the semi- finals. However with IPL returning to India and Rajasthan playing at home, where they are yet to be beaten this year could prove to be a different kettle of fish.
With the likes of Shane Watson, Yusuf Pathan and Graeme Smith in their line-up, they could actually be a tough opponent to beat on their day. Graeme Smith should be fresh from his break and Shane Watson has made tremendous progress as a batsman during the last year and everyone is aware of Yusuf Pathan's ability. With the old master Shane Warne reeling his leggies, Rajasthan should be quietly confident that they can pull it off this time. Apart from these three in the batting department the return of Damieyn Martyn after a stint in the ICL should also strengthen their middle order.The royals have looked to England to cover their all-rounder spot with the big-hitting all-rounder Dimitri Mascarenhas of Hampshire, these guys should provide an explosive core to the batting department.
The Royals probably have the best bowling line-up this year, Once again Warne will lead an attack with his fellow countryman the genuinely quick Shaun Tait. The lanky Morne Morkel and Munaf Patel should support Tait. Another South African, Johan Botha has joined their ranks and that gives them the option to choose from a wide array of bowlers with varying styles. One of the team's great strengths in the past two tournaments was their electric fielding and, with Jeremy Snape continuing as high performance coach, we can expect more of the same this time around. I would be very surprised if they were to not reach the semi- finals, and if Warne can conjure up a trick or two, the Royals might yet go on to win the crown for the second time.
Players to watch: Shane Warne, Graeme Smith, Yusuf Pathan and Shaun Tait
Kings XI Punjab
One of the losing semi-finalists of 2008, had a rather subdued campaign in 2009. They blew hot and cold and missed out on a semi-final spot last year.They have not made many changes to their squad and are primarily dependent on the nucleus of the side from the last two years. Punjab's batting appears energetic and enterprising. They will welcome the return of Australians Shaun Marsh, the leading run-getter of the 2008 tournament, and the all rounder James Hopes back to their fold.
Apart from these two their batting is further anchored by the sub-continent trio of Kumar Sangakkara, the classy Mahela Jayewardene and the explosive Yuvraj Singh,The addition of Mohammed Kaif should add some meat to the middle order. With Sangakkara taking over the captaincy, Yuvraj should be able to concentrate on his batting alone and Sangakkara has proved more than once he is one of the smartest brains around in the cricket field.
Punjab have bought the young West Indian batsman Adrian Bharath, who seems to be a precocious talent which was evident in the champions league and his recent Test returns. If he can repeat the form he showed in the champions league, Punjab would have had a big return on him, For the all rounder slot they have rested their hopes on the England and Essex star Ravi Bopara to make an impact to their fortunes. Brett Lee and Sreesanth have returned from injuries and if they fire, their bowling could be hot to handle. Their surprise package last year was the South African left-armer Yusuf Abdullah and he should be available to play his part alongside Lee and Sree Santh.With Irfan Pathan and Piyush Chawla of India on the sidelines their bowling looks ominously threatening. The presence of attacking batsmen coupled with fire power in their bowling indicates that they will make a significant impact this year and should go on at least to the semi-finals.
Players to Watch: Kumar Sangakkara, Mahela Jayawardena, Yuvraj Singh and Piysuh Chawla