The Unsung Hero of Indian Cricket : Robin Singh
Ganeshbabu Venkat |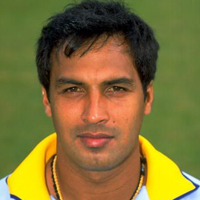 India is a country obsessively in love with two things, Bollywood movies and Cricket. A typical movie features a hero, a heroine, a villain and a huge supporting cast.The movies can be uninspiring to say the least but there are times when even lackluster movies are taken to lofty heights by some brilliant work from the supporting cast.Indian cricket over the period of time has seen many such characters who were part of a brilliant Support cast, none better than Robin Singh, who belongs to this category of outstanding support actors and remained an unsung hero throughout his career.
Although consigned to the role of a supporting actor all his cricketing career, Robin Singh has out shone the real heroes and had taken over the hero's mantle in many a match. He was not flashy and lacked the panache of a typical left-handed batsman. With the ball he did not run through sides nor took bowlers to the cleaners. Yet he brought in solid performances for the Indian team time and again, not the least of which was in the fielding department. It was really unfortunate that he was banished from international cricket for no fault of his for seven years after his ODI debut in 1989-90 by some whimsical selection policies .He made his comeback at the age of 33 in the year 1996 and for his age he was sprightly, fully fit and eager to throw himself all over the field and brought in solidity to the Indian late middle order after the exit of Kapil Dev and Manoj Prabhakar.
In all honesty his batting nor his bowling was Test class. However in the one-dayers his powerful strokes over the midwicket and his slog sweeps that he can play covering the square leg to fine leg region brought him enough runs. His penchant for hitting big flat sixes made him one of India?s best finishers and finest strikers of the cricket ball,Being a left-hander It was indeed a travesty that his off-side play was nothing more than a nudge here and a tickle there.Nevertheless with such a limited armory and repertoire at his disposal he managed to score a solitary ODI hundred against Sri Lanka batting at number three, Which was a clear indication of his perseverance, endurance and dedication to the team and himself.
The most admiring quality Robin possessed was his never-say-die attitude even in dire situations. It was this spirit that distinguished him from most of the Indian players of the middle and the late 90's who were either lethargic or got embroiled in controversies. His never-say die attitude was embodied in many games, but if one had to pick the best, two games come to mind. it was a pity that on both occasions he could not help India cross the finish line.
In the triangular one-day series in South Africa in the 1996-97 season, in the match against Zimbabwe in Paarl, Robin Singh scored 48 from 31 balls and helped India to tie the match when every one thought India had no absolutely chance in the game. India were in trouble at 110 for five. But Robin helped them to catch up with an asking-rate which had risen to 11 an over and India almost pulled off an improbable win in a match they were not even supposed to be losing close. In the World Cup match against Australia the much vaunted Indian top order of Ganguly, Tendulkar, Dravid and Azhar had capitulated to the hostile fast bowling of Glenn McGrath.Thrown to the wolves, Robin Singh and Ajay Jadeja defied the Aussies and in fact took on Shane Warne and almost brought the Indians within sight of victory but the damage had been done already and his brilliant knock was once again in vain.
The splendid 82 against Pakistan in the Independence cup, Bangladesh at Dhaka enabled India to bury the ghosts of Javed Miandad's last ball six for ever and broke the jinx of losing to Pakistan in a tournament final. The controlled aggression during his partnership with Ganguly was unforgettable. Another Standout innings of his was against Sri Lanka in Colombo when India batted wildly to slump to to 75 for six chasing a target of 172 in 25 overs, Robin Singh Battled the stifling heat , the Sri Lankan spinners, threw up in the ground and still managed to get India within eight runs of the target with a magnificent fifty.
For a man who started as a tear-away fast bowler it was indeed a sad predicament that he was never considered more than a military medium pacer whose job was to stem the flow of runs. A simple reading of the statistics will show that he has a one-day International bowling average of 43.26 and an economy rate of 4.79, nothing earth shattering. However he always remained a fifth bowler and the captain's go to man during a crisis these were commendable figures and the fact that he was bowled only an average of about 5 overs per one-dayer shows that he had been used very poorly by his captains. Despite these hiccups he managed two five wicket hauls in ODI's.
If the bollywood analogy were to apply for cricket Robin Singh will never be a hero and he will always remain a great supporting actor in the annals of Indian Cricket. However his attitude, his hard work, his ability to work with his limited skills and his brilliant fielding shall forever be etched in the hearts of millions of fans who were longing for an all rounder after the retirement of Kapil Dev. This Unsung hero Born in Princestown, Trinidad and migrated to India in search of greener pastures tried to fill in the gigantic shoes of the legendary Kapil Dev and will forever be remembered as one of the best all rounders India ever produced.