The Same Story in the ODI
Angikaar C |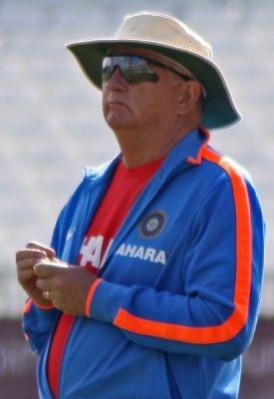 At the outset, let's get two glaring facts out of the air. Yes, this truly was a wretched, wretched tour for India. Injuries boomeranging here and there, the weather almost conniving to rob them of the few chances they had and a joint loss of form of pretty much everyone except Rahul Dravid.
Secondly, and make no mistake about it, India are a decidedly better ODI team than a Test one. Even despite a 3-0 loss which has consigned them to 5th place in the ODI rankings.
And after a long and in the end, plain disappointing tour, I just have a few questions for the cricketing management in the country.
I will not go into the Test debacle, because there has already been far too much analysis done over there. Yes, 4-0 hurt, no cross that, stung. But, as I just pointed out at the beginning of my piece, India possess a decidedly better ODI team. Add to the fact that they are World Champions, winning a World Cup, just around 5 months ago. And the best result they could come away with, was, a tie?
What differentiates the Test series from the ODI series is the fact that India did, at least, put up a fight. Unlike the Tests, there were moments and chances where India could have surged ahead. And therein, the problem lies.
If the cricket administration in India will take solace in the fact that India showed 'fight' and 'character' in the ODI series, then we have a big problem on our hands. No two words about it, the Test series is probably India's nadir in the last ten years and I seriously doubt if India will actually play that badly again. Compared to their performance in the Tests, yes India played well. Compared to a level of performance you expect from a World Champion side, no sorry, India were painfully off the mark, even in the ODI series.
Again, I can hear the usual excuses. 'We didn't have Sehwag, Gambhir, Sachin, Zaheer.' 'They turned on the rain whenever we had a chance of winning' And no, I'm sorry, they are excuses. Even without those 3, the Indian batting actually performed pretty decently. Rahane and Patel forged a very good opening partnership, Dravid as usual gave the solidity and even Kohli came into his own. Dhoni and Raina were brilliant in the series, proving why they're rated so highly in the ODI circuit. Special mention has to be given to Ajinkya Rahane, who was thrown into the deep end and has come out with flying colours.
But, with the bowling attack India has now, any opposing team will back themselves to chase down however many runs India scores, a fact so well illustrated in the last two matches. There's a telling statistic which adds to this. A look at the top 5 run getters in the series reveal four Indians – MS Dhoni, Suresh Raina, Virat Kohli, Parthiv Patel and only one English player – Ravi Bopara. Now, cross to the highest wicket-takers and you get the following 4 English bowlers (Swann, Bresnan, Anderson, Broad) and only one Indian (R. Ashwin).
This rut in Indian bowling is not new; it's been there for quite a while now and has just become even more glaring with the injury of Zaheer Khan. Praveen Kumar has been India's best bowler in the entire tour, but would he really displace an Anderson, Broad or a Bresnan? I have my doubts. This was also talked up to be the tour where Harbhajan would 'show up' Swann as the premier off spinner in cricket today; I think we don't really need to dwell on who showed up who. Also, who's brainwave was it to take Varun Aaron, supposedly India's fastest bowling prospect, on an all-expenses trip to England without giving him a game? What was the logic behind persisting with Vinay Kumar?
Vengeance should actually come soon, I don't really expect England to win the ODI series when they come over to India. If nothing else, Yuvraj Singh should be back, and he's a much better fifth bowling option to have, on the subcontinent, as he showed in the World Cup. Praveen Kumar, Munaf Patel and even Harbhajan, if he comes back, will suddenly find their teeth and look menacing on the slow and flat pitches of the Kotla and Hyderabad. But for how long will India blow away their opponents at home and meekly subside away? Every World Cup is not going to be held in India, after all.