The Clash In Old Blighty
Angikaar C |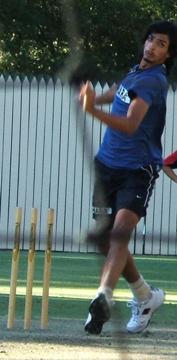 Old Blighty awaits. Never an easy proposition. Especially not when you're expected to brush them aside. That's one of the side-effects of being World Champions. Excellence is now expected.
MS Dhoni and his bunch of amazing cricketers kick off their reign as World Champions July 21st onwards as they clash with England in a long tour spanning 4 Tests, 1 T20 international and 5 ODI's. Yes, they did play the West Indies before that, but we?re discounting that; I mean, come on, India didn't even play at full strength and most of the matches had a dull, disinterested look , only lit up by the occasional flashes of brilliance from Laxman, Dravid and Chanderpaul.
Not with England though. They've traditionally been 'friendly rivals', if there is such a term. No accusations of racism or shouldering each other, ala a Sydneygate or the Watson-Gambhir confrontation. Nor, a historical, smouldering rivalry ala Pakistan. England have always been more of a cerebral bunch of opponents.
India will arrive in England with a quiet air of confidence. They are the World Champions after all, defeating teams like Australia, Pakistan and Sri Lanka on their way to a World Cup win which sent the nation into raptures of joy. They will carry pleasant memories of their last visit to England; in 2007, they secured their first ever Test series win in England, on the back of a game-changing nine wicket haul by Zaheer Khan in the 2nd Test of that series. England would do well to remember it; they riled Zaheer Khan in that test by scattering jellybeans on the pitch while he was batting. Zaheer got so incensed that he bowled with ferocity and venom picking up 5 English wickets in the next innings. There's a moral there for the English if they can discover it.
A cursory look at the Indian Test squad reveals all the usual suspects. Despite all the talk about 'youth' and 'new blood', it is still the old guard of Sachin, Laxman and Dravid which India will depend upon to provide stability and assurance. Sehwag's shoulder injury rules him out of the first Test; always a big blow for the team. The two relatively new faces in the team are Abhinav Mukund and Wriddhiman Saha. Abhinav Mukund has put in some decent performances in West Indies, but England should prove to be a very different ball-game for him, if at all he plays. Wriddhiman Saha slots in, in the role as the reverse wicket-keeper. Saha has been around for a few years now, and has the reputation of being a solid keeper as well as a batsman. However, it still remains to be seen if he?s good enough to be chosen as the 2nd choice Indian wicketkeeper, ahead of Parthiv Patel.
What is being keenly awaited though is the clash between India's pacers and English batsmen. For the first time in many years, India are arriving in England with a formidable battalion of pacers; there's Zaheer Khan, always dependable, a fiery, feisty customer with a special liking for the English. There's Ishant Sharma who finally seems to be coming to his own after a good tour of West Indies. His ability to bowl short of the length and move the ball both ways is finally paying him rich dividends. Sreesanth is the unpredictable kingpin in the mix; playing him is always a risk, because he'll either blast out the top order or lose you the match.
But it would be unwise to not focus on Praveen Kumar and Munaf Patel. Both of them might not have the charisma of Sreesanth but they both have oodles of tenacity and temperament. Munaf has only been getting better since the World Cup, while Praveen will want to prove to all and sundry and that he still occupies an important role in this attack. Strauss would also do well to remember to the threats posed by Harbhajan and Mishra; Bhajji has just gone to 400 wickets and he has recently spoken of his hunger to pick up more scalps, while Mishra, the only leg-spinner in the attack, brings in variety.
Strauss has recently admitted that this series 'is going to be as big as the Ashes.' Despite Sehwag being ruled out of the first Test, it?s not going to be an easy task for them to beat the Indians especially with the talent they have in their ranks. But betting against England would be foolish; defeating Australia in Australia is no mean task. This may sound cliched, but this is really 'evenly-matched'. All I would hope for, from a neutral perspective, is that Sachin finally manages to score his 100th ton.