The Greatest Test Innings: Revised and Updated
Steve Ferrier |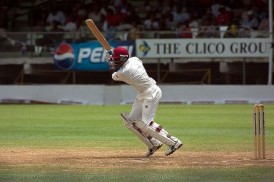 Three years ago, I released my top 100 test match innings based on my own statistical formula.
The top 10 were as follows:
1. BC Lara 153* vs. Australia at Bridgetown 1999
2. IT Botham 149* vs. Australia at Leeds 1981
3. GA Gooch 154* vs. West Indies at Leeds 1991
4. VVS Laxman 281 vs. Australia at Kolkata 2001
5. C Bannerman 165* vs. England at Melbourne 1877
6. DG Bradman 270 vs. England at Melbourne 1937
7. V Sehwag 201* vs. Sri Lanka at Galle 2008
8. VVS Laxman 167 vs. Australia at Sydney 2000
9. ST Jayasuriya 253 vs. Pakistan at Faisalabad 2004
10. SJ McCabe 232 vs. England at Nottingham 1938
What struck many readers at the time was the presence of VVS Laxmans 167 in the top 10. Whilst the innings was full of grace and memorable shots, it was largely meaningless, with India coming short of making Australia bat again by the margin of 141 runs. I thus set about making adjustments to my formula and Laxmans innings gradually slipped down the rankings.
At no.6 was Don Bradmans 270 against England at Melbourne in the first days of 1937. In his first series as captain, the Don heavily revised the batting order and came in at no.7 with the score at 90/5 in the 3rd innings of the 3rd test with Australia 0-2 down. He went on to add 346 runs for the 6th wicket with Jack Fingleton to put Australia out of sight. Australia went on to win the series 3-2 after the Don scored two more 150+ scores in the final two tests.
However, in Patrick Ferriday and Dave Wilsons excellent study, Masterly Batting: 100 Great Test Centuries, released in 2013, Bradmans 270 was only ranked at no.74. This proves that no two studies on the great test innings of the past will ever produce the same results. In fact, the rankings may differ a great deal. One interesting thing that Ferriday and Wilson did was to incorporate what they termed as "intangibles" into their study. This is something that I, working alone, cannot possibly hope to do. Instead, I have continued to use a purely statistical method and I have carefully selected what I determined were the most important criteria for ranking any test innings.
I have been working on ranking the best batsmen and bowlers in Test cricket for some years now. The career ratings for the Top 100 batsmen were released in July 2013 and can be viewed here.
I am still working on the Top 100 test bowlers but during the summer break I have revised my method for ranking individual test innings.
The latest version of my top 100 test innings was posted on the Cricketweb forum in August of this year. At the time, I stated that it would be the final version. But then something occurred to me. An innings such as BJ Watlings 124 against India at Wellington was rated at 6.50, compared to Brendon McCullums 302 scoring 14.11 points. In a sense, Watling was penalised for McCullum scoring so many runs. Watling thus scored a relatively low percentage of his teams total and his knock compared to other innings in the same match did not stand out a great deal in terms of runs scored. However, it is almost a near certainty that McCullum would have got nowhere near his triple century without the initial dogged support from Watling.
The core problem with the formula up to a month ago was that it favoured batsmen scoring big in low scoring matches too much over batsmen who scored tons in favourable conditions and/or when another batsman in the same match played a substantial innings.
In the earlier version, the formula included a base rating for factors such as:
1. Base runs scored.
2. Peer and Opponent Comparison. Runs scored divided by average score of other batsmen in the same match (the innings in which the batsmans runs were scored is given a weighting three times greater than that of the other innings in the match).
3. Percentage of team runs scored.
4. Pressure. Team score at the fall of wickets. For example, being at the crease when the score was 20/3, as opposed to 190/3.
5. Runs added with the lower order.
Of course, the base rating for the batsman who scores 150 out of match total of 800 runs for 40 wickets should be higher than an innings played on a featherbed. However, the problem lay in the fact that the base ratings were then multiplied by factors such as match result, quality of opposition, and match situation. For example, an innings scored out of a total of 300/9 (e.g. Laras 153*) in a 4th innings run chase might get a base rating of 11.00 and be multiplied by as much as 1.5, thus leaving a final rating of 16.50. In contrast, another innings out of a score of 380/4 in a successful run chase (e.g. Tendulkars ton against England at Mumbai) may fetch a low base rating of 6.00. If this is multiplied by the same amount it will get a final rating of 9.00. In essence, Tendulkar was penalised for receiving a lot of support from his fellow top order batsmen. Almost anyone who watched both innings though would not say that the worth of Laras knock was almost double that of Tendulkars.
I therefore thought it would be much fairer to add on points to the base rating instead of multiplying the base rating. To return to the example above, the innings with the base rating of 11.00 may get 7 points added to it. If the innings with the base rating of 6.00 gets the same amount of points added to it, then the two innings will have final ratings of 18.00 and 13.00 respectively. The gap between the two innings has closed substantially. Thus, an innings such as Tendulkars 103* at Mumbai gets a lot more credit now than it did before.
Another key change was in assessing the importance of an innings. Before, Laxmans 167 and Stan McCabes 232 were rated much higher than innings such as Sutcliffes 161 at Lords in the deciding test of the 1926 Ashes. McCabe is one of my favourite players in the history of the game, but in the end I had to admit that his glorious innings still left Australia a massive 247 runs behind England at the conclusion of the first innings. Sutcliffes innings contrasts with McCabe in that it was scored at a much slower pace and with substantial support from the top order. However, Sutcliffe and Hobbs strode out to the wicket to begin Englands 3rd innings with their side 22 in arrears. The match hung in the balance. At the end of their innings, England were 414 ahead. Sutcliffes innings was thus a massive factor in England ultimately prevailing.
In the previous formula, McCabes innings was rated above Sutcliffes by a substantial margin. Now they are rated exactly equal at 13.45 points but both are outside the top 100. They are still great innings (I have recognised any innings with a rating above 10.00 as "great"). VVS Laxmans 167 is now rated at 12.73 and BJ Watlings effort at Wellington is rated at 11.56. The formula now feels more complete, able to give credit to innings played in a variety of match situations.
The base rating is now made up of (with weightings in brackets):
1. Base runs scored (15%).
2. Highest partnership involved in. This greatly benefits Watlings effort, along with Jack Hobbs contribution with Sutcliffe in 1926 (5%).
3. Strike-rate (7.5%).
4. Peer and Opponent Comparison. Explained above (30%).
5. Percentage of team runs scored (20%).
6. Pressure 1. Team score at the fall of wickets. For example, being at the crease when the score was 20/3, as opposed to 190/3 (7.5%).
7. Pressure 2. Total fall of wickets whilst the batsman was at the crease. Goochs 154 and Sehwags 201* benefit here (7.5%).
8. Runs added with the lower order and tail order, with more weighting given to runs added with the tail (7.5%).
Points are then added on to the base rating. They consist of:
1. Match result and closeness of result (max 3.98 points for a 1 run victory)
2. Series impact (max 1.00 points for a win in the deciding match of a 5 or 6 match series)
3. Quality of opposition bowling attack (rating each bowling attack based on career records of individual bowlers and their performance in the series in question was a study worthy of its own feature article) (max 4.00 points/min -2.00 points).
4. Innings impact or significance. In essence, what was the positon of the batsmans team at the beginning and close of his teams innings and how important was his innings to the teams position. Batsmen gain substantial points by scoring runs in large 4th innings chases, in backs to the wall 3rd innings comebacks, or in the teams first innings when the margin between the two teams at the end of the first innings is small. Runs scored in the first or second innings of the match when the team ultimately finished with a large first innings lead or deficit along with runs scored in the 3rd or 4th innings when the team ultimately lost by a large margin lose points. The exception is runs scored in the 1st or 2nd innings in losses. If the team had a first innings lead in a match they ultimately lost, then the batsman scores points, since he put his team in a good position, which they subsequently failed to capitalise on. Michael Clarkes 151 at Cape Town is a prime example (max 5.00 points/min -2.50 points).
Below is the top 100 test innings of all time based on the revised formula. I will not add any portraits on the innings listed as most are already well known. I refer you once again to Patrick Ferriday and Dave Wilsons Masterly Batting: 100 Great Test Centuries for further reading on a number of these innings. Brian Laras majestic 153* remains at the top, followed by Goochs unbeaten 154. Bradmans 270 beats Hill and Bannerman for the best innings played by an Australian whilst Brendon McCullums 300 is the latest entry to the top 100 and also the best ever innings by a New Zealander. New Zealand also takes the (somewhat undesirable) honour for the highest rated innings in a losing cause.
This work was produced only by using Microsoft Excel and making use of scorecards from Cricinfo along with some valuable balls faced information from noted cricket statistician Charles Davis. The formula is not automated in any way and is purely the result of statistical analysis. There may be some innings over the history of the game that I have missed. Please post any queries about other innings of note, along with any feedback, to the comments section.
| | | | | | | | | |
| --- | --- | --- | --- | --- | --- | --- | --- | --- |
| | | | Opponent | Venue | Year | Result | Base Rating | Final Rating |
| 1 | BC Lara | 153* | Australia | Bridgetown | 1999 | Won | 10.97 | 20.95 |
| 2 | GA Gooch | 154* | West Indies | Leeds | 1991 | Won | 13.87 | 20.13 |
| 3 | VVS Laxman | 281 | Australia | Kolkata | 2001 | Won | 10.24 | 19.52 |
| 4 | IT Botham | 149* | Australia | Leeds | 1981 | Won | 11.91 | 19.49 |
| 5 | DG Bradman | 270 | England | Melbourne | 1937 | Won | 14.11 | 19.44 |
| 6 | C Hill | 188 | England | Melbourne | 1898 | Won | 14.85 | 18.91 |
| 7 | C Bannerman | 165* | England | Melbourne | 1877 | Won | 15.25 | 18.89 |
| 8 | V Sehwag | 201* | Sri Lanka | Galle | 2008 | Won | 13.22 | 18.82 |
| 9 | Hanif Mohammad | 337 | West Indies | Bridgetown | 1958 | Draw | 10.87 | 18.50 |
| 10 | Azhar Mahmood | 132 | South Africa | Durban | 1998 | Won | 11.65 | 18.27 |
| 11 | KJ Hughes | 100* | West Indies | Melbourne | 1981 | Won | 11.33 | 18.26 |
| 12 | ST Jayasuriya | 253 | Pakistan | Faisalabad | 2004 | Won | 13.48 | 18.23 |
| 13 | AC Gilchrist | 149* | Pakistan | Hobart | 1999 | Won | 9.33 | 18.21 |
| 14 | Saeed Anwar | 188 | India | Kolkata | 1999 | Won | 12.40 | 18.13 |
| 15 | CG Greenidge | 214* | England | Lord's | 1984 | Won | 9.67 | 17.93 |
| 16 | GL Jessop | 104 | Australia | The Oval | 1902 | Won | 9.82 | 17.79 |
| 17 | MA Butcher | 173* | Australia | Leeds | 2001 | Won | 8.30 | 17.66 |
| 18 | DPMD Jayawardene | 180 | England | Galle | 2012 | Won | 13.48 | 17.66 |
| 19 | CL Walcott | 220 | England | Bridgetown | 1954 | Won | 12.67 | 17.62 |
| 20 | R Dravid | 233 | Australia | Adelaide | 2003 | Won | 11.33 | 17.49 |
| 21 | Younis Khan | 200* | Zimbabwe | Harare | 2013 | Won | 12.43 | 17.48 |
| 22 | BB McCullum | 302 | India | Wellington | 2014 | Draw | 12.61 | 17.37 |
| 23 | G Kirsten | 100* | Pakistan | Faisalabad | 1997 | Won | 12.04 | 17.34 |
| 24 | Mohammad Wasim | 192 | Zimbabwe | Harare | 1998 | Won | 13.16 | 17.27 |
| 25 | BC Lara | 213 | Australia | Kingston | 1999 | Won | 12.07 | 17.27 |
| 26 | DL Amiss | 262* | West Indies | Kingston | 1974 | Draw | 12.72 | 17.22 |
| 27 | J Ryder | 201* | England | Adelaide | 1925 | Won | 11.28 | 17.22 |
| 28 | G.C. Smith | 154* | England | Birmingham | 2008 | Won | 9.74 | 17.18 |
| 29 | I.J.L. Trott | 184 | Pakistan | Lord's | 2010 | Won | 14.65 | 17.17 |
| 30 | GS Chappell | 182* | West Indies | Sydney | 1976 | Won | 11.17 | 17.13 |
| 31 | L Klusener | 118 | Sri Lanka | Kandy | 2000 | Won | 11.67 | 17.05 |
| 32 | JL Langer | 127 | Pakistan | Hobart | 1999 | Won | 8.16 | 17.04 |
| 33 | JV Coney | 111* | Pakistan | Dunedin | 1985 | Won | 9.33 | 16.99 |
| 34 | ME Trescothick | 180 | South Africa | Johannesburg | 2005 | Won | 10.63 | 16.91 |
| 35 | SM Gavaskar | 236* | West Indies | Chennai | 1983 | Draw | 13.44 | 16.89 |
| 36 | GP Thorpe | 113* | Sri Lanka | Colombo (SSC) | 2001 | Won | 10.47 | 16.86 |
| 37 | OG Smith | 168 | England | Nottingham | 1957 | Draw | 9.65 | 16.75 |
| 38 | RN Harvey | 167 | England | Melbourne | 1959 | Won | 10.02 | 16.69 |
| 39 | DG Bradman | 299* | South Africa | Adelaide | 1932 | Won | 14.18 | 16.50 |
| 40 | B Mitchell | 164* | England | Lord's | 1935 | Won | 11.34 | 16.50 |
| 41 | CH Lloyd | 161* | India | Kolkata | 1983 | Won | 12.57 | 16.46 |
| 42 | NJ Astle | 222 | England | Christchurch | 2002 | Lost | 11.92 | 16.43 |
| 43 | CG Greenidge | 134 | England | Manchester | 1976 | Won | 12.64 | 16.42 |
| 44 | DR Martyn | 161 | Sri Lanka | Kandy | 2004 | Won | 8.77 | 16.40 |
| 45 | Inzamam-ul-Haq | 138* | Bangladesh | Multan | 2003 | Won | 12.02 | 16.39 |
| 46 | JL Langer | 191 | Pakistan | Perth | 2004 | Won | 13.75 | 16.37 |
| 47 | WW Armstrong | 159* | South Africa | Johannesburg | 1902 | Won | 12.18 | 16.35 |
| 48 | DG Bradman | 212 | England | Adelaide | 1937 | Won | 9.67 | 16.34 |
| 49 | Hanif Mohammad | 187 | England | Lord's | 1967 | Draw | 12.99 | 16.34 |
| 50 | RT Simpson | 156* | Australia | Melbourne | 1951 | Won | 10.74 | 16.33 |
| 51 | SM Gavaskar | 221 | England | The Oval | 1979 | Draw | 9.59 | 16.31 |
| 52 | ME Waugh | 116 | South Africa | Port Elizabeth | 1997 | Won | 7.75 | 16.31 |
| 53 | AMJ Hilditch | 113 | West Indies | Melbourne | 1984 | Draw | 9.36 | 16.28 |
| 54 | MJ Clarke | 151 | South Africa | Cape Town | 2011 | Lost | 12.72 | 16.26 |
| 55 | MJ Slater | 123 | England | Sydney | 1999 | Won | 12.08 | 16.24 |
| 56 | GR Viswanath | 97* | West Indies | Chennai | 1975 | Won | 11.13 | 16.21 |
| 57 | R Dravid | 180 | Australia | Kolkata | 2001 | Won | 6.87 | 16.15 |
| 58 | KC Sangakkara | 156* | New Zealand | Wellington | 2006 | Won | 12.37 | 16.13 |
| 59 | GJ Bonnor | 128 | England | Sydney | 1885 | Won | 10.95 | 16.10 |
| 60 | PF Warner | 132* | South Africa | Johannesburg | 1899 | Won | 12.15 | 16.04 |
| 61 | MC Cowdrey | 102 | Australia | Melbourne | 1954 | Won | 9.94 | 16.01 |
| 62 | AW Nourse | 93* | England | Johannesburg | 1906 | Won | 8.19 | 15.98 |
| 63 | RE Foster | 287 | Australia | Sydney | 1903 | Won | 12.70 | 15.97 |
| 64 | RN Harvey | 151* | South Africa | Durban | 1950 | Won | 8.92 | 15.97 |
| 65 | JL Langer | 166 | Sri Lanka | Colombo (SSC) | 2004 | Won | 10.37 | 15.96 |
| 66 | DG Bradman | 103* | England | Melbourne | 1933 | Won | 10.98 | 15.95 |
| 67 | GP Thorpe | 119* | West Indies | Bridgetown | 2004 | Won | 11.98 | 15.94 |
| 68 | AD Nourse | 231 | Australia | Johannesburg | 1935 | Draw | 10.45 | 15.93 |
| 69 | AR Morris | 182 | England | Leeds | 1948 | Won | 7.14 | 15.83 |
| 70 | MN Samuels | 123 | New Zealand | Kingston | 2012 | Won | 11.95 | 15.82 |
| 71 | Younis Khan | 267 | India | Bangalore | 2005 | Won | 10.97 | 15.80 |
| 72 | DG Bradman | 173* | England | Leeds | 1948 | Won | 7.10 | 15.80 |
| 73 | RR Sarwan | 105 | Australia | St. John's | 2003 | Won | 5.53 | 15.80 |
| 74 | GS Chappell | 176 | New Zealand | Christchurch | 1982 | Won | 11.70 | 15.71 |
| 75 | CG Greenidge | 226 | Australia | Bridgetown | 1991 | Won | 9.64 | 15.69 |
| 76 | BF Butcher | 209* | England | Nottingham | 1966 | Won | 8.27 | 15.63 |
| 77 | GA Faulkner | 123 | England | Johannesburg | 1910 | Won | 8.81 | 15.62 |
| 78 | PHB May | 285 | West Indies | Birmingham | 1957 | Draw | 10.07 | 15.59 |
| 79 | DM Jones | 184* | England | Sydney | 1987 | Won | 11.78 | 15.58 |
| 80 | DL Amiss | 179 | India | Delhi | 1976 | Won | 12.20 | 15.57 |
| 81 | JP Duminy | 166 | Australia | Melbourne | 2008 | Won | 10.06 | 15.57 |
| 82 | GP Thorpe | 200* | New Zealand | Christchurch | 2002 | Won | 11.21 | 15.55 |
| 83 | PS McDonnell | 147 | England | Sydney | 1882 | Won | 11.75 | 15.54 |
| 84 | C Hill | 160 | England | Adelaide | 1908 | Won | 9.61 | 15.53 |
| 85 | Kamran Akmal | 113 | India | Karachi | 2006 | Won | 10.41 | 15.53 |
| 86 | GA Headley | 270* | England | Kingston | 1935 | Won | 11.46 | 15.51 |
| 87 | IR Redpath | 159* | New Zealand | Auckland | 1974 | Won | 11.83 | 15.48 |
| 88 | J Darling | 160 | England | Sydney | 1898 | Won | 9.10 | 15.48 |
| 89 | RT Ponting | 156 | England | Manchester | 2005 | Draw | 8.87 | 15.45 |
| 90 | DG Bradman | 334 | England | Leeds | 1930 | Draw | 13.28 | 15.44 |
| 91 | DA Warner | 123* | New Zealand | Hobart | 2011 | Lost | 11.51 | 15.44 |
| 92 | S Chanderpaul | 104 | Australia | St. John's | 2003 | Won | 5.16 | 15.42 |
| 93 | GM Turner | 110* | Australia | Christchurch | 1974 | Won | 7.77 | 15.39 |
| 94 | KS Williamson | 161* | West Indies | Bridgetown | 2014 | Won | 9.58 | 15.37 |
| 95 | BC Lara | 226 | Australia | Adelaide | 2005 | Lost | 12.07 | 15.36 |
| 96 | MA Atherton | 185* | South Africa | Johannesburg | 1995 | Draw | 9.12 | 15.35 |
| 97 | DPMD Jayawardene | 123 | South Africa | Columbo (PSS) | 2006 | Won | 6.68 | 15.32 |
| 98 | MA Butcher | 116 | South Africa | Leeds | 1998 | Won | 7.93 | 15.26 |
| 99 | AR Border | 163 | India | Melbourne | 1985 | Draw | 11.39 | 15.26 |
| 100 | SR Tendulkar | 136 | Pakistan | Chennai | 1999 | Lost | 10.82 | 15.25 |
Batsmen with 3 or more innings in the top 100:
DG Bradman 6
CG Greenidge 3
JL Langer 3
GP Thorpe 3
BC Lara 3
Top 100 innings by era/decade:
1877-1899: 6
1900-1914: 6
1920-1939: 9
1946-1959: 10
1960-1969: 2
1970-1979: 8
1980-1989: 10
1990-1999: 15
2000-2009: 26
2010s: 8