The Greatest Comeback In History?
Dave Wilson |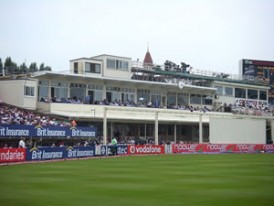 by Dave Wilson and Martin Chandler
One of the greatest comebacks in cricket history occurred almost sixty years before Headingley in the County Championship game between Warwickshire and Hampshire at Birmingham in 1922.
Hampshire were skippered by Lord Tennyson, the grandson of the famous poet, who ruled with some authority; to give an example of the sternness of his captaincy, after a disciplinary incident involving his bowler Jack Newman, Tennyson ordered Newman to draft three letters of apology, which he dictated, including one to Tennyson himself!Tennyson won the toss and decided, based on the overnight rain, to put Warwickshire in to bat. Newman quickly made the decision look to be a sound one, as he took three quick wickets with the home side on only 44. After a partnership of 122 at a run a minute between Warwickshire's skipper Freddie Calthorpe and FR Santall, Warwickshire eventually reached 223 all out.
In reply, Hampshire were quickly in trouble as they lost three wickets for no score. When the captain Tennyson, who had been dropped first ball, was fifth out with a catch to Calthorpe, the score had advanced (if that is the word) to five runs. At the end of the innings, which lasted less than nine overs, Hampshire were 15 all out, with eight of the eleven having registered ducks. Calthorpe had so far given a true captain's performance, with four Hampshire wickets (plus a catch) to add to his 70 with the bat, while Howell registered six wickets for seven runs.
So Hampshire, following on, began their second innings less than an hour after commencing their first. Calthorpe began where he left off, taking the first wicket with only 15 runs on the board, and although Hampshire had moved to 98 for three at stumps on the first day, an innings defeat still looked the most likely result.
Next day, Tennyson attempted to show his players the way with an adventurous 45, but further wickets soon fell, such that Hampshire were 188 for six at lunch, still needing 30 runs to avoid an innings defeat. A solid innings from the amateur Shirley helped Hampshire to a lead of 66 with only two wickets remaining, but things still looked gloomy. At this point Livesey joined Brown at the crease, and after a magnificent ninth wicket partnership of 177, during which Brown improved his tally to a majestic 172 (a marked improvement on his golden duck in the first innings), Hampshire were 451 for nine. At stumps, Livesey had moved to a very impressive 81 and Hampshire's lead was 243.
On the morning of the third day, Livesey (who incidentally was Tennyson's valet) advanced to his maiden century and helped Hampshire add another 70 to finish at 521 all out. What a turnaround – 15 all out followed by 521!
So Warwickshire, in the space of just over a day, had gone from planning an impromptu golf game to requiring 313 to avoid defeat. At 77 for one they seemed poised, but once more Newman, ably assisted this time by Kennedy, felled the Warwickshire batsmen one by one, to such an extent that Warwickshire found themselves mired on 89 for six. A brief revival by Quaife proved to be short-lived, Warwickshire eventually succumbing for the total of 158. After skittling out Hampshire for only 15, Warwickshire had somehow found themselves on the wrong end of defeat by 155 runs.
How could such a remarkable turnaround come about, the same players who couldn't muster 20 runs between them suddenly capable of more than 500 on the same pitch? Several of the protagonists have since revealed certain interesting details about the events which help to shed some light.
First, it seems that a verbal slight by Calthorpe provided a galvanising effect on the Hampshire team. According to Hampshire batsman and international rugby player Harold Day, during the evening of the first day Calthorpe had the audacity to suggest to Tennyson that the amateur players should arrange a game of golf the next day in the time remaining after Hampshire were disposed of, in response to which Tennyson issued a stream of invective and wagered 10 pounds that Hampshire would not only win but would score over 500 in their second innings. There is also mention in Tennyson's biography of a postcard sent to the Hampshire skipper, suggesting that he give up cricket and take his team to "paint spots on rocking horses" – this is also credited with having instilled a certain will to win upon the Hampshire players.
Further impetus was afforded Hampshire just before lunch on the second day when, according to Warwickshire keeper Ernest "Tiger" Smith, club secretary Rowland Ryder sent a note to Warwickshire skipper Calthorpe out in the field, saying that the committee wanted to "see some cricket" before they went off to a meeting. However, Smith advised the skipper to take no notice of Ryder and to get Hampshire out. Despite Smith's urging, Calthorpe stuck with the change bowlers, including Billy Quaife who at age 50 sent down no fewer than 49 overs!
It seems also that Calthorpe as a captain lacked the killer instinct, a view reflected in a book of reminiscences published nearly 75 years later by Ryder's son, also Rowland. He certainly let Hampshire off the hook by not taking the new ball on the second day when Livesey first joined Brown and thus allowed them to become set.
Nonetheless, even with the suggestion of Warwickshire having backed off when they had them on the ropes, clearly Hampshire played remarkable cricket to come back and win. Interestingly in the return match later in the year, Hampshire again scored more than 500 runs and won, this time by an innings and 178 runs. However, it's not clear if any money changed hands as a result of that match!