Going Out on a High
Martin Chandler |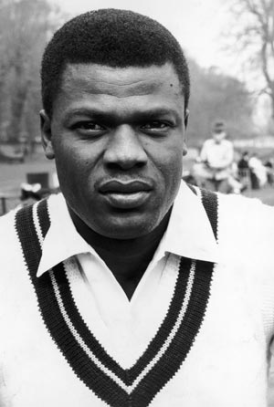 They say records are made to be broken, but I suspect the one that Seymour Nurse set in Christchurch in March 1969 will run for a long time yet. It must be possible, given that as many as 70 higher individual innings have been scored than the 258 Nurse put together over the first two days of that match. But it will take a remarkable man who makes a higher score and then, as Nurse did, soon afterwards announce his retirement from the international game and therefore leave such a score as his final Test innings.
It is surprising in the light of Nurse's achievements as a batsman that he begun his First Class career as late as he did, at the relatively advanced age of 24. He had always played the game, and scored many runs in the Barbados Cricket League before he was introduced to the famous Empire club by Everton Weekes, the man who oversaw his development as a cricketer. In years to come the influence was obvious; the wristy shots on both sides of the wickets, the excellent placement and the reluctance to lift the ball into air.
When Nurse did make his bow it was in a remarkable game for Barbados in Jamaica. The home side followed on after Nurse contributed a modest 21 to his side's first innings and they left Barbados just 97 to win. At 71-2 it looked a simple enough task before Barbados collapsed and were all out for 90. Nurse played pretty much a lone hand to top score with 35. A return game was played less than a week later, and Barbados almost had their revenge, but ran out of time with two wickets left to take. An unbeaten 128 from Nurse had set up the strong position.
There was another century for Nurse the following season, as he played twice against British Guiana, but it was the following December when he played the innings that made the world sit up and take notice. It was only his fifth First Class match, and his first against overseas opposition, Peter May's 1959/60 England tourists. The tour was in its early stages and after a couple of warm up matches the game against Barbados was the first major fixture of the tour. Winning the toss Barbados batted and ended the first day on 249-2 with Nurse unbeaten on 81, having put on 133 with Garry Sobers. EW 'Jim' Swanton described Nurse as large and lithe, and wrote that he began with rather ominous assurance. In the final session he even outscored Sobers. He didn't quite achieve that the following morning, but the pair added 173 in a tick over two hours before Sobers was finally dismissed. In Swanton's words Nurse had flowered to fullness with the suddennesswhich is so characteristic of West Indian batsmen.
After Sobers' was out Nurse moved on to 213 before he was bowled off his legs trying to pull a Kenny Barrington leg break. Barbados had a match winning 533-5 before Weekes declared. England, after a fiery greeting from debutant Charlie Griffith, were unable to avoid the follow on target. They batted better second time round but could not set the home side a target of more than 58, one that they achieved without losing a wicket. It was a disappointing start for the tourists.
Despite that defeat in Barbados the first Test was a high scoring draw after which, courtesy of two insipid batting performances by the home side, England won the second Test by the huge margin of 256 runs. As would be expected after that there were changes for the third Test and in came Nurse for his debut. The Test was just his sixth First Class match.
The pattern of this match was different. England won the toss and chose to bat, but it was only with the help of some solid contributions from the tail that they got to 277. West Indies then batted much better than in the previous match and closed the third day on 291, already in front with just two wickets down. Sobers and Nurse had put on 102, of which Nurse had 46. Swanton made the observation that no one could have thought that this was his first innings in a Test match. The confidence was there from the moment Nurse began, his very first delivery from the parsimonious Brian Statham being driven to the extra cover boundary.
Everything went awry for the West Indies after that however. Sobers was soon out and after Nurse went at 329 for 70 they rather collapsed in a heap and the game ended with them having to give up on a run chase that, for the sake of a bit more application on the fourth morning, they might not have had to go for. It wasn't Nurse's fault, he had only followed orders from his captain to look to accelerate, but he was the man who had to make way for the great Clyde Walcott who was recalled for the last two Tests. It was to no avail however as England drew both comfortably enough to take a series in the Caribbean for the first time.
Sufficient had been done to earn Nurse a place in Frank Worrell's party that went to Australia for the famous 1960/61 series. On the whole Nurse didn't find the pitches to his liking, and he didn't manage a century all tour and averaged just 27. In the Tests however he had his moments before an ankle injury sustained in a minor match after the fourth Test ended his trip early. He didn't make the side for the first match, so was just an onlooker for the famous tied Test, but he played in the next three. In the first innings of the second Test only Nurse and Kanhai got into double figures, and West Indies would have been in dire straits without Nurse's 70. Run out for 3 in the second innings he then scored 43 and 11, followed by 49 and 5 in the next two before his injury. The cricket correspondent of the Jamaica Gleaner, LD 'Strebor' Roberts accompanied the tour and expressed the hope that Nurse wouldn't be judged solely on the number of runs he scored, and was clearly of the view that he should be part of the 1963 side to England.
As soon as Nurse had finished his commitments for West Indies in Australia he travelled to England where he spent the English summer of 1961 with Ramsbottom in the Lancashire League. He scored more than 1,100 runs, almost 200 clear of his nearest fellow pro, West Indies teammate Conrad Hunte at Enfield. Despite the knowledgeable crowds in those two villages being treated to some high quality batting throughout the summer neither team enjoyed great success. Bowlers win matches in the leagues and although Nurse got a goodly number of wickets with his occasional off spin a Test class bowler was what was needed to win titles. Nurse spent three summers in Lancashire and, ironically, it was his least successful with the bat, 1964, that saw Ramsbottom well up in the top half of the table.
Back home in 1961/62 Joe Solomon got a Test berth in front of Nurse so for the visiting Indians, beaten 5-0 by a rampant West Indies side. Nurse was selected just once, for the fourth Test. With Solomon fit again for the fifth the selectors could find no place for him in the final Test despite scores of 1 and 46*. In 1963 Nurse, as Roberts had suggested he should, toured England but it was a disappointing trip for him. He batted reasonably well but could not break into the Test side. He won't have begrudged Basil Butcher the middle order place he kept all series, though he might have wondered whether he should have had a crack at the one that Solomon held on to. He will also have been disappointed that he wasn't given a chance to bat out of position. Worrell's side was one that had everything, except a reliable opening partner for Hunte. Easton McMorris was tried and discarded, and then 'Joey' Carew fluffed an opportunity before in the final Test leg spinning all-rounder Willie Rodriguez was given the place – he failed too.
The selectors would no doubt point to Worrell's side's 3-1 win in order to support their decisions, but perhaps there was just a hint of contrition in their selection for the first Test against Australia in the Caribbean in 1964/65, a contest for the title of the best team in World cricket. Still lacking an obvious partner for Hunte at the top of the innings Nurse finally got his chance to stake a claim there. West Indies took a 1-0 lead, and Nurse did his job to the extent that the opening partnerships were 48 and 50, but his own contributions were just 15 and 17, and for the second Test he made way for a specialist, Bryan Davis.
Davis recorded a pair of half centuries and secured his place for the rest of the series as West Indies comfortably drew the second Test. For the third Test the West Indies left out all-rounder Tony White and brought back specialist batsman Nurse. With just four bowlers a draw looked to be the limit of West Indies ambition but in fact Lance Gibbs spun them to another substantial victory and they moved 2-0 up with two to play. Nurse's 42 and 6 in a low scoring match were enough to keep him in the side for the fourth Test at his home ground at Bridgetown, and it was there that he made his place secure.
Australia batted first and openers Bill Lawry and Bob Simpson batted on all day. They went on to become the first pair of openers to each score a double century before Simpson declared on 650-6. At 99-2 with Hunte retired hurt the home side were wobbling, but Nurse got 201, and added 200 with Kanhai before he was dismissed with his side all but safe from following on. They ended up within 77 of Australia. Needing a win Simpson had to leave Sobers a challenge and an exciting game ended with West Indies 11 short of victory with five wickets in hand. Nurse was dismissed for a duck in the run chase, but it was his first innings effort that really counted.
For the West Indies, and Nurse, it is best to draw a veil over the final Test, won by Australia by ten wickets, but it was the series result that counted, as it did again in England in 1966 when West Indies won 3-1. Nurse was a model of consistency scoring 501 runs at 62.62. He failed just once, in the first innings of the final Test when England picked up their consolation victory. That apart there was a century and four half centuries.
Although he had only just become established Nurse's career in the spotlight was not to prove a lengthy one. He went to India in 1966/67. He did not score heavily after missing the first Test with a finger injury, but Wisden described his 56 in the riot-marred second Test at Calcutta as an effort of considerable merit. 1967/68 brought England back to the Caribbean and, thanks to Garry Sobers' infamous declaration at Port of Spain they repeated their 1-0 victory of eight years previously.
The West Indies problems at the top of the order persisted and Nurse was tried as opener again in three of the Tests against Cowdrey's men. He was not quite so dominant as he had been in 1966 but only failed once, when he was run out for nine in the second innings at Port of Spain. In the first innings his 136, most of them scored in a partnership of 273 with Kanhai, was instrumental in enabling Sobers to set England the achievable target that he did.
The final Tests of Nurse's career came during a five month tour of Australia and New Zealand a year later. Writing the tour report in Wisden Henry Blofeld wrote of the Australian series; It was sad to watch these once famous West Indians trying vainly to recapture their former powers. In some ways that was a little harsh, as the visitors won the first Test and were one wicket away from tying the series up in the fourth Test, but Hall and Griffith in particular were shadows of their former selves and the mighty Sobers, despite averaging all but 50 with the bat and taking 18 wickets, looked jaded. Constant year round cricket was finally beginning to take its toll even on a man as supremely gifted as Sobers. Nurse turned 35 in Australia, so was no great age, but by his own standards he struggled before recording a defiant century in a crushing defeat in the final Test.
According to Sobers 1988 autobiography, Twenty Years at the Top, Nurse decided in Australia that he had had enough. Sobers wrote that he attempted to talk Nurse round, but that he remained firm in his resolve, telling Sobers; You know these people. I don't want them to chase me away. I'll make the decision myself. In a later autobiography, published in 2002, Sobers expressed the view that he believed that Nurse went on to regret his decision, although he does not say why he felt that to be the case.
Despite the resignation there was still the New Zealand series to come, the first between the two teams in 13 years. Nurse was utterly dominant. In the first Test he scored 95 and 168 as his side took a 1-0 lead in the three match series. There were 21 and 16 in the second Test. New Zealand squared the series then and without that 258 at Christchurch, scored out of 417, the home side might have gone on to win the series. As it was Nurse's mammoth effort ensured a draw. In all he batted for eight hours, much of it in light that was far from good. Wisden described the innings as a magnificent display of aggressive but responsible batting.
There was no change of mind about retirement however. Nurse might have genuinely thought before the final Test in Australia that he would be well advised to jump before he was pushed, but he couldn't have believed that on the strength of his form thereafter. He would have been an automatic selection for the tour of England that began a few weeks after Sobers' men returned from New Zealand. Some speculated that he simply wanted to spend more time with his family. He has twin daughters – the girls were just three years of age when Nurse played his last Test.
Despite being asked many times Nurse refused for years to talk about the reasons for his retirement, and then when he was 80 he finally broke his silence on the subject, even if in many ways that raised more questions than it answered. He confirmed he did miss his family, but that was a more compelling reason than that. He didn't give away anything in terms of detail, but what he did say spoke volumes; the behaviour of some members of the team was a sort of turn off for me. I put it down to behaviour like in a marriage, where people get tired with one another and say things that they should not say. It wasn't nice, it was getting terrible and I was a man who played my cricket in a serious way. I could not take it any longer and I said I was finished.
Retirement from international cricket didn't prevent Nurse playing on for Barbados for another three seasons, and in the last of those he averaged 45 and in his penultimate First Class match the 38 year old delighted his many supporters at the Kensington Oval. Barbados needed to score 177 in the fourth innings to beat Jamaica. They got to 42-0 when opener Peter Lashley had to retire hurt. The old warhorse came out to face the bowling of Uton Dowe, a man who at that time was expected, by Jamaicans at least, to become the next great West Indian fast bowler. He never did become that, and the lesson that Nurse taught him that day might well have been part of the reason why not. A rapid 93 from Nurse took his side to a 10 wicket victory, and Dowe's thirteen overs cost him 69 runs.
After leaving the First Class game Nurse played in the local masters competition and was not actually dismissed for two years. He was still playing in that competition, successfully, when he was nearly 60. In later years Nurse earned his living as a coach with the Barbados Government Sports Council. He visited the island's schools to coach the youngsters and helped develop cricket programmes. Many of his young charges went on to play for Barbados and West Indies. One of his shrewdest moves, although batsmen the world over will not have been grateful to him for it, was to persuade a young Joel Garner that he might like to try bowling fast rather than aim to be a wicketkeeper batsman.
By the time Nurse celebrated his 80th birthday the President of the Barbados Cricket Association was the very same Garner, who wrote of his mentor, his unassuming and approachable manner made it very easy for aspiring young cricketers to relate to him. However, behind that quiet exterior was a steely determination, and his charges always knew who was in control of the practice session.
It wasn't just cricket for Nurse. In his younger days he was also a very good soccer player. A prolific striker with Empire he also played for Barbados. His soccer career was not a lengthy one though, an ankle injury that left him on crutches for three months and some robust advice from his father persuading him to stick to cricket. His real passion outside the game in which he made his name was the sport of kings. Nurse developed the fascination for horses and love of the turf that he has to this day in his late teens. A regular race-goer he was for a number of years a track judge, making rulings on the line taken by jockeys where infringements are alleged. In truth Nurse has probably spent a greater part of his life at the Garrison Savannah than he has at Kensington Oval.
Long into his retirement Nurse seems a contented man, happy to live modestly and out of the public eye. But there are still plenty who remember the cricketer – as Charlie Griffith wrote; Seymour was a beautiful batsman and had a great temperament for the big occasion.