Cardus on Bradman, 1950
Dave Wilson |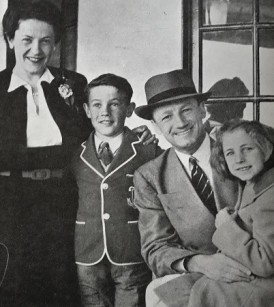 This review of World Sports magazine looks at the edition of August 1950 in which Neville Cardus reviewed Don Bradman's Farewell to Cricket.
After some discussion of the straightforward writing style, Cardus notes that the great man discloses little of how he learned to bat and, being also a music critic, he compares this to Wagner's biography which similarly gives no clues as to the development of the great composer's gifts. The reader is left to marvel at the sheer implausibility of the bare statistics though there is some inkling of the Don's philosophy in the magazine's feature – after making 118 in his debut first-class innings, he struggled for a couple of innings including a duck – "Since that day I have never made up my mind what to do with a ball before it has been bowled. I commend this advice to all players."
Cardus makes most of two specific episodes which bookend Bradman's Test career, those being the Ikin "catch" and of course Bodyline. Both of these elements of Ashes folklore have been superbly dealt with in great detail by our own Martin Chandler, first with A Fine Way to Start a Bloody Series and then Bodyline!, as well as individual pieces on many of the main protagonists including Larwood, Jardine and Bradman himself. I urge those reading to avail themselves of Martin's features.
First, the Ikin catch. The scene was Brisbane during the first Test of the 1946/47 rubber. Bradman came in with the score at 46/2 and, after a shaky start, he chopped a ball from Voce to Ikin, stationed at second slip. Here is Bradman's description of events: "Voce bowled me a ball which was near enough to a yorker. I attempted to chop down on top of it in order to guide the ball wide of the slip fieldsman. Instead it flew to Ikin at second slip. In my opinion, the ball touched the bottom of my bat just before hitting the ground and, therefore, it was not a catch. Accordingly I stood my ground waiting for the game to proceed. Somewhat belatedly there was an appeal. Without the slightest hesitation umpire Borwick at the bowler's end said 'Not out.' The score was 74/2 at that time and Bradman then went on with Hassett to add 276 for a third-wicket record. 74/3 was instead 322/3 and that is why the incident engendered so much discussion. It should be noted that England lost by an innings and 332 runs.
In the aforementioned feature A Fine Bloody Way to Start a Series Martin has researched every one of the protagonists who have either written a biography or had one written about them, as well as the existing tour books, and I have no qualms in taking advantage of his efforts. The live broadcaster, Cliff Cary, announced it as a catch, though he was of course quite some distance away. Bradman thought it was not out as did his batting partner Lindsay Hassett. Indeed it seems the players were split basically by nationality, though some, such as Colin McCool weren't sure one way or the other. This wasn't necessarily true in the case of those observing but not playing, though Bill O'Reilly and Jack Fingleton, who both the catch was good, are well-known detractors of Bradman. Cardus quotes from Cyril Washbrook's book The Silver Lining, as does Martin – Washbrook was in no doubt the catch was good, and states that all of the England fielders close enough to the wicket were similarly convinced. Crucially, and most importantly, the umpires both considered that it was not out.
As regards Bodyline, Cardus notes "Sir Donald argues the case against Bodyline with dignity and shrewdness." Bradman calls as his principle witnesses Plum Warner, Jack Hobbs and Wally Hammond ("I condemn it absolutely"), while Cardus takes the opportunity to point out that he ploughed a lone furrow among English writers in denouncing the practice: "When the Jardine-Larwood campaign was at its height, and people in this country seemed to think there was no difference between leg-theory and fast bowling bouncing high and persistently at the batsman, bowled to a leg-side field of six to eight men, I found myself alone among writers on the game in condemning this form of attack." Indeed, Cardus' piece on Monday 16 January 1933 following the battle of Adelaide was entitled 'Hooligans', and as David Frith wrote in Bodyline Autopsy 'In the Manchester Guardian [Cardus] challenged [Bodyline's] morality, displayed his revulsion at violence and intimidation, and probably had a guiding hand in the paper's leader which suggested it might be best to cancel the last two Tests and abandon international cricket for 10 years." Cardus did make it clear in his article that he was in England and not actually following the tour.
Cardus goes on: "I asked those who abused me and called me pro-Australian to wait to see whether English batsmen would tolerate continuous fast bouncers to a leg-field after the Jardine-Larwood campaign had been fought and won." Cardus does admit that his objection to Bodyline was largely on aesthetic grounds – "I didn't wish to see batsmanship reduced to hits made in one direction…or see a cricket field and a cricket crowd a roaring ferment of bad blood."
Confirming Cardus' claim of being at the time the sole voice of dissension, other headlines in England included "Woodfull sulks in his tent" (the Sketch), "Woodfull snubs Warner" (Daily Mail) and "Woodfull rebukes English manager" (unknown). Wilfred Rhodes, writing in the Yorkshire Evening Post, opined: "The leg theory which is being employed by our fast bowlers has got the Australians rattled as badly as the terrific bumpers of Gregory and the pace of McDonald got our batsmen rattled…neither Voce nor Larwood will look anything like so formidable to the batsmen as Gregory did when he was over here and at his best in 1921. He hit a few men…" He then went on to mention Warwick Armstrong's use of slow leg theory – what goes around, comes around. Later, New Wisden editor Sidney Southerton proclaimed Jardine's captaincy to have been touched by genius and that he'd shown great pluck. According to David Frith, Jim Swanton did not make his feelings on Bodyline known until after Jardine's death. Clearly Cardus was, as he said, in a minority when the controversy was boiling.
However, in Bodyline Hypocrisy, Michael Arnold notes "In Manchester a doubting Neville Cardus had read enough (and had probably been to the newsreel cinema too). He turned to Dr Johnson's words: "knock the man down first and be compassionate afterwards." And yet even Cardus was not immune to the schismatic thinking that Bodyline has induced: he wrote that "the sturdy little man from Nottingham has got rid of stalemate"…He advocated that a statue of Harold Larwood be erected in London, for his performance was the kind that Tom Richardson, the outstanding fast bowler of the 1890s, would have recognised and loved."
As regards Douglas Jardine, Cardus was certainly an admirer of the England captain, describing him as the 'strongest of all captains of cricket' and had written in the Observer prior to the tour that "absurd stories are going around that Jardine is a combination of a Prussian junker and schoolmaster Dr Switchem with his cane. But if the Australians are to be tackled, give me a captain who smiles only when the enemy are being rubbed into the dust." Writing in Measure for Measure, Cardus stated firmly "Australia being Australia, and the 'Hill' being the 'Hill'—il faut cultiver notre Jardine."
Schismatic thinking indeed.