Caption This with Kevin Pietersen
Finn Lower |
As one of England's greatest batsmen, Kevin Pietersen won four of a possible six Ashes series over the course of his 10-year international career. In this article, Caption This with Betway, Pietersen reacts to a series of photos from those clashes against Australia.
Hitting Warne for six
Six against Warne.
This Australian side was quite something.
There was no negatives, it was just all about win, win, win, win, win. And we knew the only way to beat win, win, win, win, win, was to try and win, win, win, win, win.
But I think what my runs did was it said to the team: Okay, if this little clown can do it, we've been around for a little bit longer than him, that was only his first game, we should also go and do it.
McGrath's injury at Edgbaston
McGrath going over on a ball.
We saw McGrath go down and to say that we weren't excited is probably a lie.
Obviously with McGrath not being in a Test match, you stand a much better chance. If you want to be positive and you want to really go out and smack Australia like we said we were going to do, to not have McGrath there to go and pitch it on line and length was a massive plus and a massive bonus for us.
Edgbaston finale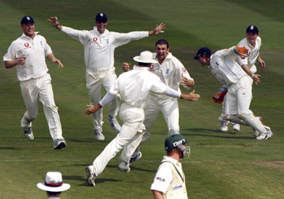 We almost played Bazball back in 2005 in this Test match.
Every single Test match was iconic.
The Australians that turned up that final morning, they got louder and louder.
Then they started screaming, five runs, three runs, and then Harmy bowled that full toss to Lee and he smacked it out to Simon Jones. As he hit it, I thought 'game over'.
But he fielded it, and then what happened next was, for the series, for what people still talk about, it was just meant to be.
Oval heroics
Oh, crikey. Every time I see this picture I just think 'put your helmet back on'.
To have been able to bring the team home on that final day was life-changing for me.
Most of this was instinctive.
Blocking at 96 miles an hour when a guy's trying to clean you up, it just doesn't happen. And it couldn't happen that day.
Me and Ashley Giles doing maths, we were probably so way off the mark anyway.
No matter how many runs we got, we kept saying: 'We've got to get more, we've got to get more'.
Celebrations + Flintoff's impact
Ah, the celebrations.
Freddie's impact on that series in particular was, for him, utterly spectacular. For the team, he was almost that cog in the wheel that got us home.
His hunger and his desire to just keep performing. He got runs with the bat, doesn't drop a catch, a very intimidating personality.
He was the ringleader, Freddie.
Cricket became front page news.
All of us idiots got MBEs for just this, because of what this meant to the country.
Remembering Shane Warne
This is an incredibly special photo because he was a great, great friend.
He had aura, Shane.
He was just such a fun guy to be around, and somebody who, if he was in this room now, you'd want to sit next to him.
I know what he did to get me into that England team and the stuff that he was saying in the media, probably undeserved, some of how nice he was being about me.
But we also had some unbelievable battles. I'll never forget the first Test at the Gabba, when he kept throwing the ball at me and we had one of the biggest ding-dongs.
It's almost impossible to believe that Warnie's still not here.
Just a legend.
Michael Clarke dismissal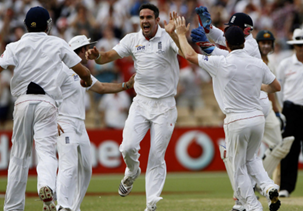 Ah, this was the Michael Clarke wicket.
I was asked to come on and try and deliver some magic, roll the arm over and see if I could do something.
Got one to spin, got one to bounce. Bat, pad, caught by Cook at short leg.
I preferred doing the smacking than being smacked.
Bowling for me became hard work.
But yeah, went upstairs, referred it and that was it. Michael Clarke was on his way back to the dressing room. It sort of opened up one end and we went on to win the Test match.
Winning in Australia
Yes, look at the smiles, you can see the smiles. Winning in Australia was such a huge thing for English cricket.
Maybe it was because we put them under so much pressure, because of how good we were, that we were able to just clean them out and clean them out as quickly as we did.
It was an unbelievable batting line-up, an unbelievable batting line-up. An incredible team actually, in terms of all of those players playing at the same time.
To be able to say we beat Australia in Australia is a big thing.
Winning four Ashes
Four of them. Winning four Ashes, winning I think it was four from six.
The cap that I've got on there is something that has pride of place in my house.
Because of all the blood, sweat and tears that goes into playing all those, and there was blood, there was a lot of sweat and there was also a lot of tears.
To have four of those little urns is, yeah, it's pretty cool.