Best Cricketing Moments of 2010 : Part One
Ganeshbabu Venkat |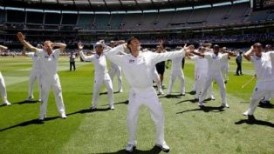 In a two part feature Cricket Web (Ganesh Venkat, Martyn Corrin and Faaraz Rahman) take a look at some of the best moments of 2010. Here are a few in Part One that are worth reliving.
Sydney 2010
The first Test match of the year in 2010 between Australia and Pakistan. Set a target of 176 to win, Pakistan were less than 100 runs shy of that with seven wickets intact. Cruising at 77-3, the Pakistani captain Mohammed Yousuf hit a ball from Nathan Hauritz so hard that the ball caught Hauritz on his left hand, cut open his left thumb and required medical treatment. It proved to be a decisive moment in the game, Hauritz braved that, broken thumb and all that was the wicket that started the series winning spell from him, he finished with 5/53 and Pakistan spectacularly combusted to 139 all out. The game coming under the radar of ICC is altogether a different matter but that particular catch will remain etched in my memory for some time.
The Punch
The picturesque Darmasala was the venue of a cracker of a contest between Punjab and Chennai in the 2010 IPL. Requiring 16 to win the match off the last over and ensuring a spot in the semis, M.S Dhoni managed to power the first ball wide of long off for four. The second one was top-edged in no man's land and they ran two, The third one was muscled over the long on fence for a DLF maximum and the match was well and truly over. With four required of three, Dhoni sent the next one in to orbit to finish the game. Wait that is not what this is about, Dhoni did not show any emotion, no ugly celebrations, no fist pumping or gyrations, He just let out a roar, and gave himself a punch on the jaw, that punch was pure desire. Needless to say his team mates were delirious and had absolutely gone bananas.
Afghanistan
This one is for the associates – A nation torn by war, an unstable government, half the players born in refugee camps. On the cricketing front they have no pitch, only a handful of rundown batting cages and a bowling machine. It was a Cinderella story for Afghanistan when they qualified for the T20 World Cup. They narrowly missed qualifying for the 2007 World Cup. When Nowroz Mangal walked out to toss with M.S Dhoni for their opening game of the T20 WC, Afghanistan had indeed come a long way. To think that they were fighting it out in Division Five with the likes of Jersey and Nepal and could come this far is indeed a triumph of mammoth proportions. Hats off to those players and they certainly did not disgrace themselves on the field against both India and South Africa.
Australianism
Probably one of the top moments of the year, Michael Hussey blasted a 24 ball 60 in the semi-finals of the ICC T20 to eliminate Pakistan. Aussies had no chance, even an ardent Aussie fan would not have given his team a chance when they required 48 in three overs, All seemed lost when 18 were required off the last over and when Mitchell Johnson hit a single of the first ball they were left to get 17 of five balls – a super human task. Mike Hussey took strike, he hit Saeed Ajmal for a couple of huge sixes, followed that up with a boundary to level the scores and tonked him out of the park to win the game. It was a goose bump moment, Pakistan did not know what had hit them and no one knew what happened except that the Aussies were celebrating wildly. Hussey had done the improbable. Even the metaphor snatching victory from the jaws of defeat would not be apt for this situation, for this was like snatching victory from deep inside the throat.
Dance Floor
You would probably never see this on a cricket field and if it ever were to happen it had to involve some one from Trinidad and Tobago, the land of soca. In the Champions League group match against South Australia, Kieron Pollard of the Mumbai Indians had just "licked" Shaun Tait for one of the monstrous sixes of the tournament in the penultimate over. The hit was measured at 120 meters. The ball was promptly lost and when the umpires where looking for a replacement ball, the DJ blared out a number from the album "Heater" , Bravo and Pollard immediately broke in to an impromptu Jig, their moves weren't that bad either, It was indeed a sight to watch.
Sachin Tendulkar
When Test cricket started no one would have thought of some bloke scoring 50 Test hundreds. It happened on a fine afternoon at Centurion, albeit in a losing cause. India were delaying the inevitable, thanks to Dhoni and one Mr. Tendulkar. Tendulkar had fought his way to 80 when tea was taken. After tea, he was in a hurry and picked up Morne Morkel for boundaries and he was nearing his remarkable milestone. South Africa threw everything at him in an attempt to delay the record, In an unexpected move Tendulkar took on Paul Harris and sailed in to the 90's and when he punched Dale Steyn through the cover he had become the Neil Armstrong of cricket. He landed in to a territory where no one had even dreamed of reaching before. No celebrations of any sort, He looked up to the sky, embraced Dhoni and went on with his business of scoring runs which he has done for the past 21 years.
Chris Gayle
If Tendulkar's 50th hundred had no celebrations, this one has to take the cake for the best celebration of the year. On his way to joining Sir Don Bradman, Virendar Shewag and Brian Lara, Chris Gayle during his epic knock of 333 celebrated in such fashion that even his team mate Darren bravo and the Sri Lankans were left wondering what to do. As soon as he reached his first 100, he laid down plush on the pitch for a few seconds and then got up and sat on the pitch. The Sri Lankans and Bravo had to wait before they could shake his hands. When everyone thought what he would do when he hit 200, nothing happened he just waved his bat and did not show any emotion, As soon as he hit 300 he kneeled on the wicket. Can any one be cooler than this guy on the cricket field? I certainly think not.
Muttiah Muralitharan
Murali's 800th Test wicket. Another WOW moment, Like the 50 Test centuries, no one would have thought that a man could bowl his way to 800 wickets. Unlike Tendulkar, Murali had announced his retirement and still was eight wickets short, he managed a 5fer in the first innings and it was like a fairy tale when he was on 799 and the last wicket Indian pair was denying him the opportunity. His team mates were not helping him either, They were aiming to get direct hits and Herath was bowling like he could get a wicket any ball, But the genial Tamil from Kandy was not to be denied he got his 800th wicket in the most typical fashion. Pragyan Ojha C Mahela Jayawardena B Murali and SL knocked off the runs in a jiffy to win the game.
Durban Blues
For a team ridiculed as paper tigers, this was a huge stride, It would not be an exaggeration to say that they buried their Durban ghosts in the last Test of the Year. Durban for any Indian would only remind the horrific 1996 Test where they were blown away for 100 and 66. Against all odds, Even after a drubbing at Centurion, India managed to pull off one of the finest victories away from home. Even after getting out for 205, They put it across the South Africans to win the Test. Dismissing them for 131 they proved that they can bowl on these wickets and when Laxman produced another gem to take them past a lead of 300, it was just a matter of time before they would win their second Test in South Africa and they did, Indeed life had come a full circle for Tendulkar, Dravid and Laxman who were part of that 1996 Test.
Melbourne
Four years ago, I was miserable. An innings defeat at Melbourne left is staring at 5-0. Of course, we had been there before; we were four down with one to play in the previous away Ashes series. To be in such a position after the massive highs of the year before though, it was unfathomable. Well just as the 2005 Ashes victory was made all the sweeter because of the years of lows that preceded it, so will this year's retention be enjoyed much more because of what happened last time. And on that note, there was no better moment for me this year, in cricket, than when Tim Bresnan took the wicket of Ben Hilfenhaus to give us an unsurpassable lead. Sure, we all knew the game was long done before then. It actually sunk it in though; England had gone to Australia and retained the Ashes. Wow!