What's In A Coach?
Richard Dickinson |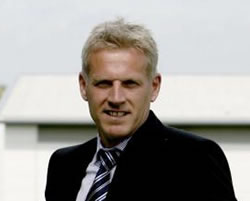 Kevin Pietersen is not the first player – or even captain – to fall out with his coach. But the level of ire between Pietersen and Peter Moores reached a level that – at international level at any rate – is just about without precedent, and led to the truncation of the Moores regime. The era of the coach dates back to the mid-1980s, and in that time there have been many coach-captain combinations which have teamed-up every bit as well as the great opening pairings: Bobby Simpson and Allan Border; Mickey Stewart and Graham Gooch; Bob Woolmer and Hansie Cronje; Geoff Marsh and Mark Taylor; Duncan Fletcher and both Nasser Hussain and Michael Vaughan; John Buchanan and both Stephen Waugh and Ricky Ponting. But there have been many more short-term failures whose names fall off the projector.
Fall-outs with the captain has been a relatively rare cause of a coaching failure – more common ones have been lack of the requisite technical nous and understanding of common failings (for Vivian Richards or Kapil Dev, their ability was so inherently natural that they were never likely to be able to relate to most mere mortals), inadequate man-management skills at a wider level (Greg Chappell being perhaps the best example of this), tactical ineptitude, or occasionally plain hot-headedness (David "we flippin' murdered 'em" Lloyd).
The role of the head coach has not been an omnipresent one – when departures at inopportune times have been arrived at (and occasionally even when they haven't), interim arrangements have been made which have involved no head coach. After Chappell's departure, India made do with team manager Chandu Borde and the formula worked well for them. England tour West Indies with no successor to Moores. Raymond Illingworth between 1995 and 1996 took the role of both Chairman of Selectors and team manager (supremo, as it was often referred to), though the consolidation of power in one individual to that degree has been very rare.
The coach's role is also not one that can have any concrete definition, unlike those of captain, opening batsman and cricket board president. Gary Kirsten, currently doing an admirable job with India, cannot possibly be playing a role remotely comparable to that which Duncan Fletcher did in his time with England. Yet his job description, officially, is the same. The best leaders, in any walk of life, have always had to be flexible. Likewise, the realisation has usually come to most leading roles that in the end, sharing of responsibility is often the wisest way to go about things.
The increase in specialist coaches in cricket in recent times appears to recognise this. To expect one man to tutor batsmen, seam bowlers and spin bowlers, as well as offer maximum help to the specialised and unique role that is the wicketkeeper, as well as maximise outfielding capability of everyone else, as well as dissect the opposition, as well as motivate the individual minds of their own individual players, is wholly unrealistic. Specialist fielding coaches – astoundingly, given the fact that poor-quality fielding can easily completely cancel-out good-quality batting and bowling – are relatively new to the game. Mike Young, a baseball specialist, has worked with Australia and, briefly, England, and Richard Halsall has, for the time being, reduced England's dropping of catches from regular epidemics to occasional, usually isolated, outbreaks.
Each area of the game requires tutors who have a specific understanding of it, and whose charges know they have the expertise to help them. Men such as Bob Cottam, Troy Cooley and, recently, Allan Donald and Ottis Gibson, have all proven excellent at fine-tuning seam-bowlers who have already risen to the England team. Geoffrey Boycott, despite some beliefs that he understands only how to play a forward-defence, has helped improve the game (attacking and defensive) of any number of batsmen, and not just from his home county or country either.
It may soon reach a point where most international teams – indeed most teams of any note with finances in reasonable state – have specialist coaches for fielding, batting, seam-bowling and, perhaps, spin-bowling. What evidence exists so far suggests that each wicketkeeper profits most from his own personal mentor, and (as in the cases of Geraint Jones and Jack Russell; Matthew Prior and Alec Stewart) there is usually someone around who is happy to oblige, free of charge. This, inevitably, leads to the question: what is the point of the head coach?
Moores, an ECB Level Four coach, is in theory the highest-qualified man in the game in this country. His work with Sussex, and the ECB National Academy, won widespread praise and no publicised complaints from his charges. It might, therefore, be hoped for England's sake that Moores be asked to return to his role at the Academy. Moores' experience suggests that a multidimensional coach is best-served in developmental establishments, such as the Academy. However, it is difficult to dispute that, as John Buchanan put it, an international cricket team (indeed any cricket team with regular turnout) needs a "head of the family" figure.
The ECB recently appointed Hugh Morris to the role of "Team Managing Director". Already, Morris has won praise – compare the decisive way the huge decision over whether to return to India after the atrocities in Mumbai was handled to the bungled will-they-won't-they of travelling to Zimbabwe in 2002/03 and 2004/05. On both those occasions, the players had to deal directly with ECB executives, and captain Nasser Hussain and CEO Tim Lamb's relationship was damaged beyond repair by their (not especially surprising) inability to see the situation from the same angle. Former chairman Lord MacLaurin's, and Lamb's, work with the ECB from its inception in place of the TCCB was in many respects first-rate and admirable, but the Zimbabwe affair eventually saw Lamb depart, and not to retirement – he was just 53 years old and could have held the post for plenty more years. Arguably, in Giles Clarke and Michael Soper, the ECB is currently headed by executives considerably inferior to MacLaurin, Lamb, John Carr and MacLaurin's successor David Morgan. But with the Team Managing Director now in-place, they can at least be left to concentrate on what executives should be concentrating on, with Morris – an opening batsman good enough to represent England in three Test matches in 1991 and have a First-Class average over 40 – responsible for all team matters.
Morris' position, however, remains a boardroom one. The need for someone to co-ordinate all roles in the dressing-room remains. Specialist coaches are not the only people involved: however much some former pros may decry it, the modern reality is that a nutritionist, physiotherapist, team doctor, fitness trainer and even masseuse are essential to maximise the efficiency of the players' preparation. Then, of course, there is the small matter of the players themselves, including the captain, who remains in control of everything once the players step onto the field of play.
The person in charge of the dressing-room, however, does not have to be a technical specialist. The overwhelming importance of the role is the ability to work with – indeed take charge of – all types of people, though tactical nous would clearly be an advantage. Technical expertise, however, is unnecessary, in fact even potentially dangerous, given the presence of the fielding, batting and bowling coaches whose advice may be conflicting. Hence, "manager" is perhaps a more appropriate job title than "coach". Not a manager in the sense of England's Phil Neale – as Operations Manager his responsibilities are behind-the-scenes backroom tasks, a role he has performed admirably for many years. Nor a manager in the sense of Raymond Illingworth of 1995 and 1996; the position surely must remain separate from the Chairman of Selectors role. Illingworth, a highly astute judge of a cricketer's ability, was found hopelessly wanting when it came to the hands-on management of them. England's experiences during his tenure as supremo tend to suggest that those before and after who have been reluctant to go down that route have probably been right.
A Chairman of Selectors, to have the commanding hand in when players are picked and dropped, remains a role which is best kept independent from the dressing-room. The CoS cannot be too close in friendship to any of the players. For the manager, it is essential that he is. The team manager should be someone who has the authority to command respect from all of coaches, players and conditioning specialists, and the people skills to get the best out of each of them and ensure the most positive possible working relationship between each of them. The CoS, and however many selectors he has below him, should choose who comes in and out of the side. And the captain should realise that his responsibility is to lead the team on the field, and that he is in charge of nothing once the team steps back over the boundary.
But the requirement for the team leader to be a technical expert – whether qualified like Moores or self-taught like Fletcher – on batting and bowling is highly questionable. Let us hope that maybe when the England team returns from West Indies, another small ECB reshuffle sees the role of team leader redefined from coach to manager. Knowing the amount of time it often takes for cricket board executives to act, however, to expect the decision to be made that soon is probably fanciful.