Vishy
Martin Chandler |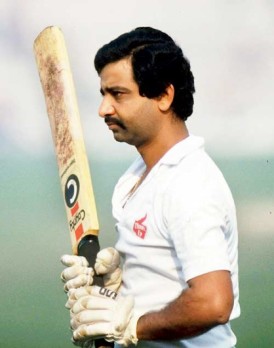 One of the great names of Indian cricket Gundappa Viswanath was born in 1949. He was introduced to the game by his elder brother, and his talent and enthusiasm were clear from the start. He quickly became known as Vishy, the nickname that would follow him throughout his career.
To begin with there was disappointment, as despite his talent no place was found for Vishy in his state's schools side. The reason was his lack of inches. He was never a tall man, and in his mid teens must have been tiny. That sort of rejection might have put off some, but not Vishy and his persistence was rewarded at 18. He was spotted in club cricket by Test player Venkataraman Subramanya, who was so impressed that he persuaded Mysore to select the youngster for the state side. Vishy made his Ranji Trophy bow against Andhra and made a record breaking 230.
Two years, almost to the day, were all that elapsed before, at Kanpur, Vishy then made his Test debut against Australia. His start cannot have been more of a contrast to his Ranji debut, dismissed by Alan Connolly for a duck, but in the second innings his 137 was the glue that held the innings together. Wisden noted the quality of his cutting and driving in that innings, and overall in its tour report observed that he impressed everybody with his dash and skill. Vishy couldn't prevent Australia taking the series 3-1, but he played a role in the Test India won, and a couple more fifties left him comfortably top of the Indian batting averages for the series, his 47.71 being all of ten points higher than the next best, that of Ajit Wadekar.
Over the next thirteen years Vishy played 91 times for India, including a run of 87 consecutive appearances. The opposition always wanted to dismiss him of course, but of all the batsman that have plied their trade in the international game since I have been a follower of it he has been the most popular, crowds the world over taking enormous pleasure from his batting. The signature shot was a wristy square cut, and a late cut. Anywhere around the point area was somewhere a fielder who wanted a quiet time should not go, not that there was much they could do to keep Vishy quiet, so good was his placement of the ball. When he hit the ball square from a spinner he caressed it away, from the quicker men the shot was different and rather more like the 'stand and deliver' approach that Robin Smith used to such great effect a decade or so later.
Fast bowlers would also suffer at the hands of the Vishy square drive, a shot played of his front foot with both knees bent. He was master too of the wristy sub-continental flick off the toes and the sweep. As he got older he was less effective in front of square, but the younger Vishy was also a master of the on drive and a whipped pull through midwicket with wristwork that kept to an absolute minimum the time the ball was in the air. Despite the lack of any quality pace bowling within Indian cricket for the bilk of Vishy's career the fast men held no terrors for him, and he was as good as anyone in the world at countering them. His footwork meant that Vishy was also completely comfortable against wrist spinners, right arm finger spinners and the slow orthodox left arm bowler like his long time teammate Bishen Bedi. The one weakness he did have was against the quicker left arm spinners. Derek Underwood in particular gave him much to think about, but he was also rather less confident against Pakistan's Iqbal Qasim.
The only break that Vishy ever took from the Indian Test side came in his second series, that in the Caribbean in 1970/71. The Indians won the series 1-0. Injury meant Vishy missed the first two Tests and he was unable to capitalise on four starts out of five innings in the following three matches. He wasn't entirely convincing in England in 1971 either, but played an important hand in the drawn first Test, and in the nerve jangling denouement at the Oval he played an uncharacteristically resolute innings to anchor India's ultimately successful pursuit of a first Test and series victory in England.
The best years of Vishy's career with England's visit to India in 1972/73 and for the three or four years after that. He was never the fleetest of foot in the field and by no stretch of the imagination could he ever have been described as an athlete. He was fond of a beer or two as well and a lack of fitness doubtless resulted in his international career ending earlier than it otherwise might have. One suspects too that from time to time Vishy was prone to lapses in concentration. In the middle of his best period, in 1974, after a period of unprecedented success the Indians sustained a humiliating 3-0 hammering in England. Former great Vijay Merchant was livid, criticising India's batsmen for getting set and then being dismissed far too often. It is unlikely that Merchant did not tell the players directly, but in a written article on the subject he singled Vishy out. Vishy couldn't complain though, his scores in England had been 40, 50, 52, 5, 28 and 25. When he then scored 29,22, 32 and 39 in the first two matches against West Indies in 1974/75, both heavy defeats, the grand old man of Indian cricket must have been absolutely livid with Vishy.
The cricket world expected nothing more than a third West Indies victory at Eden Gardens. India had a new skipper in Pataudi, always a champion of Vishy, but they were missing Gavaskar through injury. Pataudi won the toss and chose to bat but the home side totalled only 233. The problem identified by Merchant seemed not to have gone away, five of the Indian batsman getting in, but none getting beyond Vishy's 52. The bowlers then did better, keeping the deficit on first innings to just seven before Vishy finally gave Merchant something to smile about. Only Farokh Engineer of the top order supported him, and Madan Lal and Karsan Ghavri of the lower middle order. Eventually he was eighth out for 139 in a total of 316 which, thanks to Bedi and Chandra, proved to be enough.
His innings at Eden Gardens was his best yet, but Vishy's supporters saw it surpassed just one Test later as the series was levelled at Madras. The wicket was quick, and had an unpredictable bounce. Pataudi chose to bat but it quickly became clear that Andy Roberts was going to have a good day. His pace was electric and on a helpful wicket he laid waste to the Indian batting, ending with 7-64. It was almost solely to the credit of Vishy that the final total of 190 was reached. He ended up unbeaten on 97, and rarely has a century been more deserved. What made his innings the more remarkable is that as well as having to just survive himself against an early incarnation of the four pronged pace attack, Roberts, Keith Boyce, Bernard Julien and Vanburn Holder, he also, from 117-7, had only Erapelli Prasanna, Bedi and Chandra to assist him, so he had to protect them as well. The injured Gavaskar watched the innings from the pavilion and described it as the finest Test match innings I was privileged to see.
This time the West Indies lead was only two, and again the Indian batsmen got enough in their second innings to bring victory. The major contribution second time round was Anshuman Gaekwad with 80, but Vishy's 46 was a vital contribution to the cause. The deciding fifth Test was a disappointing affair, won comfortably by the West Indians, but another 95 from Vishy gave him what was destined to remain his best ever series figures, 568 runs at 63.11.
India's next series was a return in the Caribbean. Clive Lloyd's men won the first Test, drew the second and then declared with India a distant 403 behind in the third. On the traditionally spin friendly wicket at Port of Spain in Trinidad Lloyd was confident his three spinners would wrap up the series. They failed spectacularly and when Vishy broke the habits of a lifetime and started to take the aerial route as part of his acceleration on the final afternoon the target suddenly became achievable. Vishy was to be run out for 112 with 67 still needed, but he had done enough. Lloyd would never trust his spinners again, and the final Test of the serious was the notorious Sabina Park match where India were all out for 97 in their second innings with just five wickets down, five men being unable to bat through injury. Vishy was one of them, a finger having been broken by the Michael Holding thunderbolt he had turned into backward short leg's hand in the first innings.
At home against New Zealand in 1976/77 Vishy enjoyed himself as, despite the opposition featuring Richard Hadlee approaching his peak he averaged 64.80 in India's 2-0 victory. He was markedly less successful however against Tony Greig's England who went home with a 3-1 series victory. Interestingly the home side's consolation victory was the only one in which Vishy played an innings of note, an unbeaten 79 in the Indian second innings being the highest score by an Indian in the match.
In the northern hemisphere summer of 1977 the World Series Cricket storm broke. No Indians were signed by Kerry Packer and so it was a full strength India that visited Australia in 1977/78 where they came up against what was at best their hosts second best side and, more realistically, their third. Vishy averaged 52.55 over the five Tests – one wonders if his stamina or concentration was failing him as there five half centuries as well as a forty and two thirties.
Vishy also did extremely well, averaging 71, against the West Indies side that toured India in 1978/79. The first choice pace attack was away on Packer duty, but to be fair to Vishy the second string, including as it did Malcolm Marshall and Sylvester Clarke was still very much a top class attack. And if further evidence of Vishy's pre-eminence were required in between the Australia and West Indies series he travelled to Pakistan and averaged 49.80 in three Tests for which all of the 'Packerstanis' were available.
In early 1980 Vishy briefly captained India, a short tenure of two matches. The season began with a six Test series at home against Pakistan, to be followed by the one off Jubilee Test against England before a trip to the Caribbean. India's captain at this time was Gavaskar, who announced during the season that he was going to give the Caribbean a miss. The selectors therefore gave Vishy the final Test against Pakistan and the England game prior to the West Indies trip. It was to be the Indians first trip to the Caribbean since the infamous battle of Sabina Park in 1976. There were some that accused Gavaskar of running scared, and in the end the tour didn't happen anyway, so Vishy never had the chance to wrest the job from his brother in law. The Pakistan match was drawn, and India were humbled by one of the greatest of all round performances from Ian Botham as England won by ten wickets in the Jubilee Test.
Certainly the margin of victory in that famous game, and possibly the fact of it were down to Vishy.  He won the toss and chose to bat and although India's total of 242 was disappointing all that was forgotten as England slumped to 58-5 in reply. The crucial moment followed thirty runs later. Kapil beat Bob Taylor outside off stump. Taylor got nowhere near the ball but did clip his pad with the bat. It sounded like a nick and although there was no appeal from behind the stumps Kapil went up, as did the umpire's finger. Some say there was a show of defiance from Taylor, although in fact he was just adjusting his pad after striking it with his bat, the thought not having occurred to him that he might have been given out. The news was broken to him by 'keeper Syed Kirmani. Taylor belatedly moved to leave but was told to stay by Vishy who approached the umpire, withdrew the appeal and Taylor was reinstated. He went on to score 43, and added 171 with Botham, a partnership that changed the course of the match.
Sportsmanship of that order is precious, and was much more important in those days when, with the greatest of respect to their intentions, the competence levels of the Indian umpires was not great. The visiting media hailed Vishy's act as a shining example of the spirit of cricket. Not unnaturally in light of the result the home supporters were less impressed, and there were mutterings about undermining umpires. Vishy would not be invited to captain India again. But he never regretted withdrawing the appeal.
At this point in Vishy's story it is worth reflecting on a match that was played just under a year later at the MCG. Gavaskar was back at the helm and India went into the final Test of a three match series 1-0 down. The wicket was well grassed in an attempt to make sure it held together and lasted. Greg Chappell won the toss and decided to let Len Pascoe and Dennis Lillee have first use of it. With the exception of Vishy all the Indians struggled, the second highest scorer being wicketkeeper Syed Kirmani with 25. When Vishy was on strike it seemed a different game however, and he was ninth out for 114. Australia replied to India's 237 with 419.
Second time round India did much better and Gavaskar and Chetan Chauhan put on 165 before Lillee trapped Gavaskar lbw. The Indian captain was incensed, convinced he had hit the ball. So livid was he that once he realised that he had to go he told his partner to leave the field with him and it was only thanks to the Indian manager instructing Chauhan to go back out that saved a likely forfeit. It is as well that he did as the Indians dismissed the Australians second time round for 83 to secure a famous victory. Vishy must have been horrified at his brother in law's actions.
For Vishy there would never have been any question of showing an umpire any dissent. If he was given out he went, and if he thought he was out he always walked. On one occasion against West Indies he walked after being caught by Lloyd without waiting for the umpire's verdict, even though Lloyd himself felt he may well have taken the ball on the half volley. Against England in 1979, when India came within nine runs of chasing down 438, Vishy came to the crease at the fall of Gavaskar's wicket at 389. He had scored 15 and taken India to 410 when he was given out caught by Mike Brearley from the off spin of Peter Willey. In the BBC commentary box Jim Laker expressed doubts, but despite the intensity of the on field events by then Vishy walked off as soon as the umpire's finger was raised.
By the time of the 1981/82 home series against England Vishy was struggling for form, and he made little impression on the first two Tests in that series. In real danger of losing his place he and his wife went on a pilgrimage to the South Indian shrine of Tirupathi. Vishi looked to the Hindu God Venkateswara for inspiration, vowing to return with gifts if his prayers were answered. In the third Test form duly returned and his 107 guided India from a tricky position to safety.  To fulfil his promise Vishy asked a local jeweller to produce a bat from 107 grams of silver to present to the deity. The jeweller's bill, for 222 rupees, arrived in time for the fifth Test of the series and before Vishy went out to score 222, a score which for two years remained the highest ever by an Indian batsman in a Test. The next bat to be presented to Venkateswara weighed in at 222 grams. Sadly there was insufficient time left in the series to see what might happen next.
The effect of his visit to Tirapathi did not endure, although Vishy treated his English fans to a final three half centuries on English soil in the short 1982 series. The matches were no great spectacle, England comfortably winning the first Test, and a combination of bad weather and some unimaginative captaincy from Bob Willis making sure the other two were drawn. By now Vishy was most certainly built for comfort rather than speed, but the sparkling wrist and footwork was still there for all to see.  But he probably should have called it a day after his appearance at the Oval. Instead he played India's first Test against Sri Lanka, and failed twice. Then he played the back to back series against Pakistan. Vishy didn't have a lot of luck, and the umpires didn't help, but the truth was he struggled to come to terms with Imran Khan. A total of 134 runs at 16.75 was no way for such a popular and talented batsman to say his farewells to the international game.
It was five years after his final Test that Vishy announced his retirement from the First Class game following Karnataka's last Ranji Trophy match of the season. He had clung on to the hope of returning to the Test side, but despite averaging 54.55 and 72.40 in the domestic seasons of 1984/85 and 1985/86 the call never came. So Vishy missed India's unexpected triumph in the 1983 World Cup, although he did make his own way to England for the tournament to support his former teammates.
More than forty years on Vishy remains one of the most popular cricketers to have played for India. Friend of CricketWeb Gulu Ezekiel has views that seem to be representative of his generation of Indian cricket fans;  The first time I saw a Test match at a ground was the fourth day of the third Test at Eden Gardens on the last day of 1974. Vishy was 75 not out overnight. I have the most vivid memory of him reaching his century. The ground reveberated as 90,000 stood and roared their delight. Vishy, head bowed modestly, slight smile on his face, raising his bat. As I sat down I suddenly noticed I had shed tears without even realising it and quickly wiped them off lest anyone noticed. There are many Indian cricketers who have been admired and respected but none so loved as GRV.