The Rise and Rise of Australia – Part One
Richard Dickinson |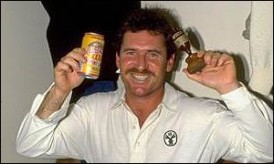 Much has been written in recent times about Australia's Test team being on the decline. Much, in fact, has been written throughout the past five or six years, anticipating this decline. Until recently, prediction after prediction turned-out to be premature. However, with surer signs than ever of late that Australia's reign as a dominant team in Test cricket (if not necessarily the top team) is over, it's interesting to look back. The time in question is a very long one: 17-and-a-half years, between 1989 and 2006/07, one in which Australia were exceptionally rarely bettered and often untouchable. So we take a two-part look at just how, and thanks to who, they achieved what they did.
Perhaps it would be best to start even earlier. Australia's rise to the top was even more remarkable for what preceded it. Between the seasons of 1984 in West Indies and 1988/89 at home, Australia played 45 Tests (excluding the MCC Bicentenary match, which was more a celebration of 200 years of a club than a Test with something at stake) from which their results were:
Won 4 live, 3 dead and denied by lost play in 1;
Drew 6 conclusively (i.e. a whole game was played and a result never looked particularly likely) and 4 inconclusively (i.e. there was so little play nothing much could be discerned from the match);
Lost 18, saved by lost play in 7, by bad Umpiring in 1 (it appears pretty much accepted as fact that New Zealand had the last man out in the Third Test in 1987/88 and were not given it) and somehow snatched a tie from the jaws of defeat in 1.
Famously, just before this five-year fallow period, a triumvirate of Australia's finest – Greg Chappell, Rodney Marsh and Dennis Lillee – retired. Nowhere near so famously but equally significantly, early in this period a quadruplet of cricketers in the prime of their careers – Kim Hughes, Graham Yallop, Kepler Wessels and Terry Alderman – elected for Rebel tours to South Africa. Only the lattermost would return (and would play a huge part in the revival when he did). Seven top players gone, plus a hugely promising youngster in Michael Haysman, who was also never to return. That gives you a taste of just how much talent was stripped from Australia in the space of less than a couple of years (Wessels' departure came a year after the rest). Few teams would be able to cope with that, however high the standard of domestic cricket. The paucity of results was not exactly surprising.
Then, as the bust had happened almost instantaneously, the boom did the same – perhaps to an even greater degree. Several pieces came together simultaneously for Australia in The Ashes of 1989. The team had been labelled the worst ever to leave Australian shores, and without hindsight that wouldn't have been an unreasonable suggestion. Allan Border remained a colossus as captain and star batsman of a failing side; Dean Jones had played well since coming into the side in 1986/87; and David Boon had overcome a poor start to his Test career to emerge as something of a rock high in the order. But aside from those three, there was precious little: Geoff Marsh, for example, having given sterling service at the top of the order for a few years, had begun to wane. And the bowling had pitifully lacked penetration since Lillee's departure, with many trying their hands unsuccessfully.
However, in 1989, everything clicked. Mark Taylor, after an unconvincing couple of Tests at home to West Indies, demonstrated that his status as a prodigy had not been for nothing. Stephen Waugh, for many years a mediocre all-rounder, scored 485 for twice out in the first four Tests of the series (though he then slumped again, and would not become a true force until the tour of New Zealand in 1992/93). Ian Healy's wicketkeeping was of the highest quality, and though he could not yet score many runs (he, too, would only begin to do this in 1993, in his case on the next tour of England), he had got a firm grip on the gauntlets that since Marsh's retirement had been traded between five different occupants in four years (Wayne Phillips, Roger Woolley, Steve Rixon, Tim Zoehrer and Greg Dyer). Healy would play 119 out of Australia's 120 Tests which spanned his career. Merv Hughes, a wholly mediocre seamer for several seasons, suddenly transformed into a high-class operative (in 40 Tests starting from 1989 he averaged 25.92). Geoff Lawson managed one last hurrah after years of suffering from injuries. Trevor Hohns did a decent job as a backup bowler (though he did not play again after '89, as thanks to Rebel tours he was already 35 by the time he debuted). Most of all, there was Alderman. He was nearly 33 by the time he had completed his suspension, but had lost none of the skills that had seen him take 54 wickets at 22.62 in his first 10 Tests, and finished his career as gloriously as he had started it. In his first 17 games after getting back in the side he took 87 wickets at 20.37. He routed England, virtually by himself forced Graham Gooch to completely reconstruct his technique (this benefited Gooch himself to no little degree, of course), and within a year had played the biggest part – with the possible exception of Border – in taking Australia from bottom-of-the-pile to undoubted second-best. England were beaten 4-0, and had lost play been able to be made-up there was little doubt it would have been a 6-0 baggygreenwash.
In 1989/90 Australia beat Sri Lanka and Pakistan comfortably and would have won home and lost away to New Zealand in one-off Tests had they not been denied by lost play in the home leg. Carl Rackemann also returned from his Rebel suspension and performed a useful backup role throughout the season. In 1990/91, with Lawson gone and Alderman and Rackemann fading, Craig McDermott and Bruce Reid, two hugely promising but highly injury-prone seamers up to 1988/89, returned to the team. Reid's contribution was brief and stunning (he averaged 18.58 in 9 matches) but he never truly conquered injury and played his last Test before his 30th birthday. McDermott lasted much longer, leading the attack with huge success until the 1995/96 season (though he had not passed his 31st birthday when he played his last game), averaging 26.52. Mark Waugh replaced his twin midway through the 1990/91 Ashes as well, and was an immediate success, something he would continue to be for the next decade.
West Indies dealt the Australians a harsh lesson in the Caribbean in 1991, showing they still had some way to go, but after two more comfortable series victories (including a notable one in Sri Lanka), by the time the teams rematched in 1992/93 there was nothing to choose between them. The Australians were desperately unlucky not to be leading 2-0 (a few lost overs deprived them of the chance to complete victory in the First Test before they won the Second) going into the Fourth Test which they lost by a single run, and a 2-1 defeat did them no sort of justice. However, one yawning gap truly remained in the side. McDermott, Hughes and new recruit Paul Reiffel formed an excellent seaming trio. But, as at almost all times since Richie Benaud's retirement 40 years previously, there was no spinner of any note. Since the brief career of Hohns in 1989 (5 matches, average 27.27), Australia had tried Peter Sleep (2 matches, average 24.14), Peter Taylor (6 matches, average 56.50), Greg Matthews (12 matches, average 56.13) and Shane Warne (8 matches, average 49.92), whose averages tell their stories of ineffectiveness, though Matthews did offer excellent lower-order batsmanship. Tim May also played a single game in the 1992/93 series, taking 7 for 50.
This piece of the puzzle – a tricky one, for any team, not just Australia – was then filled, suddenly, gloriously. Warne (who had played crucial second-innings roles in two victories amongst his ineffective days) would join Stephen Waugh in making the transformation from faltering promise to excellence in New Zealand in 1992/93 – a series the Australians, admittedly, were a little fortunate not to lose. And with the arrival of Michael Slater in England in 1993, Taylor finally found an opening partner who could not merely match him stroke for stroke but often comfortably outdo him. Boon, who had been filling the opener's role after Marsh had been dropped, could move back to his preferred position of three. The side now had virtually all bases covered.
Stay tuned for part two of this feature.