The Old Bald Blighter – Part II
Martin Chandler |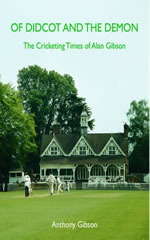 In 1974/75 in Australia Dennis Lillee and Jeff Thomson blew away England's batting. One of the few who seemed to relish the challenge was Tony Greig and after another abject defeat in the first Test of the return series in 1975 he was given the captaincy in place of Scotsman Mike Denness. Greig's first action was to persuade his fellow selectors to put David Steele in the way of Lillee and Thomson, a move that was spectacularly successful as Steele captured the nations hearts and minds with a series of innings that enabled England to avoid defeat in the remaining three Tests, and won him the BBC Sports Personality of the Year Award.
The following year saw the visit of Clive Lloyd's West Indians. In one of the most ill-advised comments in sporting history Greig told Harry Carpenter on BBC TV's "Sportsnight" that he intended to make the tourists "grovel" – inevitably the West Indians heard this, they could hardly not have given the publicity that the remark generated, and a storm was unleashed to rival that of Lillee and Thomson but this time with four component parts in Andy Roberts, Michael Holding, Wayne Daniel and Vanburn Holder. The events of the tourists game at Taunton carried Brian Close to the forefront of the English cricketing public's collective consciousness and a nation that desperately needed new heroes was about to turn to an old one.
The Taunton game was watched by Alan Gibson, one of cricket's finest chroniclers, whose reports appeared in "The Times". Gibson's son has gathered together his father's best writings and told his lifestory in a recently released book "Of Didcot and The Demon". Publisher Fairfield books have kindly agreed to allow us to include in this feature Gibson's reports of the match which led to the last twist in the story of Brian Close's cricket career:-
Day 1
King uses his captain on way to first century
TAUNTON: Somerset, with eight first innings wickets in hand, are 332 runs behind the West Indies
The West Indians are still full of runs and beans. They won the toss yesterday and had scored 389 for eight by five past five when they declared. Somerset are not a strong bowling side but did well within their limits. They also fielded keenly and Close, even when the batting was at its most ferocious, set sensible fields and kept his side together.
The pitch, while good, was not one of the Taunton classics of the Buttle era. Both Moseley and Burgess found some response in it. Though there was a large crowd, for Taunton on a Wednesday afternoon, the weather became chilly. However one considers it, this was another impressive West Indian performance.
The principal contributors were Richards, Lloyd and King. Greenidge gave the innings a lively start. Neither Rowe nor Kallicharran found their best touch. Richards, on a ground he knows well and before a crowd which admires him, produced some of his best strokes. When he was caught at the wicket (94 for two), the applause was half relief, half disappointment. Lloyd, in the afternoon, played even better.
There was a day years ago when he cracked a window, first bounce from a tombstone in St James's Church, which lies near the pavilion; and there were times yesterday when I thought he might bring a bell down from the tower. King's hundred was his first. He did not look a good player for 20 minutes or so. He might have been out several times and was lucky to have the settling influence of his captain at the other end. Later he hit the ball hard and far.
I must say a word for the catch at long leg made by Kitchen, no agile kitten now, which ended the innings of Kallicharran, for the reserve Somerset wicketkeeper, Gard, who survived an unfamiliar, taxing day with credit, and several words for the early Somerset batsmen.
They found the fast bowling, even though Holding was not present and Roberts below his fastest, hard enough to play, but never once did they move out of line. This said much for them and for their captain. Rose, in particular, though he might have been out a dozen times, will never play a better, braver, bad innings in his life.
Day 2
If we really want to win Close is our man
TAUNTON: West Indians, with all second innings wickets in hand, are 182 runs ahead of Somerset
What are we to make of this man Close? He stood there yesterday, not scoring quickly, though always ready to give the bad ball a bash, and the good ball a successful snick. He was the valiant warrior. He watched his young men, less capable than he, fight off the West Indian fast bowlers, and saw none of them flinch from a fast ball.
Rose must have as many bruises as he had runs. It was not particularly successful. Five wickets were down for 70, and to save the follow-on Somerset needed 239. It seemed a hard task, but Botham, Breakwell and Jennings all made brave scores, under the austere eye of the master at the other end. He gave them a good deal of the bowling, and let them get on with it, while still illustrating by example that a bald iron brow and a hairy iron will can cope with nearly every sort of bowling.
Not, mind you, that he played Padmore very well. He is not at his best against spinners. He only rises to his majesty when the bowlers are trying to kill him. When you think of the past few years, and the way that England's batsmen have ducked and dodged among the bouncers, it is absurd that we have deprived ourselves so often of the services of the Old Bald Blighter. He ought to be captaining England next week. Possibly he might do something outrageous, but then England's current imported captain has also been known to do outrageous things.
I was sad when Close failed to get his hundred. He was out just after tea, from a bad stroke to a bad ball. I suppose this, too, is part of his character. The pitch was slower than on the first day. When the West Indians went in again, they scored runs without difficulty. Bang-bang went Greenidge's sixes to long leg and fours to square leg. The Old Bald Blighter stood steadfastly at short leg, for as long as it was useful. Then, as evening clouds and shadows drew round the Taunton ground, he dropped back a little, ruminating like a Wharfedale bull who is trying to remember spring. He nevertheless made one marvellous, sudden, stooping stop.
Oh bring back yesterday, bid time return! What the very dickens and the devil of a cricketer Close ought to have been for England. The historians, in the future, will be puzzled about it all. Was it his own fault? Very possible, though others might also be to blame. Even now, from the shadows, if we really want to beat the West Indians next week, this dour, difficult and daring man might be recalled to the sunshine.
Day 3
Rowe ends match on happier note
TAUNTON: The West Indians beat Somerset by 151 runs
I was not at my brightest yesterday. It was my birthday and I had had a late night in the company of such riotous characters as the Sage of Long Parish, the philosopher Green (DM, not TH) and the Minister of Tyndale Baptist Church. Fortunately it was not a taxing day's cricket to watch. The West Indians declared their second innings at 261 for one, 343 ahead. Somerset never had any chance of getting the runs, but did not do too badly in scoring 192, and not losing their last wicket until just gone 10 to six.
In the West Indian innings Greenidge scored a good hundred, Rowe looked on happier terms with his bat when he ended the match than when he began it, and King again gave much pleasure to quite a large crowd with some heavy hitting. The pitch was dusty, giving some slow turn to the spinners and occasionally offering the faster bowlers an unpredictable bounce. Generally, though, it continued to be on the batsman's side.
The Somerset innings was dominated, morally even more than numerically, by the Old Bald Blighter. Several people who spoke to me appeared to think that in suggesting his recall to the England team, I was making one of my little jokes. Not so. If I may purloin a phrase from Sir Neville Cardus, I would never dream of making a little joke about a Test match. I think in the present circumstances Close would be a rational selection. He might not be a success, his reflexes are slower, but he would die in the breach against the fast bowlers rather than run away.
He had nearly reached 50 yesterday when he was out, as he was trying to play himself in again after tea.
The West Indians have one or two bowling problems. Holding has a strain and may not be fit for the Test. Daniel was warned twice for running on the pitch and did not bowl during most of the afternoon. He did not look comfortable in his action. This possible reduction in the strength of the main offensive arm of the foe might, I suppose, slightly diminish the case for bringing back the Wharfedale Bull.
Several of Somerset's younger men again batted well. It is too early for extravagances about Jennings, but he has a pleasing style, and looks about as good as Botham did a year ago. You only learn about the talents of a youngster in his second full season, when the old hands have given him a going-over. But there might be something here, and it is satisfactory that he is a local product, born up the road in Wellington (not the one in New Zealand, which constituted P.R. Johnson's qualification to play for Somerset).
In arranging the Somerset fixture for immediately prior to the meeting at which the selectors were to pick the England side for the first Test, those who settled the West Indies tour itinerary had given Close a wonderful opportunity to back up his claims, or perhaps more accurately those of others on his behalf, for a recall. Greig was a great advocate of Close's selection but he was one of five selectors. Of the others Alec Bedser, Len Hutton and former Derbyshire batsman and Test umpire Charlie Elliott were against him. Only Kenny Barrington supported Greig but the fates intervened again in preventing Hutton attending the meeting. This enabled the Captain's casting vote to carry the day – it would never happen that way again as Bedser took steps to ensure that in the future it would be the Chairman, and not the Captain, who had the last word in such situations.
The tourists had been humbled 5-1 in Australia just a few months before. At Perth opener Roy Fredericks had played one of the most exhilarating innings ever seen in Test cricket and that and a magnificent spell of fast bowling from Andy Roberts had won the second Test to square the series, but their abject failure after that was the catalyst for Greig's controversial comment. The West Indies were, as those county cricketers who they encountered throughout May knew only too well, hurting, angry and above all inspired.
Thus at 11.30 am on Thursday 3rd June 1976 did a gnarled 45 year old veteran run out onto the field behind Tony Greig at Trent Bridge on the first day of the first Test of a home series which, in that long hot summer, was to be contested in conditions ideally suited to the West Indians. Part III of this feature will look at Brian Close's role in the cricket that followed …
"Of Didcot and the Demon" has received much critical acclaim and has already had to be reprinted. You can read CW's review here. The book can be obtained from bookshops or, at 20 pounds(post free in the UK), directly from the publisher at www.fairfieldbooks.co.uk.