The importance of Ponting and Hayden
Marco Trevisiol |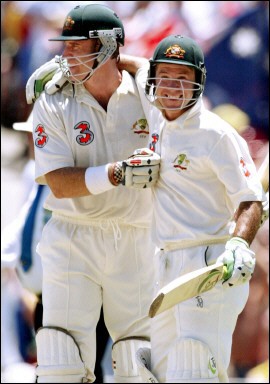 With Australia losing three recent Test series and their long-held No. 1 ranking, it seems an opportune time to pause and reflect on who were the key players that made Australia such a dominant force for most of the 2000's.
Almost universally commentators and journalists cite McGrath and Warne as the central architects of this era of dominance. There is a lot of truth to this as they were truly all-time great bowlers who were match-winners for over a decade.
But they were not the whole basis for Australia's dominance. Not only did they have two great bowlers backed up by quality support but a high-class batting lineup comprised of depth, attack and substance.
There were many top-class batsmen in the 2000's but two names stand out as being as important to Australia's fortunes as McGrath and Warne – Ricky Ponting and Matthew Hayden.
To argue this case, one can put forward pure statistics which document the astonishing success these two had over a sustained period. Hayden had two periods of prolonged success – in 42 Tests he averaged 69.58 from Mar 2001 to Aug 2004 and then he averaged 60 in 23 Tests from Sep 2005 to Jan 2008.
As good as those stats are, Ricky Ponting's are even better. He averaged an astonishing 72.55 in 59 Tests from Feb 2002 to Dec 2007, a period that saw Ponting transformed from a talented underachiever to one of the all-time great Test batsmen.
But stats do not tell the full story. After all, Australia dominated the individual stats in the recent Ashes series without it benefitting the team. The secret to understanding the significance of Ponting and Hayden was how and when they got their runs.
The natural batting style of both batsmen was aggressive, often intimidating opponents with their batting styles. Hayden particularly so as he often demoralised pacemen by treating them as medium-pace trundlers by advancing down the wicket and straight driving them in the air for six. Ponting's intimidation came from the sheer skill in his technique that backed up his aggressive intent. At his best he was almost impossible to bowl to. Pitch too full and he was a superb driver. Pitch too short and the result was even worse as he was almost certainly the best hooker and puller of his era.
As well because they were in the top 3 they set the tone for the innings and in the period from 2001-2007 period one or both of them could be counted upon to deliver per innings. And it was usually of the most imposing kind; many things could be said about the batting styles of Hayden and Ponting but they certainly were not grafters.
And they were not batsmen to cash in on dead rubbers or against the easiest of opponents (notwithstanding Hayden scoring 380 against Zimbabwe). Regularly they would both make their imprint on a series in the opening Test. A classic example was the opening Test of the 2002/03 Ashes series in Brisbane when Nasser Hussain infamously decided to bowl first. As ridiculed as he was for that decision, of Australia's batsmen only Hayden (197) and Ponting (123) took advantage and it was their 272 run partnership in just 61.1 overs that set the tone for the match and series. There were many other examples in this period where individually or together, they helped set the tone for a series at the beginning with a big hundred.
Notably Australia's 2005 Ashes loss – their only series defeat in the mid-2000's – was one of the very rare times in the 2001-07 period where both Ponting and Hayden were kept in check by the opposition bowling side.
Therefore it is no surprise that Australia have begun losing series once Hayden and Ponting have gone into decline. Hayden's decline was a particularly rapid one. During the 2007/08 home series against India he seemed as unstoppable as ever, scoring three centuries in three Tests and being pivotal to Australia winning the series. But notably he had to miss the Perth Test through injury and Australia's increased vulnerability up the top of the order was something India were able to exploit in achieving victory.
Hayden suffered a significant Achilles injury in mid-2008 and was never the same player after that. Symbolic of this was in the 2nd Test of the Indian tour in late 2008 in Mohali when Australia were chasing a hefty 516 for victory. The very first ball of the innings saw Hayden attempt to recapture his intimidating aura by doing one of his patented lofted drives of the pacemen for six, except on this occasion he miscued it and barely got it over the infield. That and everything else about his innings reeked not of confidence but of a desperate, failed attempt to recapture his imposing aura.
As for Ponting, in the last 18 months he has not been able to recapture the form that saw him score mountains of runs in the 2002-06 period. He is far more vulnerable at the start of his innings as documented by the fact that he has been dismissed for single figure scores 15 times in his last 24 Tests in comparison with 13 times in his 59 Test peak documented above.
The amount to which Australia miss the towering authority of Hayden and Ponting can be seen by those who replaced them. Simon Katich has played every Test since Hayden was injured in mid-2008 and statistically he's done a fine job, averaging 50 in 20 Tests. But in terms of impact on matches he's been nowhere near Hayden's ability to deliver decisive innings for his side. Particularly in the home series against SA and in the Ashes, Katich has looked in good form throughout but has been unable to deliver the big innings that changes the course of a match; all too often after looking untroubled he would suddenly get dismissed in the 30-50 range.
Similarly with Ponting, while he's declined in the last 18 months the Australian side is still heavily reliant on him to deliver the big innings and he still has an outstanding ability to score centuries at the beginning of the series when they matter most. It's no coincidence that Australia's match-defining batting collapses at Lords and the Oval occurred after Ponting was dismissed for single figures. Apart from Michael Clarke on occasion no other batsman has filled the void left by Ponting's decline.
It is not surprising that the statistics back up the fact that any Australian team containing Ponting, Hayden, Warne and McGrath was one of the toughest opponents to defeat in Test cricket. In the last 30 matches this quartet played together Australia's record was 25 wins, 5 draws and no losses. It was possible for opponents to have one or two them have down games but it was virtually impossible to prevent all of them from having a decisive influence on a match.
One of the main challenges the Australian side will face over coming seasons is not just finding match-winning bowlers of various kinds, but top-class aggressive batsmen that deliver in crunch situations. As the past 12 months has shown, they are equally as important and as hard to find.