The Grand Old Man of Indian Cricket
Martin Chandler |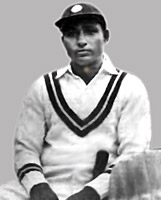 I class him above Pataudi and the equal of Duleep …… he is already a better stroke player than George Headley and I will soon be classifying him with Bradman
The subject of that quote is Nanik Amarnath Bhardwaj or, as he is known to the cricket world, Lala Amarnath, and it appeared in The Times of India report on the third day's play of India's first ever home Test, played at the Bombay Gymkhana ground in December of 1933. Bearing in mind the historic circumstances, and also that the writer undoubtedly witnessed an innings as majestic as it was unexpected, the hyperbole is perhaps forgiveable.
India's opponents were England. The tourists did not represent the full strength of England, particularly in its batting, but they were skippered by Douglas Jardine, who would have known when the tour began that it would be his last act as England captain. The famous bodyline pairing of Harold Larwood and Bill Voce were not in India to help him this time, but Essex paceman Stan Nichols was an able deputy for Larwood, and Northamptonshire's fiery left arm speedster 'Nobby' Clark was every bit as hostile a proposition as Voce. The spin attack at Jardine's disposal consisted of Sussex journeyman Jim Langridge, and the one man he did have from his bodyline team, the great Hedley Verity.
After winning the toss and choosing to bat every one of the frontline Indian batsman got a start, but none got beyond Lala's 38, so their all out total of 219 was a disappointing one. When England's reply extended to exactly double the home side's total, and India lost both openers with 21 on the board, the match seemed to be over. By the close on the second day however Lala and his captain, CK Nayudu, had taken the score to 159-2, and Lala was unbeaten on 102, the spectacle that inspired the words with which I began this feature.
The innings was marked by the dash and exuberance of youth. The first fifty took under an hour and although there were a few quiet overs whilst Lala was in the nineties the century was posted in fractionally under two hours and contained 18 fours. The reputation of Verity meant nothing to Lala, and he was as severe on the Yorkshireman as he was on the rest of the England attack.
Next morning Lala was quieter as India knuckled down and added a relatively sedate 48 in the first hour, most of them to Nayudu but, with a lead in sight, there was a collapse. Nayudu was caught at slip for 67 and just a single run later Lala, slightly late on a well timed glance, sent the ball too close to Nichols who held a fine catch at leg slip. England eventually ran out comfortable winners by nine wickets.
There were two more Tests in the series, but Lala produced nothing of note, either with his dashing batsmanship or his medium paced bowling. Despite India's series defeat the memory of Lala's stirring century in the first Test remained, and being India's first Test centurion is a record that will never be taken from him. He was to go on and play in 21 further Tests, but no more before 1946, by which time he was pushing 35.
After the visit of Jardine's team India's next important matches were in 1934/35 against a decent Australian side, albeit one that was some way short of their full strength. The four matches played by the tourists against India were split two wins each. There were no spectacular contributions from Lala but he chipped in with both bat and ball and was doubtless reasonably satisfied with his performances and looking forward to his first trip overseas, to England in 1936.
For many people the only thing they know about Lala is that he was sent home in 1936 for disciplinary reasons, which is unfortunate because whilst that is true it is information that has to be looked at in its proper context, both in terms of what caused the problem, and what happened afterwards.
India's captain in 1936 was the Maharajah of Vizianagram. At that time convention dictated that the Indian captain should be of noble blood, and in 1932, when India played her first ever Test on English soil, the party was captained by the Maharajah of Porbandar. Porbandar was a poor cricketer, and accepted that his role was as a figurehead, and he played in none of the important matches for which he left the team in the safe hands of Nayudu. Vizianagram was a considerably better cricketer, albeit still barely of First Class standard let alone Test class. 'Vizzy' however did not stand aside, and insisted on captaining in all three Tests as well as many of the tour's other major fixtures as well.
Vizzy's captaincy might not have been so bad were he a decent tactician and/or willing to listen to the advice of Nayudu and the other senior men. But he wasn't, and the party quickly became fractured. Vizzy was no great thinker on the game, but he was able to copy. He watched men like Bill Woodfull, Jardine and Bob Wyatt changing the bowling every few overs and decided that was a tactic in itself. So when Amar Singh or Mohammad Nissar had bowled half a dozen overs and made inroads and had the opposing batsmen under the cosh he would take them off. That sort of captaincy by numbers infuriated his senior players.
One thing Vizzy did work out quickly was that Lala was one of his best players. That meant that he was not allowed to miss a single game even though he picked up a couple of knocks along the way. On the tour as a whole India called on as many as 22 different men, so it was not that there was a shortage of alternatives. This lack of an opportunity to shake off his injuries and his general dissatisfaction with his captain came to a head when the tourists played the Minor Counties at Lord's, a fixture that should not have been too taxing. Lala was never a shrinking violet, and came to be known as the stormy petrel of Indian cricket, and he certainly chose the wrong time to let off steam.
At Lord's the Indian batsmen, for once, did pretty well and Lala was not required to bat at his usual place at first drop. Vizzy did however insist that he padded up early, and then spent almost the entire day sending others in ahead of him. Lala was nursing a sore back and could have done without playing at all. To then be messed about in the way he was infuriated him, and he not unnaturally took to brooding about his captain's attitude. When another wicket fell, just before the close, Vizzy finally told Lala it was his turn to bat. Absolutely furious Lala went out and survived the few remaining deliveries before blowing his top in the dressing room on his return and throwing his kit around, as well as uttering a few oaths in his native language. Vizzy was present when Lala returned and witnessed his tantrum but, not speaking his language, would not have known what he said. Lala always maintained, as did others who were present and did understand the language, that whilst Lala gave vent to his irritation he made no disparaging or personal remarks about Vizzy.
Events gathered pace and the tour manager and Vizzy decided to make an example of Lala and he was ordered to return home immediately by what amounted to a kangaroo court. There was a bit of dithering when his teammates tried to secure a change of mind from Vizzy, but not for long, and Lala soon found his luggage was packed for him and that he was all but evicted from the team hotel such was the haste with which the conspirators wanted him on the boat home.
The 24 year old must have had a miserable journey home. At the point at which he was sent back he was his side's leading batsman, and only Nissar had taken more wickets. A lucrative Lancashire League contract beckoned for 1937 after a virtuoso one man show against Essex in which he scored a century in each innings and took six of the 13 Essex wickets that fell.
On board the ship Lala no doubt reflected on a once promising career that was then in tatters, so he would have been greatly relieved to note the overwhelming public support on his return, and then to learn that the Board of Control were not involved in the decision to repatriate him. For a few days it looked like he might be flown back in time for the second Test, but it wasn't to be, and politics eventually dictated the decision would stay in place. Thus no English Test crowd ever did have the pleasure of seeing Lala at his best.
Once the side returned to India a firmer grip was put on the events of the summer and a committee was set up to investigate what had happened. Lala was vindicated, the committee being entirely satisfied that he had not been guilty of what he had been accused of. It is a great shame that the game's history has somehow managed to disassociate the fact of Lala's punishment, from its status as an officially recognised cricketing miscarriage of justice.
It would be the best part of a decade before India played another Test series, but in 1937/38 they were visited by a team led by former England skipper Lionel Tennyson, and there were a series of five representative matches. As with the Australians of 1934/35 the team was a little way short of England's strongest team, but all bar one of them had or would gain Test caps, so it was understandable that for the Indian public this series was at least as attractive as the three Tests against Jardine's men four years previously.
Tennyson's men won the first two matches before Lala led a fightback with a century in the third. India went into the final match at 2-2 but the English seamers had the better of a low scoring match and took the series. In the next phase of Lala's life he followed the Englishmen as they returned home, having got a Lancashire League contract with Nelson. He had some big boots to fill as well. His predecessor, Learie Constantine, had been immensely popular and successful over the best part of a decade.
There were two seasons at Nelson for Lala, and the club never regretted signing him. His attacking batting was ideally suited to the leagues, and his bowling improved considerably. He had always bowled medium pace inswingers, moving the ball a good deal but, generally, predictably. He had a leg cutter as well, and it was that delivery that he perfected on the softer Lancashire club wickets to add a new dimension to his bowling.
A story in a biography of Lala published in 2007 also shows his competitive streak, and that he was prepared to be devious in order to succeed. The book was written by Lala's son, Rajinder, so we can rest assured the story was passed from father to son. In 1938 Haslingden's professional was Headley, and the battles between pros were always keen ones and a key aspect of all league games. In the home game Lala enlisted the help of the umpire. He refused to make any appeal for lbw in his early overs, on one occasion even telling the umpire, when he caught one batsman plumb in front and his teammates all appealed, that the ball was missing the stumps.
When the great man finally appeared Lala asked his skipper to set him a Carmody field (an "umbrella" of slips on both sides of the wicketkeeper) and Headley smiled as he surveyed the wide open spaces around him. Very soon Lala pushed one across him that hit him on the front pad. The ball was going down the leg side, but Lala roared a thunderous appeal and the umpire, no doubt in a state of some confusion, felt obliged to raise his finger.
Before the return match a few weeks later Headley and Lala had a chat, and remembering the previous fixture Headley joked about the shortcomings of the umpiring then. Unfortunately for him however the umpire for the second game was the same man, and Lala was not averse to relating to him the contents of his conversation with Headley. It will come as no surprise to learn that the story finishes with Lala getting another questionable lbw decision against Headley, given almost before he started his appeal.
Such stories litter the history of the game, but they do have a tendency to lose something in the telling or, perhaps more accurately, gain some embellishment. A look at the scorecards for the games in question shows that Lala did indeed dismiss Headley cheaply in each match, but in the first the mode of dismissal was hit wicket rather than lbw. The way the story is told in Rajinder's book also omits to mention that despite their professional coming off a poor second in his battle with his opposite number Haslingden ran out comfortable winners of both fixtures.
Towards the end of the 1939 season Nelson allowed Lala an early release from his contract in order to enable him to get home as the dark clouds of war gathered. He missed the first boat, fortunately as it turned out as that was sunk by a German U-Boat, but he got on board the next and returned home. Neither he nor India then saw an international side until 1945 when the Australian Services XI, on their way home from their 2-2 draw in the 'Victory Tests' in England, spent six weeks on the sub-continent, and played three matches against India.
The first two matches in the series were drawn, Lala's contributions being 64, 50, 0 and 48 together with four wickets in the second game. In the third match India took the series, a century in their first innings from Lala being the springboard from which they took a first innings lead of 186. The Services batsman who later became a respected writer on the game, RS 'Dick' Whitington, described Lala as India's finest batsman and his century against his side as an innings of which Australia's Macartney or McCabe would have been proud.
When, on 22 June 1946, Lala walked out on to the hallowed turf at Lord's for the first Test it was 12 years and 160 days since he had last played Test cricket. He doubtless intended to savour the moment but, sadly for him, after just three deliveries he was back in the pavilion without scoring courtesy of Alec Bedser. With his previous appearance at Lord's having ended with his being sent home the attraction of the home of the game must have been waning, but before the day was out Lala had created another sensation.
India limped along to 200 and when Lala, with his run up of just a few steps, opened up with his medium pace the home supporters were doubtless expecting a feast of runs. As it was there was a rude awakening at 16 when Len Hutton, driving at Lala, was caught at short leg. For his next delivery Lala found a perfect leg cutter to hit the stumps of local hero Denis Compton. Walter Hammond negotiated the hat trick delivery and, in company with Cyril Washbrook, started to rebuild England's innings. That job part way through Lala came back into the attack after tea and removed both to leave England on 71-4 and, so it seemed, with a game on their hands.
Unfortunately that was the extent of India's success for some time and young Joe Hardstaff played the innings of his life, shepherding the lower order well as he recorded his best Test score, an unbeaten 205, as England took a lead of 228. It proved to be plenty, and despite Lala coming in at eight and scoring a bright 50 England won by ten wickets. They all but won the second Test too, India's ninth wicket pair just hanging on, but Lala improved on his Lord's figures with 5-96, and then took three more wickets in the second innings. The last of the three Tests was ruined by the weather. The damp summer had not suited India but, despite by now being almost 35, Wisden had nothing but praise for both Lala's bowling and his batting.
India's first official tour of Australia was arranged for 1947/48 and the newly independent nation's cricketers were captained by the now veteran Lala. It was a mixed bag of a tour for the Indians. They were playing against vastly superior opposition of course, and then got the worst of the luck getting caught on more than one occasion on a sticky wicket. They lost the series 4-0, all of the defeats being heavy ones, but at least had the satisfaction in the rain-ruined draw that was the second Test, the one occasion when they got the best of the conditions, of taking a first innings lead.
Bradman averaged the small matter of 178.75 for the series. His opposite number did a job with the ball, taking 13 wickets at the reasonable cost of 28, but his batting failed badly, as he averaged just 14.00 with nothing higher than 46 to show for his efforts. A lack of runs in the Tests notwithstanding Lala acquired admirers all over Australia as in the other First Class games on the tour he averaged a Bradmanesque 102.20 with five centuries, including an unbeaten double against a Victorian attack comprising five Test cricketers, an innings that was talked about for years afterwards. Lala received nothing but praise from the Australians, both for his leadership qualities and his role as an Ambassador for his country.
Rewinding slightly at this point before the party left for Australia a press conference was held. The then President of the BCCI, Anthony de Mello, who considered himself answerable to nobody, had forbade Lala from answering any questions save in the form of written answers that he, de Mello, would prepare. Lala bit his tongue initially, but once de Mello had left ignored the script and answered everything that was asked of him. An incensed de Mello vowed to secure Lala's dismissal from the captaincy, but due to his popularity in Australia felt unable to sack him on the party's return. So Lala led his country at home in 1948/49 for their inaugural series against West Indies.
De Mello was still after Lala however, and the pair clashed during the second Test when de Mello demanded that Lala tell him his batting order and was rebuffed. By the end of the series de Mello's patience was exhausted and after a magnificent final Test in which India, due to Lala's superb captaincy, almost stole the victory they needed to square the series de Mello announced that the captain had been suspended indefinitely from all cricket.
This news was obviously sensational, although for some reason de Mello seems to have expected not to have to disclose the reasons for what was, effectively, his decision alone. When pressed he produced a document that contained 23 different accusations of various types of misconduct. Lala was incensed but, mindful of his obligations under his contract with the Board, said little in public. What he did do was prepare a careful and thorough 39 page refutation of the charges levelled against him and then, wily old campaigner that he was, made what appeared to be an uncontroversial comment to the public, but which was designed to spur de Mello into a petulant outburst. It was 'rope a dope' stuff and de Mello bit. A defamation suit from Lala quickly followed and he was in the driving seat. The Board, fearing a substantial damages bill for conduct by de Mello that they had not authorised, wanted to settle.
In a position of strength Lala played it hard, but after a long meeting an agreed statement was released. In absolute terms it wasn't quite a complete climbdown by the Board, but was so close to that it might as well be described as such. Lala had won another brush with the autocrats he so despised.
For a while Lala's fitness was a problem and he played just once in 1949/50 and not at all the following year. The Indian captaincy passed first to Vijay Merchant, against a Commonwealth side in 1949/50, and then to Vijay Hazare for the visit of Nigel Howard's second string England side in 1951/52. Lala played in three of the Tests against England but produced little with bat or ball, and despite declaring himself fit to tour England in 1952 Hazare persuaded the selectors to leave the 40 year old behind. As a young Fred Trueman terrorised the indian batsmen Hazare, who was one of those who did not like Lala at all, must still have have had cause to regret his decision.
For many that might have been it, but Pakistan's first ever Test series was to take place in India in 1952/53 and after the disaster in England there were question marks over Hazare's captaincy and the job went back to Lala. The first Test was won by an innings, Lala's tactical acumen once again to the fore, but Pakistan squared the series in the second Test. The game was played on a mat in Lucknow, and three of India's leading batsmen, Hazare, Vinoo Mankad and Hemu Adhikari all dropped out with injuries. All three were back for the third Test and it was certainly Lala's belief that they simply didn't fancy facing Fazal Mahmood on the mat. Fazal was the difference between the sides, taking a dozen wickets as Pakistan cruised to an innings victory. The Indian second innings saw Lala leading from the front, last man standing on 61, his only significant contribution to the series with the bat.
Lala realised before the third Test that he needed to sort out the rift in the dressing room. It was beyond healing but could be patched up, and he held a meeting before the match in which he insisted that the whole team swear their loyalty to the Indian flag, as opposed to him personally. He then showed his men the way with four wickets as Pakistan slumped to 58-5, a position from which they couldn't recover.
The final two Tests were drawn but there were still internal problem. India were due to go to the Caribbean for the first time a few weeks later, and whilst the news was not supposed to come out it was revealed that the captaincy was to pass again, back to Hazare, one major reason being that the tour manager felt that Lala was simply too powerful a personality for him to work with. After the fourth Test against Pakistan was cut short by rain Lala pulled off a very clever move by suggesting that, to enable Hazare to forge his relationship with his team, he should take over the captaincy for the final Test with Lala playing under him. On a hiding to nothing Hazare found himself an injury that prevented him playing, so Lala led India for the last time, and they were never in any danger of not securing the draw they needed. When, after the game, the side for the Caribbean was announced without Lala's name in it he announced his retirement from international cricket.
Despite the further ill-will engendered in that final series Lala was never a man to bear a grudge, and he came back to manage the Indian side that toured Pakistan in 1954/55. In time he became the Chairman of Selectors and in 1959/60 it was at his insistence that Jasu Patel was selected to play against Australia. Patel, an off-spinner, took 14 wickets to bowl India to victory. Already 35 and with an oft questioned jerky action Patel could be devastating on matting wickets and Lala had a hunch he'd do the same on a newly laid surface. When it came to cricketing matters Lala was seldom wrong and he was spot on again there.
As he got older Lala remained in the public eye, mainly through his shrewd yet humourous commentary and in time he became, deservedly, a national treasure. He was able to watch his eldest son, Surinder, emulate him by scoring a century on Test debut, although he would have been disappointed at how quickly he was discarded by the selectors. His second son, Mohinder, enjoyed a distinguished international career through the 1970s and 1980s and youngest son Rajinder, thanks to whom we know so much about Lala, also enjoyed some success at First Class level before becoming a writer. Lala was a few weeks short of his 89th birthday when he passed away in August 2000, in every way the Grand Old Man of Indian cricket.