The Forgotten Foil
Martin Chandler |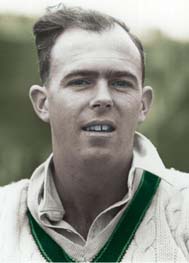 All my life I have listened to people talking about cricket. Something I have noticed is that some things remain constant, and fast bowlers have always been one of the subjects that most frequently crop up, and the names of Keith Miller and Ray Lindwall are amongst those that often arise, and invariably do so in the same sentence.
One of my earliest memories of listening to such a conversation dates back to the spring of 1971. I can be so precise because it happened the day I went to look over the secondary school that I would be attending from that September. As I wandered round with my father the school's games master bounded up to us. He wasn't in the least bit interested in introducing me to the school, his real interest was in chatting to the old man about the coming cricket season. He was the captain of our local village side, and my father was on the club committee. Their conversation turned eventually to the return of the Ashes in the winter just ended, and both agreed that the Australian complaints about John Snow were "a bit rich" after what they had both seen of Lindwall and Miller in years gone by.
My fascination with the game in my earliest years had been rather parochial. I knew all about the history of Lancashire cricket since the war, but rather less about the international game. Steered however by my caring parent in the direction of the 1949 edition of Wisden I looked at the Australian tour of 1948 with an eye to doing more than checking that a 20 year old Lancastrian Malcolm Hilton really had dismissed the remarkable Bradman twice with his left arm slows in what was only his third First Class match. I looked closely at the Tests, and Lindwall and Miller in particular, although I couldn't help but notice that one WA Johnston took as many wickets as Lindwall in the series, and twice as many as Miller. As well as that I noticed that he was the only Australian bowler to take over 100 First Class wickets on the tour. It did escape my notice that in terms of average Lindwall was a little way ahead (Miller only fractionally), but it was enough to challenge my father on.
Bill Johnston, I was told, was a stock bowler rather than a strike bowler, hence the greater reverence accorded to Lindwall and Miller, although I could see that my father himself was not entirely convinced. So I went back to Wisden past and discovered that Johnston was the leading Australian wicket taker in each of the four series that followed that 1948 tour, and it was then that I realised that bowling genuinely quickly was a glamorous business, and that if you were the fastest you didn't necessarily have to be amongst the very best to find fame in the world of cricket. I realised too that the converse was also true, and that taking the most wickets was not necessarily the key to cricketing immortality if you were short of a yard or two of pace.
Miller of course was one of the most charismatic men the game has seen, and he played his cricket in a manner befitting that. Lindwall was not quite so imposing a personality but, having assiduously modelled himself on Harold Larwood as a boy, he had a silky smooth and rhythmic bowling action that was a delight to watch, and always got the experts purring. So what about Johnston?
Australia hadn't had a decent left arm quick since the days of Bill Whitty, who had taken 65 wickets in 14 Tests at 21.37 just before the Great War. In the Spring Annual of The Cricketer in 1945 the Australian writer Ray Robinson speculated that maybe at last a successor had been found, as he wrote; Lithe and active, Johnson (sic) gets lively pace from the wicket with his inswingers and has broken away from Australian custom by bowling around the wicket. He has an easy action, his change of pace is well concealed, and he can turn his slower ones from leg, an early indication of Johnston's versatility.
In his early days Johnston was an orthodox left arm spinner and that is how he got to the top level of Melbourne club cricket during the Second World War. The day came when there was no one else available to open the bowling so Johnston had a go, and from then on he would bowl in both styles. He might have made his First Class debut at 19 in 1941 when he was selected to play for Victoria against Queensland, but the attack on Pearl Harbour brought a cancellation of further First Class cricket in Australia for the duration.
Former Test skipper Jack Ryder, after facing Johnston in the nets, encouraged him to bowl fast. The man himself had doubts but when current incumbent Bradman was present at a game where Johnston bowled in both styles, rather more successfully with his quicker stuff, and "The Don" expressed the view to him that he didn't turn the ball enough to be a success at First Class level in his slower style, he decided to follow the great man's advice. A First Class debut came shortly afterwards and although for a couple of years results were steady rather than spectacular, Johnston finally made his breakthrough during India's tour to Australia in 1947/48 when, in the tourists third match of their programme, he caused a sensation on the first morning by taking the first three wickets, including those of Vinoo Mankad and Vijay Hazare, before the Indians could put even a single run on the board.
The series against India was won easily by Australia, and Johnston played in four of the five matches. He headed the bowling averages with 16 wickets at just 11.37 runs each. Lindwall did take a couple more wickets, but had the advantage of playing in all five Tests. Miller snared just 9 victims, albeit at an acceptable cost of 24.77 runs each – the fact that there were five Australian bowlers with better averages than "The Golden Nugget" amply demonstrates how fragile the Indian batting could be.
That the Johnston action was not a thing of beauty, unlike those of Lindwall and Miller, is probably a factor in the fame equation. Robinson once wrote of him He dips his head and hitches his shoulders; his elbows go like a conductor gesturing to a symphony orchestra. One of these days an umpire will get a poke in the eye. One of Johnston's greatest fans, South African writer, broadcaster and anti-apartheid crusader Donald Woods was even more interpretive, describing his action as being akin to Pluto in a Walt Disney chase – a bounding, galumphing set of crouches, jumps and contortions as if he were leaping over and flinching from a succession of poisonous snakes placed at intervals along his run-up. This affectionate mockery apart both men also knew what made Johnston so effective, summed up by Robinson; The delivery circle of his left arm is the widest I know. In his final rock it starts down below his knees, where the batsman can see his cocked wrist before it sweeps out of sight and reappears overhead. This sky high hand and the flick of his wrist enable him to make the ball bite on jumping spots in wickets where other bowlers find little or no response..
Johnston was assisted in his endeavours with the ball and in the field by being, like Englishman Brian Statham, double-jointed. He could kick a light fitting hanging a foot above his head, doubtless disconcerting those around him who weren?ft "in the know". His party piece was to sit on the ground and then put feet behind his head. Writing in 1979 Hassett told a story of his pulling that particular stunt whilst sat on the mantlepiece in an English stately home, looking for all the world as he were some ornate and bizarre piece of tribal art captured during colonial days. It is a great shame that there is no photographic record of the incident, or if there is that it has never been placed in the public domain.
Although express pace was never a feature of Johnston's bowling, wicketkeepers do not seem to have moved any closer to the stumps for him than they did for Lindwall and Miller. Perhaps that was just as a result of the extra bounce his height generated, but whilst the consensus is that he was fast-medium rather than genuinely quick, he certainly wasn't a slouch. Alec Bedser, who knew a bit about bowling, wrote that he was almost authentically fast, and went on to describe the dangers he presented; his major asset was his ability to move the ball late either way, while the angle of his delivery added much to his variety. A disconcerting slower ball trapped the unwary and with his height he extracted life and lift. His experience as a slow bowler was another benefit to him as occasionally he would slip down a gear or two and spin the ball.
Fun was poked at Johnston's fielding as well, Robinson's comment being …. when he chases a shot to the boundary his feet almost tread on the ball as his head goes down like a bloodhound on the scent, while those elbows poke high in the air, but no batsman laughed when Johnston had the ball in his hand. He had a wonderful arm, courtesy of the baseball he played in his youth, and he was a very fine outfielder indeed. As to his batting that was his weaker suit but, bearing in mind the encouragement that Bradman gave all his bowlers to contribute he had his moments, despite generally batting last and never in his First Class career going beyond 38.
His success against India ensured that Johnston would travel with the Invincibles to England in 1948 where he played in all five Tests. His best was the first. He very nearly didn't play, leg spinner Doug Ring having been the selectors preference until atmospheric conditions turned in Johnston's favour and they changed their minds at the eleventh hour. The decision that Bradman later described as fortunate was soon vindicated as Johnston tore out England's middle order in the first innings with 5-36, and took four more wickets in their rather more obstinate second knock. He never did take ten in a Test match, and those nine at Trent Bridge remained his best match haul, and no doubt the fact that he never left an indelible mark on any individual contest, thus depriving sub-editors of the opportunity of dubbing a Test Johnston's Match, was a factor in maintaining his low profile.
Whether Johnston's contribution in 1948, and indeed his later tours, made the difference between victory and defeat is a question that is worth asking as well. The answer, given how powerful the Australian sides of the time were, must be that while the margins of victory might not have been quite so great, the outcomes would have been the same, so this is another reason for his not receiving all the credit that is due to him. Much the same happened in South Africa in 1949/50 as in England in 1948. Bradman was gone, but the outcome was a 4-0 victory. In the first Test, won by an innings, there were the best single innings figures of Johnston's career – he took 6-44, and bowled more overs than Miller and Lindwall combined, and indeed the illustrious duet failed to take a wicket between them. What made that particular achievement the more admirable was that Johnston had had the previous two months "off" after sustaining a nasty head injury in a road accident early on in the tour after falling asleep at the wheel.
In 1950/51 it was the Ashes again, and finally Australia lost a post-war Test, but they were 4-0 up by then, so the juggernaut was barely deflected. The Australian bowler whose achievements are most celebrated in that series was the mystery spinner Jack Iverson, who the Englishmen never properly got to grips with. It is true that "Wrong-Grip Jake" headed the averages, but he wasn't Australia's leading wicket taker – that was Bill Johnston, but few remember that.
The following year there was a hastily arranged series between Australia and West Indies. After the men from the Caribbean unexpectedly and comprehensively thrashed England in 1950 they suddenly became a hugely attractive proposition so, twenty years after their last visit down under, they were invited back. Unfortunately few of the West Indians lived up to their reputations. Leading batsmen Everton Weekes and Clyde Walcott were shadows of what they had been in England, and spin twins Sonny Ramadhin and Alf Valentine were comparatively ineffective. The tourists had a torrid time against the state sides, and Australia won the first two Tests, albeit not as easily as might have been expected. In the third Test West Indies pulled one back, and despite all their travails it looked like they would draw level in the fourth when the ninth Australian wicket fell with 38 still needed to win and Johnston and Ring at the crease. Ring had a reputation as a striker of the ball, and he scored most of the runs, but Johnston defended stoutly and his unbeaten 7 included the winning run. With the ball he once again took more wickets than any of his teammates.
By 1952/53 the Australian dominance was over. That season's visitors were the South Africans who had been so soundly beaten on their own soil just three years previously. This time round, against expectations, the Springboks drew the series 2-2. For Johnston times were tougher than previously. In the fifth Test injury deprived Australia of Lindwall and Miller, and he led the attack with a spirited performance, taking 6-152 from 46 overs in the South African first innings, but no one could or would share the burden with him. He was still Australia's biggest taker in the series, but at 35 runs each the price he paid for those wickets was much higher than in previous campaigns.
In 1953, the year of the Queen's coronation, Johnston was back in England with Lindsay Hassett's side. His tour is remembered very much more for his batting than his bowling which was disappointing to say the least. There were mitigating factors, most notably an injury picked up in a charity match at East Molesey at the beginning of the tour. The knock to his knee kept him out of the side altogether until the end of May. He played in the first two Tests, was dropped and then came back for the last. He bowled plenty of overs, 174 in total, and was his usual economical self, but the wickets didn't come. He took just seven all series, for which he paid 49 runs each, his captain being convinced that a lack of confidence after the injury was the cause, and that the Ashes were lost as a direct result of Johnston not being as effective as in the past. He had to modify his action as well, in order to reduce the strain on his knee. He was never the same bowler again.
If his bowling was disappointing in 1953 Johnston did at least have the consolation of becoming just the second man, after Bradman, to average more than 100 with the bat during an English season. It was a record that rather crept up on the Australians, but it is fair to say that once they realised it was on it became a team effort, and indeed one that spread to the opposition as well.
Johnston's career average is just over 12, and as noted his highest score a mere 38, so it came as a surprise when, in a game against Gentlemen of England just after the final Test he top-scored in Australia's first innings with an unbeaten 27, which took his tally of runs for the season to 97. He had only been dismissed once, so that was his average too, and after the game ended the realisation dawned in the dressing room that, with just three games to go, Bradman's achievement could be matched.
The next game was against Kent, won by Australia by an innings and plenty. Hassett was concerned that the County might not, in what was a competitive game for them, play along, so with a big lead he declared when the ninth wicket fell to avoid any risks – so there were two games to go, festival matches both, against the South of England at Hastings and then the traditional tour closer at Scarborough against TN Pearce's XI. Festival cricket was proper cricket, but played with a view to entertain as much as to win, and both sides were in on the plot in the days when cricket was still in an age of innocence – quite what the authorities today would have made of the game against the South, when Hassett declared immediately after Denis Compton had bowled a looping leg side full toss to Johnston to enable him to help himself to the boundary that took his aggregate to 102, I dread to think.
Johnston himself was as keen as anyone on taking the record, and was said to be both fearful and less than entirely happy with his captain when he didn't declare at Scarborough when the ninth Australian wicket fell three runs short of the scratch eleven's first innings, but again it was all rather contrived. Roy Tattersall bowled a couple of deliveries at Johnston so wide that he wouldn't have been able to reach them if he had tried, and then Gil Langley almost ran down the wicket to Alec Bedser from the next delivery and was bowled. There might have been a tricky moment in the second innings as the eighth wicket fell with Australia still 11 short of victory, but Alan Davidson and Jack Hill saw them through without the need for Johnston to go out again.
In the years since 1953 another Australian, Damien Martyn has joined the elite group of 100+ men, as has Graham Gooch. Geoffrey Boycott and Mark Ramprakash both have two entries in the list, but it is a record that is not, perhaps, quite as treasured as it might have been without the presence of Johnston the interloper.
After 1953 there was one more good series for Johnston as he was Australia's leading wicket taker once more in the 3-1 Ashes defeat that was dominated by Frank Tyson in 1954/55. His return of 19 wickets at 22.26 suggest he was back to something like his best but in truth he wasn't, and those figure are more an indication of the bowler-friendly conditions that were encountered than anything else. The series contained his last five wicket haul, at Melbourne in the game Tyson at his quickest finished off by taking 7-27, but Johnston's 5-85 came from his left arm spin.
The injury from 1953 remained the problem. It had been caused by a straightforward trip, which itself was a wholly random event brought about simply by Johnston using too long a stud and failing to strap his ankle as he habitually did. One of the idiosyncracies in his action was the unconventional manner in which his feet landed in his delivery side, which created some of the movement he could get, but which also placed great strain on his knee. The necessity of lessening the stress on the damaged patella meant that his delivery stride had to become more orthodox and his ability to deliver the unplayable delivery was irretrievably compromised. When, after their defeat to Hutton's men, Australia moved on to the beautiful batting wickets that awaited them on their first tour of the Caribbean all became clear. For Johnston the series produced just 2 wickets at a cost of 189 runs, and early in the fifth Test he injured his knee again whilst fielding, and had to be stretchered off the ground. It was a sad way for him to, as it turned out, leave the First Class game for good.
After leaving cricket Johnston had a variety of occupations, eventually settling as a Postmaster on the Gold Coast of Queensland. After he was widowed in 2004 he moved to Sydney where he died in 2007 at the age of 85. He had two sons one of whom, David, figured briefly as a right arm opening bowler and useful late order batsman for South Australia in the late 1970s, but the all-round promise he showed against the touring Pakistanis in March 1979 was not maintained. There were, as befits the passing of such a fine player, many glowing tributes paid to Bill Johnston following his death, all of which when taken together sound, as the nature of the occasion dictates, like a eulogy. But it seems that Johnston really was the best of men, as these words of Lindsay Hassett from 1979 amply demonstrate; His sportsmanship was flawless. He had a tremendous sense of loyalty to his teammates but, above all, his humour and spirit of sheer fun were limitless.
?@