On Top of The World: India and Lord's 1983
Gareth Bland |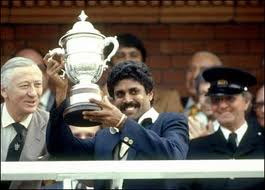 When 1983 dawned, the New Year must have seemed a forbidding proposition for India's cricketers. Already hard up against it in a six Test battle with neighbours Pakistan, they would then set their coordinates for a five Test rubber in the Caribbean with Clive Lloyd's champions. If, at that stage, the Indians thought of the World Cup to be held in the English summer of 1983 at all, it may have been as a kind of respite from the thought of the return leg in India with West Indies which was to take place later in the year. In the October of that year, West Indies would land in India for a six Test series to complete one of the most arduous years in their hosts' cricketing history. Imran Khan, Michael Holding, Andy Roberts, Joel Garner and Malcolm Marshall with the ball, were matched by Richards, Lloyd, Greenidge,Haynes, Zaheer Abbas and Javed Miandad with the bat. In the middle of this fantastic and turbulent year, on 25th June, 1983, four days after the Summer solstice, came their greatest day. For at Lord's on a glorious June evening, India successfully vanquished West Indies to become champions of the world in the 60 over format.
The 3-0 beating that Gavaskar's men had received at the hands of Pakistan months earlier had seen the opener replaced as captain by Kapil Dev. A decade younger, the Haryana all-rounder had not always enjoyed harmonious relations with the elder man from Mumbai. Viswanath, too, Gavaskar's brother-in-law, was also a casualty of that series, as was slow left-armer Dilip Doshi. In the Caribbean, the hosts were too strong, running out 2-0 victors in the five Test series. For the June World Cup India found themselves placed in a round-robin group containing West Indies, Australia and Zimbabawe. In a format where each team played the other twice, India beat West Indies in their opening game at Old Trafford, although Dev's team lost the other encounter at the Oval. The captain had also taken matters into his own hands by destroying Zimbabwe with a then record 175 at Tunbridge Wells, after India had sunk to 17-5. Poor Kim Hughes' Australians sank without trace, even falling to Zimbabwe in their opening match. At the conclusion of the group stage, then, both West Indies and India progressed to the semi-finals. West Indies easily outplayed a limp, struggling Pakistan at the Oval, while India squared up to England at Old Trafford.
On a hazy, hot Wednesday morning England batted first. Fowler and Tavare scored steadily, opening up with a stand of 69 at four runs per over. Thereafter, the innings fell apart as India's steady medium pacers exploited a slow, turgid pitch. England's middle order simply could not get the ball off the square and a series of calamitous incidents out in the middle, culminating in Botham's dismissal from a skidding, Kirti Azad shooter, meant that they closed on 213. Amarnath, Yashpal Sharma and Sandeep Patil steadily led India home to victory and a date at Lord's with West Indies.
And so the big day dawned. Saturday 25th was, again, warm and hazy to begin with, opening out into a glorious mid-summer's afternoon. Clive Lloyd won the toss and opted to field. Gavaskar and Srikkanth bounded down the pavillion steps to face a capacity crowd. Gavaskar, helmetless and greying around the temples and forelock, and Srikkanth, fully protected and sprightly, would initially face Garner and Roberts. From Roberts' opening over to Gavaskar it was clear that this was going to be some task indeed. The Antiguan's lift and skidding trajectory with the new ball cramped Gavaskar up during his opening salvo.
From the other end, running up the slope, Garner was, in the words of Tony Greig "unbearable". A scorching leg-cutter fizzed past Gavaskar's bat, while only Srikkkanth's glove defended his face from extensive dental repair work in the same spell. Eventually, Roberts followed a succession of deliveries that homed in on Gavaskar's ribs with one that offered latitude. The great opener fell for the bait and Dujon took the catch. First blood West Indies. There followed a jaunty partnership between Srikkanth and Amarnath, with Srikkanth setting about Roberts and Holding with a succession of boundaries. Eventually the young opener fell as did Amarnath, bowled through the gate by Holding to leave India 90-3.
Given his recent form in Pakistan and the Caribbean, Amarnath provoked great interest of course. Restored to the national side at the age of 32, his skill and courage against speed was unquestioned. In the two previous series in Pakistan and West Indies he had scored 584 at 73 and 598 at 66.44 respectively. His bravery, resilience and technique against the lifting ball had been a revelation. Even in a batting line-up that included Gavaskar, Patil, Vengsarkar and Yashpal Sharma, all bent the knee to Amarnath at this point in time. For those among the watching British audience who had yet to catch a glimpse of "Jimmy", the first sighting of this Superman was eagerly anticipated.
At the fall of Gavaskar's wicket, the wizard's curtain was pulled back to reveal a shuffling, slim figure who opted for an open-chested stance at the crease. His chin strap seemed oversized, his pads and gloves barely colour coordinated and a handkerchief drooped from his back pocket. His helmet looked as though it bore the scars of those notorious skirmishes with the West Indies quick men in the preceding months, for here was a batsman that had been hit on the head and still returned to the fray on numerous occasions. On that first sighting he cut a figure so dishevelled that he made Jack Russell look like Ranjitsinhji. There was no doubt he was of the top rank, though. Imran Khan and Malcolm Marshall gushed in their admiration for the unassuming right hander from Hyderabad.
From 90-3 India slid to 183 all out in under 55 overs. It looked for all the world that Clive Lloyd was about to complete a hat-trick of World Cup victories; a third photograph of himself on the Lord's balcony with him beaming alongside the trophy. With the score on 5, though, Greenidge had an unusual mental muddle when he shouldered arms to Sandhu and lost his off stick. In came Richards. Menacing as ever, he proceeded to strike seven fours in his 33. But something was just not right with the Windies batsmen. As with England in the semi-final at Old Trafford, the West Indians did not have the ball coming onto the bat at the pace where they could work the ball around in comfort. Richards aside, none could force the pace and each fell to extravagant strokes. Lloyd, Gomes and Bacchus fell for 8, 5 and 8 respectively as the middle order failed to a man.
When Dujon was dismissed at 119-7 it looked with certainty that the unthinkable was about to happen. The Indian supporters and neutrals in the ground began to get increasingly chirpy. When Sandhu bounced Marshall late in the piece, it was a retaliatory response to the nasty lifter which had clanged his own helmet during India's innings. It seemed that neutrals were rooting for the underdog. With the score on 140, the man of the hour, Mohinder Amarnath ambled in to Holding. The great fast bowler missed his attempted pull completely and was leg before. Lord's erupted and India were world champions.
How had this come to pass? In Gavaskar, Amarnath, Srikkanth, Patil, Yashpal Sharma, Vengsarkar and the captain himself, India had a set of richly gifted batsmen who formed a batting line-up the equal of any in the tournament. They may not all have fired at the same time, but the capacity was there for any to do so should the situation arise. In terms of the bowling resources, Kapil Dev was the clear strike warhead. Backing him up was a team of bowlers, who, if they would not have induced panic buying of Immodium among opposing batsmen, then at least bowled to a plan which stifled the batting team's aspirations. In a limited-overs contest the negation of scoring opportunities was the name of the game, after all. In Madan Lal, Roger Binny, BS Sandhu and Mohinder Amarnath, Kapil Dev had an experienced and disciplined quartet who made batsmen work hard for their runs, given favourable conditions. In both the semi-final and final the bowlers were granted conditions very much to their favour.
When a favoured, much eulogised champion team comes unstuck against less exalted opponents and the romantics' dreams have been dashed, it is often tempting to argue that mere functionality has trumped flair and romance. This is often nonsense, of course. The previous year in the FIFA World Cup in Spain, Tele Santana's gifted Brazilian blend had been out thought by Enzo Bearzot's Italy in what was effectively a quarter-final in Barcelona. The Samba Boys had, it was argued, been unfairly denied their rightful place in the final by Italian obduracy and attritional tactics. Again, this is largely fallacy. For every Gentile – the very antithesis of the romantic footballer – Italy had an Antognoni, a Tardelli, a Bruno Conti and, of course, a Paolo Rossi. Similarly with India and their 1983 vintage, for every Sandhu, Binny and Amarnath deploying their bowling nous with discipline, there was a Kapil Dev or any of an array of prodigiously gifted batsmen to turn on the flair.
India had deserved their victory and if Lloyd's team could not adjust their approach to chase down 183 in 60 overs, this was not India's concern. They, after all, had stuck to their game plan and had reaped the rewards. Normal service was resumed in the long format later that year, however, as West Indies trounced their hosts 3-0 in the Test series. But on this day thirty years ago, all of this was some way in the future and, of course, none of it mattered at that time. India, not West Indies, were champions of the world.