Like Father Like Son
Martin Chandler |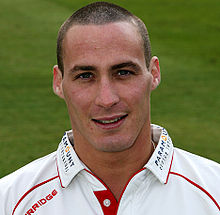 Cricket history is littered with examples of fathers and sons who both reached Test level, but we have yet to see an example of a truly great father siring a son who reaches the same level the closest, perhaps, being Peter and Shaun Pollock, with an honourable mention for Lala and Jimmy Amarnath. Of the others Walter Hadlee and Fred Tate were decent enough cricketers, but no one would seek to suggest that either were in the same league as sons Richard and Maurice. By way of contrast Len Hutton and George Headley were undoubtedly all time greats, but in their few outings at Test level neither Richard nor Ron suggested that they would ever emulate their fathers' lofty reputations.
But there is a pair who might, had they not had such cruel luck with injuries, have both risen to the very top of the game but who, as events turned out, played just 15 and 18 Tests respectively. They are Jeff and Simon Jones, proud Welshmen both, who did enough in their truncated careers to suggest that they were destined for greatness.
Jeff was born in South Wales in 1941. He was not even 16 when the secretary of the village team for which he played drew the attention of the powers that be at Glamorgan to his talents. Duly noted he was taken under the county's wing and carefully nurtured. He was just 18 when he appeared in his first six County Championship matches in 1960. All six were away matches, a slightly odd fact, explained by how slow the wickets in the county were, particularly that at St Helen's in Swansea. To illustrate the point in 1965, by which time England were very interested in Jeff Peter May, by then a Test selector, made his way to St Helen's to have a look at Jones only to be told that whilst Jeff was fit and firing on all cylinders he had, in light of the state of the wicket, been left out of the side in favour of a spinner.
Jeff was that rarest and most precious of bowling commodities, a genuinely quick left armer. David Frith has described him as his approach was long strided, his action a robust pirouette. He was nicknamed Strongbow by some, a reference to his pulling his arm back in the manner of an archer with his bow, just before his delivery stride. A hat trick against Yorkshire in 1962 brought a few headlines on the back pages and by 1963, even if he was not yet the finished article, he was certainly widely respected both in Glamorgan and beyond. His teammate Alan Jones (unrelated) wrote later The reason I became a better batsman in 1963 was solely due to one player – Jeff Jones. His arrival in the first team squad brought a new dimension to our net practice. Here we had a genuinely quick, usually hostile, bowler. In match conditions Jeff had the skill to make the ball kick menacingly off a length.
After that 1963 season Jeff had done enough to persuade the England selectors to take him to India as a member of Mike Smith's rather understrength party that took part in a full five Test series. There was a good deal of ill-health experienced by the tourists as all five Tests were drawn. Jeff took only nine expensive wickets on the entire tour, although Wisden still expressed the view it was a valuable experience for him. He played in just one Test, the second, when England had only two fit specialist batsmen, so all the bowlers had to play. Unusually this meant that Jeff was capped by England before he was by Glamorgan, but sadly he took no wickets, although the 83 minutes that he batted with Fred Titmus in the England first innings whilst scoring 5 out of a partnership of 48 for the last wicket were of considerable value to his side.
It is ironic that both Jones first Test, and indeed his last, are noted in the annals of the game for his batting. Surrey and England off spinner Pat Pocock said of him that he scarcely knew which end of the bat to hold, and another of his contemporaries wrote Jeff fiercely contested the idea that he was the world's worst First Class batsman, but was prepared to admit that he might be the second worst. The classic measure of batting ineptitude is whether a man takes more wickets than he scores runs. At Test level Jeff managed that with something to spare, but at First Class level he just managed to cross the boundary, with 513 runs and 511 wickets.
The Glamorgan club would not have agreed with Wisden's assessment of Jeff's tour as through 1964 he struggled with ankle problems. But at least that meant he was never in the frame to go to South Africa that winter and the following year, after a slow start, the county got him right. In August at Grace Road, Leicester he produced the best performance of his career. The first two days were interrupted by rain and the pitch cut up before, on the final day, the sun shone and hardened the wicket up. Then there was a shower before Leicestershire began their second innings and Jeff was simply unplayable, taking the first five wickets without conceding a run, followed by three more for just 11, before his opening partner and skipper Ossie Wheatley rather spoiled things by nipping out the last two as Leicestershire were all out for 40.
Jeff's fine season in 1965 coincided with the end of the long Test careers of Freddie Trueman and Brian Statham and he was selected as one of a new pace attack that travelled to Australia and New Zealand that winter. His tour began badly and controversially when he fell foul of the umpires in a match against New South Wales for following through on the wicket, but by the end of the tour he was England's leading wicket taker in the drawn series, with 15 at 35.53 after missing the first match. There was another important contribution with the bat as well, as he scored 16 of his 38 career Test runs in a tenth wicket partnership of 55 with David Allen. Most memorable however was his performance in the fourth Test at Adelaide, something which remains firmly in the mind of teammate Bob Barber; I remember the fourth Test well. It followed our domination at Melbourne and our win at Sydney. At Adelaide the wind blows from the north straight from the interior and it can be similar to opening an oven door to check the roast. You gasp for breath. I remember Jeff striving to keep us in the game. They scored 500 plus. He took six wickets for a little over a hundred. Figures usually mean little to me. On this occasion they did. In intense heat he showed no sign of wilting. Wonderful.
There were three more Tests in New Zealand after the Ashes and Jeff's 14 wickets in those came at a cost of just 17.28. A long international career beckoned but, just as he seemed to be warming to Test match cricket the wheels fell off. England's opponents in 1966 were West Indies and, after just one wicket in the first two Tests at a cost of 259 runs, Jeff was back to Glamorgan and a modest season which saw him end up only fifth in the county's averages.
There was no England tour in 1966/67 so Jeff read gas meters in Bridgend instead. It sounds no way to prepare for a summer of professional sport but whether in spite of it or because of it Jeff enjoyed his most productive ever season in 1967, taking exactly 100 wickets at 19.49. England's visitors were India and Pakistan and both were soundly beaten. Unfortunately for him though Jeff was not given the chance to pick up any cheap Test wickets, but he had done enough to earn his place in Colin Cowdrey's tour party to the Caribbean in 1967/68 where he played his last Tests, and the only full series of his career.
On the face of it Jeff's 14 wickets at 46.85 do not suggest a great series, but in fact he played a crucial role in Cowdrey's plan. The main strike bowler, John Snow, was used in short bursts and had a magnificent series that brought him 27 wickets at 18.66. The donkey work was done by Jeff and Warwickshire's David Brown, who also took 14 wickets, in his case at 32.71, in a series where England relied heavily on their pace attack. The slow England over rate drove West Indies skipper, Garry Sobers, to distraction so much so that his frustration is sometimes advanced as the reason for the remarkably generous declaration in the fourth Test that permitted England to take their ultimately decisive 1-0 lead.
A wonderful solo effort by the great all-rounder almost squared the series in the final Test but Sobers was thwarted by Jones the Bat. When he walked out to join Alan Knott there were, it was believed, effectively three overs left. In those days the clock ruled so there was an incentive for batsmen to be dilatory in such situations. Knott wandered down to meet Jeff as he came in, and greeted him with a chorus of We'll keep a welcome in the hillsides. It was just time-wasting on Knott's part although as well a decision was made that Knott would look after Sobers, who was bowling his wrist spin, while Jeff would deal with Lance Gibbs, the rationale being that at least Gibbs only turned the ball one way. Knott saw off Sobers' over and amidst rising tension Jeff faced Gibbs. According to Jeff Gibbs didn't bowl very well, and he only had to play at two deliveries. There could have been a leg bye taken part way through but, expecting there to be time for another over of Sobers Knott stayed put, but he was wrong. His impromptu bursting into song had done the trick, and at the end of that Gibbs over the umpires picked up the bails and England had won the series.
Earlier in the game whilst fielding just behind square on the leg side Jones had picked the ball up and flicked it in with his wrist to try and get a run out. He was a magnificent out fielder and batsmen took him on at their peril. This time he felt something go in his elbow, but it wasn't too bad, and he knew he had five weeks before the 1968 season began. Despite those hopes the injury persisted and although he warmed up for the series against Lawry's Australians by taking 4-37 against them for the MCC Jeff had broken down by the end of May and had to endure months of painful treatment before coming back for the final match of the season, for MCC against Yorkshire at the Scarborough festival. His persistence was rewarded by the selectors keeping faith with and taking him to Pakistan for that winter's tour, but the injury quickly reared its ugly head again and he didn't play again on the tour after a couple of gentle warm up games in Sri Lanka (then still known as Ceylon).
There was surgery in 1969 but that summer, as Glamorgan won their second and to date last County Championship the 27 year old Jeff announced his retirement. He did travel with the county to the West Indies in April 1970 but by now there was a pronounced kink in his action. The reason was that he could no longer straighten his elbow, but it took an MCC inspection to clear him to carry on playing at club level, which he did for many years. Occasionally there would be the odd reminder of the great prospect he had once been, but particularly as he got older he was rather more of a batsman than a bowler, and when he did turn his arm over it was to bowl leg spin.
Had his injury not intervened would Jeff have gone on to become one of the greats? In the small pool of left arm fast bowlers the answer is surely yes. Whether he would have done so in the rather larger field of pace bowlers generally is more debatable. That he had real speed is a given, and despite being one of the most pleasant men ever to play the game he had a vicious bouncer that leapt at batsman from only just short of a length. He was also capable of bowling long spells and his own bravery was beyond question. In the first Test of that 1967/68 series in the Caribbean Alan Knott, acting as twelfth man, had his first taste of Test match cricket as a replacement for Jones who had to go off the field to have stitches put in a cut where he had split the webbing of his right hand. Knott, who had had a few drinks the previous evening, feared he might be out there for the duration, but the tough South Walian, duly stitched up, was soon back on the field. As a bowler Jeff's main problem was that after the shine had left the ball he struggled to move it in the air, and in particular had still not mastered the inswinger that is so much a feature of the best left armer's bowling. But let us remember that he was only 27 when the end came and no one suggested he was quite the finished article. If he had gone on then I have a feeling that Jeff Jones's name would be remembered for his exploits with the ball very much more than it is now.
His days as a county pro over Jeff spent a decade as a sales rep for a brewery in South Wales before taking up rather more congenial employment with Llanelli Rural Council as a sports ground supervisor, a job which also involved coaching youngsters. He also had three sons. The eldest Richard was a pace bowler who played at junior level for Wales, but wasn't quite good enough to make it to the professional game. Matthew was a decent cricketer too, and played a decent standard of club cricket, but it was his twin Simon who matched the old man's achievements in Tests and who, unlike Dad, did so on home soil.
Simon was just a babe in arms when Tom Cartwright took charge of Glamorgan's Under 16 eleven in 1980, and he saw the youngster develop into a right arm fast bowler who was ready at 18 to make his First Class debut for the county in 1998. He spotted Simon's talent, and his flaws, at a young age; when he was 16, Simon was yards quicker than anybody we played against ? but I was always worried whether he would stand up physically to being a fast bowler. He had the shape of an athlete, and that doesn't give the durability you need.
The 19 year old's seven wickets in his debut season were expensive, but his pace excited all who saw him. The following year there was a slight improvement, but there was some frustration, Wisden's millenium edition stating he was given every chance, but lacked control and suffered niggling injuries. Things were no better the following season when he managed just five First Class matches, and his 10 wickets cost 37.40. In 2001 Wisden's comment was that he exhibited raw pace but was seldom fit.
Nothing changed much in the next summer when the observation in Wisden was that he again showed exceptional pace, but 17 wickets at 52.17 was unacceptable. The hope was expressed that a winter at the England academy in Adelaide would help him, and all of Glamorgan was relieved when it did. He ended up as the county's leading bowler in 2002 and his early season form was such that with Andy Caddick and Darren Gough both unfit he was picked for the first Test at Lord's. It was a case of like father like son as the debut was against India, and again the main impression was created with the bat. Simon was never a genuine all-rounder, but had rather more ability with the willow than Jeff. He was the dominant partner in a ninth wicket partnership of 62 with Craig White, scoring 44 at a run a ball. There were also two wickets in each innings as England coasted home by an innings and 170. A side strain then ruled him out of the next Test, and he missed the rest of the series, but he had done enough to secure his place in Nasser Hussain's plans for the 2002/03 Ashes trip.
Simon made a fine start to his only Ashes tour, taking a five-fer in the first warm up match, and removing Justin Langer with his ninth delivery in Test cricket. But he only bowled seven overs before suffering a horrible injury whilst fielding, rupturing his knee ligaments. He missed the rest of the tour, and the 2003 domestic season. He did not play again until, as a member of the England "A" party, he took to the field in India at the end of January 2004. He did well and joined the senior squad in West Indies. The last time England had won a series in the Caribbean it was thanks to Jeff keeping Gibbs at bay back in 1968. Thirty-six years on Simon played his part in England's 3-0 win. This was the series that first showcased the potential of the fast bowling combination of Steve Harmison, Andrew Flintoff, Matthew Hoggard and Simon.
Against New Zealand in the first part of the 2004 summer Simon carried on where he left off in the Caribbean and unveiled for the first time the reverse swing that was to become his stock in trade. After that match though he had to be rested for fear of a possible stress facture to the foot. He returned for the first Test against West Indies but thereafter the selectors opted for the conventional swing of a young James Anderson rather than the reversing ball that Simon offered. But he was there in South Africa that winter when he helped England break another long hoodoo by winning for the first time in forty years with 15 wickets at 26.66 in the four Tests in which he played.
And then it was 2005, that magical never to be forgotten summer when, in the most pulsating series of Test matches ever played, almost the entire populations of England and Australia were held in thrall for 53 days. Simon stepped out of the shadows and on several occasions played a starring role and his 18 wickets were considerably cheaper than those taken by Flintoff, Hoggard and Harmison. At Old Trafford in the third Test his 6-53 in Australia's first innings was the best return ever in Test cricket from a Glamorgan player. In the second innings Ricky Ponting famously just managed to hold England off to secure the draw, but not before this delivery gave us all our enduring memory of Simon Jones at his very best. There were five more wickets in the first innings at Trent Bridge, and who knows how many more there might have been in the second, and how much less exciting the denoument to that classic Ashes might have been, but sadly Simon broke down after just four overs, and that, although no one knew it at the time, was his last act on the international stage.
There was more surgery on the troublesome knee, but Simon seemed fit to start the 2006 season. Sadly however after just one First Class and two List A matches he was sidelined again, and that was that for the season. The next summer saw him play slightly more frequently, but he was not a man who looked at ease with his action, and in four First Class matches he took just one wicket for 290. He was a little more successful in his List A outings, but still paid more than 60 runs each for 10 wickets in 7 games.
At the end of 2007 Simon made the break with Glamorgan. They would have been happy to stick with him but given his track record were looking for a contract that was in some way linked to appearances. His central contract gone Simon needed more security so he accepted an offer from nearby Worcestershire, and the risk they took certainly paid off in his first summer with them. He managed to get on the field in as many as nine of the county's Championship fixtures. He took 42 wickets at just 18.02 and would, had not the Champion's Trophy been cancelled, been back in the England fold.
Unfortunately the success of 2008 was not repeated and, having broken down again, the whole of 2009 was spent on the treatment table. Worcestershire took a view and did not seek to renew Simon's contract. He then looked further east and Hampshire showed an interest, and that is where he spent the next two summers. He played in the last Championship match of 2010, and the first of 2011. He made a tangible contribution to his third county's T20 efforts in both summers, and also did in 2012, by which time he had re-signed for Glamorgan, but there was just one Championship match that year, and his performances in the ten CB40 matches in which he played were, on the whole, unremarkable.
On 16 December 2012, still not 34, it was announced that Simon had re-negotiated his contract and would play six First Class matches for Glamorgan in the summer just gone.He was quoted as saying I still feel I've got a couple of years left in me and that's why I've agreed to do these four-day games. But he was unduly optimistic. The six became one and thanks to a shoulder injury there was just a single T20 appearance, but at least he played in nine YB40 games, a largely unloved tournament except for those, as Glamorgan did in 2013, who reach the finals. So at least if that was the end Simon Jones' career finished with a big occasion at Lord's, and despite the Welshmen's straightforward defeat he was the stand out bowler for his side.
Newly retired from the longer formats the winter of 2013 sees Simon Jones looking for a T20 gig, a format in which he still harbours ambitions. It is a great shame that in the same way injury denied the father his shot at greatness that it has done the same for the son. As I write this feature James Anderson is close to overtaking Sir Ian Botham's mark at the top of the list of English Test wicket takers. Had things turned out differently the Swansea Speedster might well have beaten the Burnley Express to that particular achievement, and be about to have his last hurrah, seeking to be a member of a fifth Ashes-winning side.