In a Spin
Cameron Burge |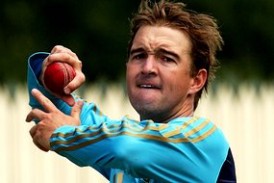 During South Africa's history-making tour of Australia last summer, both Paul Harris (Tests) and Johan Botha (ODIs) caused problems for an Australian line up more accustomed to treating even the finest visiting spinners with something approaching disdain. Part of the spinners' success must be put down to the overall quality of the South African bowling unit, but the alarming trend has continued both in South Africa and now versus Pakistan in the UAE. Why?
Well, sans Gilchrist and Hayden, Australia haven't been consistently getting the starts they used to. The search for a stable opening pairing, combined with a drop in form by Ricky Ponting, Michael Clarke and Mike Hussey together with Andrew Symonds' absence, has led to an increase in the confidence of opposing bowlers and has inhibited the freedom with which the middle order usually plays.
Symonds' extended absence, together with the resting of Hussey and Ponting at different times meant Australia's middle order has frequently comprised a number of players who are attempting to establish their own credentials in the one-day set up. Not surprising then that the likes of Dave Hussey, Callum Ferguson and Cameron White have each played with less freedom than their immediate predecessors in their respective positions.
Despite the selectorial roundabout in the middle order in recent times, the genesis of the problem is a deep seated one of longer standing. Much has been made of the dearth of quality spinners in Australia. Is it drawing too long a bow to suggest the current generation of batsmen is suffering as a result? The recent mid-overs failure of Australia to even effectively milk the opposition spinners was conceded by stand-in skipper Clarke this week after the side's loss in the fifth ODI against Pakistan. Clarke conceded that in reaching 250 for the loss of only four wickets, Australia's emphasis had been on not losing wickets to the spinners, rather than a positive plan to consistently score from them. The admission acknowledges both a startling change in mindset from the "back yourself" mentality of recent years and an admission of the current side's inadequacies. Both must be redressed before the 2011 World Cup, to be held on the spin-friendly wickets of the Sub-continent.
This generation of young Australian batsmen does not have the benefit of measuring themselves against a Stuart MacGill or Brad Hogg at domestic one-day level. It seems this is leaving them less capable of dealing with decent slow bowlers at international level, where the tweakers do more than simply act on instructions to push the ball through the air as quickly as possible.
If Australia is to win its fourth consecutive World Cup, it needs to re-discover its mojo against spin. Perhaps the preparation of more spin-friendly wickets at domestic one-day level will help. Encouraging spinners to vary their flight will not only help their development as bowlers; it will help those to whom they bowl become better players.
But these are medium-to-long term potential solutions. Given the available time frame to the next World Cup, a quick-fix is needed. If it isn't, Australia can kiss goodbye its status as one-day World Champions.