Gordon Greenidge – Product of the Royal County
Martin Chandler |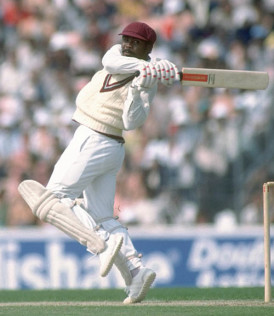 The mighty West Indies sides of the late 1970s and 1980s will be remembered as long as the game of cricket is played. Clive Lloyd, the man who made the team, is as revered now as he was then. Years later Lloyd's successor as captain, Sir Vivian Richards, was chosen as one of Wisden's five cricketers of the twentieth century. The names of the mighty pace battery, Andy Roberts, Michael Holding, Joel Garner and Malcolm Marshall, resonate down the years.
There never has been a sporting team where every single member has remained a household name. England's World Cup winners of '66 are probably the closest, but plenty of football fans forget Ray Wilson and George Cohen. No doubt the fact that if they did their jobs as full backs well they weren't noticed contributed to that. But whilst you might be able to draw that sort of comparison with Larry Gomes and Gus Logie, you can't with Gordon Greenidge. A superb attacking opening batsman who at his peak was as feared as Richards, yet if not forgotten he is certainly not as well remembered as he should be.
In a different time Greenidge might  have played for England. He was born in Barbados. It wasn't an easy upbringing. His mother was a single parent, and she eventually left him in Barbados with his grandparents whilst she went to find work in England. Initially she worked at a bakery in London before eventually marrying. The couple moved to Reading and sent for Greenidge who was 14 when he arrived in England and took his step-father's name.
I have lived in Reading for nearly all of my adult life. It is and always has been a vibrant multi-racial community. Back in the 1970s and 1980s the town had its share of bigots, but nothing like as many as in the northern towns in which I spent my childhood. Unlike central Lancashire, where black faces were decidedly uncommon, the County town of Royal Berkshire had a thriving Caribbean community in those days, yet that seems not to have saved Greenidge from the curse of discrimination, something he put down to having a particularly strong accent coupled with a lack of support from other members of the Afro-Caribbean community. The cause of that, in his opinion, was the enduring issue of inter-island rivalries.
Despite being a keen cricketer it is Greenidge's own perception that he gave no hint of what was to come in his efforts for Alfred Sutton School in Reading. In 1980 he wrote of his 1967 summer, when he was 16 and helping the school to win the Reading Schools Cricket League, I don't remember ever making any more than a very ordinary contribution. However unremarkable his efforts might have been they were enough to get Greenidge into the Berkshire Schools side, although again his recollections were self-effacing to say the least. His own verdict was; My record for Berkshire Schools was no more than average. I had a good eye for a ball and I liked to hit it hard and often, yet I cannot honestly remember getting many runs.
A man I know very well played for the 1968 Berkshire Schoolboys side, when he opened the batting with the lad who had shared that task with Greenidge the previous summer. His partner's recollections coincide with Greenidge's own in some ways, but not in others. His abiding memory was of a batsman who didn't bother to wear gloves, and often just one pad. He certainly remembered a superb eye for the ball and plenty of attacking shots. As to the number of runs scored like the man himself he had no recollection of Greenidge ever making a really big score, or batting for a long time. But he certainly recalled a majestic stroke player who he and his teammates believed was capable of achieving anything, if he put his mind to it.
One aspect of the Greenidge game where his Berkshire teammates did agree with the man himself was in respect of his fielding. Lamentable was one of the words Greenidge used. After he left school at 16 he took a job with Sutton's Seeds a firm who in those days, along with brewers Courage and biscuit makers Huntley and Palmers, were one of Reading's three biggest companies. It is a sign of the pace of change here that none remain in the town now.
The heavy work he did for Suttons did much for Greenidge's fitness. The repetitive task of lugging large sacks of fertiliser around the site was the basis for the development of the powerful shoulders that so many that played with or against him remarked on. In terms of his cricket in the summer of 1968 Greenidge started to play for Berkshire Bantams. There were plenty of good starts, generally curtailed prematurely by a reckless shot, but there was a solitary big innings, 135 against Wiltshire and somewhere along the line he attracted enough attention to be invited for trials by both Hampshire and Warwickshire. The first chance was at Southampton and he was offered a contract straight away, so he never got to Edgbaston. By the end of the summer he had made his debut for Hampshire seconds, ironically enough against Warwickshire, but he scored just two in his only innings.
Southampton wasn't a much happier place for Greenidge than Reading had been. He was not well paid and lived at the local YMCA. The following summer he couldn't even be sure of a second team place, and averaged only 22 on those occasions he did play. He came perilously close to not being retained. He had never enjoyed bowling and with his fielding still poor and therefore no second string to his bow he really could not have complained if Hampshire had send him packing. What saved him was that when he was dropped from the seconds into the Colts side he did score heavily, and even more importantly the Hampshire secretary Desmond Eagar was on his side, and coach Arthur Holt was the other man of influence who he got on with.
During the winter of 1969/70 Greenidge, as 18 year olds often do, thought long and hard about where his life was going, and decided to knuckle down. He threw himself into a hard physical winter job and instead of playing snooker or table football every evening he lifted weights in a local gym or ran. When the 1970 campaign began he was a different man. He scored much more consistently and his fielding was a revelation. In August, thanks to a spate of injuries, he was asked to make a first team debut against Sussex. Scores of 24 and 18 against an attack that included John Snow were respectable enough and Greenidge hung on to the place and finished the season with four half centuries and an average of 35.
The first of those fifties came in Greenidge's first match at the top of the order. On that occasion he replaced an injured Barry Richards but the great man was back for the next game where the pair opened the batting for the first time. Greenidge recorded a pair of fifties in that game at Edgbaston and the partnership he forged with Richards became one of the most famous ever, feared by opponents but delighting crowds up and down the country.
The two men were very different and do not seem to have ever been close friends. For one thing overseas star Richards was paid a great deal more than the uncapped Greenidge, and whilst neither had an easy upbringing they did of course have very different origins. There was clearly a professional respect between them, and Richards was happy to advise and mentor his younger partner in the ways of the county cricketer. Greenidge did however make the complaint that Richards would never shield him from major bowlers, something he clearly believed that the senior man should have done.
For the winter of 1972 Greenidge was invited to play for Barbados. It was the chance he had been hoping for to force his way into a team that was very much in transition. He had to find a job on the island himself but the Board were willing to pay the air fares so Greenidge returned to the Caribbean for the first time since leaving seven years previously. The reception he got was, to his disappointment, lukewarm to say the least. Having been made to feel something of a pariah in England because he wasn't English he found that many West Indians treated him much the same way because they considered that he was. He averaged 30 over the six matches he played, and scored a couple of fifties, but it was not enough to earn what he really wanted, selection for the Test series against Australia that winter or for the party that was due to visit England for the second half of the summer of 1973. He made a good enough start, both his half centuries coming in his first game against the Combined Islands, but after that he failed to shine either against the other islands or in the two games he played against the tourists. He got a start in each of his four innings against the Aussies, but never went beyond 23. On the other hand his opening partner and namesake, Geoffrey Greenidge, did make runs.
In the early 1970s the West Indies had just one established opener, Roy Fredericks. In the series against Australia they tried Geoffrey, and when he failed the selectors went for middle order batsman Maurice Foster and 'keeper Deryck Murray in his place, but neither achieved very much. The second specialist opener chosen to tour England was Steve Camacho. The Guyanese had not been selected since failing against the 1970/71 Indians, but was doubtless assisted by the fact that he had enjoyed a reasonable series in England in 1969.
Greenidge stepped up a gear in the English summer of 1973 and ended the season with more than 1,600 runs at nearly fifty, but there was further disappointment to come. Soon after the West Indians arrived, ironically enough against Hampshire and at the hands of Andy Roberts, Camacho suffered a nasty facial injury and his tour was over. With Geoffrey having failed to take his chance a few months before and hardly enjoying a rich vein of form for Sussex Greenidge must have been extremely confident he would get a late call up as cover. He was desperately disappointed when the SOS went to Worcester and not Southampton, and the 34 year old Jamaican born Ron Headley joined the party and played in the only two Tests of his career.
Towards the end of that 1973 summer with, in the circumstances, propitious timing, Greenidge was sounded out about playing for England. He had a residential qualification and had not played for West Indies so there was a clear pathway for him to open the batting for England. Whilst it would have been fascinating to see Greenidge and Geoffrey Boycott bringing their contrasting styles to bear on Dennis Lillee and Jeff Thomson, not to mention the famous West Indian quartets, it was not to be. His mood doubtless improved by the significant role that he played in taking Hampshire to an unexpected triumph in the County Championship Greenidge decided to give the West Indies a little longer.
Barbados once again paid Greenidge's air fares to go home in the winter of 1973/74 which gave him a chance to stake his claim for a place in the series against England that began in February. He averaged almost 40 in his six matches, but did not feel he batted well. He struggled to come to terms with the hard wickets and was particularly troubled by the glare the Caribbean sun produced. He had four innings against the tourists. He scored 37, 28, 36 and 5* – so near and yet so far.
The series against England was drawn by West Indies and a new star appeared at the top of their order. Lawrence Rowe averaged 88 and with Fredericks on 66 the opening partnership was the strongest part of the West Indies game. But Rowe was a reluctant opener and there was always going to be at least one more needed for the tour of the sub-continent in 1974/75. Another summer like 1973 and surely that place was going to go to Greenidge? With Andy Roberts as their spearhead Hampshire were denied a back to back title only by the weather, but Greenidge struggled to get his thousand runs for the season and if he had not, late in the season, recorded a remarkable unbeaten 273 in less than five hours against Pakistan for DH Robins XI he would have been well short. It is hardly surprising therefore that he feared being overlooked again, but this time he was in luck, and got the nod.
One man's misfortune is another's opportunity and after Clive Lloyd's side arrived in India the eye problems that were to dog Rowe for the rest of his career came to the fore. He played no part in the series leaving the way clear for one of Greenidge or Len Baichan to claim a debut alongside Fredericks. It was Greenidge who was selected. He was dropped at second slip from the gentle medium pace of Ekki Solkar before he had scored, but after that made no mistake until he called Alvin Kallicharran for a single when he was on 93. The run was there but Kallicharran didn't move, eventually sending Greenidge back when he was halfway towards him. The frustration at not being the eighth West Indian to register a century on debut was short-lived however, as Greenidge helped himself to 107 in the second innings.
The rest of the series was not so good for Greenidge. Too often the confidence he had gained led to impetuosity and there was just one more half century but he remained the man in possession. The following summer was that of the first World Cup, and Greenidge helped West Indies to victory albeit with no outstanding personal performance. He was, of course, a certainty to tour Australia the following winter. None of the West Indians enjoyed the trip as they lost the series 5-1. Greenidge himself described it as the biggest setback of my life – a veritable disaster. In the first Test he got a pair, and his embarrassment and distress at that was then magnified when he was dropped for the second Test and replaced by Bernard Julien, a decent enough lower order batsman but undoubtedly a 'bowling all-rounder'. Greenidge was back for the third Test, but innings of 3 and 8 cost him his place again and he didn't regain it either in that series or in the home encounter that followed against India.
Against India the selectors went back to Rowe to partner Fredericks, but he was not as effective as he had been two years before and there was never much doubt but that Greenidge would be picked to tour England in 1976. Having been selected Greenidge's attitude was not surprising, although that he chose to express it in terms was certainly unusual; from the moment that I learned I was in the party I made up my mind to make the needs of the team secondary to the needs of Gordon Greenidge. It was a mindset that served Greenidge and West Indian cricket well as, at the age of 25, he made the opening slot his own. There were three centuries and two fifties as the West Indians made Tony Greig's stated intention to make them grovel look very foolish indeed.
By the end of the tour to England Greenidge had played in 12 Tests. He had scored four centuries and was averaging 44.27 but had yet to play a home Test. Three moderate seasons in Barbados had failed to win over the spectators and in many ways his success in England did not help as it was seen to underline that Greenidge was an 'English' batsman. The 1976/77 visit by Pakistan gave him a chance to impress. The series consisted of five Tests and the visitors, a strong side, went into the final Test at 1-1. Greenidge had played reasonably well without making a matchwinning contribution and with the final Test to be played at Sabina Park his last chance was at the ground where he had felt the most hostility.
In the West Indies first innings Greenidge scored exactly 100 out of 280, and a further 82 in the second innings were efforts without which the West Indians could not have won. As the match wore on the Jamaican crowd warmed to Greenidge, and although his 'Englishness' was not forgotten he was accepted at last.
The 1977 season was one of great upheaval in the game. During the summer the news broke that Kerry Packer's Channel 9 had signed up most of the world's finest players for his World Series Cricket venture. Greenidge was one of them. He had been paid £3,000 for his efforts in 1976. The first year of his WSC contract was worth £16,000 to him, so his willingness to sign was entirely understandable.
After signing for WSC Greenidge went without a Test century for just over six years. There were fourteen half centuries in the 23 Test appearances in between, so perhaps the problem was one of concentration. If it was it was not a problem that persisted as, having finally got his sixth Test century in his 41st appearance in the remaining 67 Tests in which he played he scored thirteen more, four of them doubles.
The single most memorable innings of Greenidge's career came at Lord's in 1984. England skipper David Gower received a good deal of criticism for leaving his declaration as late as he did, requiring the visitors to score 342 at more than a run a minute. Those who doubted the wisdom of any sort of declaration, most notably Ian Botham, were proved right however when the seemingly distant target was reached with 11 of the final 20 overs unbowled for the loss of just Desi Haynes. Greenidge, with 29 fours and 2 sixes, was unbeaten at the end on 214. The chase took just 66.1 overs. Bob Willis was able to exercise a degree of restraint over Greenidge, but the other England bowlers suffered a withering assault and a game that, after some heroics from Botham looked like it might be England's first win over the West Indies for a decade, proved to be the making of Greenidge's reputation instead. Haynes' biographer, Rob Steen described it thus, as devastating an innings as ever won a cricket match of significance.
The opener's place in the folklore of the game was reinforced two Tests later at Lord's. Lloyd won the toss and chose to bat. With 70 on the board Haynes, Larry Gomes, Richards and Lloyd were all back in the pavilion before first Jeff Dujon and then pace bowler Winston Davies both featured in major partnerships with Greenidge who was seventh out at 470 for 223. A comfortable innings victory followed. This time Steen wrote that the innings was a portrait of a master at his peak …… spanning four stoppages for bad light and rain and not a solitary chance to hand, its authority was such that only three times in 427 deliveries did bat seek contact with the ball and miss.
Haynes and Greenidge remained a fixture at the top of the West Indies order for the rest of the decade. The famous partnership gave its last performance in the hotly contested series between Australia and West Indies in the Caribbean in 1990/91. Pushing 40 by now Greenidge did little of note in the first three matches, and by the fourth his place was certainly in doubt. He was out cheaply in the first innings, as were all his countrymen, but after the bowlers dragged back the initiative he batted for the best part of twelve hours in the second innings for a chanceless 226, the highest of his career and, at that time, the highest for a West Indian against Australia.
Despite the advance of Anno Domini Greenidge was selected for the party to tour England in 1991. Sadly however he twisted his knee in the second ODI. A lame Greenidge was usually something that bowlers feared, but this time he needed surgery, and the injury effectively ended his playing career.
After retiring from the First Class game Greenidge initially divided his time between living in England (or Scotland) in the Northern Hemisphere summer and Barbados in the winter where he worked for the local tourist board. Later he took the job as coach to the Bangladeshi national side. When he took them to the ICC Trophy in 1997 he was rightly lauded in the country although the relationship had soured somewhat by the 1999 World Cup. Greenidge left his post after that tournament but the damage to the relationship was not terminal, and he helped their batsmen again for the 2003 tournament.
Greenidge has also been a West Indies selector, and one of the many taken in by Allen Stanford during his brief dalliance with the game in the Caribbean. These days Greenidge, who is 65, still lives in Barbados, breeds Akitas and offers much support to a primary school in St Peter that is named after him.