Going Out At The Top
Martin Chandler |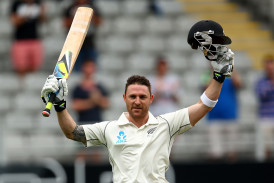 There's nothing worse than a hacking cough. It's on its way out now but really laid me low last weekend. Saturday night was the worst. I went to bed early because I didn't feel well, the measure of my discomfort being that despite the fact that the first session of the Christchurch Test was due to take place at a civilised hour I wasn't tempted to stay up and watch.
Remarkably I got to sleep quickly, but after a couple of hours woke up. In fact it wasn't just me who woke. The ferocity of my coughing fit was such that the entire household was roused. I was embarrassed, slightly distressed and more importantly wide awake. I knew I was going to start coughing again soon, so I sat up and, modern man that I am, reached for my phone.
I don't really like checking the internet on a phone, so have a limited range of sites that I visit. BBC Sport is the main one and having established the last couple of hours had produced no emails, text messages or retweets I checked in to the Test. It was lunch, 74-3 and it looked like Brendon McCullum had decide to have a dart. He can't have been in long, but was 37 not out. At the other end Kane Williamson, in the opinion of no lesser talent than Barry Richards the most promising batsman in the game, had just 7 to his name.
I was sat up in bed by now, and my shoulders weren't unduly cold, so I began to think I might go downstairs for an hour or so. I reasoned I'd give my family a break, and that my own discomfort would be less, as I always found the cough at its worst whilst horizontal. Initially at least cricketing reasons weren't too high on the agenda, but I was conscious of the fact that the match was to be McCullum's last, and that I had never seen as much of him as I would have liked. I convinced myself and slipped out from between the sheets, donned a layer of clothing and grabbed a spare duvet before wandering down the stairs and slouching into my favourite armchair.
I wondered whether I had made a mistake when Williamson departed in the first over after lunch, and then I had long enough to make a cup of tea whilst McCullum, if not exactly scratching around, looked a little indecisive. The first pyrotechnics I saw were from Corey Anderson, whose contribution to McCullum's success will, I hope, linger in the memory of all who watched.
Once Anderson teed off at Mitch Marsh it was just a handful of deliveries before McCullum decided to treat this Test like a T20 match, and went on to play what is undoubtedly the most spectacular Test innings I have ever seen. In the past I have watched the best of Chris Gayle, Virender Sehwag and Adam Gilchrist. None compare. Not even our own Freddie Flintoff. McCullum's innings took my breath away and, for good measure, the cough as well.
The sense of disappointment when Nathan Lyon held on to a very fine catch to end McCullum's knock at 145, was almost overwhelming. That didn't last long though, quickly being replaced by the realisation that I had witnessed something very special indeed. After all this was the 2,202nd Test match ever played, and none of the previous 2,201 had produced a century in fewer deliveries than the 54 it took McCullum. And that includes the, in context not insignificant number of deliveries that he dawdled through after lunch.
There have of course been many more technically correct innings than McCullum's 145. He is not a graceful batsman, nor a great stylist, but what he does have is a withering brutality. We've all seen what might be termed 'slogging', and McCullum's shots tend to travel to very similar areas to those that the slogger aims for. But there is no real comparison. The biography of one famous English six hitter of the inter-war period was called 'No Mere Slogger' – it wouldn't be an inappropriate title for some future biographer of McCullum to choose.
Something else that strikes me about McCullum is just how popular he is. I am struggling to recall anyone questioning his integrity, loyalty or dedication. A hundred consecutive Tests in this hectic age speaks volumes and captaincy has served only to enhance his reputation. New Zealand have, it must be said, always been popular amongst neutrals but the McCullum effect has been to take that to new heights so much so that last summer, in those two hugely entertaining Tests that got us ready for the Ashes, I was delighted to see the superbly led New Zealanders comfortably square the series at Headingley after the sort of start that would have seen many sides beaten within three overs.
To develop that theme for a moment for want of just a few moments of selfishness McCullum would have left the game with not only the fastest ever Test century, but the fastest double as well. It would have been at the same ground as well, his 195 against Sri Lanka in December 2014 taking 134 deliveries. Had he thought about himself rather more than his team and realised he had another 18 opportunities to score those five he would surely have clinched it.
McCullum has a triple century to his name as well of course, although curiously he is a long way from any speed records on that one. That innings against India amply demonstrated that determination and tenacity are also qualities that he possesses.  New Zealand's second innings was falling apart at 94-5, still needing 152 to make India bat again. It was all but 13 hours later that McCullum was dismissed for 302, the match by then saved.
Saturday night's innings was a different beast of course. There was a similarity in that McCullum came to the crease with New Zealand in a bit of a hole, this time 32-3 after he had lost the toss and been invited to bat first by Steve Smith. The conditions were, as that decision indicates, looking pretty good for pace bowling. Australia may not have had their dream attack available to them, but Josh Hazlewood, James Pattinson and Jackson Bird backed up by Mitch Marsh are a respectable attack on any surface, and a potentially dangerous one in helpful conditions.
It wasn't as if the Australians bowled poorly either. With three quick wickets and having all but becalmed the mercurial Williamson they had every reason to feel pleased with themselves. Until McCullum chose to launch one of the great counter attacks in the history of the game. I was reminded of Ian Botham at Headingley in 1981, and the romantic in me was briefly transported back to the SCG in 1932 and Stan McCabe's thrilling riposte to Douglas Jardine's 'Bodyline' tactics. Unlike Botham, but like McCabe, McCullum's rollercoaster ride was in a losing cause, but all three were extraordinary innings, and I feel privileged to have been able to watch two of them as they unfolded.
All three of those counter attacks also had other dramas in the background. For McCabe, averaging just 33 after 15 Tests and without a century there was, in an era dominated by the bat, some doubt as to whether he had an international future at all. For Botham there had been a painful slump in form coinciding with a premature elevation to the England captaincy. At Headingley, his first match back in the ranks, the brash young all-rounder was reborn. In McCullum's case there was retirement in the background, his having made the decision some time ago that Christchurch would be his last hurrah.
There are quite a few batsmen who have bowed out of Test cricket with a century, but only McCullum has ever done so as captain. Whilst a few of those who have reached three figures at the end knew at the time they were not going to play Test cricket again, most did not choose to go out on a high. One who did was Nasser Hussain back in 2004. In his case the retirement announcement was not made until after his second innings century had helped England to a seven wicket win at Lord's. Hussain was 36 at the time, so wasn't destined to play for England for much longer anyway and he made what proved to be a shrewd move. His final Test century is etched in the consciousness of all England fans old enough to remember him.
By a quirk of fate Hussain's final Test, which to the extent of his century I recall well, also happened to mark a first Test in England for McCullum. He batted at nine in the New Zealand first innings, before being promoted to three in the second and getting within just four of what would have been his first Test century. I must confess to not recalling McCullum's innings at all. I do however note that it took the best part of four hours, and that he helped that doughtiest of stonewallers, Mark Richardson, add 173 for the second wicket. Clearly he is a man whose abilities have developed significantly with experience.
Unlike in the case of Hussain there can be no doubt that, at 34, McCullum had the ability to go on for a while longer had he chosen to do so. To the extent that he does choose to spend his time in future earning big money in the world's T20 leagues good luck to him. Saturday night certainly begged the question in my mind as to why, if I was so thrilled and entranced by a T20 innings played in a Test match why couldn't I get excited about one in a T20 match – so from now on I will try and ignore the coloured clothing and just maybe, thanks to Brendon McCullum, I will enjoy the game's shortest format rather more than I currently do.
Earlier this week after he left the international arena for the final time McCullum commented that; It would be nice to be remembered as a good team man. As a guy who played for the right reasons and who, if in doubt, was prepared to take the positive option. Hopefully the guys that I have played with will remember me as a good bloke as well. He isn't going to be disappointed.