Farewell Mike Denness
Martin Chandler |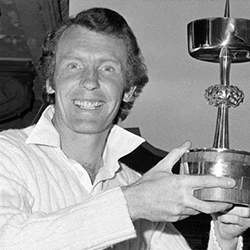 The fact that Mike Denness is, to date, the only Scotsman to captain the England cricket team, is one of the better known of the many quirky pieces of trivia thrown up by the game of cricket. What is less fully appreciated is that his game was developed north of the border. In 1959 he became the first schoolboy to appear for Scotland, and it was not until 1961 that he came to Kent for a trial before signing for the county for the following year. He remained in county cricket, latterly with Essex, for the next 19 summers. He also gained 28 Test caps for England, all but nine of them as captain.
When Denness was in form he was one of the most elegant batsmen of his time and everything about him pointed backwards to the days of the gentleman amateur. He was intelligent and articulate, and never lost an instantly recognisable but gentle Scottish accent. At the very highest level of the game he was not, against high quality pace bowling, entirely comfortable, but of course was by no means alone in that. Against spin bowling however, despite his being an opening batsman and having learnt his game in a country where there were very few quality whirlymen to be found, his footwork was such as to make him a batsman that slow bowlers preferred to avoid.
In his seventh full season, 1969, Denness made his Test debut against New Zealand. In the first series of that summer, against West Indies, he had been called up once as cover for John Edrich at Lord's, only for Edrich to be passed fit. Six weeks later he was selected in the squad for the Trent Bridge Test, but left out on the morning of the match, so it must have been a relief to finally get the nod at the Oval. He spent 43 minutes in England's first innings trying to get off the mark, and having done so was promptly dismissed. He was more successful second time round, his confidence buoyed by a superb running catch in the deep in the New Zealand second innings, and his unbeaten 55 helped England to a comfortable eight wicket win.
With no England tour scheduled for 1969/70, and the planned 1970 South African tour not going ahead, there were no more Tests for England ahead of the 1970/71 Ashes campaign. In place of the South African visit a series of matches against a powerful Rest of the World side was arranged and, at the time, given Test status. Denness was picked for the first game but, perhaps unfortunately given that he made a start in both England innings, did not retain his place, and his chance to stake a claim for Australia was lost. It was however by his actions in the fourth match of that series that Denness sealed his place in my affections, albeit not until a year after the event.
During that Headingley game Kent were not playing, so Denness was asked to be twelfth man on the first two days. With Barry Richards and Rohan Kanhai both injured when he found himself asked to field it was to assist the opposition. A game that was drifting suddenly came to life when Eddie Barlow took four wickets in five balls. The hat-trick delivery was the last of the five, and it was Denness at forward short leg who took the chance Don Wilson offered. Sat at home in front of the television watching a hat-trick unfold for the first time in my life I took no notice of Denness' reaction at the time. But a year later there was a photograph of the Wilson dismissal in Wisden, with the catcher looking as miserable as sin amidst the attendant scenes of celebration. Mike Denness had resolved the conflicting considerations of his professional pride in doing his job to the best of his ability, and his desire to see his own team win, in a manner that greatly appealed to me.
Not being part of England's plans for the 1970/71 campaign suggested that Denness might be destined to join the long list of one cap wonders that England has produced over the years, until in 1972 he took over from Colin Cowdrey as captain of Kent. His five years at the helm of his adopted county saw Kent enjoy great success and, with England's two best opening batsmen, John Edrich and Geoff Boycott, not touring the sub-continent in 1972/73, and skipper Ray Illingworth being rested, Denness found himself appointed as Tony Lewis' vice captain. He played in all eight of the winter's Tests, and performed steadily if unspectacularly.
In 1973 Denness did not play against either New Zealand or West Indies. He was disappointed at the time, feeling that his decision to pull out of a Test trial with back trouble and then scoring a century for Kent the following Saturday had been looked on unfavourably, but in the event it probably helped him. Freed from any international duties he enjoyed his best ever English season and enhanced his reputation as a captain. Tony Lewis on the other hand, after one match back in the ranks under Illingworth, disappeared from the selectors' radar and by the end of a disappointing series against West Indies the Illingworth era was over, and there was a vacancy at the top. It came as no surprise when Denness, now the obvious candidate, was appointed to lead England in the Caribbean that winter.
The 1973/74 series did little to enhance Denness' standing as a Test batsman, but he let no one down and more importantly, thanks in the main to Dennis Amiss and Tony Greig, he managed to lead England to a drawn series after a poor start. His reappointment against India at home in 1974 was not immediately confirmed, but it followed on swiftly from a fine century whilst leading MCC against the tourists, after the modest Indian seam attack had removed Amiss and Geoff Boycott cheaply.
Against India Denness won the first Test by making a brave declaration, and he used his skill against the spinners to score his first two Test centuries against the renowned Indian spin attack of the time in further victories in the other two Tests. That short series, to all intents and purposes, guaranteed that Denness would be leading England in Australia the following winter. He was less successful with the bat in the three Tests against Pakistan that followed the Indian series, but he played a good innings in an exciting drawn match at Headingley, and more importantly his England looked like a team who believed in themselves.
The 1974/75 series was, of course, a disaster for England as Dennis Lillee and Jeff Thomson ensured that, save John Edrich, none of England's specialist batsmen enhanced their reputations. Denness suffered as much as anyone, innings of 6, 27, 2, 20, 8 and 2 in the first three Tests being testament to that. He then dropped himself for the fourth Test, leaving the side in the hands of the gutsy Edrich. After his successor was forced out of the fifth match through injury Denness came back and scored a brave half century against the full might of the gruesome twosome. Then, in the sixth and final Test, with Thommo out and injury restricting Lillee to just one six over spell, he showed what he could do with 188 in England's consolation win, and his fourth and final Test hundred, another big one, followed on the New Zealand leg of the tour.
Denness retained the captaincy for the inaugural World Cup in 1975 when England lost in the semi-final to Australia. He was then re-appointed for the first Test of the four match series against Australia that was to follow. Denness won the toss and invited Australia to bat. An ignominious innings defeat followed and Denness was relieved of the captaincy although, in fact, he had already tendered his resignation as a result of what he rightly considered to be a gross breach of confidence by one of the selectors when he read a newspaper column written by Jim Laker, that stated that the selectors had been "unanimous" in their view that he should have batted on winning the toss. It must have been particularly galling for Denness given that his own view, and that of his entire team was the same, and that it was one of the selectors who had advised him, on a green but very flat wicket, to invite Australia to have first use of the pitch. It was not the first time he had been let down by the selectors either, his firm conviction that the name of John Augustine Snow should have been included in the 1974/75 being disregarded.
At 34, with his Test career over, Denness still retained the Kent captaincy although that was something he lost at the end of the 1976 season. He had decided himself that the time had come for him to move aside and that Graham Johnson should assume the role. The committee agreed that a change at the top was needed but their favoured outcome was for Pakistani Test player Asif Iqbal to take over the captaincy with Denness to remain as a player. The whole episode was handled badly by the club, and although Denness ultimately acknowledged that it was not for him to make the call as to his successor, he felt unable to stay and play under Asif, thus he saw out his playing career with four seasons at Essex where, with Brian Hardie, he formed that rarest of pairings, two Scottish opening batsmen in an English county side.
His playing career over Denness spent four seasons coaching Essex second eleven before taking his talents into the world of insurance, finance and, finally, public relations. He also spent some time as an ICC Match Referee being involved in 14 Tests and 35 ODIs in that capacity. Towards the end of his time in the role he was in charge of what became a notorious Test between India and South Africa in Port Elizabeth in 2001. Denness supported the umpires by disciplining six Indian players including skipper Sourav Ganguly, for failing to control his team, Virender Sehwag for over-zealous appealing, and Sachin Tendulkar for ball tampering. The Indians played the race card, and the South African Board supported them and both sides called for Denness' removal for the next Test. The ICC supported Denness and refused, so the next match was therefore played without official sanction. It is a matter of disappointment to many that more people have not had the courage of their convictions and stood up to the BCCI in the years since Denness stuck to his guns, did his job, and called out what he and the umpires saw at best as unsporting conduct, and at worst cheating.
Denness' time with the ICC did not last long after the Port Elizabeth incident, and after that he returned to the calmer waters of his cricketing spiritual home in the Garden of England. He served on the Kent committee for a number of years combining that with a role as Pitch Liason Officer with the ECB. At the time of his death last Friday morning he was coming to the end of his year as President of the Kent club, a year which had also seen him awarded an OBE for his service to the game. There had been bouts of ill-health since soon after the Port Elizabeth match, and the cancer that finally took him from us last Friday, 19th April, had been an increasingly heavy drain on him for some time, although as recently as eight weeks ago he was still willing to give freely of his time to a complete stranger who rang him out of the blue wanting to discuss England's great escape in Kingston in 1974.