England recover to edge closer to becoming the top Test side
Paul Wood |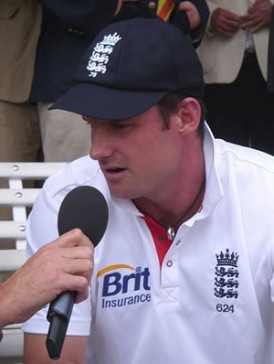 It was following the close of play on the third day that I decided to apply for tickets for Monday's action in the hope that the entertainment that had been evident in the Test so far continued into a fourth successive day's play. Of course I was not disappointed.
So why did I feel almost obliged to attend this Trent Bridge Test? Well, I had never been to the ground before and always relish the opportunity to visit grounds away from my local Old Trafford; it was a chance to see England wrap up a Test win against the current world number one ranked Test side in the world; and it is unlikely that world class players such as Sachin Tendulkar and Rahul Dravid will be gracing our country in their Test fatigues again.
This second Test once again had everyone gripped. MS Dhoni won the toss for the second time this series and inserted England in conditions and on a pitch where it was beyond doubt that it would assist the swing and seam bowlers. So it proved. England struggled to counter some excellent swing bowling, Zaheer Khan's injury at Lords meant he was replaced by the unpredictable Shanthakumaran Sreesanth, and along with Praveen Kumar and Ishant Sharma, they reduced England to 124-8. Stuart Broad and Graeme Swann had earlier watched as the top order attempted to grit it out, battle with the swing and seam, though an unplayable delivery seemed just round the corner. Their approach with this in mind, was to get their runs as quickly as possible, play with the positive intent that makes these two such dangerous lower order players. They put on 73 in just over 11 overs before Swann got a popper off the glove from Praveen that resulted in a hospital trip.
England finished 221 all out, thanks in the main to Broad's 64 off 66 deliveries. A fine Rahul Dravid century ensured India passed England's total, yet when it appeared they were building a healthy first-innings lead, up stepped that man Broad again with a hat-trick (and six wickets in the innings). He took out Dhoni, Harbhajan (fortunately) and Kumar, his new found fuller length is causing India's batsmen ample problems. It was a joy to see two quality experienced campaigners such as Dravid and VVS Laxman coping in awkward conditions, opting to play the ball very late and working it much squarer with the swing.
England wiped out the deficit and begun setting India a very imposing and nigh on impossible target to chase. Half centuries from Kevin Pietersen, Eoin Morgan, Matt Prior and Tim Bresnan all complimented an immense effort from Ian Bell, who ultimately made 159. There was more than a hint of controversy around Bell's innings on the very brink of tea on day three. This isn't a particular situation I wish to dwell on, as there has been so much written and talked about it, which has overshadowed what was a truly outstanding effort. I will say Bell was slack, he had touched down and presumed it was four, which of course it wasn't, and should have been more professional. A mistake was made, India ran him out but in my mind, made the correct decision at tea in recalling Bell to the crease and retracting the appeal, regardless of who initiated the questioning of the dismissal, the right outcome was reached.
Bell played with the kind of assuredness that his talent deserves. Conditions may have eased for the batsmen, but his execution of strokes all around the ground were a fine demonstration of how the coaching manual insists a batsman should play. He caresses the ball rather than than thumping it, his timing exquisite, and he now has the belief and self-confidence to score runs in all conditions and when batsman are falling around him.
So when I arrived at Trent Bridge on Monday morning, my excitement at getting to watch Matt Prior and Tim Bresnan throw the willow initially (England were 441-6 overnight), before we get into the Indian batsmen was barely manageable. That was until I saw the queue at the ticket collection point! It was 45 minutes after play had started that I took my seat, though the lengthy queue did move swiftly.
Not swiftly enough to see the end of Prior's typically free-flowing innings. Broad continued where Prior had left off and he and Bresnan tucked in to some exceptionally ordinary Test bowling. They both fell in the space of two balls as England's innings eventually petered out, yet the target was set at 478 for India to knock off. The buzzing atmosphere inside Trent Bridge was slightly unexpected for me, given it was a Monday, yet virtually every seat in the ground was sold which only helped to enhance the occasion.
My well planned organisation in packing several sandwiches and other such nibbles was thrown into disarray as the wonderful waft of curry continually drifted across my nose from the stall outside the stand. The sandwiches were inevitably taken home at the end of the day and placed back in the fridge, best laid plans and all that, as I tucked into my Indian dish. As well as never having visited Trent Bridge, I had also never sat in an alcohol free stand, this was a day at the cricket with only a bottle of water to satisfy my liquid cravings! Yet it did enable me to remember all of the day's play which is also a novel sensation the day after.
Like most of the crowd that attend a day's play, you do hope to witness a moment where you can say "I was there when…..", in this case the obvious one was to be in attendance when Sachin Tendulkar made his 100th international century. The way he was batting, it seemed more likely than not. While Abhinav Mukund, Suresh Raina, and Yuvraj Singh especially, could not cope with England's hostile, short length bowling (Bresnan being the main instigator), Tendulkar appeared to be playing in a different game. Untroubled he glided his way to a majestic half-century, his straight driving once again a real feature of his innings. Yet even the best make slight mis-judgements, and so it was when Jimmy Anderson brought one back into him as he padded up leaving the umpire with no option but to send him on his way.
England bowled threateningly throughout. Once Broad had removed Dravid on the cusp of lunch, and Anderson had sent Laxman's off stump cart wheeling with an absolute beauty, it did seem more a case of whether England would wrap proceedings up on day four or five. Bresnan's hostile attack meant day four was the only real answer. Four of his wickets came from very well directed short balls, the Indians confused as to whether to hook or sway out of harm's way, generally opting for a very uncomfortable style of taking their eyes off the ball and hoping it doesn't hurt too much as it thuds into some part of their anatomy.
India did not show much fight for the battle, and a 319-run victory for England is the highest margin in Test cricket after a team has conceded a first innings deficit.
So where to from here for India ? Two-nil down with two Tests to play means India cannot afford anymore performances like this if they are to avoid a series defeat, and they will be buoyed by the arrival in the country of Virender Sehwag who is hoping to return at Edgbaston on Wednesday week, so too is his fellow opener Gautham Gambhir. The sight of Zaheer Khan going through some gentle bowling and running drills during the presentation means England are likely to have to work much harder with the bat in the remaining two Tests should he prove his fitness.
England look a well drilled unit. They look together on the pitch and united in their determination to reach the top. They made sub fielder Scott Elstone feel part of the side, celebrating joyously with him when he claimed his second catch at long leg, following a tricky drop off Anderson (both Prior, Cook and KP offered gestures of encouragement). There are still the taps on the behind and low fives when a fielder makes an impact, and Alistair Cook remains vigilant in his incessant ball shining to maintain the condition of the ball.
England simply don't miss key players as much as India do. Chris Tremlett has been key for England since the Ashes, yet his unavailability simply gave Bresnan a chance to prove his quality, something he proved in scoring 90 in the second innings and bowled with devil throughout the Test. He has also given me the chance to say "I was there when Tim Bresnan picked up his first Test five-for".