EM Wellings and "Standards"
Gareth Bland |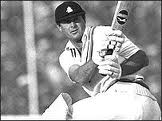 The haughty features of EM Wellings peered out from many a Wisden Cricket Monthly article during the 1980s. Dispensing his views on the declining state of the English game with each characteristically terse missive, I read his articles with a mixture of youthful bemusement, bafflement and appreciation. In the 1980 edition of Wisden Cricketers' Almanack Wellings took to the bible to address his concerns over falling standards in the national game, condemning the decline in batting, bowling and fielding. Having returned from ""abroad" this was the first cricket the writer had seen since 1973. What followed was an in-depth excoriation of standards at both county and Test match level. Who, indeed, was EM Wellings and what had provoked such ire in the man?
Evelyn Maitland Wellings was a son of empire. Born in Alexandria, Egypt, in 1909, "Lyn" to the initiated, was an Oxford Blue who went on to represent Surrey. In a first-class career that amounted to 36 matches he was a right handed bat and off-spinner. Staking out a career beyond his abbreviated playing days, Wellings became a long standing cricket writer for the London Evening News and latterly Wisden Cricket Monthly after its introduction in 1979. He also penned several authoritative tour books, the most famous of which is probably his account of the 1962/3 Ashes series, "Dexter v Benaud". His concerns, come 1980, were not unusual, of course, as England was heading into a period in which much concern was addressed as to the standards of the national game and the kind of player that the county system was able to produce to represent the country at Test level. Ostensibly, there were two distinct modes of criticism: structural – why was the county system not producing the "standard" of player required for international duty and, second, technical: why did these players appear to be so technically deficient in comparison with their predecessors? The two were connected, of course, and it was an argument that would rumble on throughout the 1980s and into the '90s. Little did Wellings know it but within two years the criticism would shift a gear as an ageing generation of Test performers and county stalwarts would decamp to South Africa for an unofficially sanctioned "Test" series with a South African XI.
In his 1980 essay, Wellings argued that, on his return to the shires "the standard was disappointingly lower than in 1973 when England's batting was weak enough to admit such as (Tony) Lewis, Roope and (Barry) Wood to Test cricket. In retrospect their merits, measured against those of Brearley and Randall, look more attractive". Warming to his theme Wellings added "When I left England Boycott was our best batsman. When I returned he was the only one of true class". Of the younger generation vying for places in the England set-up, Wellings was contemptuous. Paul Parker and Wayne Larkins, he noted "failed whenever seen on television, and shaped as if they often would do against class bowling". The unorthodoxy of Chris Tavare, meanwhile, provoked the dismissive judgement "a batsman whose hands work against each other, the one at the top, the other at the bottom of the handle, is much handicapped". Willey, Gooch and Gower, however, drew praise though this did not come without significant reservations being expressed:
"Gooch would surely benefit from a more relaxed stance. His stiff, awkward position with bat unnaturally aloft must surely prove a severe strain when he plays a long innings in a hot country. Gower most obviously has flair, a gift for stroke-making, a fine sense of timing, and certainly a quick eye. His weakness is footwork, for he seldom plays far from the batting crease off either foot. That indecisiveness was the direct cause of his failures in the final two Tests. He has been compared to Frank Woolley, but any resemblance does not extend to footwork. It seemed well nigh impossible to bowl a length when Woolley was on the rampage, reaching far forward or going right back to attack. That is what footwork is about. If footwork was better, there would be no call for those ridiculous helmets"
Poor Derek Randall, though, was dismissed as "the oddest performer" whom Wellings felt was "shaping cross-batted to play baseball" when he had seen him bat. The Nottinghamshire man's remarkable athleticism in the field was seen as scant consolation for such technical and aesthetic shoddiness. Interestingly, Wellings did not damn the amount of one-day cricket as being the chief source of the county game's inability to produce top rank players. After all, he noted, "What young players are damaged by over-limited cricket is an obvious excuse-except that it apparently leaves young foreigners like South Africa's Lamb unscathed. Lamb is far ahead of most young Englishmen, those shufflers crippled by bad footwork. He looks correct at the wicket, still and composed, his bat comfortably grounded. His footwork is economical and sure, so that stroke-play is almost a formality". Lamb, that "young foreigner", was then two years away from playing the first of his 79 Tests as an England batsman.
Up and coming bowlers received little mention though Mike Hendrick, who notably went through his whole Test career without a claiming a five wicket haul, was taken to task:
"Confidence had already been shaken by the battering received in the Prudential Cup final. Not least assaulted was Hendrick, whose negative method reveals little concern for wicket-taking. That he rarely allows batsmen to play forward explains why he was still waiting to take five wickets in a Test innings after 25 matches.By contrast the positive Botham did so eight times in his first eleven Tests. When it came to the crunch, moreover, Hendrick the defender had no answer to Richards in that Prudential final. He was apparently unaware that the sure way to stop–perhaps dismiss–an opponent who advances before the ball is bowled is to aim to drop it on his feet. Elementary instruction, including even running between wickets, often seems neglected these days"
Technical orthodoxy, the observing of the rudiments of the game, allied to an attacking mindset seemed to be Wellings' credo and his basis for a putative action plan for resurrecting the English game. Moreover, he was not the last to make the observation that a link with the past had been lost in the English game; that values and methods previously handed down had been either deliberately neglected or forgotten. From Wellings' perspective this was most evident in the number of "ageing Britons" who were prominent in the upper ranks of the previous season's bowling figures:
"Underwood 34, Jackman 33, Lever 30, Arnold 35, Higgs 42 and Pocock 32 led the English. That a pace bowler of 42 figured so prominently argues against younger rivals and current batsmanship. It is no less disturbing that so many of the well-advertised hopefuls, including Les Taylor and Hugh Wilson, have had, open-chested actions. That is the penalty for having Willis as first-choice fast bowler. He reached that eminence despite an action which should not be imitated. Happily the selectors chose Dilley, whose action does promise well, for Australia. If he becomes the next first-choice opener, the forthcoming generation will have a good model, as did pace bowlers of my generation watching Tate, Larwood, Allen, Kennedy and others with classic actions. Careers of bowlers with indifferent actions are seldom long, and Willis, who toiled four months before reaching twenty first-class wickets, may well be nearing his end"
It may seem odd for Wellings to eulogise the apparently unorthodox action of the late Graham Dilley. Moreover, Willis' awkward action brought him 325 Test wickets allied to remarkable longevity, his retirement from the top tier of the game coming in his 35th year in 1984. All things considered, however, Wellings' lament does coincide with a period of introspection from commentators within the English game. In the 1980s, West Indies, under Lloyd, were making their ascent while England – Botham's 1981 heroics notwithstanding – were flatlining. If EM Wellings felt that standards were dropping and good habits were being mislaid in 1980 then such feelings were still being expressed much later. In 1997 Ted Dexter published his "Little Cricket Book". Among many vignettes and antidotes to the perceived horrors of the modern game Lord Ted gave his views on "The Classical School of English Batting". Like Wellings 17 years before him, Dexter argued that the break with tradition on the batting front came with the end of Boycott's career at the top level.
The root of the decline in the "classical school", though, came, in Dexter's view, around the time of his own retirement. Alec Bedser and Doug Insole had taken over selection spots in place of the departing Gubby Allen and RMV Robins, giving, in appearance at least, a more proletarian taint to the selection personnel. Dexter himself does not observe this but claims to have been "really quite shocked" that "when the new batting selections came along, they included, for instance, Tom Graveney, who was even older than I was, and John Edrich, already in his thirties and not good enough to play before some of the others had gone. It seemed that we missed a beat….I just wonder if there had been a break in the thread which had come down from Hutton, May, Cowdrey, Dexter and the like". Boycott, Dexter claimed, was not "the best player at passing on knowledge to others" after which the link with tradition and English classicism became, it was feared, irretrievably lost.
Pondering on his stint as chairman of selectors, Dexter lambasts one batsman after another for their technical inadequacies. Kim Barnett, Peter Willey, Mike Gatting, Chris Broad and even Graham Gooch were all thought to be lacking in basic technical proficiency. In conclusion, Dexter argued, "our batting was pretty weird for far too long. It is extraordinary that England, the one full-time professional outfit in world cricket, should have bred so many oddities and misfits". That was 1997, some 17 years after Wellings' similar cri de couer in Wisden. Over a decade and a half apart each writer lamented the demise of a patent nostrum of technical orthodoxy and aestheticism; an uncluttered and simple set of formulae with which, once again, England could rise to the top. Each man was, in his way, looking backwards so as to be able to move forwards. There was, of course, something of the unintended comic in each man's persona but it is instructive that, in the wake of central contracts and more specialist coaching – some of the things which Dexter himself championed, England eventually reverted, in the main, to a kind of orthodoxy which has given them a relatively sustained period of success.
While critics may find it easy to laugh at Wellings as "disgusted of…" made flesh and chuckle in particular at Dexter's often bizarre pronouncements during his time as chairman of selectors, each was vocal, and active, in pinpointing the slide in technical standards within the national game. That, years later, England has a relatively settled batting order, each regular and established member of it able to boast a healthy average, suggests that, maybe, in Dexter's own words the days of the oddities and misfits may be at an end. The game has changed, of course, since Dexter's day and perhaps more so since the days when Wellings was turning out at The Oval. Moreover, a player cannot be judged on averages alone, there are simply far too many variables at play and too many vagaries to consider during each session of play, each day, each game. However, for captain Cook and Pietersen to boast averages of 49.42, Bell one of 46.71, Prior 43.19 and Trott 49.50 indicates a consistency and a level of technical proficiency which has seen them adapt to those differences across the cricket playing world. Furthermore, the clamour over "standards" appears relatively quiet at the moment, save for the odd dissenting voice, while the game itself has changed to accommodate, and encourage, greater positivity from those that play it.