Elementary for Symonds my dear Watson
Greg Hawke |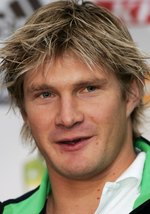 Does Andrew Symonds really deserve his spot in the Australian Test Side ahead of Shane Watson at this point of time? I think Watson can consider himself extremely unlucky at the moment, and I'll tell you why.
Let's put aside for a minute the fact Symonds has seemed intent on embroiling himself in controversy after controversy for several years now, and seemingly far more interested in grabbing headlines than applying some basic self disciplines to keep himself out of the papers for all the wrong reasons.
But let's not sit back and judge Andrew for his widely reported indiscretions; like turning up inebriated for a One Day International. Or tangling with a South African rugby player while touring in 2006. Or the nightclub drama during the 2007 world cup, where he involved himself in a stoush (yet again) with a fan that was supposedly out of line. Or the very public spat with Harbhajan Singh last summer here in Australia. Throw in there the 'gone fishing' mishap in Darwin instead of attending a team meeting, which led to him being sent home before the one-day series against Bangladesh, and I think you've got a cricketer that seems to be struggling with the fame of representing his country.
So how about we give the man a break? Offer him a second, third, fourth and however many other chances we'd like to give him for the sake of this argument. Because no-one's perfect, these things can happen; maybe he's just been really unlucky? Let's say we'll wipe the slate clean after the penultimate little slip up, being the one where he thought it would be best to dangle a fishing line instead of attend an official Australian Cricket team meeting, after which he was consequently sent home to undergo a multi-faceted rehabilitation program.
Then in November this year, just a few short months after being sent home in disgrace, Symonds get's a surprise Test recall for the 1st Test against New Zealand in Brisbane. He receives this call up after some below par performances in the first two Sheffield Shield matches of the season, which saw him average just 13.5 with the bat in four innings, and 5 wickets in four innings with the ball. Hardly the form you'd expect from a player trying to force his way back into the world's number 1 Test team. Yet he's picked ahead of Watson, who toured with the Australians in India and performed serviceably with the bat amassing 200 runs at an average of 25, and with the ball an even better effort finishing fourth for the most wickets taken by an Australian on the tour, with 10 wickets at 32.1.
Still, the selectors make the decision that Symonds will play in Brisbane. And after Australia wraps up the Test early on day four, where Symonds contributes very little, what does he decide to do? Head to the Normanby Hotel in Brisbane with a group of mates (also high profile sportsmen) get on the grog and into another physical conflict, where he claims he was the victim of another overzealous fan.
Enough is enough about here I would say. If Andrew Symonds had any respect for the Baggy Green cap he's been so fortunate to be given back so very easily to squeeze on his swollen head, or if he had any respect for his mates in the Australian team that have shown support for him during his contentious career, he wouldn't have been at any pub that night. If he had any respect for cap, or team-mates he wouldn't have put himself in any sort of position where something like this could happen…again!
So adding all of this up, one would be forgiven for thinking that Shane Watson has been given a raw deal when dropped for the 2nd Test against the Kiwi's in Adelaide, to make way for Symonds to continue on his merry way.
There is no denying that Andrew Symonds (when in form) is a key player in the Australian Cricket Team, and on his day is part of an elite group of players in the world that can be labeled a 'match winner'. And I can also understand why the Australian selectors might rate Symonds a bit higher in the pecking order to Watson. But it seems painfully obvious to me that Symonds doesn't respect his position in the Australian side like he should, and it's also just as obvious to me that he hasn't earned his spot back in this elite team just yet either.
Perhaps Symonds doesn't respect the absolute privilege to represent his country at Test, or any level of cricket, because he's not being asked to fight for it?