Cricket Web's Official Review of the Ashes
Martyn Corrin |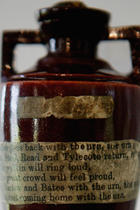 When England won the Ashes in 2005, it was suggested by many that a new era of Ashes cricket had began and that from that point onwards, Test series between cricket's oldest rivals would be close fought encounters, and that the urn would go back and forth. These predictions never accounted for a wounded Australian team reclaiming the urn majestically in 2006-07 in one of the most one-sided series of all-time. However, the urn has once again returned to England and this time round the series we were presented with was indeed the close-fought encounter that was prematurely anticipated some two and a half years ago.
This series could not be much more different to those which have preceeded it, though. Each Ashes series in recent memory contained sustained periods of excellence from at least one side – usually Australia! This time, neither side had such long periods of excellence; in fact it would be fair to say that the only time a side put in good performances two games in a row was when England won at Lord's and then looked to have the Aussies on the ropes at Edgbaston – but even then, England faded and Australia survived comfortably.
It has been a peculiar Ashes series. Three days into the Cardiff Test and England supporters definitely will have had a sense of deja vu as Australia plundered runs all over Wales and England couldn't buy a wicket. It was like being back in Sydney at the start of 2007 all over again. If you had missed everything that happened from that third day in Cardiff and then returned to view day one at Headingley four weeks later then it would be fair to say you would assume Australia had indeed continued their previous vicious dominance of the Ashes. Yet at the same time, the two Tests that England won were massive victories, thrashings if you will, despite spirited fourth innings from Australia in both instances. On paper though, it would appear to a keen follower of the game's numbers that Australia had pasted England everywhere throughout the series.
"It's like a Premier League team having 70% of the possession, but getting beat 1-0 – that's what matters," said Steve Harmison and he is correct. It is well documented that every statistic bar one from the series sees Australia obliterate England; more hundreds, the top three wicket-takers, the top batting and bowling averages…but, crucially, less victories. Cricket is a game that isn't played on paper and this series showed us how statistics can never be relied upon to paint the full picture. Australia looked very good at intervals throughout the series, but England won most of the big sessions.
Australian fans chuckled at how delighted England were to get out of jail in Cardiff, but the final session there was the first such big session. Mitchell Johnson had arrived on English soil with a massive reputation and an enormous weight of expectation; he had a fairly inoccuous Test anyway in Cardiff, but the first sign of what was to come came with England nine wickets down and clinging on for dear life. Johnson bowled erratically and wide; the form he had been in six months earlier would surely have seen Anderson or Panesar dismissed in no time, but they survived without much trouble at all. Of course, there were other bowlers there as well, but Johnson was supposed to be the spearhead.
England had clung on heroically, but there was luck involved given the amount of time that had been taken out of the game by the weather gods. There was nothing too lucky about the way they played at Lord's though, and the match was effectively won by some excellent bowling from James Anderson on the second day. He bowled in tandem with Andrew Flintoff at the other end, Flintoff bowled with control, put the pressure on the batsmen, and Anderson took advantage of this by taking wickets at the other end. England could have taken the follow-on but chose not to, and the net result was that Australia were left an impossible target. Or was it impossible? England's margin of victory would be comfortable in the end, but Australia fought back marvellously in the fourth innings, with Michael Clarke and Brad Haddin putting on a tremendous partnership to give England the jitters. Australia may have lost some of the legends of years gone by but they were not about to start lying down for England, it is likely that they never will. The magnificence of some of the players in this Australia side is that they have England fans believing that they will break their hearts by achieving unprecedented feats.
When the circus rolled into Edgbaston, the wicked weather spoiled proceedings. It was a shame as it had the makings of a very interesting Test match. England bowled superbly to dismiss Australia for 260 in the first innings, with James Anderson turning in one of the best performances of his career. He was ably supported by Graham Onions and England were in the boxseat, even more so when Andrew Flintoff turned in the last memorable batting performance of his Test career the next day to give England a healthy lead. However, a day and a bit to bowl Australia out was too big a task, Michael Clarke and Marcus North came together to blunt any chance of an England victory with a comfortable partnership. A Test that had threatened to have a thrilling finish petered out somewhat; whilst it was easy for England to feel rain had denied them in the same way it had denied the Aussies in Cardiff, a run-chase would have been difficult and by no means a certainty, especially as Mitchell Johnson had started to finally find his line.
If Edgbaston threatened to be interesting and then fell short, Headingley was a different world. England arrived in Leeds knowing a win would give them the Ashes yet shortly after lunch on day three they had been absolutely routed. It was a Test match that Australia effectively won in the first session of the match, taking seven England wickets in the first session. Here they had opted for an all-pace attack, and although Peter Siddle ended up with the leading figures, it was Stuart Clark, playing for the first time in the series, who really came through for Australia. He bowled with those simple virtues, line and length, utilised the seam-friendly conditions and made English batsmen feel hugely grateful that he hadn't been playing before then! At Headingley, Australia were like the old Australia and England were in all too familiar territory.
It was probably of great relief, to England, then, that the fourth and fifth Tests were not back-to-back. England regrouped, there were wide-ranging calls for all sorts of selections, Trescothick and Ramprakash were pined for, but in the end Ravi Bopara, who had endured a torrid time was the only man dropped from the squad. Graham Onions would also find himself unfortunately out of the team for a returning Andrew Flintoff, who had missed the fourth Test whereas Australia went in with an unchanged team. This was a source of controversy, nay, it still is. The debate raging on is whether Australia should have recalled spinner Nathan Hauritz who had acquitted himself well in the first three Tests. The Oval always suits a bit of spin, but this was a very dusty pitch; to not pick a spinner was a very brave call. A glance at the amount of overs bowled by Marcus North, Michael Clarke and Simon Katich perhaps suggests that brave isn't actually the right term for such a call, one would be tempted to label it ridiculous.
Nonetheless, one day into The Oval Test and Australia seemed set to retain the urn as they restricted England to a moderate first innings total of 332. And as Watson and Katich batted through the morning session on day two, Australia seemed set for a big lead. Then, all of a sudden, Stuart Broad bowled the spell of his life, and Australia lost eight wickets in a session. They were skittled for 160, and at that point, the Ashes were ready to return to England. There was still a story to tell; Jonathan Trott scored a marvellous second innings century on debut and then Michael Hussey scored a career-saving century as Australia chased 546 in vein, but in all reality, the Ashes were won in one session on a Friday afternoon in England. Had Australia been able to weather that storm and only lose a couple of wickets, then regroup in the tea break, we could have been looking at a very different game. However, Broad's bowling did not allow them to weather the storm and he would have got most batsmen out with his cutters and swinging deliveries on that afternoon.
At Headingley, Australia had dominated from start to finish for the victory, barring a bit of late-order hitting from Broad and Graeme Swann when the game was way beyond gone. England honestly can't claim to have bossed Australia from start to finish at any point but it hasn't mattered. They won the sessions that mattered; Australia could claim most of the sessions at Cardiff as theirs but not the one they really needed. On the evening session of day two at Lord's, their wickets crumbled and there was no way back for them. Clarke and Haddin were amazing but in the end it meant as much as Broad and Swann's aforementioned cameo. The same goes for Hussey's century at The Oval; he batted well, really really well, but the time he needed to do it was in the first innings, instead he had got out first ball.
There wasn't much between the sides. That much is obvious. Australia are a better bunch of cricketers at the moment but that was always likely to be neutralised by the series being in England. England will take great satisfaction from winning the Ashes and knowing that they should have done much better, because it will be treated as a platform, rather than the ultimate prize like 2005. On the other hand, Australia will also know that they should have retained the urn – you would expect average village cricketers to be able to get Monty Panesar out if given eleven overs to do so. But the bottom line is that cricket, and sport in general, isn't about what should have happened, or who performed better against the other teams. It is about doing what you need to to beat your opposition, and England did it, just about. 2005 it wasn't, but enthralling Test Cricket it certainly was. Bring on 2010-11.