Charlie Is My Darling
Martin Chandler |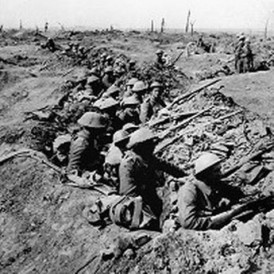 One hundred years ago the Great War began and quickly came to be known as The War That Will End War, after the title of a book by HG Wells published in 1914 that gathered together a number of his newspaper articles. Sadly Wells' work proved not to be prophetic. The ensuing conflict lasted more than four years, and in intensity and cost was like nothing the world had seen before. Across the various theatres of war there were around 37,000,000 casualties altogether. Modern estimates are that some 16,000,000 people died, more than half of them military personnel.
One consequence of the hostilities was that Test cricket missed its fortieth anniversary. In those far off days, when it took a party of cricketers from one Test-playing country weeks to sail to another, there were just three teams involved. The traditional protagonists were England and Australia, who had met in 94 Tests. England had played South Africa on 29 occasions. Australia had locked horns with the South Africans just 11 times, so only 134 Test matches altogether.
The game of cricket gave many of its participants to the conflict, and twelve Test cricketers lost their lives in action, and many more who had graced the First Class game also paid the ultimate price for their gallantry. In truth every man jack of the casualties deserves our respect, but even in cyberspace there are constraints on writers in terms of space and time, so I intend to devote this feature to the Test players, but they take their tribute on behalf of each and every one of the millions who lost their lives.
Looking at the list of twelve one is immediately struck by the preponderance of South Africans, more than half of them coming from the nation that had played in less than a third of the Tests. Four more were Englishmen, with just a solitary Australian to make up the twelve.
I thought about straightforward alphabetical order for my look at these dozen heroes, or in order of the number of caps they won. Other possibilities were chronologically by date of death, or birth or Test debut. More subjectively I considered listing them in order of merit as cricketers, but I rejected that idea on the basis it would bring an unwelcome and inappropriate element of subjectivity into the exercise.
Eventually I decided to proceed on a country by country basis, so will begin with those tragic South Africans, and Arthur Osche. The first two Tests that South Africa played were at home in 1888/89. No one knew they were Tests at the time. The England side were called Major RG Warton's XI. As for the South Africans none of them had played a First Class match before, and indeed two of the Englishmen were destined never to do so other than these matches. In the 21st century there is no way these games would have been classified as Tests, but they are there in the record books and have been for over a century, so their status is now sacrosanct.
The matches were scheduled to be played over three days, but both were over in two. The Englishmen had two top class players in Johnny Briggs and Bobby Abel who played their parts in winning the first match by 8 wickets. In the second they dominated proceedings, Abel scoring the first Test century ever recorded in South Africa after which Briggs took 15-28 on the second day to crush the inexperienced home side by 202 runs. Ocshe was a right handed batsman who, on debut, was just a day over 18 years of age and comfortably the youngest member of his side. He scored 4 and 8 in the first match and 1 and 3 in the second, so at least he avoided a duck. He was a little more successful in his other three First Class matches, and missed a century against Kimberley in 1891 by the narrowest possible margin. He was a veteran of 48 years in 1918 when he died at Messines Ridge in France in the course of the German Spring Offensive.
Seven years after Major Warton's trip Lord Hawke took a rather stronger team out to the Cape, and unsurprisingly his men recorded three crushing wins in the Tests. Frederick Cook played as a batsman in the first match. Oddly for a specialist he batted at nine in both innings, scoring 7 and 0. All told he played six First Class matches, and like Ochse he had one half century to show for them. Cook was the first Test cricketer to die in the Great War. He was 45 when he succumbed to wounds sustained during the Cape Helles landing in the Gallipoli campaign in 1915.
Eric Balfour "Bill" Luddie played his single Test in the last pre-war series in 1913/14. England enjoyed a comfortable series win thanks to the remarkable bowling of Sydney Barnes. Luddie was one of two debutants in the final Test of the series. The other was Reginald Hands, and he too is one of the twelve. Despite Barnes missing the match, and an opportunity to improve on a haul of 49 wickets in four Tests, England still won by ten wickets. Hands was a right handed batsman who scored 7 and 0 in the match. His younger brother Philip played alongside him, and with 83 and 49 was South Africa's most successful batsman. Reginald's overall record is much inferior to that of his younger sibling, but the older brother was a fine all-round sportsman, capped for England at Rugby Union as well by South Africa at cricket.
Reginald Hands was a Captain in the South African Artillery and died of wounds in 1918 on the Western Front. He was 29 at the time of his death, and won a number of medals. As for Luddie he was a fast bowler and with 4-101 he was the most successful bowler in England's first innings in his solitary Test. He was killed at Passchendaele in 1917. Like Hands he was 29 when he died.
Claude Newberry played alongside Hands and Luddie and also in the three previous Tests. He was a modest batsman with a First Class average of 11.95 and the fact that he batted as high as number seven in the Tests gives a clue as to why England won so comfortably. His stronger suit was as a bowler and he took eleven wickets at the reasonable cost of 24.36. His style is not entirely clear. CricketArchive indicates that he was a right arm fast bowler and a leg spinner. His Wisden obituary describes him as a leg spinner, but his entry in Christoper Martin-Jenkins Who's Who of Test Cricketers speaks of a pace bowler who had a tendency to try and bowl too fast. Presumably he bowled in whichever style conditions dictated were appropriate. He enlisted as a Private in the Infantry and was killed in 1916 on the Somme. He was 27.
Reggie Schwarz was born in London in 1875 and learned his cricket in England where, in 1901 and 1902, he turned out on eleven occasions for Middlesex. He also toured North America in the autumn of 1901 with a team captained by Bernard Bosanquet, the man who first introduced the googly to the game. Schwarz studied Bosanquet?s bowling and took the secrets with him to South Africa when he emigrated after the close of the 1902 season. In his turn he demonstrated the techniques to others, in particular Albert Vogler and Aubrey Faulkner, with whom he was to forge the triumverate who, over the next few years, were the cause of South African cricket's rise to prominence. Altogether he was capped 20 times.
Schwarz bowled with great success on a 1904 tour of England taking 65 wickets at 18 runs apiece, although no Tests were played. He then reappeared for Middlesex in one game in 1905 in which he took 6 for 67, but by the following winter was back in South Africa. He played a leading role in the crushing series victory over Plum Warner?s England side that winter. His own contribution was 18 wickets at 17 runs each, and he went on to take a further 9 wickets against England in 1907 at 21.
For Schwarz if not for South Africa there was disappointment in 1909/10 at home as although the series was won again Schwarz, in four matches, did not take a single wicket and indeed bowled only eight overs altogether. He was not as great a bowler as Vogler or Faulkner, if for no other reason than all his deliveries were googlies and he did not have a leg break, however he was accurate and did spin the googly a long way. The loss of form proved temporary however and he was back to his best with the ball against Australia in 1910/11, when he took 25 wickets in the series at 26, including his only two five wicket hauls in Test cricket.
The next Test cricket for Schwarz and South Africa was the ill-fated Triangular Series of 1912 but, like for so many of the South Africans, it was a hugely disappointing summer and Schwarz' three wickets cost him 230 runs.
As a batsman Schwarz's record was a modest one but he did manage one half century against Australia and occasionally recorded other useful scores as well. His overall First Class batting record was considerably better and outside the Test arena he could justifiably claim to have been an all-rounder, and in more ways than one, as like Hands he played Rugby Union for England.
Schwarz took a commission in the Great War and as Major Schwarz served with distinction in the campaign in German South West Africa, before being posted to France towards the end of the hostilities. He was wounded on two occasions and awarded the Military Cross. He managed to survive his wounds but, sadly, could not defeat a Spanish Flu pandemic which killed the 43 year old seven days after the armistice.
Gordon White is sometimes bracketed with Schwarz, Vogler and Faulkner to make it a quartet of leg break and googly bowlers who helped South Africa to their convincing series victory over Warner's side, and who proceeded to give such a spirited account of themselves in the return series in 1907. In truth however White's leg breaks were very much the second string to his bow and his main mark on cricketing history was made as a batsman.
In 17 Tests White scored 872 runs at fractionally over 30 per innings – without a disappointing performance in the Triangular Series of 1912 his average would have been considerably better. His 81 was instrumental in his country's nerve-shredding first Test victory against Warner's side when they won by a solitary wicket after looking well-beaten at 105-6 chasing 284 to win. His two Test centuries, the first in the third Test of that 1905/06 series and later in the second Test of that of 1909/10 also paved the way to wins against England.
With the ball Test cricket brought White only nine wickets, although he did take 4-47 in the England second innings in the Headingley Test of 1907. That effort should have set up victory too, as it meant that South Africa required only 128 in the last innings in order to take the game, but sadly his best bowling analysis in Tests was in vain as the batsmen collapsed for just 75. Despite that modest record with the ball White must have had something as Herby Taylor enlisted his help in the nets in 1913/14 whilst he honed the skills that enabled him to average more than 50 against the redoubtable Barnes to give his side some respectability in defeat.
Gordon White served with the Cape Corps in Palestine and almost lived to see the armistice, but at 37 he died of wounds in October 1918 in Gaza, a location to which military and paramilitary action is still bringing tragedy almost a century later.
The solitary Australian in the list is Albert "Tibby" Cotter. He was a short man, built rather like Harold Larwood and like the great Englishman he bowled very fast indeed – there are said to be more than twenty recorded instances of a Cotter delivery breaking either a stump or a bail. By all accounts he was much like Jeff Thomson in the way he bowled, so he must have been a thrilling sight at full tilt. He was never consistent, and sometimes bowled poorly, producing regular long hops and full tosses and being wayward of direction, but there were great days too.
Cotter made his Test debut in 1903/04 helping Australia to win the final Test of the series with an eight wicket haul, although it was just a consolation, Warner's side having gone in to the match leading 3-1. His greatest feat was probably his 5-38 (four bowled and one LBW) as England collapsed to 87 all out in their second innings to give Australia victory in the Headingley Test of 1909. The most capped of these twelve, with 21 appearances, Cotter played his final Tests in a losing cause in 1911/12. He was one of the "Big Six" of Australian cricket who refused terms for the 1912 Triangular Tournament. Had he travelled to England for that it is likely he would have picked up some cheap wickets to boost his career figures.
In 1917, not yet 34, Cotter was a trooper with the Australian Light Horse. There is no unanimity over the exact details of how he met his end but the best known account is that, whilst acting as a stretcher-bearer, he raised his head over the rim of a trench near Beersheba in Turkey in order to confirm what his periscope had told him and was shot by a sniper. That does seem unlikely and a recent biography of Cotter favours a theory that he lost his life in the aftermath of an act of perfidy by a group of captured Turks.
Moving on to the Englishmen the first I will mention is the least known, and in some ways most tragic of all, Leonard Moon. Moon was a right handed batsman who made his First Class debut whilst an under graduate at Cambridge. He went on to play as an amateur for Middlesex, finding the time to play 63 First Class matches for the county between 1899 and 1909. He was a member of Warner's side that went to South Africa in 1905/06 and played in four of the Tests. His record suggests that concentration might have been a problem. In his eight innings he got to 28 five times, but never got past 36. He died in Salonika, Greece, in 1916. A subaltern in the Devon Regiment his mental health was not good and an accusation was made against him by his men that, if not actually showing cowardice, he had behaved in an unbefitting manner. The investigation did not find the allegation proved but shortly afterwards a single shot to the head accounted for Moon – the record states "Self Inflicted Wounds".
In purely cricketing terms the saddest loss in the Great War was Major Booth of Yorkshire. Booth was an all-rounder who was a good enough batsman to record a double century in a County Championship fixture against Worcestershire, but his fast medium bowling was his main strength, an eight year First Class career producing more than 600 wickets at a cost of less than 20. His was a gradual rise to the top and his only chance at Test level came in 1913/14 when he played in two of the Tests in South Africa with some success.
On the outbreak of war Booth enlisted in the West Yorkshire Regiment with county colleagues Arthur Dolphin and Roy Kilner. The circumstances of Booth's death reflect the abiding image of the conflict. A young second lieutenant he led his men "over the top" on the first day of the Somme and was cut down almost straight away. He fell in a shell hole and died in the arms of another Yorkshire all-rounder, Abe Waddington, who toured Australia in 1920/21. Booth was 27 when he was killed in 1916. Yorkshire President and former England captain Lord Hawke, in a rare moment of sentimentality, described him as one of the most promising and charming young cricketers it was ever my lot to meet.
Thr Great War followed on from a period that will be forever known, in cricketing terms, as The Golden Age, a soubriquet earned by virtue of the dashing batsmanship of men like Ranjitsihji, CB Fry, JT Tyldesley, Reggie Spooner and Victor Trumper. His name is largely forgotten now but for a time in 1906 the name of Kenneth Hutchings was often mentioned in the same breath as those illustrious men. In that summer the 23 year old amateur played an immense role in Kent's first County Championship, but it was the style with which he played as much as his highly creditable average of 53 that had critics and spectators alike in raptures.
The selectors took Hutchings to Australia in 1907/08 when, as a somewhat under-strength England slipped to a 4-1 defeat, he scored a magnificent 126 in the second Test at the MCG, the only match that England won. That highlight apart his tour was something of a disappointment as was the following season. Improved form saw him win back his place back for the final two Tests of 1909, a half century in the last doing much to secure a draw for England. But his game fell away after that and by 1912 he could barely buy a run and, not even 30 years of age, he left the game for good. Four years later Lieutenant Hutchings of the King's Liverpool Regiment was struck by a shell at Ginchy in France. He was killed instantly.
Which brings me to the twelfth man, a county colleague of Hutchings who played 19 times for England but who was, certainly in this writer's opinion, the finest cricketer whose life was claimed by the Great War. Sergeant Colin "Charlie" Blythe died, with Reginald Hands and so many others, at the Battle of Passchendaele on 8 November 1917. He was 38 years of age and had taken more than 2,500 first class wickets at less than 17 runs each. He was a classical orthodox left arm spinner and in 1909 was described as being "better than any other bowler on a good wicket, and much better than any other bowler on a bad wicket" yet when, in 2000, Wisden came to publish its "Five Cricketers of the Century", Blythe did not receive a single vote. There were 28 bowlers nominated for the accolade and of those only Sydney Barnes had a better Test career average and strike rate. It is remarkable how quickly cricket history forgot about a man who once took 17 for 48 in a day.
Blythe's Test record is excellent but does not on its face show just how dominant he was in English conditions, as his record in Tests overseas is significantly inferior to his record in England. That said even in England he was not always treated sympathetically by successive selection committees. By way of example in 1909 Blythe was at the peak of his powers. There was an Ashes series that summer that England lost after a promising start. In the first Test at Edgbaston Blythe took 11 for 102 as England won comfortably by 10 wickets. He missed the second Test at Lords on medical advice and, it seems, was simply not considered for the third Test although the problems he had had at Lords, which appear to have been more mental than physical, were resolved. Blythe returned for the drawn fourth Test but by now England were behind after two Australian victories – even so had rain not interfered his 7 for 140 might have enabled England to win and draw level in the series. Moving on to the Oval England never looked like winning the drawn fifth Test for which Blythe was, again, simply not selected.
Two tests in South Africa in 1909/10 were the last of Blythe's career. Altogether he took exactly one hundred wickets at 18 runs apiece in Test cricket. That record confirms his excellence – it is considerably better than the likes of Wilfred Rhodes, Hedley Verity and Tony Lock managed, all of whom enjoy loftier reputations. It is about time cricket history reassessed the importance of this brave man who, had he returned after the Great War, would almost certainly have enhanced his reputation still further. For him to have been available to continue his cricket career would have been a simple matter, as he had skills which could have given him a reserved occupation, and health issues which, had he so chosen, would have enabled him to avoid any draft anyway. It is a testament to his courage that he ignored those available exemptions and volunteered for service.
Further information on the cricketing casualties of the First World War can be found in Andrew Renshaw's outstanding book, "Wisden on the Great War", reviewed by CW here