Champions at Last!
Martin Chandler |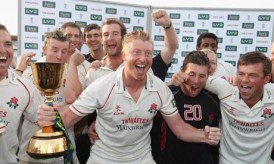 I can still remember the Saturday of England's first Test against India in 1967. This was a game England won comfortably, and in which Geoffrey Boycott took so long over scoring 246* that he was dropped for the second Test but, unsurprisingly, his innings isn't what I remember. Thanks to Boycott India followed on 386 runs behind and most were expecting a three day finish. India's captain, the Nawab of Pataudi, scored a fine century, and England had to wait until deep into the final day before they completed their six wicket victory, but it was the second wicket partnership that was the catalyst for the famous recovery. Opening the batting India's wicketkeeper Farokh Engineer made a swashbuckling 87 to set the tone for the later batsmen to restore Indian pride. I had just celebrated my seventh birthday, a memorable event in a young life. I don't recall my birthday at all, but I've never forgotten Engineer's innings.
In those days I lived in a small village near Preston in central Lancashire. My family were southerners, my father's job as an early version of a software engineer having taken us 230 miles up the M6 when I was just four, but I had no concept of sporting loyalties at that age. All I knew was that Farokh Engineer was the greatest batsman I had ever seen and, while it may have happened anyway, the die was cast when, later that summer, I learned that he had signed to play for Lancashire for the 1968 County Championship campaign.
The naive eight year old was convinced that, with Engineer in the side, a Lancashire title was inevitable. It wasn't of course, and a distant sixth was all that could be achieved. No matter thought I, for 1969 the club had signed Clive Lloyd as well, but it was to be 15th that year, with just two counties faring worse. In truth I wasn't overly concerned as the first ever John Player's Sunday League title came to Old Trafford, and in the coming years Jack Bond moulded a superb limited overs side that enjoyed great success. There were improvements in the Championship too, but not to the extent that it ever really looked like the title would come our way.
Lancashire supporters were always conscious, even then, of the need to win the Championship and after my initial euphoria at the one-day success I became increasingly conscious of the the necessity, as far as the supporters were concerned, to win the big one, the tradtional domestic title. We were, after all, one of the "Big Six" with a proud history. Between 1926 and 1930 Lancashire had swept aside all-comers with four titles and one second place. They had an immensely strong batting line up that included Ernest Tyldesley, Eddie Paynter, Charlie Hallows and Harry "Shake" Makepeace, Test players all. But it was their bowling that was their great strength. Australian fast bowler Ted MacDonald, the man for whom the expression "mean, moody and magnificent" could have been invented, led the attack but Lancashire's own, medium pacer Ciss Parkin and leg spinner Richard Tyldesley, were just as successful.
By 1934 the great side had broken up. Ernest Tyldesley, in his last full season, was the main runscorer, and Paynter was by then in his prime (although not at his best) but Hallows and Old Shake were gone. The 1934 side's leading bowlers were all-rounder Len Hopwood and Frank Booth, names rarely remembered today. Flicking through the pages of The Cricketer the county are described time and again as "businesslike", "workmanlike" and "dull but effective", but they still achieved what, until last Thursday, it often felt like no Lancashire team would achieve again – they won the County Championship.
Lancashire had a fine side again by the 1950s, and indeed in the first year of that decade actually managed to share the title with Surrey – but as I was told repeatedly as a youngster "sharing counts for nowt lad". Neither Test batsmen Cyril Washbrook, Winston Place and Jack Ikin or bowlers Brian Statham, Roy Tattersall, Malcolm Hilton or Bob Berry could conjure up a title. The 1960s, Statham apart, were a decade of mediocrity and after the promise of better things that the Bond era brought was gone Lancashire spent the years 1976 to 1986 in the doldrums. Then in 1987 David Hughes took over the captaincy. He had been a popular slow left arm bowler and aggressive lower order batsman in the Bond team and in the following years, despite making a limited contribution with the bat and rarely turning his arm over, he came close to emulating his mentor's achievements in the limited overs forms of the game. In his first season there were also six wins in the last six games of the Championship season to bring second place, but the season ended too soon and the late run never looked like being enough to lift the title.
By the late 1990s Lancashire were strong again and in 1998 they got to second place once more. John Crawley, Neil Fairbrother and Michael Atherton carried the batting. As for the bowling Peter Martin, the mighty Wasim Akram and a 24 year old Glen Chapple were the leading lights. In addition a young man from my neck of the woods by the name of Andrew Flintoff was awarded his cap that year. By 2006 Chapple had been a Championship runner up on five occasions although, if truth be told, only in 2006 were Lancashire really in the mix right at the end. That year there was great consternation amongst we supporters at events at Southampton. Lancashire, skippered by Mark Chilton, started the last game of the season against a Shane Warne led Hampshire eight points adrift of the leaders. They got into a position to invite the home side to follow on, an opportunity that Chilton declined, apparently to avoid the prospect of facing Warne's magic in the fourth innings. Having taken the defensive option Lancashire then just batted on and on, the Hampshire second innings never starting. Only now can I forgive Mark Chilton for his bizarre captaincy in that game.
In the years since 2006 Lancashire's off field activities, essentially the costly redevelopment of Old Trafford, have limited the funds that might otherwise have been used to invest in the playing staff and while a degree of success has continued no supporter really expected an end to the 70 plus years without a title any time soon. In all the time I have followed the county three basic problems have always seemed to stand in the way. The first is the weather, and those that keep such statistics can clearly demonstrate that year on year Lancashire lose more playing time than any other county. That argument, of course, is subject to the observation that its relevance rather depends on what would be made of the extra overs but often we have run out of time in rain affected games. A further factor, it has always seemed to me, is that no matter how strong Lancashire's batting may appear, they are prone to collapsing more often than they should. More important still, and over the years the most frustrating aspect of all, is the number of times Lancashire rip out their opponents top order only to then see the tail rescue their colleagues.
As the CricketWeb discussion forum proves 2011 was, perversely, the first year I have ever predicted that the County Championship would not end up in Lancashire. That even as one-eyed a supporter as I felt obliged to come to that conclusion speaks volumes for what was expected. Had I been entirely honest I would have added that simply avoiding relegation would have been a satisfactory outcome at the season's end. Why the pessimism? My main concern was the batting. Stephen Moore and Paul Horton have both been talked up as potential Test players in the past but endured wretched seasons in 2010. Steven Croft did a little better but still seemed nothing like the batsman he looked like he might develop into a few years ago. Former skipper Chilton seldom looks the part these days and with Luke Sutton having been released, and no Ashwell Prince or Shivnarine Chanderpaul to hold things together, it was impossible to see the experienced players, augmented by the largely untried Karl Brown, Gareth Cross and Luke Procter, scoring anything like enough runs.
The bowling gave less cause for concern. We all knew that if Chapple stayed fit that he would still be a handful for any batting lineup but there were worries about what would happen if his form or fitness fell away. Saj Mahmood has always been a model of inconsistency, and Oliver Newby and Kyle Hogg shared that trait. At least there was the expectation that Tom Smith's medium pace would continue to test the opposition and that we might just be allowed to field the Burnley Express, James Anderson, a few times in April. Later on perhaps it would be a long, hot and dusty summer and the ever reliable Gary Keedy, and the hugely promising Simon Kerrigan, might win a few matches on their own if only the batters could get enough runs.
The big question was about the overseas signing. I desperately wanted to see Chanderpaul back, but in the end he nearly did for us as he scored a bucketload of runs for title rivals Warwickshire in the late summer sunshine. The man we got was Farvez Maharoof – an experienced all-rounder with as many as 20 Test caps, but a batting average of less than 20 and a bowling average of more than 60. Relegation to Division 2 beckoned, or so I thought. I should have had more faith.
The season began at Aigburth, the home of Liverpool Cricket Club, on the ludicrously early date of 8 April. There were to be no First Class matches at Old Trafford this summer, as the work continued which, given Aigburth's reputation as a result wicket, looked like a double-edged sword. Despite the early start to the season April brought plenty of sunshine and a winning start in a superb team performance as Sussex were beaten by an innings. It was no surprise to see Chapple and Keedy take 14 wickets between them, but a century for young Brown, and fifties for Chilton, Cross, Croft and Smith in an innings of 472 after a sticky start, was the best possible way to start the campaign.
Two weeks later it was back to Aigburth and, worryingly, a Chapple-less side, but the result was the same, an innings victory. The wickets were spread around this time and the batting shone again. Moore scored a half century as he and Horton laid a firmer foundation than against Sussex and then, after the inevitable collapse, it was Maharoof to the rescue with his first century for the club and another fifty each for Cross and Smith.
By now it was pretty clear that Fortress Aigburth was going to prevent relegation but expectations were limited for the return against Sussex at Hove. In the event the pattern came agonisingly close to being repeated for a third time. On this occasion Chapple won the toss and decided to bat and saw his batsmen rack up as many as 590 with Cross continuing his rich vein of form with a century and major contributions from Horton, Brown and, coming into the side, Procter. Sussex followed on 300 behind and at 369-9 with plenty of time left, looked down and out but Pakistani pace bowler Naved Arif, with his first ever century, and Monty Panesar, were a pair of unlikely batting heroes for Sussex as they played out time.
Match number four was at Edgbaston and it looked like the bubble had burst as only a partnership of 90 for the sixth wicket enabled Lancashire to get as many as 227 and a single batting point. Warwickshire found batting no easier but after Lancashire struggled again second time round the home side's victory target was an eminently gettable 245. They got to 86-3 before Simon Kerrigan grabbed the game by the scruff of the neck and took 5-7 as the West Midlands county subsided to 97 all out. Keedy with 3-2 was no less effective.
Next up were the old enemy Yorkshire, at Aigburth. Lancashire's other traditional foe, Jupiter Pluvius, turned up as well, but even their conspiracy couldn't prevent a fourth victory as the Red Rose successfully chased down 121 in 14 overs to snatch a nailbiting victory. It was Anderson's second and final Championship match of the summer. He took 2-77 over the two innings to go with his 3-88 at Edgbaston. Contributions to the cause without a doubt, but not major ones by any means. Gary Keedy's ten wickets and 93 and 77 from Horton and Chilton respectively laid the foundations and a rapid 31 from Maharoof took Lancashire home.
It was down to the Rose Bowl and Hampshire in late May for the fifth win from six. Brown's 96 held Lancashire together as they struggled to 328. Hampshire started their reply well enough until at 73-2 Kyle Hogg, 27 years old but never an automatic selection in all his years at the club, ripped out the rest of the batting to end up with 7-28. He took four more in the second innings as Hampshire followed on and Paul Horton sent two of the three deliveries in Lancashire's second innings to the boundary to claim a 10 wicket victory.
The end of May saw Lancashire's biggest test yet, their away fixture at Durham. I was pleased to see the names of Liam Plunkett, Mark Davies and Steve Harmison missing from the Durham teamsheet, but Graham Onions, Callum Thorpe and Mitch Claydon remain a distictly useful attack and, on hearing that there was rain in the air, and that Lancashire had been put in, I feared the worst. With Moore and Brown back in the pavilion with just nine on the board my concern seemed well founded but, led by Paul Horton who scored 94, the lower order all contributed and the 313 Lancashire ended up with, particularly when Durham reached 90-3, looked a reasonable total. Sadly Ben Stokes and Dale Benkenstein then ruined my Bank Holiday by adding 331 for the fourth wicket and Lancashire capitulated in their second innings for 148 and an innings defeat. Outside the Red Rose playing staff two of my favourite cricketers of recent years are Harmison and Paul Collingwood. At the beginning of June I had already conceded the Championship to them.
It was time for the hit and giggle break after the Durham game and it was almost three weeks before Lancashire played another Championship game, this time against champions Nottinghamshire at Trent Bridge. Mahmood got five wickets and Hogg another four but, after being reduced at one point to 138-6 the home side's tail took them to 326. There were 99 runs for Horton this time but wickets fell regularly and Lancashire had Mahmood and Hogg's efforts with the willow to thank for getting within 20 of Notts. After that the "Kyle and Saj" double act, for their third trick, reduced Notts to 81-7 before yet again Paul Franks and Andre Adams took control and the eventual target was a distant 237. Perhaps embarassed at their reliance on their opening bowlers Lancashire's batsmen, and particularly Moore with a fine 124*, took Lancashire home by six wickets with surprisingly few alarms.
After the Notts victory I thought that perhaps there was still a chance of glory, albeit one that depended on the outcome of the return encounter with Durham at Aigburth. If the away fixture had dented my confidence this one shredded it. Harmison was back for Durham but the destroyer was Thorp as Lancashire, inserted again, crashed and burned to 84 all out. It was scant consolation, although a fine achievement by our bowlers, that Durham's lead was restricted to 102, but despite a much better second innings performance, with fifties from Horton and Procter, and three early wickets in Durham's second innings, the visitors reached their target of 182 with five wickets in hand. It was to be around lunchtime last Thursday, 15 September, that I next dared to believe that the title really might be ours.
Following such a disappointment at least the next match, the away Roses battle, had a significance outside the battle for the Championship, representing as it did a private feud between two great rivals. Inserted once again Lancashire got to 328. Every batsmen except Moore got a start, but only Croft and Smith crept past 50, but when Hogg struck again, with five quick wickets as Yorkshire slumped to 45-8, it seemed plenty. Hardened Lancashire supporters like myself never take such situations for granted however and our fears were proved correct as Richard Pyrah and Ryan Sidebottom added 154 for the ninth wicket. The eventual first innings lead was just 89 and when Lancashire themselves were reduced to 87-8 the prospects of a double over the old enemy looked remote, but a timely partnership of 80 between old friends Hogg and Mahmood pushed the target just beyond Yorkshire and, with Captain Chapple taking five second innings wickets, Lancashire won by 23, though not before we had another fright as the last two wickets added 83.
The return encounter with Notts was played at Southport and was to prove a depressing affair and Lancashire's third defeat of the season. In the time honoured way Notts were reduced to 69-7 but, despite a five wicket haul from Hogg they got to 203. Lancashire struggled in turn but their tail did not wag to quite such good effect and a deficit of 24 was conceded. With Notts at 139-7 in their second innings a road to victory opened up but the last three wickets again came good, adding another 94, and the eventual target of 248 looked very distant indeed as the Red Rose wilted for just 128.
There were to be only two draws for Lancashire all season and the second came at Aigburth against Warwickshire, but the moral victory certainly belonged to Lancashire although, after two days, another defeat had looked on the cards. Once again the opposition on winning the toss wanted first bowl at our brittle batting and the decision proved to be a wise one yet again. Moore was fifth out for 76 but apart from 31 from Smith no other batsmen hinted at permanence and a first innings bereft of batting points, 189 all out, was all that the home side could muster. Warwickshire batted steadily to gain a lead of 91 but Lancashire applied themselves in the second innings and a partnership of 208 between Karl Brown and Stephen Croft saw them to 380 and left a target of 290 for the visitors. Three late wickets made the match look closer to a Lancashire victory than it actually was but the way that the team came back at Warwickshire was a source of much encouragement.
After their disastrous trip to Southport Lancashire's next game was at their other outground, Blackpool, against struggling Worcestershire. Again the match took a familiar course Lancashire's batsmen struggling but one, Croft this time, stepping up to the plate, and his century was the only score over 50 albeit there were useful contributions from Horton, Cross and Maharoof. The eventual all out total of 282 seemed plenty when Chapple and Hogg reduced the visitors to 21-5, but another determined rearguard action took them to 202. Croft made exactly 50 in the second innings and although only Brown, with 85, made a significant contribution the eventual target was 329. The Worcestershire top order played in much more determined fashion in the rearguard action that followed but as long as the weather held off Lancashire were always going to run out winners which, thanks to four wickets each from Smith and Keedy, they duly did.
By a quirk of the fixture computer Lancashire's next game was also against Worcestershire, but the game at New Road was thoroughly depressing. For once batting first out of choice Lancashire got as close to a batting point as they did, 161, thanks only to Mahmood and Hogg, again, striking some lusty blows at the end of the innings. The Lancashire seamers plugged away and restricted Worcestershire's lead to 76 but in a diasastrous second innings, which even Hogg and Mahmood were unable to rescue, Lancashire were shot out for 80 and, predictably, lost by ten wickets.
With two games to go Lancashire were still in with a chance of the title although Warwickshire were by then firm favourites. The last home game, at Aigburth, was against Hampshire. With bonus points potentially crucial it was depressing to see Lancashire slip to 183-6 but cometh the hour cometh the man, and Chapple rescued the innings with his highest score since 2004 – he richly deserved the century he fell three short of.
Unfortunately Hampshire's innings followed a similar course with a slump followed by a fine knock from the lower order, this time by Sean Ervine. The Lancashire lead was only eight but Moore and Horton opened up with a partnership of 168 and Chapple declared on the fourth morning, many people felt at least half an hour too late, to leave Hampshire a distant target of 361. What followed next was compulsive listening for those of us following Radio Lancashire's commentary on our laptops. Wickets fell regularly, if rather too slowly to start with, but then Kerrigan, recalled for the first time since Southport, ripped out the lower middle order to secure the win with time to spare, or so we all thought, but the last pair held on and on until, with just four minutes left and hope all but extinguished, Kerrigan finally dislodged the dogged Neil McKenzie, who had defied all that he and Keedy could throw at him for almost three hours. Kerrigan seems to have a fine career in front of him, but he may never improve on the 9-51 he took here. It had been a marvellous victory but a crushing innings victory for Warwickshire at Edgbaston over Nottinghamshire meant that Lancashire's fate was not in their own hands but, as they contemplated their trip to Taunton, at least hope lived on.
At the end of the first day at Taunton the dream looked over. Lancashire had made some early inroads but Somerset were, thanks to James Hildreth and Joss Butler, on 314-5 and to add insult to injury Chapple had damaged his hamstring. Warwickshire were 296-3 at the Rose Bowl. Day two saw Lancashire take the remaining five wickets relatively quickly and with Somerset 380 all out they made their way to 247-3 at the close with maximum batting points, for the first time all season, a distinct possibility. Warwickshire had ground their way to 493, but at least all Hampshire's wickets remained intact. On the third day Lancashire got those five points thanks to Hogg's cameo and after that a similar display from Kerrigan took the total to 480, a lead of exactly 100. Top score for Lancashire was Moore's 68 but all eleven men contributed. Somerset cleared the arrears by the close but lost five wickets in the process and with the weather set fair Lancashire looked home and dry. Sadly however so did Warwickshire as Hampshire, following on, stuttered to 45-3. It was enough to convince me the drive to Taunton wasn't worth the effort.
Had I driven down to the West Country perhaps it wouldn't have worked out the way it did. First of all thanks must go to Michael Carberry and Neil McKenzie whose centuries at the Rose Bowl made sure Warwickshire never got close to victory. At Taunton the home side slipped to 130-7 but then Peter Trego, aided first by Alfonso Thomas and then Murali Kartik, added 180 and in the end Lancashire needed 211. With possibly only 28 overs available it was a stiff task but after a brisk start from Horton and Moore Croft struck the first delivery of the thirtieth over to the boundary and that was it – for the first time since 1934 Lancashire were County Champions.
How did it happen given that even Lancashire's most fervent supporters had given up on the Championship? It is surely a combination of the obvious. First and foremost the team are better cricketers than we thought. All the younger players have enhanced their reputations this season and Kyle Hogg has been a revelation. Team spirit has clearly been excellent and Chapple and coach Peter Moores must take the credit for that. Moores has previous for taking a team of seemingly ordinary players to the top and, Farokh Engineer apart, has to count as the best signing Lancashire have made over my time as a supporter. And lastly for once we have had the rub of the green – no points lost through the intervention of the weather – unheard of!
As I celebrate I vividly recall New Years Eve of 1999 and, tragic case that I am, discussing with an old friend my hopes and dreams for the new millenium. I confided in him that as far as sport was concerned there were four things that I desperately wanted to see happen, each of which I feared I would never in fact see. The four were England regaining the Ashes, Lancashire winning the County Championship, Reading Football Club reaching the top tier of English football and England repeating 1966 and winning the FIFA World Cup. I have seen three of those now and without a shadow of a doubt, as memorable as 2005 was, the end of the 77 years of hurt is the most satisfying by a distance and, in the unlikely event that it were to happen I cannot see that a World Cup will beat it either.