Captain Cook
Martin Chandler |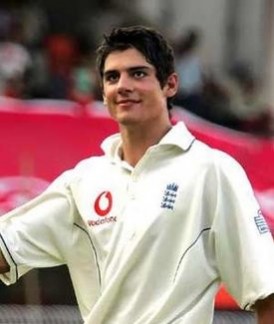 When I first started taking an interest in the numbers that most fascinate so many cricket fans England came out of it pretty well. The leading run scorers in Test history were Colin Cowdrey and Walter Hammond, and the leading wicket-taker, by a distance, Fred Trueman. By the mid 1970s those records had gone, to Gary Sobers and Lance Gibbs, but I never foresaw the decline that, in 2012, leaves our leading run scorer, Graham Gooch, as low as twelfth in the all-time list and the greater part of 7,000 runs adrift of Sachin Tendulkar. Amongst the wicket-takers Ian Botham lies a distant thirteenth, with fewer than half of Muttiah Muralitharan's tally of wickets. It is twenty years since Botham last wore the three lions in a Test, and his English record is not going to be threatened any time soon, and if James Anderson does eventually get past him he won't get much further up the table.
The batting is rather different though. Assuming that the current state of tranquility between himself and the England management remains Kevin Pietersen should at least be in sight of Gooch by the end of the forthcoming back to back Ashes series. Whether, at approaching 34, he will then be in a position to make much of an assault on the eleven who will then be in front of him I rather doubt, but I hold high hopes for the next man in waiting, current skipper Alistair Cook. Just shy of three hundred runs separate KP from Cook, as well as four and half years, and the reality must be, if Cook continues in the vein that he has since assuming the captaincy, that even Tendulkar's record is not beyond him, and that his being our first "leading run scorer" since the late Lord Cowdrey of Tonbridge is a real possiblity.
Cook was, of course, a child prodigy. He got a couple of fifties for Maldon in the top division of the North Essex Cricket League at 13, and just a year later famously made up the numbers for MCC when they turned up a man short against his school's first eleven, and scored a century. Naturally his place in the firsts was then assured, and he went on to score 19 centuries over the rest of his school career, at an average of around 90. It wasn't always a run glut though – in 2000 he was playing for England in the Under 15 World Cup. In a none too successful campaign his contribution was fairly anonymous, 45 runs in three innings. If anyone had said at the time that one of that England side would go on and become one of the leading batsmen of his generation then all eyes would probably have followed Samit Patel.
Later that same summer Cook made his debut for Essex Second XI and scored 1 and 26* in an unspectacular start. He then turned out for them twice in 2001, and a little more often in 2002, but still did not achieve much. In 2003 his early games for the county were no better until in a match against Surrey Seconds he was asked to bat at number three. Twin centuries followed, and after that his lowest innings in the next three was 45, and for the last three County Championship games in September Cook was handed the opportunity to open the batting for the first XI, a slot that Essex had struggled with all summer. They were still relegated, but they won two of those three matches, and the 18 year old Cook scored a half century in each one, earning the comment from Wisden that … it was Alastair Cook who made the greatest impression. A tall, left-handed batsman …. he should play a significant part in Essex's future.
The following season was a case of steady but slow for Cook but, his potential noted, he was selected for the England A side that visited the UAE and Sri Lanka. Matt Prior was England's star man with the bat. Cook, played down the order in the UAE, would have been disappointed with his performances there, but restored to the opening berth in Sri Lanka while his record was unspectacular he fully justified the faith of Gooch, who had been the driving force behind his selection.
The way that Alistair Cook bats is such that he can easily be overlooked. He does not rely on power or unorthodoxy and the tempo of his batting is always unhurried. So when Essex played Australia at the beginning of September of 2005 his name had attracted little national attention notwithstanding a fine season that saw him enter the match with a First Class average of almost 50. Australia were preparing for the decisive final Test of that memorable series, and the game became twelve a side and thus has no First Class status. But the opposition was certainly testing. There was no Glen McGrath or Shane Warne, their places for the Oval being secure, but Jason Gillespie, Brett Lee, Sean Tait, Mike Kasprowicz and Stuart MacGill were all looking for one of the other two bowling places.
The game began on 3 September. The previous day Cook had learned that he was the recipient of the highly regarded Cricket Writers' Club Young Player of the Year award and he celebrated in remarkable style, scoring 214 at not far short of a run a ball. Wisden described the innings as inspirational. For former Essex and England captain Keith Fletcher he was ..one of the most exciting prospects I've ever seen.
To those inside the game Cook's talent was well known but that performance against Australia suddenly gave him a public profile too, and whatever selectors may say I can't help but believe that the media do bring some pressure to bear. These were the days when English cricket listened out every day for news of Michael Vaughan's knee in much the same way as an earlier generation had done in respect of Denis Compton's. The decision was made that the uncertain state of the Vaughan patella meant that a batting back-up was needed for the first part of England's winter, in Pakistan. Cook got the nod and although he did not get to play even a single day's cricket on the tour, he spent the whole time with the squad. In the New Year he went off to the Caribbean with England A, and helped himself to a century in the only innings he had there before Vaughan's knee meant another call to the Test squad, who were in India. This time Vaughan went home, and once Marcus Trescothick's stress-related illness took him back to England as well, it was clear that this time there would be cricket for Cook, and indeed that he would be opening the batting with Andrew Strauss in the first Test at Nagpur.
The Test was drawn but in the England second innings, after contributing a solid 60 to the first, Cook's unbeaten 104 made him the youngest Englishman ever to debut with a century. The adjectives and phrases we have seen used so often to describe Cook began to hit the sports pages, accomplished, skilful and unobtrusive were two, and most frequently of all tribute was played to his quiet determination. Had a stomach upset not prevented him starting the third Test in Mumbai, on a pitch that would have suited him down to the ground and where England squared the series with a 212 run victory, then he might even have secured a three figure average for his first series.
The English summer of 2006 was a good one for Cook and two hundreds against Pakistan and a solid series against Sri Lanka made him a certain starter for England's mission to retain the Ashes that had been so thrillingly won in 2005. Of course it was a 5-0 defeat for England, and a personal disappointment for Cook who had just a fine century at Perth to show for his winter's work. His other nine innings were such that he averaged only 27 overall. But even then there was promise. Only once, in the second innings of the final Test, did Cook fail to see off the new ball. He was however found out by the Australian pace attack who believed, correctly as it turned out, that he had a weakness outside off stump. On his return to England Cook worked assiduously to learn to play his cover drive with an angled as opposed to straight bat, having observed the techniques of Justin Langer and Matthew Hayden.
In 2007 Cook faced the rather less rarefied atmosphere of a home series with West Indies followed by a short series against India. The somewhat anodyne West Indian attack allowed Cook to play himself back into form and, as was only to be expected, the accusation that he was the main agent provocateur in the rather silly "jelly bean affair" against India failed to disrupt his concentration or his confidence. That winter there was a trip to Sri Lanka, where two cheap dismissals by Chaminda Vaas, a bete noire of Trescothick's as well, drove Cook to spend many hours in the nets with Andy Flower. Two fifties and a hundred in the next two Tests showed just how successful he is when seeking to address problems when they do arise.
Next up for Cook and England were back to back series against New Zealand and, the main event of the northern hemisphere summer, a four match series against South Africa. It will come as a source of surprise to anyone who only began to follow Cook's fortunes in Australia in 2010/11 that he suddenly hit problems with his conversion rate. There were no centuries, but six scores between 60 and 76. It probably wasn't significant at the time, as no one realised then quite how good Cook would become, but if he repeated such a run now I can imagine that a perceived problem would be picked over wherever the game is discussed.
Home and away series against West Indies allowed Cook to regain his appetite for centuries but then, after the home series against them in 2009, the Australians came knocking again. There was an important 95 for Cook in the second Test at Lord's that, with Andrew Strauss' 161, paved the way for England to go 1-0 up, but that apart the old issues returned and a series average of just 24 was the outcome. There were ten England players with a better average, and only Jimmy Anderson, Ravi Bopara and Graham Onions were behind him. It was the same well executed Australian plan that accounted for him. The quicks kept the ball up and if he wasn't out giving the slips and 'keeper catching practice he went lbw, playing round the long stride he put in to try and counter the initial problem.
Once again Cook worked on his issues over the winter. He spent many hours in the nets with Gooch, remodelling his technique. He emerged into the England winter programme of 2009/10 with a higher and straighter backlift as per his mentor. He also worked on his footwork and was rewarded with a much better personal showing against South Africa, followed by a relaxing time in Bangladesh where he scored a century in each of the two Tests, incidentally his first as England captain after the selectors decided that Strauss had earned a break.
There was no reason to expect anything other than a repeat dose when the Bangladeshis played two return Tests in the first part of the following English summer, but although England won both Tests comfortably the impressive young left handed opening batsmen was Tamim Iqbal and not Alistair Cook, who scored just 59 runs in his three innings for an average of less than 20. Worse followed against Pakistan and Cook came as close to being dropped as he probably ever will. He began the series with scores of 8 and 12, 17 and 4, and 6 in the first dig at the Oval in the third Test. For his second knock in that game Cook's answer was to ditch the new technique and to eschew his usual game and take the bowling on. Had he been caught at 23, rather than watch the ball fly between first and second slip, I might not have been writing this article at all, but he got away with it, and despite another failure in the final Test his 110 at the Oval was enough to see him in the party that went to Australia for the 2010/11 Ashes, where England hoped to make a rather better fist of trying to retain the Urn than Andrew Flintoff's side had done four years previously.
Was the criticism that Cook picked up in 2010 justified? No one has ever seriously suggested that Cook has anything but the ideal temperament to open the batting in Test matches, so observers, a few expert and many not, picked over his supposedly failing technique. Most concluded that his footwork was the problem, but the manner in which he held his bat and the flexibility of his right knee were other issues that were raised. It cannot be easy to ignore such a barrage of advice, and to then decide to take a backward step by simply refurbishing a previously disregarded approach to batting. But Cook had the mental strength to do so.
It is doubtful whether, in truth, Cook's place was ever in real jeopardy but there were certainly many calls for him to be dropped in the press. But taking a measured look back at Cook's dismissals that summer suggests that the problems were overstated. First he seemed to spend most of his time at the crease batting in conditions that were favourable to, and at times perfect for swing and seam bowling. Ally to that the fact that in Mohammed Asif and Mohammad Amir Pakistan had a superb pair of new ball bowlers, and on reflection the slump seems rather less significant. Bear in mind also that none of the other opening batsmen in the series, Salman Butt, Imran Farhat, Yasir Hameed and Andrew Strauss, scored as many runs as Cook, and it seems to me the real villain of the piece was simply a conspiracy of circumstances.
And so it was back to Australia, a side Cook had batted against on 19 occasions. He had scored 498 runs at 26.21. It would be interesting to know what he was hoping for when he got on the plane, but 766 runs at 127.66 was surely beyond even his most optimistic vision of his winter's work. But Ricky Ponting's plots were well and truly foiled this time and Cook's consistency was, with Anderson's bowling, a huge contribution to England's success. On the eve of the series Anderson's record against Australia was even less distinguished than Cook's, and it was fitting that the two of them, great friends off the field despite getting off on the wrong foot when they first met, should underline the fact that a new and very different balance of power had appeared between the game's oldest rivals.
Not even Donald Bradman averaged 127 consistently, so it came as no surprise when Cook was unable to do so at home against Sri Lanka, but then 97.50 with two centuries and two fifties wasn't bad. But there was then another slump against India in the much vaunted "play-off" for the number one spot. England breezed it of course, 4-0, but Cook was out cheaply four times in the first two Tests and looked scratchy to say the least as he set off at Edgbaston in the third Test. As the scorecard shows the Indian bowlers then played him back into form as he scored 294 before falling finally, seventh out at 710.
Like his colleagues Cook would have been disappointed in his performances in unfamiliar conditions in the UAE in January this year when Pakistan comprehensively avenged their 2010 defeat. An average of 26.50 is no sort of mark for a top class batsman, but then only Matt Prior (who scored fewer runs than Cook), and Jonathon Trott by a whisker, averaged more. Cook and England's slump continued in the first Test in Sri Lanka, but both bounced back in the second so Cook's star was back in the ascendancy as this summer's Tests began. Against West Indies he was steady, and against South Africa he began by becoming the second youngest man (after Sachin Tendulkar) to score twenty Test hundreds. Thereafter he found runs harder to come by, although his biggest disappointment was likely to have been the straightforward chance at slip that his usually reliable hands did not cling onto at Headingley from Alviro Petersen, at 29 on his way to 182, that in all probability prevented England from winning the match and going into the third Test with all to play for.
At the conclusion of the South African series England captain Strauss announced his retirement and the job passed to Cook, who had clearly been groomed for it for some time. He skippered various age group sides on the way up, and his appointment to lead a strong MCC side against Sussex, the Champion County, at the beginning of 2007 confirmed the way the powers that be were thinking. It may well be that the series was not the most searching examination of a captains's leadership qualities, but Cook made a good start when appointed as Strauss' deputy in Bangladesh in March 2010. His ODI captaincy, which Cook had assumed in the previous English summer, was impressive too, a 5-0 reverse in India in October 2011 apart, although perhaps more tellingly he had helped his side pick themselves up after the 3-0 Test reverse against Pakistan in the UAE to turn the ODI series right round, England taking that 4-0.
There is a tendency amongst Englishmen of a certain age to believe that the England captaincy is something of a poisoned chalice. This is because we still remember what happened to Ian Botham, yet are slow to realise that his was a wholly exceptional case. The truth is that captaincy seems to harm the form of few save the great English all-rounders, and only then when faced with the best in the world. That said some recent examples, Strauss, Mike Atherton, Alec Stewart and Nasser Hussain to name four, all enjoyed their most productive series with the bat in their first after being appointed, so perhaps the boost is temporary. Personally I hope Cook's progress is rather more like that of Michael Clarke, the man he will be locking horns with for the next twelve months, although even if he follows the trend his recent predecessors set he can still break all the records, even if his average never does exceed the 80.28 he managed against India this winter.
Despite the promise of a place at the head of one of Wisden's most quoted statistical tables Cook's greatest gift to English cricket will be, if he can achieve it, the Ashes being retained throughout the next thirteen months. His ability to pick his side up after a dispiriting defeat against South Africa, and then lead them, ultimately with a good deal to spare, to a first series victory in India in almost thirty years, together with the major role he no doubt played in pouring oil on the troubled waters of the summer's Kevin Pietersen controversy, suggest his tactical and man-management skills are just what is required by England, and that by the time he has finished his record as captain will also be an impressive one.