Bradman to Sehwag : Redefining Great Batsmanship by Defying Tradition (Part 1)
Swaranjeet Singh |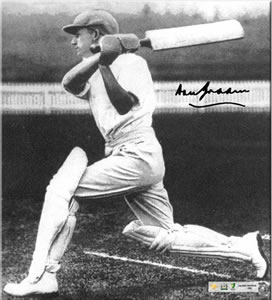 "After being warned for years as to the dangers of playing back on a fast wicket and especially to fast bowling; it came as rather a surprise to see the great Indian batsman transgressing against a principal so firmly fixed in one's mind." – Jessop talking of Ranji
"Find out where the ball is. Go there. Hit it."– Ranji's three precepts of batsmanship
"There was nothing ferocious or brutal about Spooner's batting, it was all courtesy and breeding." – Neville Cardus (legendary writer and a hardcore traditionalist) on R.H. Spooner
At the outset let me clarify two things. Firstly, I am not putting Sehwag in the same bracket as Sir Donald and secondly, I am not moved by the pyrotechnics of Sehwag's astonishing 293 last week to write this piece. I have been wanting to write about the phenomenon that is Virender Sehwag and this last innings only nudged me to finally put my thoughts into words. That knock was amazing in its ferocity and a stunner particularly when the realization sunk in that he was on the verge of an unprecedented third triple and may well be on course to a quadruple hundred. Yet, the most compelling part of India's two hundred run opening partnership, for me at least, was the batting of young Murali Vijay. Sadly an ugly sweep brought an end an innings of rare beauty. One hopes we do not have to wait for another wedding in the Gambhir (or Sehwag) household before we see this talented youngster again. His time is now.
But we digress. This is about Sehwag and his batting and most of all it is about what he does to the likes of yours truly, the much-derided traditionalists. He irks us. He turns our long held beliefs on their heads, which makes us very uncomfortable. Eighty years ago an Australian had the same effect on traditionalists and that young man, from the then unknown village of Bowral, provides us the context for understanding Sehwag's apparent defiance of what we euphemistically call conventional wisdom or tradition.
Traditionalists are very possessive of their turf. Not because they make the laws of the game or coach future generations of cricketers but because they see themselves to be performing a more vital public service. They are the self appointed evaluators of cricketing acumen. They sift the wheat from the chaff, the mediocre from the good and the great. They are the custodians of cricketing greatness. They decide what, besides mere statistics, constitutes a great cricketer. They evaluate using criteria varying from purity of technique (or rather degree of deviation from the orthodox) to the more subjective criteria of aesthetics and attitudes.
Traditionalists have convinced us that purity of technique (more or less settled since around the end of the Golden Age), solidity in defense, perfection in stroke play, correctness of footwork, body positioning etc. were pre-requisite criteria for entering the hallowed halls of the truly great. Add to that the firm conviction that Test cricket was serious business, which required playing each ball on merit, according to match situation and pitch conditions thereby confining the limits for batsmanship by what the bowler, wicket and/or the situation preordained. In other words good batsmanship required respect for your adversary, be it ball, bowler or conditions. Finally there was aesthetics. The fluidity of stroke play of a batsman steeped in the grammar of cricket lent grace, elegance and beauty to the game. The ball in cricket is not hit – it is stroked. Hence the Woolleys, Ranjis and Trumpers personified all that was aesthetically pleasing in batsmanship and essential to be canonized as a great.
And then came Bradman. . .
Then came the Ashes series of 1928-29 and the 20 year old Donald Bradman. He had a modest start in Tests and did drinks duty in the second Test but came back strongly enough to average 67 per innings in the four Tests he played. Overall against the visiting Englishmen, he scored 925 first class runs that season at 84 per innings. It was a great start by a young man in his first International series but it did not impress the English critics. England had dominated the series, winning 4-1 albeit with consistently diminishing returns. England's own young prodigy overshadowed Bradman's figures. Hammond, batting in classical style, had scored an unprecedented 904 runs in his very first Ashes series and was the brightest star on cricket's firmament not this "most curious mixture of good and bad batting" as Percy Fender, that keenest uf students of the game, called Bradman in his coverage of the tour. Fender was scathing in his criticism. "If practice, experience, and hard work enable him to eradicate the faults and still retain the rest of his ability, he may well become a very great player; and if he does this he will be in the category of the brilliant, if unsound, ones. Promise there is in Bradman. . though watching him does not inspire one with any confidence . . . he makes a mistake, then makes it again and again; he does not correct it or look as if he is trying to do so. He seems to live for the exuberance of the moment. . ."
Unbelievable. No, the traditionalists were not impressed with Bradman.
They found everything wrong with him. His right hand was too dominant, his backlift wasn't straight, he pulled far too much and, horror of horrors, he pulled even from the stumps deliveries that were almost of good length! He had hardly any defense. No. This wouldn't do, not against good bowling in seaming and swinging conditions. He would be exposed. They would see him in two years time at home.
The boy wonder, as the 22 year old was called then, kept his appointment and came to England in April 1930 and while the English media was busy writing his epitaph, he scored 236 against Worcestershire in the tour opener. Exactly one month and just seven completed innings later he was at Southampton on the 31st of May, 46 runs short of becoming only the 4th man after Grace, Tom Hayward and Hammond to get 1000 runs in May. Australia lost the toss, Hampshire batted first, were bowled out by mid day and Bradman requested Woodfull to allow him to open the batting to try and reach his milestone. By the time he was finished he was just 9 short of yet another double century.
By the end of the tour he had crossed the two hundred mark six times and the three hundred mark once. His 3000 runs had come at 98.7 per innings. In the Test matches he had innings of 131 at Trent Bridge, 232 at Oval, 254 at Lord's and 334 at Headingley. He came close to scoring a thousand runs in this his first complete Test series. A record that still stands after eight decades.
The traditionalists who had been scandalized by his obscene disregard for convention were now stunned into disbelief. One wonders what Mr Fender was thinking.
The orthodox in England just could not swallow the fact that Bradman had turned all they had thought they knew about batsmanship on its head. They waited for him to falter and were still waiting twenty years later when he finally called it a day. Those who could not reconcile themselves to his phenomenal success continued to deride him obliquely for not being the batsman on sticky wickets that Hobbs was and this was true. However, what was also true, and what the sharp brain of Bradman realised early, was that he wasn't likely to face a sticky wicket often enough to change what was otherwise a devastatingly effective batting style. It wasn't pretty but the scorebook has no columns to record beauty of stroke play. Of what it does record, he scored by the thousands and at a staggering pace.
The fact of the matter is that Bradman's batting wasn't radically unorthodox. In fact his Art of Cricket remains, to this day, one of the finest cricket coaching books ever. With exemplary footwork, fantastically early judgment of line and length and exceptional hand eye co-ordination he demonstrated batting the like of which had never been seen before. But he wasn't orthodox as in orthodox with bold capitals. Yes he had a very dominant right hand grip, which showed even when he drove but he made up it. He hit the ball harder since his grip curtailed his swing particularly in the follow through. He played the ball late as he drove to keep it unerringly on the carpet. His fantastic early judgment and great footwork meant he drove almost everything he could reach from the crease or by jumping out which he did often to lesser pace because of his amazing early judgment of length and great footwork. And yes he pulled almost everything he couldn't drive but he did it again by fantastic early judgment of line and length and by moving fully back and across – quickly and decisively. Of course, he did not defend much but not because he couldn't but because he didn't have to.
And finally, while he appeared to be treating the bowling with utter contempt, this was really an illusion. Bradman never showed anything but the highest professional regard and respect for his peers on the field. Yes his lack of respect for line and length appeared to extend to the reputations of the bowlers that faced him. However, his apparent arrogance is better understood as the supreme self-confidence of an athlete of rare ability who was also blessed with uncommon physical and mental faculties.
The traditionalists in England refused to understand the Bradman phenomenon but today when Bradman and all his critics are gone, no one talks of his unorthodox grip anymore or his lack of respect for line or lineage. All that remains is the unanimous consensus that he was far and above the greatest batsman that ever was.
Bradman's example did not lead to a revolution in the sense that the world has yet to see another like him. But that's not surprising. Too many attributes of natural talent, finely honed skills, mental and physical strength were combined in this supreme athlete and it will take nature much longer than just eight decades to duplicate the mould. Nevertheless, the fact that Bradman was a one off phenomenon meant that we continued to define great batsmanship in classical terms.
Some things, however, did change with Bradman.
The world understood, over time, that while changing conditions may not alter the fundamentals of the game, the basics could be adopted and harnessed by talented individuals to obtain the best results under varying conditions. As conditions continue to change over time and vary greatly from one country to another cricketers need to be adaptive enough to add to the vocabulary of batsmanship even while remaining largely true to its basic grammar.
Test batsmen have always played percentage cricket, selecting shots that were least likely to bring about their demise. They still do that but the percentages are not always the same. With increasingly batsman friendly conditions the risks and risk-assessment by batsmen has changed. On the hard true surfaces of West Indies, batsmen started playing a brand of cricket that made the Caribbean and entertainment synonyms. The dead sub-continental wickets made for wristy stroke play that is uniquely South Asian. The Australians, batting mostly on truer though still somewhat sporting wicket, played with great all-round aggression. Those from England continued to fall between the two stools of traditional orthodoxy and the aggression that seemed to be lacking only amongst them of all the major cricketing nations.
In our hall of cricketing greats, where we had reluctantly allowed Bradman to join Grace, Trumper, Ranji, Hobbs and Hammond, we continued to restrict membership to those who fitted our rigidly orthodox criteria. Thus the Huttons, Worrells, Soberses, Chappells, Gavaskars and Pollocks received wide acceptance with batting built around a basically orthodox technique. But the batsmen, barring the openers showed increasing belligerence at the crease. Barry Richards made the first crack in that mould too. Overall, however, Test batsmen continued to respect the line of the ball and the lineage of the bowler.
Vivian Richards in the 1980's and Sachin Tendulkar in the 1990's changed that to offer the world a glimpse of what Bradman had once done. Like him, these masters remained, at their core, technically close to the basics. Their feet moved close to the ball, their heads remained still and the bodies perfectly balanced and above all their stroke play, despite the latent and surface aggression, remained a thing of beauty. Where they followed Bradman's example was in realising that the percentage had been redefined beyond mere covering of the wickets and the risks for more aggressive stroke play were minimal. Most importantly, they were Bradman like in their irreverence of the opposition. Tendulkar (at his peak) and Richards showed no respect for reputations and their attitudes, even more than their batting styles, made a mockery of the most defensive field placements put in place to curb their stroke play.
They are universally accepted and celebrated as modern day greats. We were willing to condone hitting the ball from outside the off stump to midwicket and stepping back to cut from the leg stump past point. To that extent we had already redefined great Test batsmanship for good but were not prepared to grant more concessions to unorthodoxy.
And then came Virender Sehwag. . .