Australia v New Zealand – First Test Wrap
Cameron Burge |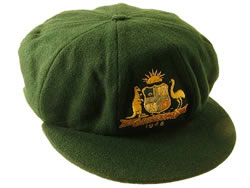 New Zealand approached the first test against Australia having had the better of a drawn lead up match against Australia A and having pasted the home side's young pace men at Allan Border Oval the week before the Gabba outing.
With a reasonably settled batting line up and the more experienced bowling attack, the Black Caps rightly saw a real opportunity to win an away series against Australia for the first time since the Sir Richard Hadlee and Martin Crowe-inspired heroics of 1985-86. For Australia, the match would seriously test the depth of a squad without Shane Watson, Mitchell Johnson, Ryan Harris, Shaun Marsh and neophyte firebrand Pat Cummins. Each of Dave Warner, Mitchell Starc and James Pattinson would make their debuts for the home side.
Five days later and Kiwi hopes of a series win are dashed. The reason for the nine wicket loss at the Gabba is no secret – twin batting collapses on a wicket which, whilst offering some assistance to the bowlers, was hardly a Brisbane green top of yore. Having won the toss, captain Ross Taylor would have expected a difficult opening session under cloudy skies, however, he would not have bargained on the profligacy of his top order, which ceded five wickets for less than one hundred runs in the first session. Notwithstanding the stirring fight back by Daniel Vettori and Dean Brownlie, there was always the feeling the visitors' 295 was at least 50 short of a par score. Vettori's demise, running himself out for 96, was a sad end to a wonderful fighting knock which was deserving of hundred. Brownlie, dropped early by Michael Clarke at slip, grew in confidence as his innings progressed. His back foot play suited the Gabba wicket, and he seemed assured in his return to the country of his birth.
Still, Australia's batting has been fragile for a couple of years now, while the turn and bounce extracted by Nathan Lyon in New Zealand's first innings together with overcast conditions conducive to swing and seam gave the Black Caps a shot at making inroads into the home side's top order. When openers Warner and Phil Hughes fell cheaply either side of lunch, the match was delicately poised, however, Usman Khawaja and the under pressure Ricky Ponting combined to take the score to 91 before the former's run out saw honours even once more.
Ponting and skipper Clarke then joined in an 86 run partnership which straddled days two and three. For Ponting, lbw playing across his pad (again) to Chris Martin for 78, the innings provided a respite from ongoing concerns over his place in the side. Still, it has now been nearly two years since his last century at Test level, and he will be hoping a return to Bellerive Oval in Hobart will see him recapture the form that made him the dominant Australian batsman of the past decade.
For his part, Clarke was fortunate to survive when bowled off a no ball by Dougeh Bracewell, but pressed on to record his seventeenth test hundred. How the Australian selectors must look back with regret on the decision to ever move Clarke from his favoured number five role. In that position he has batted 48 times and now averages a tick over 57.
With the pitch flattening out, Australia's tail wagged hard, the last five wickets adding 190 between them. Brad Haddin, another player under pressure following the debacle of Cape Town a month ago, made a belligerent 80 and was ably assisted by newcomers Pattinson and Starc.
New Zealand faced a tricky half hour at the end of day three, and Brendon McCullum was unable to see of Pattinson, who removed him caught at slip by Ponting for one. As if that wasn't bad enough for the Black Caps, the start of day four saw an extraordinary collapse engineered by Pattinson, who destroyed the top order with pace and outswing. At one point he had the remarkable figures of 5 for 7, and narrowly missed a hat trick as Jesse Ryder played over a Yorker which just missed off stump. The contrast between Pattinson's beginning to the first and second innings' was remarkable. Here he delivered outswing at good pace, for the most part committing the batsmen forward early in their innings, but also demonstrating an ability to execute a plan, with the rib tickler which saw off Martin Guptill and started the rot on day four.
Brownlie once again offered sound resistance, this time with Ryder, who perished with the introduction of Lyon, holing out to Mike Hussey at mid off. Hussey managed to snare Vettori before lunch for 17, and from there the tail was wrapped up quickly. Pattinson was obviously the star, but the contribution of Lyon should not be under-estimated. Australia is a difficult place to bowl finger spin, and in this match the South Australian really looked the part. He extracted decent turn even on day one, whilst his control of flight and variations in pace were eye-catching. No doubt sterner examinations await him with the arrival of the Indian batting line up later this month.
With only 17 required to win, Phil Hughes again perished caught in the slips, before Warner knocked off the winning runs with consecutive boundaries. Notwithstanding the apparent ease of the win, the form of Hughes will be a concern. Not so much that he isn't making the occasional score, but that he is getting out the same way time after time. I can't recall another batsman who has attempted to rebuild an entire back foot technique whilst playing Test cricket. A cursory glance reveals he has made some progress – his back foot now covers off stump instead of heading towards square leg – but he currently gets squared up easily when the ball is short of a length. Often he is falling to deliveries he could leave on length. If Hughes can succeed in reworking his technique and become a successful Test opener, it would be one of the more remarkable transformations of a cricketer in recent decades. The jury remains out.
Pattinson's stunning spell saw him shade Lyon and Clarke for Man of the Match, an award no less deserved despite being farcically decided by dial-in democracy from the local television audience.
New Zealand will rue a missed opportunity here. McCullum gave Australia an early taste of the prospect of Virender Sehwag with his blistering start on day one, but in truth, the top order gifted many wickets in both innings. True it is the ball swung, but not prodigiously. In sensing a weakness in their opponents, they exposed one in their own mindset – a willingness to attack at all costs, regardless of the conditions. It's something the home fans have seen many times – Australia's continual attempts to dominate teams despite the retirement of all bar one of its great players stands as the single most damning indictment of the Andrew Hilditch-Tim Nielsen regime. The patience demonstrated by the home batsmen on days two and three in accumulating a decent total rather than trying to blast one is perhaps the most encouraging sign to come out of the Test.
So, onwards to Hobart. Traditionally a flat surface, it will provide a more searching examination of both attacks. It's unclear at this stage what, if any, changes will be made to the home side. All rounder Daniel Christian has been added to the 12 man Australian squad. If he plays as a fifth bowler, it may be at the expense of Hughes or Warner, which would presumably see Hussey open the innings. New Zealand coach John Wright has already ruled out changes to his batting order. "What I'm looking for is substance in our batters, the ability to bat for a long time and sell your wicket dearly. All these players are talented, they can play shots, but we need to value spending time at the wicket," Wright said.
So, history has repeated itself. New Zealand has come with high hopes, but because of the farce of a two-Test series, cannot win the Trans-Tasman Trophy. They will give the beaten side with its established batting line up a chance to redeem itself. Increasingly though, it is the Australian team which is unrecognisable. There is a core of largely aging middle order batsmen surrounded by a tyro top order and bowling attack.
The score line might be familiar. But the times, they are a changin'.