Arise Sir Geoffrey!
Martin Chandler |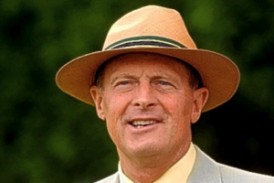 It is almost a quarter of a century since Geoffrey Boycott walked off the ground at North Marine Road, Scarborough, at the end of the final First Class match of a career that had begun as long ago as 1962. When I first started to follow the game he was never very far from the headlines, usually for what he did on the pitch but, as his career wore on, increasingly for what happened off it.
As a cricket mad Lancastrian youngster I really did not like Boycott at all. Being a Yorkshireman, of itself, didn't help, but certainly wasn't decisive. When all was said and done my friends and I were all fans of Brian Close and Ray Illingworth of the older generation and, at the other end of the spectrum, youngsters like David "Bluey" Bairstow, Phil "Fergie" Carrick and Chris "Chilly" Old were all popular to the west of the Pennines. In any event we couldn't dismiss a man out of hand simply by virtue of where he was born when our own Barry Wood was most definitely a Yorkshireman. In addition our favourite opening bowler, the flaxen haired Peter Lever, came from that strange border town of Todmorden – how a community could not be torn apart by half of it being in Yorkshire and the other half in Lancashire has always been a mystery to me. I never did dare to ask on which side of the River Calder Lever was born.
There were therefore several other reasons that contributed to the explanation for why I didn't like Boycott. Scoring runs against Lancashire was, of course, a major factor. Cricketarchive tells me that he averaged 52 against us and scored nine Roses centuries – I have to say that at the time it seemed like rather more. The manner of his batting was also a factor. In days of yore it was said of Roses matches: "no fours before lunch", and we all thought Boycott was a throwback to those attritional battles of the inter-war period. He eschewed all risk and invariably got solidly behind the ball, and while I grew to appreciate his impeccable technique as I got older as a youngster I found him slow and boring – quite unlike the Lancashire batsmen I idolised.
Another reason I didn't like Boycott was because my elders and betters told me he was selfish and motivated primarily by a desire to acquire records for himself. I didn't like that – my heroes, Farokh Engineer, the two Lloyds, Clive and David, and "Little 'Arry" Pilling would never have dreamed of putting their own interests before the team.
The worst charge against Boycott was, however, that of cowardice. The story went that it was just a little too convenient that his self imposed exile from the England Test side coincided with the terrors of Lillee and Thomson in 1974/75, the return meeting with them in 1975, and the first West Indian pace battery in 1976 – we watched that final session on the Saturday of the Old Trafford Test shaking our heads at the way Brian Close and John Edrich were targetted so ruthlessly – Boycott had ducked it was the consensus.
As far as the style of Boycott's batting was concerned he wasn't helped by virtue of the fact he could bat aggressively if he wanted to. I hadn't seen the innings as I was too young but my father often told me about the 1965 Gillette Cup final when, after a slow start, Yorkshire took the Surrey bowling apart with Boycott scoring 146 in great style. Poor old Boycott must have had occasion to regret that knock in the future so often was it used as a stick with which to beat him when, as he usually did, he played defensively. I also knew, although I didn't then fully understand the details, that Boycott had once been dropped by England for scoring too slowly in a Test match.
As I got older however my opinion of Boycott started to change. The first chink of light came in his comeback Test in 1977 against Australia at Trent Bridge. No one who saw it will ever forget the look of genuine horror, upset and regret on Boycott's face as, after he took off for a single that was never there, the enormously popular local hero Derek Randall sacrificed his wicket. Boycott's reputation for being a poor runner between the wickets was, perhaps, overstated, but on this occasion it was certainly his fault and he never sought to suggest otherwise. Boycott's reaction, to defend solidly for 107 in the first innings, and then occupy the crease for more than five hours in the second for 80* to lead England to victory, was enough to impress even his harshest critics. In the next Test at Leeds Boycott lived the dream as he scored his hundredth hundred, not only in a Test, but in front of a packed house at his beloved Headingley as well. I wouldn't admit it at the time, obviously, but I cannot imagine that the occupants of the Western Terrace would have been much happier than I was about the achievement.
To return to a slightly more cynical note I am sure Boycott's rehabiliation in my eyes was assisted by the remarkable internecine strife that he caused within the Yorkshire committee and the County Club generally, and which to those of us to the west of the Pennines, was an entertaining and enduring soap opera over a number of years.
It was 1980 when my opinion of Boycott really began to change though. He was in his fortieth year and his comeback to Test cricket had proved his point. With the West Indian tourists due that summer there were many, and I am ashamed to number myself amongst them, who could see his international retirement looming. After all just about the only thing more fearsome than Lillee and Thomson was the prospect of facing Joel Garner, Michael Holding, Andy Roberts and Malcolm Marshall. We doubters were way off the mark. Boycott played his part in making sure that the abject defeats of later in the decade were delayed by four years. Altogether Boycott batted for almost 26 hours in the series and averaged 40. England would not have been able to draw four of the Tests without him. That winter, 1980/81, it was off to the Caribbean for another dose and, perhaps, a more dangerous one as the superb control of Marshall was, largely, replaced by the steep bounce and menace of Colin Croft, who had a wonderful series with the ball. Of the five Tests England lost two and drew two while the Guyana Test was cancelled as a result of the Guyanese government's refusal to allow Robin Jackman into the country. In those four Tests Boycott batted for more than 17 hours and averaged 42 – Geoffrey a coward? – those of us who had thought it ate our words and hung our heads in shame.
By 1984 Clive Lloyd's pace attack was unstoppable and England lost the series 5-0 and the English language gained a new word as the term "blackwash" was coined. Boycott was by then 43 and had played his last Test more than two years previously in India, but there were still those, myself included, who felt that the man who spent his summer averaging more than 60 in the County Championship, might have helped to avoid the manner of the defeat being so ignominious.
In the mid 1980's I had become a confirmed Boycott fan. I wasn't quite as extreme as that part of the Yorkshire support that gave the impression that they would, if necessary, lay down their lives for him but, Roses encounters aside of course, I liked to see him score runs. By this time most of his detractors were another group of Yorkshiremen who wanted him out – they are an odd lot those Yorkies! It was this group who were as voluble as any on the issue of Boycott's perceived selfishness. That particular charge against Boycott has tended to stay with him but again it is one that I eventually came to view as misconceived. It was events at the end of Boycott's career that convinced me.
Firstly there was the evidence of what happened in that last match itself. As already noted the match was at Scarborough, against Northamptonshire, and was the last game of the season. Boycott's summer had been disrupted by injury and for the only time since his debut in 1962 he reached this stage having not scored his one thousand runs for the season. He was still batting well, and averaging more than 50, but needed 69 more to make the thousand. Yorkshire batted first and Boycott was dismissed for 61, ironically it was a run out that cost him his wicket, so he was left eight short. The Yorkshire bowlers kept their visitors under the cosh and bowled them out cheaply thus giving skipper Bairstow the option of enforcing the follow on. Bairstow consulted Boycott who encouraged him to put Northants back in. The Northants batsmen did much better second time round and batted out time comfortably thus depriving Boycott of a second innings. It must be likely that Bairstow was, effectively, giving Boycott the opportunity to ask to bat again. Nothing turned on the outcome of the match and a selfish player, interested only in getting his 27th thousand in a season (which would have left him just one short of WG Grace's record) would surely have accepted the offer implicit in Bairstow's approach, to bat again. That Boycott did not do so clearly indicated to me that he valued a Yorkshire victory above any personal milestone.
Although his detractors had finally secured Boycott's removal from the Yorkshire playing staff Boycott was still, at nearly 46, sufficiently highly regarded in the English game for Derbyshire to offer him a two year contract. In two years Boycott would certainly have scored enough runs to rise above Yorkshire legend Herbert Sutcliffe to sixth in the list of the top runscorers in the history of the game and fourth in the list of century makers. His position at the top of the list of English batsman ever in terms of overall First Class average was, barring disaster, secure so there was no cricketing reason for him not to take up the offer. He did think about it, but ultimately decided he could not face the prospect of playing for a county other than Yorkshire. For me this was confirmation that Boycott was not selfish. That he was single-minded in his pursuit of runs was undoubtedly true, and that can often be mistaken for selfishness. There is no doubt in my mind that second on Boycott's list of priorities was scoring as many runs as possible himself – I do however believe that the good of the team came first.
It was that tenacious pursuit of runs that resulted in Boycott's infamous one match "suspension" in the series against India in 1967. In any examination of this curious incident it is necessary first to put the match in context. By 1967 cricket, certainly in England, was struggling. "Brighter cricket" was the edict that came down from on high and as a consequence of that two seasons previously, Kenny Barrington, in many ways a batsman in the Boycott mould, had been dropped after scoring a slow century against New Zealand. As for Boycott he was 26. He had made his Test debut in 1964 and had done well in that summer's Ashes series. His Test career had progressed well up until the start of 1966, but then a poor series in New Zealand, and a struggle against the 1966 West Indians, had seen his Test average fall from 45 to 36.
Moving in to 1967 Boycott had a poor start to the season and was palpably out of form when the first Test began. There were those who criticised the selectors for picking him in the first place although that seems harsh. The oft quoted adage that "form is temporary, class is permanent" was surely apposite and with what was expected to be a challenging visit to the Caribbean due the following winter, it was surely right to give Boycott the opportunity to play himself into form against the relatively weak Indian and Pakistani teams that were touring England that summer.
After England won the toss Boycott walked out to open the innings with John Edrich. The innocuous left arm medium pace of Rusi Surti soon accounted for Edrich but at the close England were strongly placed at 281-3. Boycott had batted all day, six hours, for 106. It had not been pretty – he had scored just 25 runs in the morning session, 38 in the afternoon and 43 in the evening. The wicket at Headingley was perfect for batting and was, of course, one with which he was intimately acquainted. The Indian bowling, which hardly looked threatening to start with, was further weakened with injuries to Surti and left arm spinner Bishen Bedi, who was just starting out on his great career. The bulk of the bowling burden therefore fell on just three men. The first was opening bowler Sobrata Guha, whose tally of Test wickets over his career was to end up at just three, costing over 100 runs each. He was backed up by off spinner Erapelli Prasanna and the unique wrist spin of Bhagwat Chandrasekhar.
On the second day Boycott did open out and scored another 140 runs in just three and a half hours. England declared on 550 and then bowled India out cheaply. The follow on was enforced but the Indian second innings was rather different, and a magnificent captain's innings from Pataudi, ably supported by his teammates, left England needing 160 to win. The target was reached comfortably enough albeit England needed most of the fifth day to do it. The decision to drop Boycott had already been made and he did not get to the crease in the second innings.
The selectors were in a tricky position. They had set the Barrington precedent but their decision still seems unfair. The press were, by and large, deeply critical of Boycott but the fact remains that he had come into the match woefully out of form. It speaks volumes for his determination that he stuck to his task despite, by all accounts, being beaten regularly by a seamer as innocuous as Guha. In a classic example of a situation where he simply could not win he was then roundly criticised for not batting on the first day as he did on the second, after he had worked so hard to play himself back into form and regain his confidence.
It was also an inescapable fact that Boycott's innings laid the foundation for victory. Had he been out cheaply then perhaps, given the way India batted in her second innings, England might not have won the Test. The selectors had been agitated throughout Boycott's innings and had told captain Brian Close to tell him to accelerate. Close, Boycott's county captain as well, knew exactly what was going on and left his opener to play his own game, so there was not even an element of disregarding instructions on which to hang a disciplinary decision. Boycott felt bitter about his treatment and, understandably, never forgot or forgave, Even after his retirement he described the selectors decision as "…. a stigma I will always carry". To his eternal credit the 26 year old Boycott bore the stigma with great dignity in a way an older Boycott might well not have done. Others on Boycott's behalf did not show the same restraint and in a curious development a High Court libel action was to follow.
Sir Michael Parkinson is one of the most instantly recognisable celebrities in 21st century Britain. In 1967, amongst other things, he wrote for the Sunday Times. On the second Sunday after the match finished he wrote an article describing the selectors decision to drop Boycott as one of "priceless folly and stupidity" and he went on to say that Boycott had made no friends "…..among that small but inflential section of administrators and cricket writers, whose first criteria in assessing a cricketer is whether or not they would like him to marry their daughter". Parkinson wasn't finished and went on to say that Boycott's experience had been "an unnecessary, hurtful and shaming insult" and that "the England selectors are a bunch of palsied twits".
The selectors, Alec Bedser, Don Kenyon, Doug Insole and Peter May, as well as Close, had no alternative but to accept that their selections were a legitimate target for criticism but they felt that Parkinson's language suggested that they had acted with "unworthy and discreditable motives". Initially Times Newspapers defended the ensuing libel action but by the time the case ended up in court the following June the action was settled. An apology was given and costs paid by Times Newspapers, the selectors not seeking any financial compensation.
One of the few other members of the press who supported Boycott was the "Sage of Longparish", John Woodcock, who made the prescient observation: "the credit he (Boycott) deserved was simply for pursuing the objective he set himself so successfully. In anyone's language it was a great score and I expect that one day, in more taxing circumstances, England will be indebted to him for his obduracy".
After he left the game Boycott has spent much of his time in the commentary box and has written widely on the game. He can be caustic and abrasive and there are some who find his style unattractive, but he is right much more often than he is wrong. For me, perhaps not surprisingly, he is the best there is. His all too infrequent "double act" with Phil Tufnell on BBC Radio's "Test Match Special" is hugely entertaining and, for rather different reasons, his exchanges with Jonathan Agnew are always a source of amusement. At the heart of the matter though is Boycott's thorough understanding of the technical aspects of the game, coupled with his knowledge as to exactly what makes people tick. Boycott does not suffer fools gladly, and he says what he thinks, but that is no reason to deny the truth – he has always been the best there is at what he does.