And Then There Was One
Martin Chandler |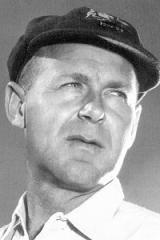 Plenty of cricketers lost all or part of their careers to the Second World War, and we English are always happy to make that point, particularly on behalf of men like Len Hutton, Denis Compton and Bill Edrich. In truth however Arthur Morris, who died on Saturday at the grand old age of 93, if he were not so modest an individual, had what was very possibly the strongest case of all for saying that the conflict robbed him of career figures which would have been much better than those he eventually finished with.
It is not well known that the young Morris was primarily a purveyor of orthodox left arm spin, and that in his earliest days he batted down amongst the rabbits. As he advanced however he joined the famous St. Georges club, skippered by Tiger O'Reilly. At 16 Morris got into the first grade side but with O'Reilly and Ray Lindwall available, as well as Bob Cristofani and Harold Stapleton who also represented New South Wales, his bowling was not often required. With just his left handed batting to concentrate on Morris advanced so rapidly that two years later, on Boxing Day 1940, he was making his First Class debut against Queensland at the Sydney Cricket Ground. He marked the occasion by becoming the first man ever to score a century in each innings on debut. A contemporary report spoke of his wide range of strokes and his skill in placing the ball between fieldsmen. His cover-driving, hooking and square-cutting are excellent.
There were to be a handful more innings for Morris that season, the last of which saw his dismissal by Clarrie Grimmett for 33 after a fascinating contest. In years to come Grum doubtless looked back with some satisfaction on the fact that a batsman of the quality of Morris was his final First Class scalp. After that however it was to be all but six years before Morris played the game at the highest level again. How many more centuries might there have been whilst Morris spent his war with the Australian Army in New Guinea.
When the game did recommence a century for an Australian XI against Walter Hammond's England tourists in 1946/47, followed by an unbeaten 81 against them for New South Wales, ensured Morris was selected to open for Australia in each of the five Tests. In the first two, almost alone amongst the Australian batsmen, he failed, but there was a century in the third Test, two more in the fourth, and a half century in the low scoring final Test – one wonders how many runs he might have scored had Alec Bedser not been around. The great medium pacer dismissed him six times, Bill Edrich being the only other bowler to claim his wicket, and then just once.
The impression is sometimes given that Bedser was Morris's nemesis, and altogether in First Class cricket the Surrey medium pacer did claim his wicket on 22 occasions (Hugh Tayfield with 8 being a long way back in second). But an average of 71.85 rather suggests that Morris had plenty of success against the man who, with Doug Wright, was England's attack in that series. There is no doubt Morris did have a weakness with deliveries pitched on leg stump which Bedser was able to do with almost metronomic accuracy, but the number of runs Morris scored spoke volumes.
India visited Australia in 1947/48 and, as expected, proved no match for the home side and in the context of averages of over 100 from Don Bradman and Lindsay Hassett, as well as 83 from Neil Harvey Morris's 52.25 appears modest. But he had done more than enough to earn selection to tour England in 1948 as one of 'the invincibles'. This time neither Bradman nor Bedser could stop Morris topping the Test averages, Bradman managing a mere 72.57 and Bedser claiming Morris's wicket just three times, as he scored 696 runs at 87, with three centuries and, if that weren't enough, three half centuries as well.
In South Africa in 1949/50 the Australians won comfortably yet again and there were a couple more centuries for Morris who averaged 52.75 for the series, but he was never quite the same player again. The reason cannot have been age, Morris was only 28 when he got back from the Cape, but batting conditions weren't so favourable in the early 1950s and after 1948 Bedser reasserted himself, claiming Morris's wicket five times in each of the 1950/51 and 1953 Ashes series. Morris won as many as 27 more Test caps after that 49/50 series, but averaged just 34.76, whereas his first 19 appearances had seen him average 67.78.
One reason for the falling off in Morris's performances might simply have been that he lacked a real killer instinct. Bedser, who was a good friend as well as a formidable opponent, wrote in 1981 that Arthur was too nice a man to have the captaincy. In fact he did skipper New South Wales for a while but at Test level his two matches as a stand in, first for Hassett against West Indies in 1952/52, and then for Ian Johnson in the second Test of the 1954/55 Ashes series, both resulted in defeat, and those were the days when Australia seldom lost, the defeat to West Indies being only their second since the end of the War
An example of the sort of man that Morris was comes from a match between an Australian XI and Freddie Brown's 1950/51 Ashes tourists. Morris was captain of the Australians and he chose to bat after winning the toss. As the 200 came up with one wicket down Morris got to 100. He had a chat at the end of the over with his old friend Bedser in order to check his belief that the Lancashire left arm spinner Bob Berry had yet to take a wicket on the tour, and that the Middlesex paceman John Warr had not taken a catch. Moments later the entry AR Morris, ct Warr b Berry 100 had found its way onto the scorecard.
Despite his prodigious talent as a youngster, Morris never sought to develop as an all-rounder. He did occasionally turn his arm over and bowl a few chinamen however, and in 1953 England fans became used to seeing newsreel film of his bowling in the final Test at the Oval to Denis Compton, and being swept for the four that brought home the Ashes for the first time since Bill Woodfull's men took them back in 1934. Morris himself would doubtless have taken rather more satisfaction from his single over in the third Test when, as the game moved towards an inevitable draw, he took the second of his two career Test wickets. Fittingly his victim was Alec Bedser.
As with all Australians of his era Morris was an amateur, so he needed an employer sympathetic to his need for time to pursue his cricket career. After leaving school he worked as a junior clerk in the prosecutions department of Sydney Town Hall, a position he returned to at the end of his war service. The pursuit of cricketing ambition did not however sit very well with public service and Morris soon moved on to a car distributorship who looked after him until the late 1950s, at which point Morris decided to try his hand at entrepreneurship.
'Ginty' Lush, a charismatic personality, had played with Morris for New South Wales and persuaded his old teammate to help him to realise an ambition to import ten pin bowling into Australia. In fact the venture did not make the pair very much in the way of profit, although there are stories around that suggest the two former cricketers had an enjoyable time in the USA when they went to meet the manufacturers.
The urge to be in business for himself behind him Morris, via an introduction from former England batsman Doug Insole, took a job with the UK based engineering and construction giant George Wimpey, who he stayed with for a few years before moving on to the job that took him to up to retirement, as a public relations executive with Wormalds. The company's name is not a familiar name in the Northern Hemisphere, but I understand they are a substantial security group in Australia.
On a personal level Morris's life was touched by tragedy. He was first married to Valerie, an English showgirl that he met on the 1953 tour to England. On his return from the Caribbean in 1955 Morris learned that his wife had been diagnosed with breast cancer. A mastectomy did not resolve the problem and, knowing that time was short, Morris was able to arrange some time in England in 1956 to allow her to see her homeland once more. At the same time, and with the blessing of his employers, Morris himself undertook some journalistic duties with his old teammates. As they were well and truly Lakered many, and perhaps the man himself, must have wished that his experience was being put to use on the field rather than in the press box.
After the loss of Valerie it was 1968 before Morris married again, and he is survived by his second wife Judith. At the time of his death he was the third oldest surviving Test cricketer, and the senior Australian, a mantle which now passes to wicketkeeper Len Maddocks. Morris's passing also leaves just one of 'the invincibles' this side of the pearly gates – let us hope that Neil Harvey, a mere stripling of 86, is with us for a few more years yet.