Alastair Cook: Reflections on a Record-Breaker
Gareth Bland |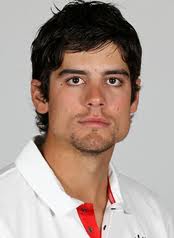 On a hot, dry December afternoon in Kolkata, Alastair Nathan Cook, the England captain, eased through to reach another Test century. Another Test century, that is, that took him beyond the record number of 22 achieved by Geoffrey Boycott, Colin Cowdrey, Wallie Hammond and Kevin Pietersen. Beyond Hutton, too, and Gower and May and Gooch. The achievement is startling. In just 85 tests and at at the age of 27, he had achieved what Sir Geoffrey took 107 Tests to do. When Fitzwilliam's finest ground his way to his 22nd ton on England's tour of India in 1981-82, he was past his 41st birthday, the failed punch-grafts of his ill-fated hair transplant on show and was busily in the process of jumping ship for his next venture, a Rand laden pay-off to tour South Africa along with his fellow "rebels". In short, Boycott was at the end while Cook still seems at the beginning. Cook's conversion rate of half centuries to tons is astounding, too. Twenty nine fifties are buttressed by his 23 centuries. A left handed stylist with long reach and sure-footed technique – this is no fidget or contortionist – his style is a throwback to the stripped down orthodoxy of his predecessors.
It is, of course, a cause for celebration for England fans. Here, at last, is a genuine world star and one that looks likely to take his place in the record books when we are quite used to seeing those annals being crammed with cricketers from West Indies, India, South Africa and Australia. Australia have had their Ponting, India their Tendulkar (and Dravid, and Laxman), West Indies their Lara and South Africa their Kallis. Now, at last, with the bat comes along an England player that looks set to take his place among that rarefied elite. Cook, in short, looks like going on and on and on. Celebrating his 28th birthday on Christmas Day, the Essex man had been born during England's last victorious Indian tour in the winter of 1984/85 during the days of David Gower's first tenure as England captain. Now safely ensconced as national team skipper, Cook's mind-boggling statistics read 7117 runs at 49.42 with a highest score of 294. During that Eden Gardens Test he had reeled off his fifth successive Test hundred in as many games. In his 60 one day internationals he also averages 40.45, too. He was always earmarked for greatness, the wunderkind. So, just how far could he go? Reflecting on the record 23rd century Geoffrey Boycott opined:
"I don't think it'll be such a big deal to him, to pass Wally Hammond, Colin Cowdrey, myself and Kevin Pietersen. He's going to get a lot more unless he suffers some serious illness or injury.He's got a sound technique, he's the captain so he'll automatically get picked ? he'll be way up towards 40 by the time he's finished, high 30s maybe. If you think he'll be in his best years until he's about 32, that's five years. You play about 14 Tests a year so that's about another 70 Tests, and he'll probably get about 15 Test hundreds in that. I think he'll be close to 40 [hundreds] by the time he's in his early 30s, then it depends how long he plays, he might get more than that"
Clearly Cook has the lot: time on his side, the captaincy, matinee-idol good looks and the backing of Geoffrey Boycott to boot. Combine this with a calm, phlegmatic nature and we have some talent here indeed. What could go wrong? Well, nothing perhaps but we must ask whose hero exactly is Alastair Cook? Who does he belong to? This is not to be churlish or to denigrate his already awesome achievements. The elephant in the room, the ultimate impediment to his accessibility, is his remoteness. Alastair Cook, England's record breaking Test centurion is English cricket's first wholly post-terrestrial world star. Cook's ascent began on England's tour of Pakistan and India in 2005/06, just month's after Channel 4's coverage of terrestrial cricket had come to an end in spectacular fashion as England secured the Ashes at the Oval and Kevin Pietersen and Freddie Flintoff made inventive use of Tony Blair's flower beds at 10 Downing Street.
Those were heady days indeed; we could all watch the Tests courtesy of a mainstream broadcaster without the irritation of shelling out our silver to Rupert Murdoch and Sky. When Cook made his Test debut on 1 March 2006 it was in circumstances quite different to the rest of the "twenty-two centuries" club that he eventually surpassed. Each had – even Pietersen, initially – been instantly available and accessible to anyone in the country with a television set. After September 2005 that changed and Cook, along with his team-mates and their managers formed a travelling circus available to Sky Sports subscribers, the affluent traveller and the vocal troupe of the Barmy Army.
In Alastair Cook England has a richly gifted, level headed, world star. A record-breaker with tangible leadership skills who seems unaffected by the demands placed upon him, both as player and captain. His world and that of his team-mates is more of a bubble than that of his predecessors, though we cannot blame he or them for that. Between 1938 when the BBC began its coverage of England's Test matches through to September 2005 when Michael Vaughan's team whipped the nation into euphoria the national team had been exactly that: the team that everyone could watch. That England should produce a player of such stature who has achieved so much, so fast yet has such comparatively limited exposure – all told Sky itself has around 10 million subscribers and is installed in 36% of British and Irish households, not all of whom subscribe to its sports channels though – is an odd quirk, not to say a casualty, of a media culture which is devoted to 24 hour blanket news and sports coverage.