A Last English Summer
Martin Chandler |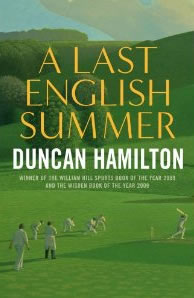 In 2009 Duncan Hamilton received much critical acclaim and many awards, including CW's Book of the Year, for his biography of the great English fast bowler, Harold Larwood. This year he has demonstrated his versatility by producing a rather different type of book, A Last English Summer, which was published, again by Quercus, at the beginning of July. The Book Review team were fortunate enough to receive an advance copy of the book, which I had the hugely enjoyable task of reviewing, and you can read what I thought of it here.
Conscious of the fact that my words could never convey just how compelling the book is I approached Duncan and Quercus about using two extracts from the book, and this feature is the result of their kindly agreeing to that request. The first extract is a moving and thought provoking piece about 2009's low key retirement of England's Ashes winning captain of 2005, Michael Vaughan:

Some things seem improbable at the time, but inevitable in retrospect. So it was this summer with the retirement of Michael Vaughan, a departure ostensibly abrupt and rushed to the extent that there was no time for to say a proper goodbye to him. Like the magician's assistant in a stage trick, Vaughan was there one moment and gone the next. I think about Vaughan as I sit at Headingley waiting for the start of the 248th Roses match. I remember his hesitant footwork at the start of the summer in the nets at Lord's, where his bat was almost always a critical quarter of a second late with its appointment with the ball. A week later I saw him again on this ground – a cold, bright day in April when Yorkshire were playing a practice match among themselves. There were only a dozen spectators here, which included an elderly couple huddled together in coats and scarves. The man, his skin as worn and nut-brown as an old Gladstone bag, poured his wife tea from a Thermos, holding the flask and the cup for her in small, woollen-gloved hands. Dressed entirely in black, a bobble hat pulled over his ears like an old-fashioned swimmer's skull cap, Vaughan fielded in front of the boundary with the construction of Headingley's new GBP21 million pavilion clanking behind him. He was closest to the din of cement mixers, the vigorous hammering and the grinding noise of concrete being smoothed, the residue of it rising like fine flour across the building site. Two enormous skeletal cranes swung towards one another, like the arms of a slow-moving puppet, and lifted girders and boards skyward. The former England captain seemed incongruously out of place – too grand and elegant for such grim surroundings. I thought then that Vaughan had travelled almost as far from the tumult of the 2005 Ashes – the operatic finish and the ticker-tape shower of the Oval – as it was possible to get without tipping off the edge of the first-class game. And, as I watched, I asked myself how long someone like him would be content and prepared to tolerate the comparatively thin gruel of the County Championship.
Pride is one of the basic propellants of human instinct, and it explains why Vaughan, at thirty-four, clung on, as though patience and perseverance alone would restore the form that age and the physical and psychological fatigue of constant cricket was incrementally stealing from him. For a while he was like Conrad's Captain Black tackling the typhoon: 'Facing it, always facing it.' There was a goal before him: return to the England team and what he hoped would be his first-ever appearance in an Ashes Test at Headingley. When, eventually, this seemed so unlikely as to make striving for it insanely pointless, he abandoned it and sensibly moved on. By then he was averaging only 19.87 from 8 first-class innings. His run of scores read: 12, 24, 20, 5, 16, 39, 43. He particularly struggled in late spring and early summer, when the surfaces were green and damp and skewed towards the bowlers. Vaughan was always at his best against pace and bounce. The harder the pitch and the faster the delivery, the more fluently Vaughan made his shots. The parched grounds of Australia in 2002-03, where he made 633 in Tests at 63.30, perfectly fitted his natural game. But he'd noticeably begun to find scoring awkward against medium-pace trundlers; the boys of the 70-odd-mile-per-hour brigade who were hard for him to force away and could occasionally dart a difficult one off the strip and take his wicket. He pushed and prodded and missed, as if groping blindly for a light switch in the dark. His bad knee throbbed like toothache too.
Whenever I went to Headingley I found the Yorkshire membership split over Vaughan. Some thought him too aware of his own self-worth. To them he was conspicuously using the county to lever himself back into the Test arena for the equivalent of the politician's last hurrah before abandoning them again. He'd already begun to publicise his alternative career as a modern artist, driving paint-daubed balls into a blank canvas to re-create his most notable innings. The effect is something Jackson Pollock might have produced if he'd been born in Mytholmroyd or Heckmondwyke. Others were more conciliatory and less cynical towards Vaughan, and aware also that all of us, at one time or another, indulge in acts of self-delusion, chasing something unreachable. We only stop chasing when common sense belatedly intervenes. So the reaction to Vaughan's departure – ten days before the opening Test against Australia at Cardiff – consequently depended on whichever side of the argument you took. But the defects of great men are the consolation of dunces, and so there was no gloating about his resignation. Without the prospect of a Test recall, there was no longer any reason for Vaughan to prolong his career except to add easy runs at the end of the summer. Vaughan had already achieved enough anyway to make his reputation secure. He won more Tests as England captain than anyone else: 26 from 51 matches. He made almost 6,000 Test runs at an average of 41.44. What distinguished Vaughan is a quality that his figures can only imply but never adequately reflect. It was his outwardly calm temperament. Regularly Vaughan diminished problems to their true size, which is a rare thing for a captain under fire. Where there is no vision teams perish, but Vaughan always provided it. There have been England captains who merely looked to be renting the job; Vaughan possessed it. Bad is the plan that can never be altered, but it takes sensitive antennae to recognise tactical change is necessary well before it becomes plainly obvious to everybody else, and gutsy strength with which to implement it. To see a captain at his finest – Mike Brearley, for instance – is to watch someone pulling the levers of some wondrous machine. In unison the field moves at his bidding, the bowler responds to these changing tactical coordinates, and the batsman bites at the hook floating in front of him. Vaughan wasn't Brearley. But he was an instinctive leader – active rather than reactive. He used this intuition one last time in deciding when to quit.
Nothing should befit a man more than the manner of his leaving, so the only regret about Vaughan is the ragged nature of his departure. When he offered to continue in one-day matches for Yorkshire, the county flatbatted the idea. As the news of his retirement broke – in the Sunday Telegraph, which pays Vaughan for his weekly column – he left himself out of a Twenty20 match against Derbyshire at Headingley. He practised in the nets before retreating to the players' balcony in his civvies, where he sat beside his four-year-old son, Archie. It was a messy and incomplete farewell and, like a clock that stops one minute before noon, lacked the perfect synchrony that Vaughan warranted: a proper and definitive full stop. Vaughan deserved to play his last match in front of an appreciative audience at Headingley or Scarborough or at Lord's. And his last shot ought to have been the cover drive, which was the emblem of his game. Instead his final domestic innings ended when his stumps were splayed by a shocking full toss at Grace Road from Leicestershire's Andrew Harris, who will be able to say until his last, gasping breath: 'Here, take the hand that once bowled England's most successful captain.'

The man vanquished by Vaughan in 2005, Ricky Ponting, used to be one of Australia's least popular captains, certainly as far as rank and file England supporters were concerned. In 2009, defeated this time by Andrew Strauss's England, Ponting went, if not from villain to hero, then certainly from villain to respected opponent, and Duncan's views on the transformation will strike a chord with many:

Sportsmen are venerated to such a degree that accepting them as suffering mortals, just like the rest of us, can at times be difficult. The crowds booed and goaded Ponting like a black-caped, waxed-moustached villain during the Ashes. Those who did so believed the public pillory was a legitimate place in which to put him; and also that, because he comes across as gruff, aggressive and chippy, he would be impervious to whatever bullying was dished out. In "To Kill a Mocking Bird", the older Scout recalls what her father Atticus once said. 'One time,' she remembered, 'Atticus said you never really knew a man until you stood in his shoes and walked around in them.' At the Oval no one wanted to stand in Ponting's shoes because of what the thought of doing so must have been like. He'd lost – again. He'd have to comfort Australia and congratulate England – again. He'd have to bite back his own despair – again too. There was nowhere for Ponting to hide, and no one to share what as captain he had to bear alone. But he was sensitively aware about what he needed to say, and how he needed to act, to match the circumstances. His response was gracious and gracefully restrained; so much so, in fact, that the decency of his words and the nobility of his bearing in expressing them lanced and made humble the ignorant rabble who'd turned nearly every walk to the crease into a tiring and wearisome trial of his temper. It took five Tests, but Ponting beat them in the end.

A Last English Summer, published at twenty pounds by Quercus, is available now, as the cliche goes, from all good bookshops.