The Definition of Summer
Peter McGlashan |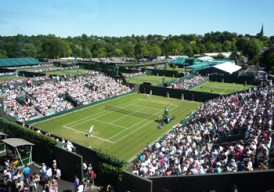 There are few things that define an English summer better than a day at Lords or an afternoon at Wimbledon in the sun with a glass of Pimms.
With our involvement in the T20 World Cup ending prematurely it gave me an opportunity to enjoy a few of the quintessential elements of an English Summer. Lords was tinged with sadness as I watched my sister, and the White Ferns, struggle against an impressive English side that again pipped them for a world title this year.
It was a great day with the White Ferns loyal supporters as vocal as ever and dressed to impress in full black and white regalia. For most, if not all, of the side it was their first experience playing at Lords and while the result may not sit well, the memory will be one to treasure.
Shared commiserations was the theme of the day as, after sharing in the White Ferns disappointment, a friend and I ended up at the Sri Lankan teams function to conclude their tournament. It's always interesting to speak to other players and share their views on the tournament and it's outcomes.
The Black Caps have got to know the Sri Lankan team well recently with the unfortunate events surrounding the Tsunami a few years back meaning they toured New Zealand three summers in a row. Unlike the Black Caps, who have their first break in 10 months, Sri Lanka have just seven days off before facing Pakistan at home.
Our next tour is to Sri Lanka, so much of the talk was about the current climate over there and several offers of hospitality were extended, dependant on selection of course.
With the tournament concluding, it really was the first chance for me to enjoy London, away from cricket and the high security that followed us round. The tracksuits and security passes can be put away, and the luxury team coach is replaced by the underground and black cabs.
On the first morning of my 'holiday' I drew open the curtains of my hotel room to the most amazing sight of the dome of St Pauls Cathedral, bathed in sunshine, dominating the view from the floor to ceiling window. It had dawned one of the best days of the summer and I felt like it was someone saying 'chin up' after the difficult campaign we'd just endured. It was also my 30th birthday so I was determined to make the most of the blazing sunshine.
As I strolled out the door of the Grange St Pauls where my partner and I were staying, life as a 30 year old did not seem quite as bad as I had imagined when growing up. It seemed so far away as a young kid charging round Puketapu Primary School but that day had finally come, the big 3 0!
Two of the best days of England's summer followed and a day at Wimbledon seemed like the perfect way to finish my stay.
It is astounding to watch the way the British press treat their Wimbledon hopefuls. For years it was Tim Henman who carried the burden of the British publics expectations into their home Grand Slam. Now Andy Murray faces the predicament of being British if he wins, and Scottish if he loses. The pressure to succeed must be difficult to shake off when you walk on court, there is an expectation that seems to defy rankings or logic when the British media preview their local competitors.
The weight of responsibility and feeling of interrogation was no better displayed than at Anne Keothavong's media conference after her first round exit. The probing questions proved too much and her early exit showed the duress she was under.
The expectations placed on professional sportsmen and women are universal, with all athletes enduring scrutiny to varying degrees. Even as a club pro there is an air of expectancy that hangs over every innings.
My English summer ends prematurely this week with my return to New Zealand for treatment on a broken finger. Just as the sun seems to have finally arrived, my flights are booked and I am headed home. Faced with a busy southern hemisphere summer ahead and a rare opportunity to get treatment, I reluctantly agreed to return for my first winter in three years.
So it is so long to balmy evenings, chilled Pimms and the English summer.
My first taste of an international tour offered mixed memories, wonderful opportunities, varied results and an appetite for more.
Cricket is a funny game and, much like an English Summer, just when you think things are looking up, thunderstorms can roll in. With central contracts being announced his morning, the first shower has passed. Now I have to look forward and hope that the naming of the team for Sri Lanka brings better news.
We shall see…