I've a feeling we're not in Kansas anymore…
Peter McGlashan |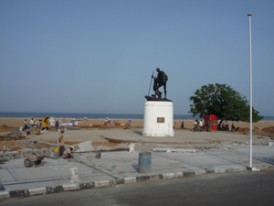 When Dorothy stepped out of her battered farmhouse in 'The Wizard of Oz' and uttered those famous words to Toto, she would never have thought they would have been applied so widely. While I may not have travelled to Chennai from Kansas, I can understand the sentiment. I know for a fact that when I get off this plane I am sitting in, I definitely will not be in Wellington, New Zealand, anymore.
As I prepare to tour India for the first time, I am trying to prime my senses for the shock that lies ahead and the impact this tour will have on my view of the world.
Sure there are the cricket matches to be played, but I imagine you can only really play at your best in India once you have come to terms with the sensory bombardment and logistics, both distinct from back home. There are several major differences that will be distractions if they are not dealt with and accepted.
Firstly, there is the oppressive heat. Chennai's 37 degC is three times the temperature in Wellington today, a chilly 12 degC. Ice vests are packed and the battle to stay hydrated, while not drinking the tap water will be one requiring vigilance by all.
Secondly, there are the sights, sounds and smells that greet you round every corner.
The cows and cars sharing the streets.
The spices and silk being traded from stalls.
And the looks of awe and mischievous smiles from the local kids.
Every corner will be a postcard of India, showing the good and bad that comes with its booming industry. Images that will last a lifetime.
Finally, the irony of the sense of isolation in a country so populous. Unfortunately, when you tour India as a cricket team you do not have the freedom to wander out of the hotel whenever you please. Many of the things we take for granted at home are not available or accessible without an escort. There will be rare opportunities to venture outside and these will most probably provide the most excitement.
This is where the real adventure begins.
Missions on Tuk-tuks through town, speaking to the locals, sampling local cuisine and long days exploring would be a typical tourists day. We will not have such freedom, but opportunities will be precious and just as rewarding .
The cricket looks like it will be very competitive with other sides in the Buchi Babu tournament featuring several players from the recent Indian tour of New Zealand. Playing in a two-day format will be a bit unusual but will mean for plenty of opportunities and a chance to play many sides in quick succession.
It all lays ahead of me and I hope you will join me for a live chat from India in the coming weeks to find out how I am getting on. I am really excited about the opportunity to chat online and answer all your questions so keep an eye out for more information coming soon.