New Books – An Overview for July 2018
Martin Chandler |
Published: 2014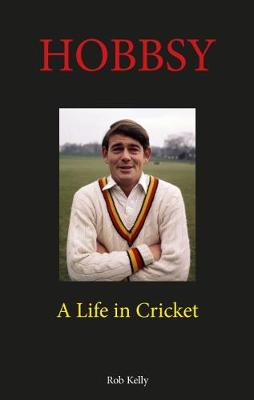 My first draft of this article began with the words; There is a disappointingly small number of important new and forthcoming releases to report, but despite that the quality of what is on offer and forthcoming is still impressive. Perhaps I was just being lazy, but once I started to look a bit harder I found that although the tour book, an endangered species since I started writing these articles, now seems to be extinct, there are other genres, particularly biography, which seem to be in rude health.
This time I am going to start in Wales, where local publishers St David's Press have excelled themselves in terms of going down the road less travelled with no less than three books about Glamorgan cricketers. First, and already out, is Not Only But Also, the autobiography of Malcolm Nash, which we have already reviewed.
With us by the time this feature actually appears should be Easier Said Than Done: A Life In Sport, by Alan Wilkins. Those familiar with Wilkins now are most likely to know him by virtue of his commentary career in, particularly, South Africa and India, but there are those of us who remember the left arm medium pace bowler who plied his trade with Glamorgan and Gloucestershire for a few seasons before a serious shoulder injury put paid to that means of earning a living.
The last of the three to appear will be The Player From Ponty, a biography of batsman Bernard Hedges written by his son, Stephen. Is a son the best man to write a biography of his father? There must be many cases when the answer to that question must be a firm 'No', but perhaps not here given that a glance through his 1963 Benefit Brochure confirms that Hedges appears to have been universally popular amongst Glamorgan's supporters and his fellow players.
On the subject of less well known county cricketers of the not so distant past the Sussex Cricket Museum have been busy and have produced an excellent short biography of the county's long time opening bowler Ian Thompson, The Indefatigable Ian Thompson. The Museum have also published, on a rather different subject, Revolution '97.
One more title is due from the Museum soon. David Jeater first came to my notice as a splendid first man in charge of the ACS Lives in Cricket series. Relieved of that responsibility he has written a booklet, A Failed Experiment? The booklet deals with the second eleven that Sussex entered into the Minor Counties Championship between 1948 and 1951 and which, having checked in Wisden, I see was not a success. It will doubtless be an interesting look at the way county clubs were run at that time.
On the subject of county clubs supporters of Essex and Somerset have had cause to add to their cricket libraries in recent months. Rob Kelly's splendid biography of Essex leg spinner Robin Hobbs has been added to by the club itself who have assisted in the publication of the splendid Essex County Cricket Club Memories. In the West Country Somerset enthusiasts have Somerset Cricketers 1946-1970 to purr over, a book every bit as good as its two predecessors if not better.
A self-published book from Tim Cawkwell about his experiences following the denouement of the County Championship season is becoming something of a tradition and this spring saw his third such book. Compleat Cricket is reviewed here.
One of, if not the biggest seller of 2018 will be the autobiography of Moeen Ali that is due for release in October. Moeen is assisted by veteran writer Mihir Bose and the publishers are Allen and Unwin. Up until the end of the 2017 summer Moeen's career had been on a more or less constant upward curve. I do hope however that the book does not stop there, and that it will go on to deal with Moeen's travails in Australia over the winter just gone, and whatever the rest of this summer holds for him.
The competition for Moeen will come from a man with whom he appeared for England on five occasions. Had it not been for the heart condition James Taylor was diagnosed with two years ago the pair would doubtless still be teammates now, and for several years to come. Cut Short is a remarkable book, and a review will appear on the site next week.
Also due in October is No Spin: My Autobiography by Shane Warne. The most promising aspect is that the writing duties have been undertaken by Mark Nicholas, who produced a splendid memoir of his own a couple of years ago. Warne's last autobiography was published in 2001, but he has also been the subject of a number of biographies in the meantime. Nonetheless we will hopefully learn something more of a man who, whatever flaws he has, was undoubtedly one of the finest bowlers the game has seen. Another Australian to be the subject of a book appearing in October, albeit a rather less famous one, is George Bailey. Cricket In The Genes is the title, presumably referring to the fact that Bailey's great great grandfather, also George, was one of the pioneers of Australian cricket, being a member of the 1878 party that toured England.
One thing that eluded Warne was the Australian captaincy, but two men who did have that honour are the subject of three books to be published in the coming months. Joe Darling was skipper in 21 Tests between 1899 and 1905. A slim memoir, described by the maverick historian Rowland Bowen as a shoddy little work, was privately published by one of Darling's sons in 1970, so a full biography is long overdue. The renowned cricket historian Bernard Whimpress has written the biography, and before that we should see a collection of Darling's press writings, edited by Rick Smith.
Further back in time is Billy Murdoch, skipper 16 times between 1880 and 1890. Murdoch, scorer of the first Test double century and first Australian triple century, has not previously been the subject of a biography. Again he has an experienced hand telling his story, Richard Cashman.
We don't normally mention brochures/guides in this feature, but perhaps should do so more often. In any event two are worthy of mention this time round those being firstly a recent addition to the not inconsiderable literature on the subject of Kennington Oval; The Oval Souvenir Guidebook. Secondly I was most impressed by a 24 page souvenir I recently received from Australia, published by the Western Australia Cricket Association and celebrating the 50th anniversary of their successful debut in the Sheffield Shield. A review will be posted soon.
Two books that we have recently reviewed and which are well worthy of anyone's hard earned are a pair of self-published books. Christopher O'Brien has managed to come up with much that is interesting about one of the game's most famous scribes in Cardus Uncovered. All of the matches examined in Ross English's Cricket And England Through Five Matches occurred in Sir Neville's lifetime although, our reviewing them apart, that is probably the only link between the two books.
The first six months of the year also brought forward a welcome book on Sri Lankan cricket, Ranjan Mellawa's Winds Behind The Willows. I now know that my comment about the dearth of Sri Lankan cricket literature was a little wide of the mark. I apologise therefore to SS Perera for overlooking his monumental Janashakhti Book of Sri Lanka Cricket (1832-1996). All I can put forward in mitigation is that the book seems to be as rare as hen's teeth – certainly I have never seen a copy.
From India we have recently had an autobiography from Saurav Ganguly, A Century Is Not Enough. There have been a few previous books about Ganguly, and indeed our own Gulu Ezekiel published one a few years ago, which its subject was not entirely happy with. The reviews I have read indicate that the autobiography has disappointed some. For the future The Dhoni Touch: Unravelling the Enigma That Is Mahendra Singh Dhoni by Bharat Sundaresan is about to be released. The advance publicity suggests it is not a biography, and given the number of those that have appeared recently that will be just as well. I have also heard but, but will not be holding my breath, that an autobiography from VVS Laxman, something I mentioned several years ago, might actually be about to put in an appearance.
Another Indian book that is about to appear is the autobiography of Mithali Raj. Is this only the second autobiography from a woman cricketer? Many years ago I bought a copy of Rachel Heyhoe-Flint's book, but don't recall seeing any others in the interim. It is forty years now since Heyhoe appeared. I have no doubt we will not have to wait another forty years for the next.
Playing the Game? Cricket's Tarnished Ideals from Bodyline to the Present by Mark Peel is due from Pitch in September. I cannot imagine that Peel will have dug up anything new about Bodyline, but then for some of us the opportunity to read about the 1932/33 series is always time well spent. As to the present the appearance of Steve Smith on the cover confirms that 'Sandpapergate' will be one of the subjects covered. Peel is a fine writer who knows the game inside out and I am confident the book will be a good one.
Mention of 'Sandpapergate' brings me on to the subject of tour books, well at least it would if there were any. There have been precious few in recent years, but it is 1938 since an Ashes series went unrecorded in the pages of a contemporary book. More than fifty years later an account did appear, so the 2017/18 contest might yet be chronicled in the future. As it is the closest we will get will be Geoff Lemon's The Rise And Fall Of Steve Smith's Men:  Australian Cricket's Greatest Downfall  that is due to be published in Australia. The Smith/Warner/Bancroft/Lehmann controversy will also get an airing in a new book from Ken Piesse, Australian Cricket Scandals. I have no doubt that Ken's book will be a good read, but I hope working on it doesn't unduly delay Cec, his limited edition biography of Cec Pepper that I have been looking forward to ever since it was first mooted.
For anyone who remembers 1975 and 1976 there is an interesting book due from our friends at Chequered Flag. Andrew Radd and Ian Addis, both steeped in Northamptonshire cricket have helped David Steele write his autobiography. Cricketers' autobiographies, as a rule, have tedious titles, but Steele certainly bucks that trend. His first effort back in 1977, Come In Number Three, was certainly original. This time we have The Bank Clerk Who Went To War, a splendid title that may have been used before for a piece about 'Crime'. The book is due for release on 1 September.
Red Rose Books, now based in Cumbria but with a heart very much rooted in Lancashire, have produced a large number of slim limited editions in recent years, most if not all with a subject matter aimed primarily at Lancastrians. So far this year there have been two booklets published. The first and, dare I say it, potentially attracting a rather larger audience, is a biographical sketch concerning the tragic figure of Richard Boys from Burnley, who appeared just once in First Class cricket. The second, more recent and rather more 'hard core' is the first in what is intended to be a series of monographs under the general title Significant 19th Century Cricket Matches In Bolton. This one concerns a match between a United North of England XI and Sixteen Lancashire Residents that was played in July 1870. Its title is The Great Local Cricketing Event Of The Year.
Another small publisher with a book due later this year is Roger Heavens. Bibliophiles have much to be grateful to Roger for by virtue of his work in extending Arthur Haygarth's monumental Scores and Biographies from Volume 16 to Volume  21. Late next year Volume 22, covering 1885, should be with us but before then Haygarth at Harrow, a detailed look at Haygarth's schooldays, should be appearing in the Autumn in a signed and numbered limited edition of 100. Roger's website also states he is preparing a monograph concerning a Cuckfield and Surrey cricketer, Ernest Attwater, who was killed in the Great War.
There is not a great deal more I can add about Attwater, whose name produces no result on CricketArchive, which indicates he never played a First Class match. I believe however that his is one of the 48 names that appear on the War Memorial at the Oval, which means he must also be featured in another new book, The 48, written by Philip Paine (he of the Innings Complete series) and Daniel Norcross. It is published by the Surrey club and available from their online shop.
No look at forthcoming publications can be regarded as comprehensive without a look at the plans of the ACS. Their next books are due in August and are the latest addition to the Lives in Cricket series and a book about the history of cricket at St Helen's in Swansea, the scene of Garry Sobers famous six sixes in an over. The authors are Andrew Hignell and the sadly now deceased Bob Harragan and the title Whites on Green. The latest life in cricket will be about the Yorkshire all-rounder Tom Emmett, who played for England in the first ever Test match.
Another book in the Lives in Cricket series is expected in November. The subject is another Yorkshireman, this time an amateur, the Reverend ES Carter. Tony Bradbury is the writer. The paucity of information that is readily available concerning the Reverend Carter makes me wonder how a book about him can be justified. I know from experience however that the ACS wouldn't be publishing if it couldn't be, so that is one I will certainly have to buy. In addition in November a number of the ACS series devoted to more statistical matters are also due. The long running series of volumes devoted to giving comprehensive listings of those to have appeared for a particular team will be extended to Suffolk, and also due is a collection of scorecards from the West Indies in the Hard To Get Scores series, more particularly Trinidad and Guyana, covering the 30 year period from 1958/59.
Early next year will see the annual appearances of the ACS Yearbook and its Second XI Annual, and a series on the Minor Counties Championship will extend itself to the 1913 season. Recently introduced by the ACS is another series, Cricket Witness. Two volumes are due in the first part of 2019, The Captain's Hand on the Shoulder Smote by Eric Midwinter (February) and The Life and Times of John Wisden by Stephen Baldwin (May). The latter title is self explanatory, and the former is about cricket in schoolboy comics and is therefore a particularly original choice of subject matter, and I am certainly looking forward to reading it. Also due is a collection of some more of those Hard To Get Scores, this time from Pakistan between 1980/81 – 83/84.
And finally, I have found out about three self-published biographies of English cricketers, two from long ago and one of rather more recent vintage. One of those from the dim and distant past is George Brown: England's Most Complete All-Round Cricketer by Michael Stimpson. The description is well merited as in a long career Brown scored more than 25,000 runs, took more than 600 wickets and, remarkably, spent enough time behind the stumps to make 79 stumpings. Despite averaging 50 with the bat against Warwick Armstrong's powerful 1921 side there were just seven England caps for Brown, whose story must be an interesting one.
Rather better served by the game's literature is another all-rounder from a generation before Brown, Lancashire's Johnny Briggs. In fact there were a couple of booklets published about Briggs shortly after his tragically early death in 1902. Subsequently he was one of the early subjects in the ACS Lives in Cricket Series and there have been a number of monographs about him (several from Red Rose Books), but Colin Williamson has nonetheless spotted what he perceives to be a gap in the market and published The Professor of Diddling; The Life and Times of Johnny Briggs (1862-1902).
Slayer by Ian Lambert is the third of this trio. His subject is David Sayer, a fast bowler who played for Kent from 1955 to 1968 and then, just once, in 1976. Genuinely quick Sayer's stats suggest a man who ought to have played for his country, injuries seemingly the main thing that held him back. An Oxford University graduate his story, written by a man who knew him very well, promises to be an interesting one.
Twice a year CW looks forward to those cricket books due in the months ahead. If any publisher or author reading this has a book we have missed please let us know and if you would like CW to review your books and/or announce your future plans at the beginning of January 2019 then please contact us at info@cricketweb.net, which email address can also be used by any prospective purchaser seeking further information. As ever this article is as comprehensive as it is only as a result of assistance from others and, in particular on this occasion, Roger Page, Scott Reeves and Chris Overson