Compleat Cricket
Martin Chandler |
Published: 2018
Pages: 110
Author: Cawkwell, Tim
Publisher: Sforzinda
Rating: 3.5 stars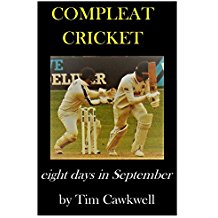 This year marks the third appearance of a book concerning the denouement of the previous season's County Championship from Tim Cawkwell. He began with Cricket's Pure Pleasure in 2016, and a remarkable victory at Lord's for Middlesex over Champions Yorkshire. Last year The Tale of Two Terriers and the Somerset Cat covered an even more dramatic finish as the same two counties met. Middlesex won again, but this time it was enough for them to snatch the title from Somerset, who had gone to the top the previous day and had finally looked like breaking their 126 year Championship duck.
Last summer might have been another photo finish, but unfortunately my beloved Lancashire couldn't maintain their challenge beyond the start of September, and Essex comfortably secured a title few beyond Chelmsford, Colchester and Southend  had expected them to get close to. Fortunately for Cawkwell however there was a dogfight to be followed at the other end of the table, as the last two rounds of matches began with the three sides from the previous year's  battle for top spot plus Hampshire and Surrey all scrapping desperately to avoid taking the second relegation spot, Warwickshire's fate having long been sealed.
For a long time it looked like all of Surrey, Yorkshire and Middlesex were going to be safe for the final round of matches, but the penultimate set of fixtures twisted and turned and in the end only Surrey managed to extricate themselves from trouble. For the last act of the County Championship summer Middlesex and Somerset met at Taunton, the new Champions entertained Yorkshire and Hampshire travelled to Edgbaston. Only Lancashire's game against Surrey had no bearing, so once again Cawkwell managed to avoid writing much about the Red Rose, although he couldn't entirely keep his eye off First Class cricket's last sight of Kumar Sangakkara.
In 2015 Cawkwell was at Lord's. In 2016 he was in Italy, on holiday, but with his laptop so he could follow both crucial games via the good old interweb. In 2017 he combined the two. He spent a day at the Oval watching Surrey move towards victory over Somerset, and a day at Chelmsford for Essex v Yorkshire. The other six days were spent with twitter, cricinfo, youtube and any streaming service he could find in order to follow the three crucial matches. In what must have been a taxing few days he also managed to keep half an eye on Surrey and Lancashire and events in the second division.
Even Cawkwell's greatest admirer would not suggest that his descriptions of cricket matches are quite up to the standard of Sir Neville Cardus, but he is a decent writer and, as importantly, strikes a chord with the many of us for whom a need to earn a living gets in the way of our cricket watching. In some ways it is easier to cope these days because of social media and its ilk, although as the Cawkwell experience shows because keeping right up to date is now possible, following First Class cricket online can be almost a full time occupation in itself.
As with his two previous efforts Tim Cawkwell's Compleat Cricket is a book I enjoyed, and the contents of which I had no difficulty in identifying with. In fact after much deliberation I am even prepared to forgive him his admission to being no stranger to the evils of the ebook, and that the spelling of his latest title is a nod towards a book on angling of all things, rather than to Donald Knight's The More Compleat Cricketer.