Hobbsy
Martin Chandler |
Published: 2018
Pages: 229
Author: Kelly, Rob
Publisher: Von Krumm Publishing
Rating: 4.5 stars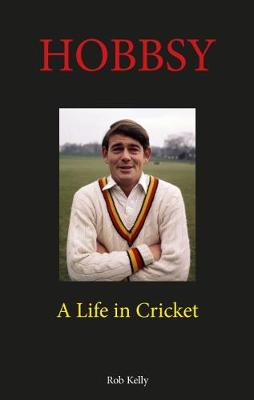 The first cricket book I ever owned, in common I fancy with many of my generation, was a copy of the Playfair Annual. I cannot now recall what year, but it would have been in the late 1960s. I didn't realise why it had been bought immediately, but after a couple of days realised that my father's motivation in making the purchase was to enable him to read that year's Wisden for a few hours without my constantly badgering him for 'my turn' – needless to say it wasn't a ploy that worked again, although it was tried.
There was of course much in Wisden that wasn't in Playfair, but there were a couple of advantages that the pocket sized Playfair had for small boys. First it contained the up to date career record of every current player, and secondly it confirmed the bowling style of all who turned their arm over in English First Class cricket – here therefore for the first time I could see who all the RFs were, the RMs and the SLAs, amongst others. There were plenty of all of them, and also of RFMs and OBs as well.
I had already decided by then that the most interesting bowlers were wrist spinners, so took to scouring my Playfair for exponents of the dark art. The SLC was as rare as hen's teeth, only Garry Sobers getting that one, amongst his full set of left arm descriptions. There were a few LBs, but they were nearly all batsmen who would just occasionally turn their arms over. What I really wanted to see were the LBGs, and there were precious few of those.
The examples I can recall were the two Pakistanis, Intikhab Alam and Mushtaq Mohammad. I must surely have seen Harry Latchman's name, although a memory of that escapes me and, having been born in Jamaica, I would doubtless have regarded him as a West Indian anyway. The only Englishman I recall seeing who was a proper bowler (ie bowled any appreciable number of overs at all) was Robin Hobbs, and he was the only one for a number of years.
As a budding leg spinner myself there weren't therefore too many role models to copy, and although Hobbs often did play in the televised limited overs matches of the early 1970s he was in the team for his fielding as much as anything, and it was rare to see him get a decent spell. It was a great sight when he did get a bowl though as, unlike Mushtaq and Intikhab, he had an action I wanted to copy, something I am reminded of by the evocative photograph that is reproduced on page 48 of Hobbsy.
In the circumstances I should probably concede at this stage that even if this biography of Hobbs had been badly written and unimaginatively produced I would almost certainly still have enjoyed it. It covers the life of one of my favourite players, and the period when I first fell under cricket's spell, as well as filling in one or two gaps in my knowledge about the seasons immediately prior to that, the mid 1960s.
Robin Hobbs' story did not in any way disappoint me however, nor does Rob Kelly's telling of it. It is written in the manner of all of the best recent biographies, Kelly telling Hobbs' story, but regularly punctuating his narrative with contributions from Hobbs himself, as well as some of his contemporaries. In his acknowledgments at the end of the book Kelly mentions Stephen Chalke, whose masterly style has clearly influenced him, and I was reminded also of the recent impressive additions to the game's literature by Andrew Murtagh.
Kelly spent many hours with Hobbs, hardly surprising given how enjoyable his company seems to be. Unlike some former players Hobbs clearly still loves the game, and despite now being well into his seventies recalls all the games in which he played. He had his disappointments, and there are one or two former opponents and teammates who he crossed swords with, but his recollections of the relevant events are given objectivity by the humour he, and most of his Essex teammates, found in almost all their cricketing experiences.
There is also a refreshing absence of even a hint of arrogance about Hobbs, and indeed the book begins with him being in the self-deprecating mode he generally seems to adopt. Kelly takes a standard chronological season by season approach to telling his tale, but does take one specific match as his starting point. Thus Hobbsy begins in Hobbs final season for Essex, and a match against the 1975 Australians. Essex lost, but in the fourth innings Hobbs scored exactly 100, the second and last century of his career, and he got it in exactly 44 minutes.
Hobbs' own take on the innings is that he was fortunate, and he explains that he scored all his runs from off spinner Ashley Mallett and leg spinner Jim Higgs. Also playing in the fixture was the fearsome Jeff Thomson. Although he was fit and firing Hobbs is at pains to stress that Thommo spent the entire 44 minutes grazing in the outfield, and that as soon as Aussie skipper for the day Rod Marsh declared he'd had enough and was bringing his paceman on to bowl he holed out. Hobbs also chides himself for thereby leaving his partner, opening batsman Brian Hardie, stranded just short of a century. All that may be correct, but it should not be overlooked that Mallett and Higgs were two fine bowlers, both with impressive Test records, and that in the entire history of the game only six* faster centuries have been scored.
In fact a supposed inability to play fast bowling is a constant theme throughout the book, as is the lack of a decent googly and not turning the ball very much. In addition whilst the high standard of Hobbs' fielding is acknowledged, the only fielding story I recall being dwelt on was an occasion he dropped Mike Procter four times in the same innings (amongst other indiscretions in the field that day).
Hobbsy is an immensely entertaining story of a cricketing life well lived. There is plenty of cricket, a good deal of social history and the odd dramatic twist and one tragic one. Ultimately however the book is a 'feel good' one, full of the sort of humour you'd expect from a man who named a pet Dalmatian 'Currant Bun'. Rob Kelly's first book is highly recommended, and I sincerely hope it will not be his last. Copies can be purchased from all good bookshops, and there is also a specially bound and numbered limited edition of 44 copies, signed by Hobbs and Graham Gooch, available directly from the publisher.
*there have been a number of other centuries that were quicker, but those were achieved in contrived circumstances.