The Oval Souvenir Guidebook
Martin Chandler |
Published: 2018
Pages: 64
Author: Spiller, Richard
Publisher: Scala Arts and Heritage Publishers Ltd
Rating: 3 stars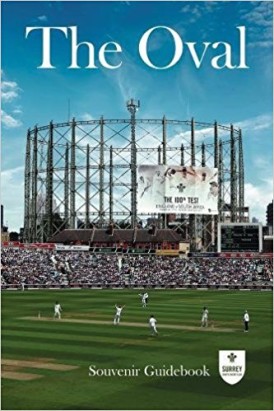 Where guidebooks are concerned small can mean beautiful, but it can also mean superficial and untidy. This one, I am delighted to report, comes into the former category. The reason for its quality is, I have little doubt, Surrey's decision to place the project in the hands of Scala, a company who specialise in this sort of thing – their expertise in the field is obvious.
One key reason for success is in the title, more particularly the absence of the word 'Kia'. I do, of course, recognise the need for clubs to make a buck or three, but The Oval has always been The Oval. Kia follows Fosters, AMP and Brit, and will be forgotten as quickly as they have been. That said I presume Kia could have insisted on getting their name on the cover, so kudos to the company for that. It is reassuring to know that a South Korean car manufacturer has respect for cricket's traditions.
Although the available material has not been mined quite as comprehensively as it has for Lord's, the game's literature is nonetheless not short on books about The Oval, a famous old ground that first hosted a First Class cricket match as long ago as 1846, so Scala don't attempt to compete with those. What they have done is engage Richard Spiller, who knows the place inside out, to write an interesting narrative with a view to showcasing an excellent selection of photographs. Only one of the 64 pages, that which is devoted to some interesting statistics, does not contain at least one photograph.
Some of the most iconic images in cricket emanate from The Oval. Victor Trumper jumping out to drive is undoubtedly the most famous of the lot, but not too far behind are Denis Compton and Bill Edrich on their way back to the pavilion after the Ashes were regained in 1953, Kevin Pietersen saluting the assembled masses after his monumental unbeaten 158 in 2005, Alec Bedser's follow through and groundsman 'Bosser' Martin posing with his heavy roller in front of a scoreboard showing England at 903-7 in 1938.
There is something about old photographs that generally excites me much more than modern material, but Spiller has found one very special image in full colour, of Surrey and England stalwart Alec Stewart taking evasive action from a Wasim Akram bouncer in 1996 – thrilling is, most definitely, the word.
One of the old monochrome images that particularly caught my eye was that of the Windrush generation enjoying themselves whilst watching the 1963 Test against West Indies. Spectators on terraces in 1929 and two young boys trying hard to get a vantage point in 1956 are other highlights.
There is but one problem with this brochure, and that is the price, as I suspect for some a tenner might be a bit much for 64 pages. They are however some very good pages indeed, and the alternative would no doubt have been to sell some advertising space inside in order to subsidise the cost. I am very glad that wasn't done. With changing social mores advertisements are, a couple of generations on from those they are aimed at, appealing pieces of social history, but in the here and now it is a relief not to be faced with a series of photographs of family cars.