Modern day cricketers are pampered a bit too much : Dennis Waight
Ganeshbabu Venkat |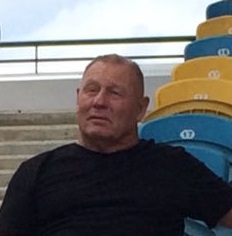 For almost 17 years, apart from the Lloyds, Richards, Marshalls and Garners, there was another name that was synonymous with West Indian cricket: Dennis Waight. In an age where there was not much attention paid to fitness, he was the one who kept the dominant team of the 1980s in shape, working as he did as their physio. Here are a few excerpts from his interview with CricketWeb:
How did it all start and why did you pick the West Indies to work with?
While I was working in rugby league in the mid-1970s, a friend of mind was working as the Australian physio for the cricket team. He got sick for a year and I took over his responsibilities for that time. The next year the late Kerry Packer, a good friend of mine, asked me whether I wanted to work for him taking care of a team for the WSC. I accepted on one condition, that I will work for him if I get to work with the West Indies team. I said I wanted them because I thought they had a bunch of great players and with a little bit of difference in training and fitness, I thought I could help them a lot.
I just liked the way they approached the game. I was impressed by their fast bowlers who were getting injured often, and felt with a little bit of homework they could go places. I wanted to see if I could work on them to prevent injuries,get them fitter and see if I could make them better bowlers.
What were your training methods like, since we are talking 40 years back? Given the fact that few teams had coaches let alone physios. How did you sell your process to the team?
It was a bit drastic to the players and what we were doing was completely new to them. It was hard training with 300 to 400 sit-ups a day and plenty of running and sprinting. But West Indies started to win matches and they even won the World Series. Remember this was after the 5-1 drubbing from Australia, so they certainly enjoyed that success. Then the tour of England was scheduled, Clive Lloyd proposed to the board that they should take me with them because he liked what I was doing, and I was on board with the West Indies team for the next 20 years.
On my methods, before I came on they did not have standard regiments. They probably thought they were all right but when they were made to work under me they realized that they had a lot more to do to take care of their bodies. My main goal was to get them fit and, in that process, prevent injuries. I introduced a stretching course, my method was a lot different than others, and I brought in yoga stretching. We did half an hour of stretching every day followed by those sprints and other stuff.
Was there resistance to your methods? Because you mentioned that they were not as fit as they should have been.
Some of the West Indian bowlers looked naturally loose, but they struggled a lot at stretching. I would not say there was resistance, but there was difficulty adapting to my methods. It took some time for them to get adjusted to the program. They felt the benefits when they felt they were more flexible and stronger. I made them do a lot of running and a lot of step ups,I made them run on the roads.Now, they never run on the roads, but these blokes did all that. The benefits of it were that they got the endurance, the strength and then the flexibility and once you got three of them together they had no fear of getting injured and they bowled quick.
In those days, you had a coach, captain, physio as part of the management team. However today, we have a slew of support staff ranging from a performance analyst to a masseuse. As an old timer what are your thoughts on that. 
I sometimes think it's little bit of an overkill. However, you must remember when I was around, it was just a sport and now it's a business and it's big money. Looking at some teams there are probably eight guys doing what I used to cover in those days. I was fortunate that I ended up with a team that went undefeated for sixteen years. There was the manager, myself and that was it. We had a tour of India in 1983 after the World Cup. I think it was six Tests, six One-Day games, ten three-day games and three two-day games. We had fifteen players in the squad. The whole tour no one got injured or sent back, we won the series after getting beaten in the World Cup. We dominated that series and destroyed them.
There are a lot of reasons for what they are doing now, but I still think it's overkill and I feel that the players are pampered a fraction too much. I suppose ninety five percent of sportsmen, if you pamper them and give them a lot of money, it tends to make them a bit soft. The other five percent are the ones who love the game and are passionate with the game and they have gotten an ego trip. They want to be like a Mohammad Ali or a Usain Bolt. You just get that person who does get a lot of money but the ego and the passion for their sport puts them above that. I'm a great believer in that.
You managed the team under Clive Lloyd, Viv Richards and Richie Richardson and the team was unbeaten till 1995 for almost 16 years;but things started going downhill about that time for the West Indies on and off the field, and things came to a head when Brian Lara took over as captain.So what changed after the heyday and what was the thought process from the newer generation of players?
It changed a lot. We had a lot of younger people. The team changed and it's hard to replace great players. The younger generation after the days of Viv and Lloyd probably didn't want to do the hard work and,in my opinion, were cutting corners and a little bit of discipline went out the door. The WICB also let things drift away and got a little soft and we just ran into a situation where it just got worse.
I was a hard taskmaster and irrespective of who it was I wanted them to train and work hard. Brian Lara tasted success so early, it was so hard for him being the world record holder, breaking world records, he dropped off the wagon a little bit although he still used to train hard. The downside to that was he didn't realize that the other players around him needed the hard work because they weren't as gifted as him and that caused issues. I'm sure if he had his opportunity again he would be practicing differently and would have handled things a fraction better. To be fair, I would have handled things differently too. But I was a hard taskmaster and I wasn't going to change to go along with the system of easing down a bit.
After twenty-two years with probably one of the greatest ever sporting teams in cricketing history, if you had to pick one instance where something happened based on what you did, what would that be? What would be that moment that you felt proud of? 
Hard to pick one really, since there are a million of those moments. I never wrote a book because I could fill up about thirty chapters, but twenty-seven chapters would have to be blank or I'd get sued and I don't want to lose my friends[laughs]. I think beating England 5-0 in England was great, following that up with another 5-0 in the next series against them in the Caribbean where Viv scored those hundred runs in fifty-six balls was something to cherish. Brian's first world record was something to remember. Sometimes you sit on the balcony of Lord's or any other ground's pavilion and you will be watching. That memory alone was worth it,sitting with the likes of Michael Holding, Malcolm Marshall, and Joel Garner. So, I was very happy with the times I have had with them. As you know I could fill up a million pages with the great achievements that we had on the field.
But here is an interesting memory: it was the last Test of the 1982 series in Adelaide, West Indies had to win to square the series. Australia finished day four 341/4, a lead of 190 and looking strong going into the final day. Lloyd and I had a little talk that morning and he said "listen, the first hour is very critical and we have to really make inroads if we want to have a chance. Can you make the fast bowlers irritable and angry?". I said "sure, I can get them angry alright".
In the Adelaide Oval, behind the nets, there is a big hill that goes up to a monument on the top. When the team had finished in the nets and were heading down to change, I got the fast bowlers and asked them to run up the hill to the monument and come back. It was not fair after a hard training session, but I was confident they were fit. So, this was just a mental game that I was playing with Lloyd. When I went back in to the dressing room the fast bowlers were soaking wet with sweat and were ready to get on the field. Lloyd said to me "Joel is complaining a bit, well a lot, and he seems quite upset you made him run up the hill". I said to give him the ball. Garner starts and within no time makes inroads in the Australian lineup. He was bowling real quick. The remaining Aussie wickets fell for 45 runs with Garner alone taking 5 wickets. Then we went in and batted and got the win. It was one of those memories which we had a nice laugh about later during the day, and on more than one occasion after that.
Any regrets?
Well, I'm sure everyone would have loved to change a few things if given a chance. SureI would have liked to change how things panned out during the later part of my association with West Indies. But that's life; you have difficulties and you deal with them accordingly.
I heard Andy Roberts the other day in an interview give credit to me as much as a Lloyd or a Richards. That was flattering enough. Michael Holding, in his biography, wrote a complete chapter for me and said I was the catalyst from a good team to a great side. I don't know if that's true, but I did have a golden time then and they enjoyed it as well. We had a great time on and off the field. I'm very fortunate that I have a lot of friends from that team. They'll last forever, and it's great to me. It was just a great ride, it was fantastic.