Flintoff The Pugilist
Ewen Day-Collins |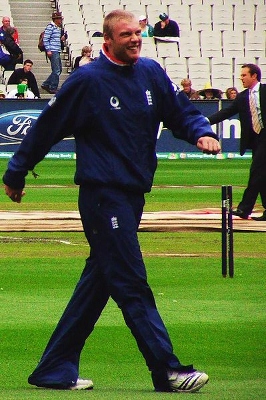 Freddie Flintoff has given up alcohol. Freddie Flintoff has given up alcohol because he is becoming a professional heavyweight boxer. But why is Freddie Flintoff becoming a professional heavyweight boxer? And, more importantly, why is Freddie Flintoff giving up alcohol?
If the sport Freddie Flintoff was entering was drinking, he would be a heavyweight. But boxing? Not so sure.
Somebody called Robert Smith, from Boxing Board of Control's medical panel, isn't so sure either. "I think it is fair," he told the Telegraph, "to say we are not expecting Freddie Flintoff to be the next Sugar Ray Leonard." That sounds pretty damn fair.
Flintoff may not be the next Sugar Ray Leonard, or Muhammad Ali, or George Foreman – in fact, he definitely won't be – but this isn't a gimmick. Flintoff is serious, deadly serious. Even more serious than when he played cricket. "You used to stop for sandwiches in cricket," he told the Sun, "but in this you stop to spit a load of blood out of your mouth. I'm giving it everything from diet to training. I've dropped 40 pounds," Flintoff continued, adding: "But there's more to go."
Yet is there not something poignant about all this? It may not be a gimmick – Flintoff has been working hard with Barry McGuigan for 10 weeks – but there must be something underpinning this decision. And that is probably the feeling of being unfulfilled.
Flintoff won the 2005 Ashes, an immortalised Test series. He scored hundreds, took five-fors, and raised his arms up in the air whilst standing still – picture Christ the Redeemer looking heavenwards – in his trademark celebration more times than can be recalled here. For this alone, he is a hero.
But beyond this, there wasn't much. He wasn't often great. He wasn't often bad, either. When he was bad, though, he was very bad. Flintoff was captain when England lost in Australia in 2006/7, a humiliating loss – 5-0.
Flintoff was also frequently injured. His knee forced him to retire in 2009, just 31. As captain, he famously bowled his knee into the ground, and, even under Andrew Strauss, he did this in 2009's victorious Ashes. His career was shortened consequently. His career, in other words, was unfulfilled.
Flintoff famously likes a drink. He was drunk at Downing Street, where the Prime Minister runs the country. But that was after England won the Ashes, so we liked him. He was also drunk in the Caribbean, after losing to New Zealand. He was, more specifically, drunk on a pedalo, or, as it became known, a 'Fredalo'. (We still liked him really, though.) How he will give up alcohol, therefore, is beyond anyone's intellectual ability to comprehend.
This also shows that discipline (or abstention) may not be in Flintoff's Lancastrian nature, which could be a problem. He does, however, have strength. That could win him a bit of dosh, and a few bouts – though many commentators believe he will fail. No one doubts Flintoff's commitment, though; it has been demonstrated convincingly.
That's how we arrive at his peculiar career choice. He was a decent cricketer who was spectacular for a short while. The Guardian sums it up accurately: "Andrew Flintoff fell short of greatness, but leaves a chasm." Flintoff "fell short of greatness", for a number of reasons, and something about his character means he will find it difficult to accept that. He is unfulfilled. So he's trying another sport. But he is too old for most sports, at 34, or his knees are too troublesome. So he's trying boxing, like Adam Hollioake did.
Flintoff has tried other things before this. He created his charity, the AF Foundation. It helps kids with physiotherapy, and is a very positive thing to be doing.
Flintoff also tried to be a TV star. He's on a sporting comedy show called A League Of Their Own. It isn't funny. And, to be honest, neither is Flintoff. This is perhaps why he hasn't "made it" on telly. So he's trying something else.
We all wish him good luck with it. Flintoff was a good cricketer, and a nice guy. He was the key member of the England team that won one of the greatest Test cricket contests ever. We love him for it. But there is a poignant sense, something a bit sad, even a little disappointing, about Freddie Flintoff going into the ring. Perhaps because he is unfulfilled, he can't let go; can't let go of professional sport, of fame, of being loved. Freddie, please, just enjoy your drink.