Celebrating Sachin
Gulu Ezekiel |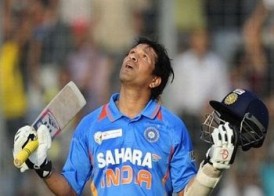 Quotes about the great man
1. I thought there was talent in Sachin – Elder brother and mentor Ajit Tendulkar
2. He was a natural cricketer – Coach Ramakant Achrekar
3. Tendulkar never fails – National selector Naren Tamhane after Tendulkar was first selected for India in 1989
4. There is so much of Greg Chappell I see in him – Raj Singh Dungarpur in 1989
5. I'd like to see him go out one day and bat with a stump. I tell you, he'd do OK – Greg Chappell
6. If I have to bowl to Sachin, I'd do it with my helmet on – Dennis Lillee
7. That man exists where we can't – Ajay Jadeja
8. You take Don Bradman away and he's next up, I reckon – Steve Waugh
9. Sachin and I were just simple boys who wanted to play a bit of cricket if that could keep us away from the classroom – Vinod Kambli
10. He played like an old pro – Graham Gooch after Tendulkar's maiden Test century in 1990
11. If he could play like this at 19, I shudder to think what he will be like at 25 – Allan Border after the 1991-92 series in Australia
12. No one could have done a better job of breaking the ice – Geoff Boycott in 1992 after Tendulkar became the first foreign-born player to represent Yorkshire
13. He plays much the same as I played – Don Bradman in 1996
14. Tendulkar is surely the game's secular saint – Australian journalist Greg Baum
15. That bat is so heavy, but he's got so much time he waves it around like a toothpick – Brett Lee
16. He is 99.5 per cent perfect – Vivian Richards
17. I'll be having nightmares of Sachin just running down the wicket and belting me back over the head for six – Shane Warne
18. When you are on 94, just hit a six – Son Arjun's advice to his father after a string of 90s
19. I just think Sachin played a super knock today. Just like the man he is – Kevin Pietersen on Tendulkar's century in the 2008 Chennai Test
20. We may not have the Kohinoor, but we have Sachin and to us Indians he is worth far more and even more precious – Sunil Gavaskar
Quotes from the great man
1. Watch the ball, watch the ball – To himself while batting.
2. Make me uncomfortable – To a net bowler who apologised after hitting him on the arm.
3. It's only for the team's sake that I cannot sleep – During his first stint as captain
4. Even if I broke my nose I decided on staying there – After being hit by Waqar Younis in his maiden series in Pakistan in 1989.
5. I cried so much on getting out that I could not see – After falling short by just 12 runs of his first Test century in New Zealand in 1990.
6. Only the fielding of Jonty Rhodes – On being asked what he would like to incorporate in his game from his contemporaries.
7. I still don't think I am comfortable with the limelight. You know I still feel embarrassed with TV cameras around me – On the media.
8. It was my mother who prompted me to go and attend the nation's call – On returning to the World Cup in England in 1999 after his father's death.
9. I always wanted this double very badly – On scoring his first Test double century, against New Zealand at Ahmedabad in 1999
10. I do not know a thing – On being questioned about match fixing in the team.
11. Even before a charity match, I am still excited, still nervous – On pre-match nerves.
12. I would have been a formula driver or tennis player – On being asked what he would have been if he had not played cricket.
13. Just hit the ball – Advice to his son Arjun.
14. I did not feel any pressure – After crossing the landmark of 10,000 ODI runs in 2001.
15. It is an honour to be named the best player, but I would have been happier if India had won the title – After India lost in the 2003 World Cup final.
16. I was surprised and disappointed at the declaration – After being stranded on 194 not out in the 2004 Multan Test.
17. Somebody who was a good trier for the country and did a decent job for the country – On how he would like to be remembered.
18. Life without cricket is unthinkable for me – On his future.
19. Time may have changed my game a little bit here and there – On the eve of his 100th Test match in 2002.
20. Playing for India has been a great privilege indeed – On the eve of his 20th anniversary in international cricket in 2009.