Somerset Cricketers 1971-2000
Martin Chandler |
Published: 2019
Pages: 384
Author: Hill, Stephen
Publisher: Halsgrove
Rating: 5 stars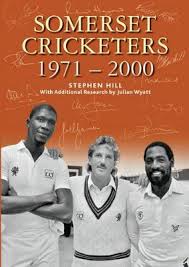 Over the last four years Stephen Hill has compiled a precious resource for anyone who does, or will in the future, take an interest in the men who have turned out for Somerset since the county first played First Class cricket back in 1882. Somerset Cricketers 1971-2000 is the fourth volume in a series of books that, for now, will remain a quadrilogy (or is it tetralogy?). Doubtless in years to come someone will bring the series bang up to date. I suspect it won't be Hill, but you never know – he might get withdrawal symptoms.
The format of the book is the same as before, so rather than explain that again I will simply link my audience to my reviews of Somerset Cricketers 1882-1914,  Somerset Cricketers 1919-1939 and Somerset Cricketers 1946-1970. There is one additional feature, as right at the end there is a short Addenda, grafting a few additional details onto the first three books in the series. That such a list is necessary speaks volumes of the mindsets of the sort of people that enjoy the books, and how Hill has inspired further research.
I did begin reading Somerset Cricketers 1971-2000 with a couple of slight concerns. The first was how, within the context of this sort of book, Hill would go about dealing with the superstars, by which I mean Ian Botham, Vivian Richards, Joel Garner, Sunil Gavaskar, Martin Crowe and Steve Waugh. The second went to the other extreme, and was how Hill could hold his reader's attention when it came to the stories of those who embarked on cricket careers, failed, and went on to, for want of a better expression, lead ordinary lives. The early books dealt with plenty of eccentric characters with some remarkable back stories, but it was difficult to imagine there would be many as interesting this time round.
The problem with the big names is a result of a surfeit of material. Viv Richards and Ian Botham are the prime examples, although similar considerations apply to the other four. It is quite simply impossible to properly do justice to the careers of these men in a few pages, yet restricting the narrative to deal with their deeds for Somerset would rob the essays of context. In fact Hill chooses a different route, and accomplishes his task with some aplomb. He approaches the problem by explaining the personalities of these great players and the way in which they play the game. By using that approach everything else falls into place. There are full length biographies of cricketers, that leave their reader with little real idea of what makes the subject tick, and it is therefore all the more impressive that Hill captures the essence of these great players so well.
In terms of the lesser lights the difference between this and the earlier books is that the men concerned can speak for themselves, and many of them do. Learning what these men felt about their inability to make their cricketing marks and what they did with their lives instead of playing the game is certainly illuminating. I was particularly struck by the story of Martin Olive, a batsman who played 17 times between 1977 and 1981. He averaged less than 16 and managed just a single half century. When he left the game he went to work in financial services, but clearly has fond memories of his time with the county and particularly, and entirely understandably, of the eight Somerset innings when he opened the batting with Gavaskar. What he does't mention, and which speaks volumes as to his character, is that despite his modest record he outscored the Indian master on five of those occasions.
I also realise now that my assumption that the sort of eccentrics whose lives studded the earlier volumes in the series no longer crop up was wrong, even if their personalities are illustrated in rather more contemporary ways. A wicket keeper batsman with a name that really demands an interesting life, Rayner Blitz, is one example, and Richard Cooper another. The appearance of so many of the names featured in the book in the acknowledgments at the beginning provides the explanation for why these summaries are so entertaining, much of the information having come from the players themselves.
There is another category of cricketer in the scope of this book that was not present in the other three. This group of players will, for some, stretch right back to the beginning of the era. I am referring to cricketers who enjoyed full careers, but without sufficient achievement or popularity as to ever be likely to justify an autobiography. The best known example in this category is Andy Caddick, but there are a number of others. For this reviewer the first in time is Phil Slocombe, and he is followed by the likes of Chris Tavare, Peter Bowler and Hallam Moseley.
The 1970s ushered in the era of the overseas players and interesting essays are devoted to Stuart MacGill, Jimmy Cook, Jamie Cox, Shane Lee and Richard Snell. Cox and Cook in particular contributed much to the club and left the West Country with much to show for their time there, having made many lasting friendships.
As before some of the essays merit particular mention, and I will single out three. It was good to remember once more the mighty talent that was Mark Lathwell, a wonderful batsman but one who, eventually, simply turned his back on the game. There is Andy Hayhurst, once of Lancashire and, for a time captain of Somerset. His was a sad fall from grace, as he eventually spent time in prison for a fraud on a post retirement employer. Of particular importance however is the essay on the subject of Peter Roebuck. Undoubtedly a complex and unconventional character I have always felt that some who have written about Roebuck have by doing so achieved little other than to muddy the waters. Such is not a criticism that can be levelled at Hill who, in the space of what cannot be much more than 1,500 words, succinctly summarises what Roebuck was about.
Following three books that undoubtedly belong to the history and collected biography genres it is certainly arguable that Somerset Cricketers 1971-2000 does not belong in the former category. The evergreen Marcus Trescothick, who made his bow as long ago as 1993, provides most of the continuity but, in addition, player 578 of the 580 who appeared for Somerset between 1882 and 2000 is a very fresh faced Peter Trego.
Up until now I have held back from giving a book of Hill's five stars, not so much because I felt they were not worthy but for fear of then being left with nowhere to go if a later book proved to be even better. My reticence has proved to be wise because from the moment Hill kicks this one off with a perceptive look at the redoubtable Brian Close the essays are just a little more compelling. Somerset Cricketers 1971-2000 is an wonderful read. The photographs are impressive too, an interesting reminder of not so long ago and, by and large, an object lesson in some male grooming styles that must never be allowed to come back into fashion again.