Somerset Cricketers 1919-1939
Martin Chandler |
Published: 2017
Pages: 320
Author: Hill, Stephen and Phillips, Barry
Publisher: Halsgrove
Rating: 4.5 stars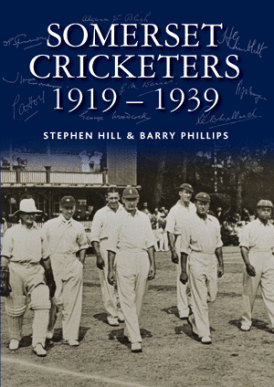 Earlier this year, having missed the book when it was first published, I reviewed the first volume in this series, Somerset Cricketers 1882-1914. This follow up is another excellent read and put together in much the same way so, as I have decided not to repeat myself, it may be better for readers to stop here and read the earlier review before returning to this one.
During this inter-war period Somerset's habit of fielding a small number of long-serving professionals supplemented with whichever amateurs were available means there are a disproportionate number of interesting characters in this era. Few led mundane lives and that, more than anything else, helps to ensure the book is every bit as entertaining as its predecessor. As Somerset gradually embraced the norm of a larger squad of professionals in the post-war years, one suspects that keeping up this high standard in future volumes will become trickier. That said I have every confidence in Hill and Phillips to succeed, as the biggest advantage they will then have will be the availability of first hand accounts, and indeed the opportunity to speak to an increasing number of their subjects directly.
To give a flavour of the book the first chapter, not unnaturally, covers 1919 where there were seven debutants during that summer of two-day County Championship matches. The first three were a magician/shopkeeper, a wicket-keeping clergyman and a subaltern in the Grenadier Guards who took his own life at 19 because of the pressure of gambling debts. Moving on there was an alcoholic solicitor and Rugby Union international who sustained a career ending knee injury on his England debut, a modest wicketkeeper and tail end batsman who managed to share in a record tenth wicket partnership and a serial adulterer. Finally the chapter introduces Philip Foy, a man who spent most of his working life as an engineer in Argentina, and was the only one of the seven to be anything more than a modest cricketer.
As to the professionals, I was interested to see how the authors would approach Harold Gimblett, the one man who all the target audience will know a good deal about before opening the book. It would have been a mistake to try and recreate in a few paragraphs Gimblett's remarkable debut, and that Lawrence Trophy winning innings against Essex at Frome in 1935 is mentioned only in passing. What the reader does get is an excellent summary of Bicknoller's favourite son. No reader should fall into the trap of thinking he can skip this one because he is familiar with David Foot's acclaimed biography. In fact the account here serves only to heighten the desire to go back to that compelling story of a complex and fascinating man.
Somerset cricket has featured a goodly number of lawyers over the years. Two of the better known are former skippers 'Bunty' Longrigg and Reg Ingle. Both are interesting characters who I was delighted to learn more about. Sadly, however, I am none the wiser as to how they managed to take so much time away from their solicitors' practices to be able to play as much as they did for as long as they did. This is a particularly puzzling question as far as Longrigg is concerned because he was in partnership with another aggressive batsman, Dick Burrough, and there were plenty of occasions when both of them played for Somerset together.
Still on the legal theme another man featured is 'Dar' Lyon, a man who has always been a source of frustration to me, the more so now. I have long bemoaned the lack of a proper biography dealing with the lives of Lyon and his brother Beverley, both very good cricketers and maverick captains, but henceforth I shall do so with more vigour. Whilst I did know that in later life 'Dar' had had a judicial career in far flung places, I had not realised until Somerset Cricketers 1919-1939 told me that his eminence as a barrister was such that he had (unsuccessfully) defended John Robinson, the 'Brighton Trunk Murderer', nor that his and Bev's father was a man well worthy of a biography in his own right.
But it is not just the amateurs' stories that are interesting. Over the entire period covered by the book only a handful of professionals played for Somerset for any length of time. There were the Lee brothers, Frank and Jack, who along with Gimblett were the backbone of the batting. There were three all-rounders, Bertie Buse, Arthur Wellard and Bill Andrews. I had known Andrews was 'a character', but not that, like Gimblett, he had mental health issues. There was also the very slow left arm bowler Horace Hazell and, last but not least, wicketkeeper Wally Luckes.
Somerset Cricketers 1919-1939 is no less entertaining than its predecessors and, I have to say, overall is just a tad better. There are a couple of reasons for this. Firstly the individual accounts have a little more room, being on average the best part of a page per man longer. Part of that is wrapped up with the second part of the explanation: a greater number and variety of photographs, the pick being one of Wellard and Gimblett at the beginning of the book.