Somerset Cricketers 1882-1914
Martin Chandler |
Published: 2016
Pages: 383
Author: Hill, Stephen
Publisher: Halsgrove
Rating: 4 stars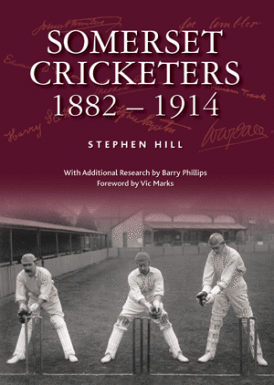 I had heard good things about this one from a few sources, but the fulsome praise from Keith Walmsley in his answers to the questions we put to him in our recent Book of the Year feature was the clincher. The book turned out to indeed be a worthy investment.  It is nicely produced, very reasonable priced and, most importantly of all of course, immensely readable.
Somerset were elevated to First Class status for the 1882 season. Their achievements between then and the outbreak of the Great War were modest, but it is probably fair to say that overall they just about punched above their weight. A total of 227 men played at least once for the county over that time, and Stephen Hill's book contains a biography of each of them.
The county had one 'star' play during this era, the Anglo Australian all-round sportsman Sammy Woods, a fine all-rounder who started his career primarily as a pace bowler and ended it as a batsman. He played Test cricket for Australia against England and for England against South Africa, as well as Rugby Union for England. In an era in which few cricketers wrote autobiographies Woods did in 1925, and he was the subject of a 1997 biography. Woods apart, only a very recent biography of Lionel Palairet  has fully chronicled the lives of any of the Somerset men whose careers were completed before the game closed down for the duration of the war. Even extending that to those who were essentially post war players brings in only Jack 'Farmer' White, although David Foot has written at some length about Jack McBryan. A distinctly prickly personality McBryan debuted for the county in 1911. His claim to fame is that he remains the only man not to have batted, bowled or held a catch in his only Test.
Without exception these are excellent profiles. Almost all are accompanied by at least one photograph of the subject, and a reproduction of their signature, but it is the content that impresses so much. Research into the lives of men such as these is easier than it once was. Census results are available online as are many local newspapers and probate and other public records. Hill has made a great deal of use of those resources, but he has gone well beyond that delving into the club's own archives and where possible contacting descendants. There is nothing dry about the writing either, the summaries all being immensely well written.
So who are these people who played for Somerset so long ago? There are certainly a disproportionate number of 'characters'. Some I had heard of, but not too many. Examples of interesting individuals are the Rippon twins. Dudley and Sydney were opening batsman who began their careers in 1914. The war affected their lives very differently. Another eccentric was long time captain John Daniell (with whom the aforementioned McBryan had a difficult relationship.
There were plenty of amateurs amongst the 227 and many who played only fleetingly. Inevitably amongst so many there are a few 'brief candles' but the same care and attention to detail has gone into the profiles irrespective of whether the man concerned made just a solitary appearance or, like Ernie Robson and White, played more than 400 games for the county.
There is of course always going to be a limited market for the sort of book that is only going to appeal to those with an interest in the game as it was played long ago, so the criteria we use to rate books won't permit me to give Somerset Cricketers 1882-1914 five stars, but if they did I probably would. Let us hope that the book is sufficient successful to enable Stephen Hill to continue his researches and to continue with his chronological journey through his county's history. It would also be a welcome outcome if it encourages others to embark on a similar exercise for other counties.