And Bring The Darkness Home
Martin Chandler |
Published: 2021
Pages: 221
Author: Milam, Greg
Publisher: Pitch
Rating: 5 stars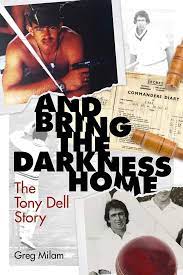 There has never been a cricketing biography like this one before, and there never will be again, something which in itself is a compelling reason for reading this remarkable book.
In terms of what makes Tony Dell's story unique he was not, of course, the first top class sportsman to see active service in a military conflict and bear the mental scars of doing so, although he will hopefully prove to have been the last. Cricket lovers can, for example, read the lives of a goodly number of cricketers who shared Dell's experience in the two world wars of the twentieth century, but they were men brought up in a very different society from that of today, and one in which it simply would not have been acceptable for a book like And Bring The Darkness Home to be published.
I first became aware that Dell's story was being told a year or so ago. Quite why a UK publisher was involved in a book about a man who played a couple times for Australia in the early 1970s struck me as strange, but no more than that. Then I read Greg Growden's splendid Cricketers at War and realised what a story there was to tell, an impression reinforced by then hearing Dell's conversation with Graham Barrett on his excellent Once Upon A Time In The Ashes podcast.
For the uninitiated Tony Dell is actually an Englishman, whose parents emigrated to Brisbane in 1959 when he was 12. In 1967 Dell had to do National Service, and was sent to Vietnam to fight the Viet Cong. Twenty first century cricketing biographies and autobiographies often begin with a chapter telling the story of a defining moment in the subject's playing career. Like those books Dell's story too does not start at the beginning of his life, but in his case it begins in Vietnam with two incidents – in one of them Dell might have found himself helpless in the face of the enemy, but fortunately his concealed presence was not detected. He was equally fortunate on the second occasion, although that time some of his comrades were not.
A 6'5" left arm fast bowler Dell's career in First Class cricket began in 1970/71, and by the end of that season he was called into the Australian side for the final Test against Ray Illingworth's England. His five wickets in that game cost him 97 runs, so a decent start, but Australia lost and there would be just one more rather less successful appearance against New Zealand a couple of years later before, five years after he began, at just 27, Dell left the First Class game.
Dell's formative years in England and Australia are, naturally, dealt with fully in And Bring The Darkness Home, although despite extensive co-operation from Dell author Greg Milam has needed a good deal of assistance in reconstructing those years from others, Dell's own memory being distinctly fallible at times. And it is the reason for that patchy recall that is the main theme of the book, the Post Traumatic Stress that Dell has carried with him since his service finished.
Today most people have some knowledge of Post Traumatic Stress, but back in the late 1960s no one had. It had always been around of course, and the symptons were well known, but it wasn't until a decade after Dell played his Tests that the name was first used. Since then the term has taken its place in everyday language and, in recent years, has begun to lose it's hurtful and prejudicial suffix,'Disorder'.
Dell got his diagnosis in his sixties. Before that his life after Vietnam had swung from success to failure both in his personal and business lives. His story is skilfully told and his condition analysed. Fortunately suicide seems not to have been a way out that Dell ever contemplated, but it was a solution for far too many. Milam tells the stories of plenty of other men who have not, like Dell, managed to emerge intact from their PTS.
One thing that most cricket books have in common, however good they are, is that the reading experience can comfortably be interrupted when life gets in the way. And Bring The Darkness Home comes as close as any I have read to earn the description 'unputdownable'. In the end I did have to go to work on Wednesday 30 June 2021. I was slightly late in, and having taken the book with me I had to take a couple of long breaks during which I sneaked out of the new open plan office that I am still getting used to and went to sit in the public gardens over the road. But all was well in the end. I got my important tasks finished and also got to the end of the Tony Dell story in time to, on my way home, revisit his appearance on Once Upon A Time In The Ashes.
In closing I will make one more observation on And Bring The Darkness Home, which is a reflection of both the depth of Greg Milam's research and his communication skills. In my day job I have read a number of psychiatric reports dealing with cases where PTS is involved. The authors of those reports were undoubtedly experts in their field, but I have to say that the understanding that I believe I now have of PTS is rather more down to reading Tony Dell's story than any number of expert reports and references.