Cricketers At War
Martin Chandler |
Published: 2019
Pages: 330
Author: Growden, Greg
Publisher: ABC
Rating: 5 stars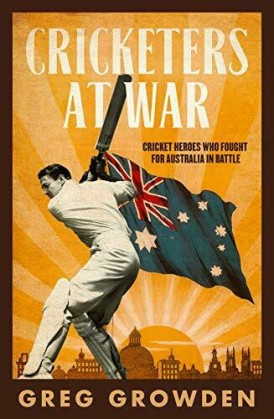 Sadly the world lost Greg Growden in November of last year, so unless there is a cache of unused material anywhere we will not have the pleasure of reading any new books from him. Since the late 1970s Growden had been a sportswriter, quickly establishing himself as one of the very best, so perhaps some enterprising publisher will gather together an anthology of his more ephemeral work. I am confident there will be a market for it.
In all there are currently sixteen sports books in Growden's oeuvre, although cricket lovers have had to share him. There are five cricket books, all excellent. Growden has given us biographies of Jack Fingleton, Chuck Fleetwood-Smith and Claude Tozer. He assisted Brad Hogg with his autobiography and, finally, Cricketers at War appeared in 2019, a book that is at last readily available in the northern hemisphere.
The one hundredth anniversary of the start of the Great War produced a steady flow of books and other writings on the effect of that conflict on cricket and cricketers, and they have been followed by other books that focus on the Second World War. The overall standard of those writings has been high, but the main books all came from UK writers, which makes Cricketers at War all the more valuable.
Inevitable the bulk of the narrative of Cricketers at War concerns the two major global conflicts of the twentieth century, but it is bookended by two more, the Second Boer War, and the Vietnam War. The book opens with a chapter on the life of JJ Ferris, an outstanding bowler in his time, but a man whose life did not proceed as he would have wished and which ended in unusual circumstances at the age of 33 in South Africa in 1900.
At the other end of the book the closing chapter deals with a very different conflict, and one which ran its course in my lifetime, albeit many thousands of miles away from me and during my childhood. It is a conflict that, to my shame, I have to confess to only recently having learnt that Australian conscripts were sent to. The chapter on Tony Dell is a powerful one, and makes it clear that the autobiography due from Dell later this year will tell a compelling story.
Having made the comments that I do about the book's opening and closing chapters it is important to stress that Cricketers at War is not simply a series of pen portraits of those Test and First Class cricketers who were involved in war service. The book is set firmly in an Australian context, a subtly  different one from that in England, and is all the more valuable for that. To illustrate the point I can do no better than quote from the introduction to that part of the book that deals with the 1914-18 War:-
The Great War cut deep into Australian society. It devastated families ….. it incited inflamed beliefs …… it provoked rampant nationalism …… it led to reckless behaviour, exposing Australia's racist underbelly, sectarian differences and industrial conflicts.
Growden does of course tell the stories of some individuals, most notably that of the highest profile Australian cricketer to die in that conflict, fast bowler Albert 'Tibby' Cotter, the circumstances of whose death, much like the case of Ferris, still suffer from a lack of clarity. Also looked at in some detail is Norman Callaway, the man with the First Class batting average of 207, and who trod the well worn path of only being on the front line because he misled those selecting recruits about his age.
Something that Cricketers at War is not is a collection of obituaries and stories of those who were wounded. Growden looks at the conflict in the round, and concludes the part of his book devoted to the First World War with a look at the activities of the historically important, but largely under chronicled, Australia Imperial Forces XI that toured the UK through the summer of 1919, before moving on to South Africa and finally, in January of 1920, playing matches against Queensland, Victoria and New South Wales.
The treatment of the Second World War is equally wide ranging. Quite rightly there is a long look at   the life and times of Ross Gregory, the one Australian Test cricketer to die in action, and yet another man whose demise still has questions attached to it.
As with the Great War the armistice was followed by a summer in England for the best cricketers amongst the Australian Services personnel in Europe, and once more their tour extended well beyond the English summer, the Australians this time visiting the sub-continent before once again winding down with a series of matches across Australia in January 1946.
And what of the man who bestrode that era of Australian cricket like a Colossus? Donald Bradman's military service was short. Invalided out early on he spent much of his war in the office of his stockbroking firm, a fact that was to become a source of friction with some, the debonair airman Keith Miller in particular. Growden produces a particularly interesting dissection of that emotive issue, quoting many contemporary views and, importantly, setting out a few facts. Where does the truth lie? After so long no one can really know, but Growden's reader is certainly left with the abiding impression that both sides of the argument were absolutely sincere in their beliefs.
The loss of a writer/historian as accomplished as Greg Growden is a matter for sincere regret, and I am certainly sorry that I did not have the opportunity to review this one on publication. But in a sense that is no great loss, because Cricketers at War is no less outstanding for being read a couple of years after publication, and it comfortably achieves a five star rating from me.